They're sometime called "virtual kitchens." Other times they're called "cloud kitchens" or "shadow kitchens." But they're mostly known as ghost kitchens, commissary spaces where chefs and cooks can prepare food that is either picked up on spot or delivered through third-party apps like Postmates or (the much greener, more local) Maritime crew.
The basic gist? Budding brands or major food players can skip the costs and stresses of a brick-and-mortar, rent a kitchen to churn out food for the day, and have it delivered or picked up by those who order online.
And the two major ones in Long Beach—the Daisy Diner at 1388 Daisy Ave. and the former Seoulmate space at 4712 E 7th St.—represent over 50 different restaurants, from major players like Mendocino Farms to smaller brands that simply need a kitchen.
However, the secrecy behind these kitchens can raise eyebrows: Even getting a tour at the Daisy Diner is difficult, let alone figuring out how it is precisely operated. Part of Uber's ex-CEO Travis Kalanick's $130 million ghost kitchen adventure—infamous for being shrouded in secrecy—the Daisy Diner doesn't advertise its association with Kalanick on any level. The result? A seemingly local, cute ghost kitchen for seemingly local, cute food brands. (Shortly before being forced to resign, Kalanick launched Uber's massively successful UberEats, which toward its end, began moving beyond delivery and into ghost kitchens, so the move from Kalanick seemed obvious.)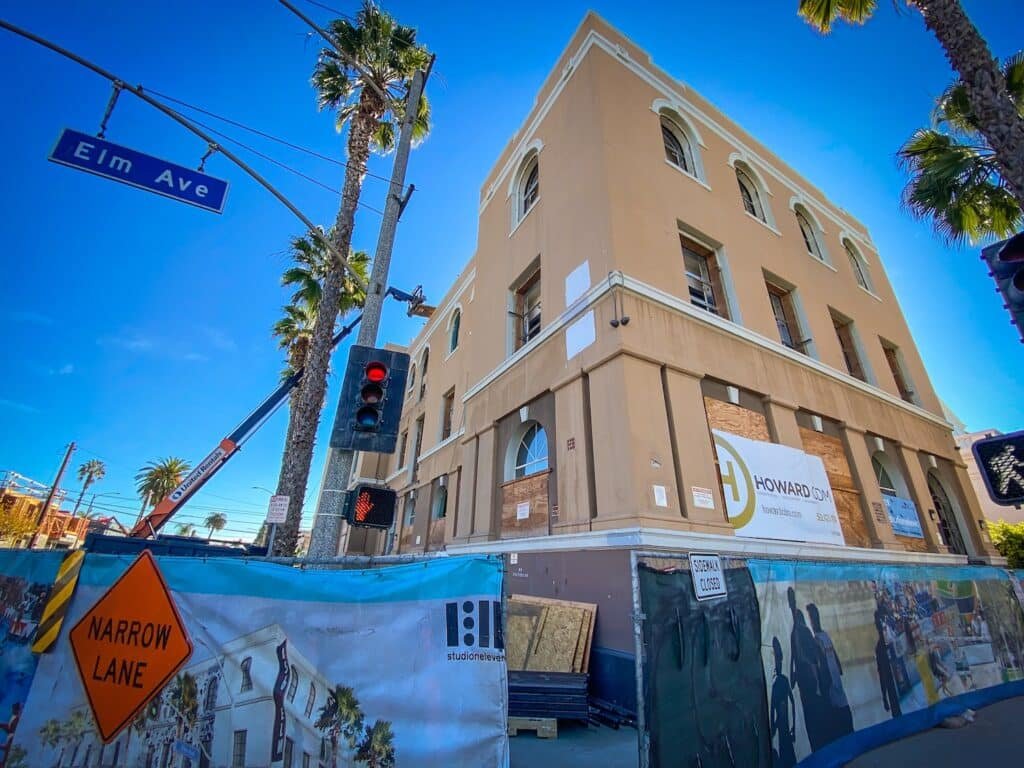 Tenants of the spaces inside, however, like Taishi Hainan Chicken, say that almost all communication is done digitally, from reporting problems with the kitchens to handling leases. Rarely is there someone to speak to over the phone, let alone on site, in terms of operations. Rent is paid through an app; problems are reported through an app; sales are posted through the app.
It is anything but local—and that is precisely what the Partake Collective, taking over the southeast corner of 5th and Elm in DTLB, hopes to change.
By creating a locally-owned, locally-operated space that isn't just a ghost kitchen, but a dining hall and market space where tenants can sell their product, where patrons can experience the food from something other than a styrofoam tray in their office, and those dollars swirling that ecosystem can stay local.
Taking the ghost kitchen away from tech billionaires, Partake Collective is already going where ghost kitchens hope to go: Moving beyond the kitchen to provide full-on dining halls and market spaces. Even better? All those dollars remain localized.
"I've heard multiple of multiple tenants going through [the Daisy Diner] because of our various investments and I was shocked at the amount of layered fees I heard about," said Adam Carrillo, vice president of Sunstone Management, owner of the Partake space, and CEO of the Partake Collective.
He is not wrong: One restaurateur I spoke to threw up his hands mid-tour saying the cost skyrocketed as he walked through the space: "We started at $3,200 a month and now we're up $7,800."
These fees can oftentimes be ridiculous: Daisy Diner, for example, includes a fee for food that is picked up by patrons. Which would lead the small business owners to encourage third-party delivery apps, right? Well, there's a fee for that too.
"So with Partake, our essential goal is two-fold," Carrillo said. "For one, we want to bring the building back to its former glory as much as we can, to give the neighborhood a building to proud of—thanks to the work of [Long Beach architectural firm] Studio One Eleven. And to really provide a kitchen space for local small businesses with a sense of transparency so they can plan."
That part is clutch for many budding business owners: Partake has levels of needs across some 25 kitchens, allowing owners to plan ahead for how they wish to grow and where they need to start. Do they need a 200-square-foot prep kitchen or a 750-square-foot full kitchen? Do they want to rent a test kitchen, complete with seating, to conduct some R&D for future plates?
These are all options at Partake—and to top it all off, there will be a market space for dry goods—hello, bakers!—and a dining hall for patrons which means no more sitting at a sad bench or folding chairs outside existing ghost kitchens. Patrons can sit inside a renovated historic space that is walking distance to both Fingerprints record shop and multiple cafes, including the underrated spaces of caffeination that are Berlin Bistro and Ground Hideout.
"We can easily go to market and lease this to national interests—in an instant," Carrillo said, snapping his fingers—and he is absolutely right: Partake Collective oozes with capital flair and interest.
"But we want to keep it local because Long Beach comes first and foremost," Carrillo continued. "In all reality, this is the innovative step in the hospitality industry. We want to give this to our local entrepreneurs because, to be honest, they deserve it."
The dream that is a brick-and-mortar is one that very much remains alive, particularly among Millenials who find the intimacy of such spaces to be alluring. But as Gen Z's first set of business owners begins to embark on their adventures, the allure of brick-and-mortars is one that filled with little more than money, stress, and dealing with the instability of The Almighty Patron.
As exemplified pre-, mid, and post- peak-pandemic, patrons can be an unruly set of humans that treat workers with little to no respect, like the woman arrested last week for throwing hot soup on a cashier worker at a fast food restaurant.
Partake Collective wants to approach all of this head-on—an ambitious undertaking that tackles corporatized food, tech dollars overtaking local dollars, creating safe spaces for food workers, and heightening community connectivity by bringing ghost kitchens out of, well, the space of the specter.
And there are already tangible results that reflect they will meet these goals: Most kitchens will have windows or sources of natural light, with some—particularly those on the third floor—offering great views of Long Beach. This "livability" of the work space is important for not only the mental health of those who spend some eight, ten hours a day inside them but for the quality of food. Much like a happy cow creates better tasting cheese, a happy chef creates better food.
"For an adaptive reuse project, we're really trying to humanize the spaces where these people work," Carrillo said. "And we're happy to say this is one of the few Gold LEED adaptive reuse projects in the entire region."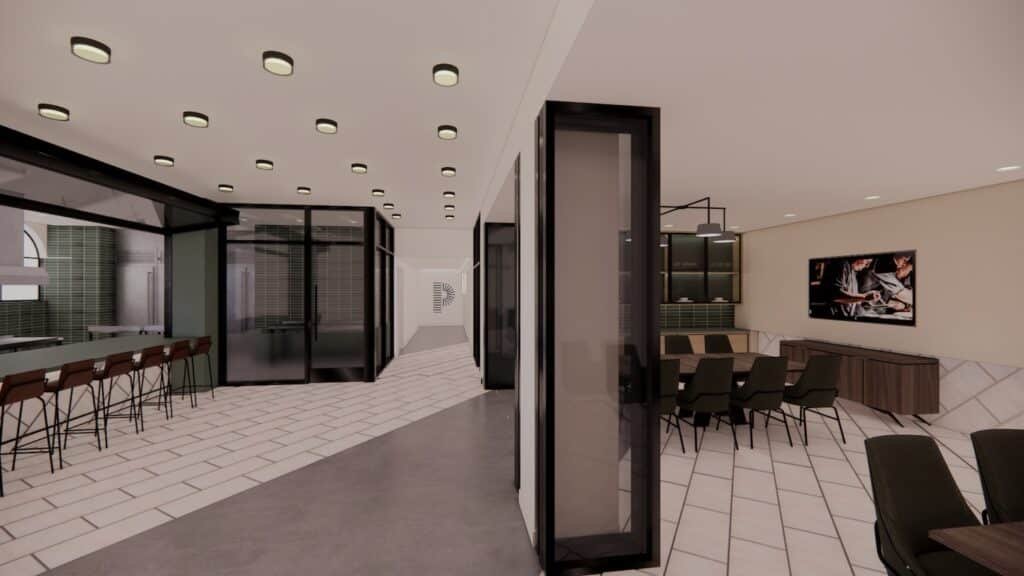 The hyper-green project will be flanked by two entrances: The main entrance will be on 5th St. and another entrance will be on Elm. Each will take patrons up stairs (or on an elevator) to the dining hall, retail space, test kitchen, and conference space.
The basement, second, and third levels will host the kitchens, lockers, refrigerated and frozen storage, and even a classroom.
Even better? They expect to up and operating in April of 2022. Budding chefs dreaming of a dream kitchen, I suggest you sharpen your knives.
The Partake Collective will be located at 456 Elm St.
Editor's note: Adam Carrillo's name was initially misspelled; it has been corrected.