Missed out on previous Favorite Things? I got you covered—just click here.
Too many years back, I wrote a very self-indulgent listicle that was about so-called "essential" Long Beach dishes; dishes that I loved and could depend on as long as that place existed—and I wrote it because there's something so elemental and useful about a specific great dish at a specific place. It was less about some grander proclamation than it was about, "This is just great food."
And after a year of not doing such lists, I want to return to it. Not some grand list of "essential dishes"—that is too hard of a burden to put on a restaurant: You better have this and you better have it all the time. But for now, in this moment, I am happy to share some of my favorite things.

In other words: Why not just own the moment? Without further ado, here are the favorite things I'm eating right now…
Peruvian scallops crudo from El Barrio Cantina
1731 E. 4th St.

Ever since El Barrio took over the former Ashley's space on 4th Street back in late 2021, they have proven that they are not just a great restaurant and bar space, but a viable, dependable community partner: From collaborations to drag brunches, popups at festivals to directly responding to customers with kindness and openness, owners Chef Ulises Pineda-Alfaro Joe Lin are showcasing what it means to move into a community and how to bend and mold with it.
Of course, the food being stellar helps—and Pineda-Alfaro's Peruvian scallops crudo are no exception.
A definitively spicy red aguachile, cucumber, radish, a tiny bit of avocado pair perfectly with the cool, creamy, umami-bomb that is a raw scallop.
Pork belly tacos from Chinitos Tacos
11130 Del Amo Blvd. in Lakewood

Sure, Chinitos Tacos might be in Lakewood but it is one-hundred-percent birthed out of Long Beach: Chef Beeline Krouch, the Cambodian-American Long Beach native, is nearing five years with his space in Lakewood, serving up some of the region's most distinct tacos with his melding of Cambodian and Southeast Asian flavors with Mexican grub.
While he is beyond well-known for his burnt-cheese taco and things like lemongrass carne asada and five-spice barbacoa, there is an item that is not highlighted on the menu but worth requesting: the pork belly taco.
Chunks of slighty-sweet-definitively-savory pork belly sit atop browned quesillo on a small four tortilla before being topped with Beeline's mom's papaya salad. The result? A quite perfect taco.
The Deuce Deuce from V-Burger
420 Cherry Ave.

Opening in the smack dab middle of summer during the smack dab middle of the pandemic in 2020 at 420 Cherry Ave., V Burger owners and husband-and-wife team Paula and Alex Armstrong have been building a name in the vegan scene as the city's best vegan burger—and they've succeeded in owning that title.
Yup, the city's best vegan burger—conveniently located next to the pair's vegan crepe shop if you're hankering for something sweet—is, in my opinion, best served when it pays homage to the famed Double-Double at In N Out.
Dubbed "The Deuce Deuce," you get your choice of Impossible or Beyond patties topped with two slices of Violife (one of the best melty vegan cheeses out there) along with some good ol' tomato, pickles, onion, and lettuce. Served on a sesame bun, it is both simple and delicious—and will happily suffice as a substitute for any meat eater, I promise.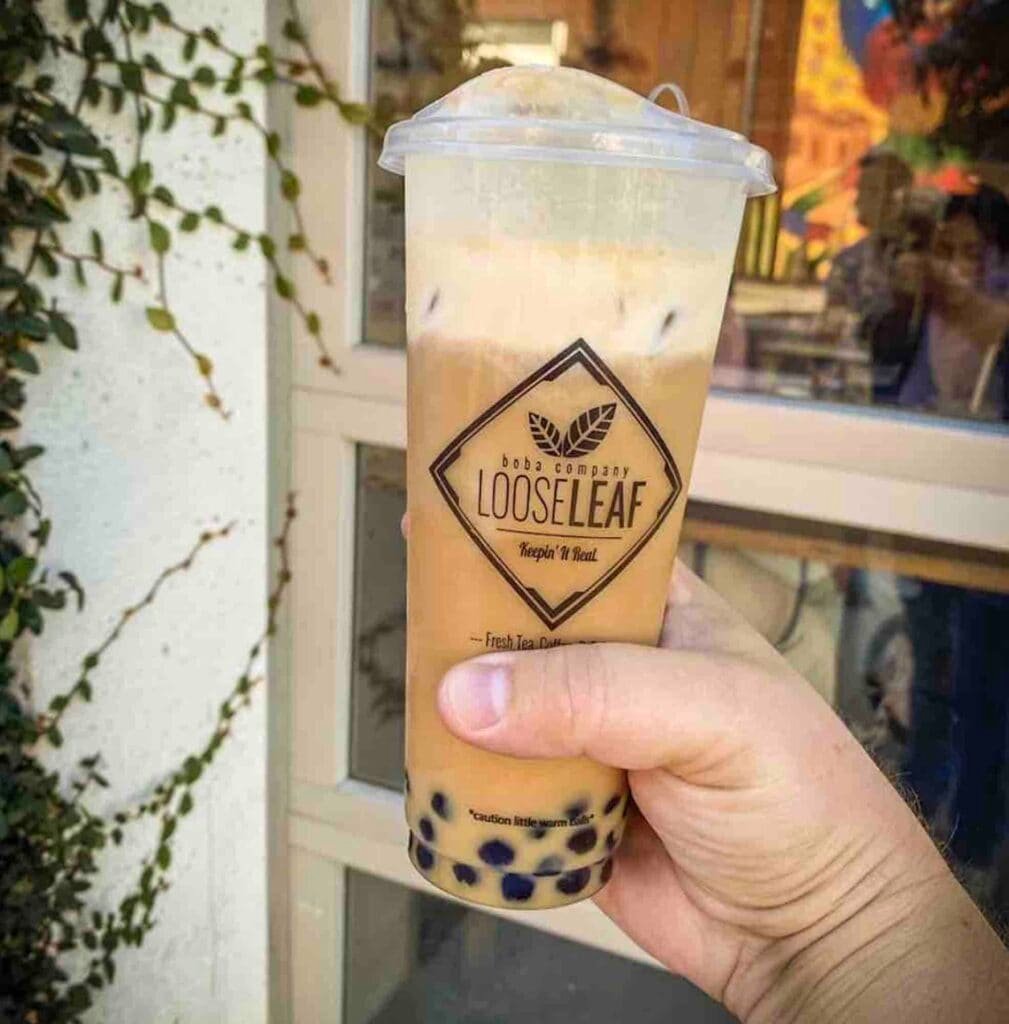 The cheese foam drink topper from Loose Leaf Tea & Boba
315 The Promenade N.

Before you ask, yes, it is actually made of cheese and, yes, it can sound or seem off-putting—but it is honestly something worth adding to any milk tea. Typically made with cream cheese and whipping cream, what makes Loose Leaf's version stand out is that it is slightly saltier than most—which is what you want from a good cheese foam.
Honestly, add it onto any drink of your choice but I stand by adding it to milk teas with boba.
Loose Leaf has been a much-welcomed addition to DTLB, offering a spot that is casual, boba-centric, and offering things that lucky patrons in Little Tokyo and K-Town receive on-the-nearly-every-block daily in Los Angeles.
Maqluba (مقلوبة) from Ammatolí
285 E. 3rd St.

Should Chef Dima Habibeh of Ammatolí have any special going on, get it—it is a simple rule-of-thumb for one of the region's best restaurants. Whether its mansaf—lamb shanks braised in yogurt—or malfouf—a stack of rice-stuffed cabbage rolls topped with succulent lamb chops—I can guarantee you it will likely be something you've never had or, if you have had it because you explore Levantine food or grew up on it, it will be one of the best versions you've had.
Take the makloubeh, the upside-down rice dish that is served throughout the Levant but is perhaps best loved in Palestine, where it is largely considered one of its national dishes: Chef Dima's version—in the one made for me, she used lamb; she also does versions with chicken or purely vegetables—chunks of lamb, eggplant, fried tomatoes, and potatoes are layered in an aromatic rice where cinnamon and cardamon immediately hit the nose.
Savory, slightly sweet, herbaceous to the extent of being outright wondrous, it is a dish I will never forget.