Fresh off their prestigious recognition from Tale of the Cocktail Foundation's Spirited Awards as one of the Top 10 best new bars in the U.S. West—and barely hitting a half of a year of business—Baby Gee Bar owners and to-be-married couple Gianna Johns and Daniel Flores are holding true to their stance as a seasonal cocktail space with all the quality and little of the pretense.
Hence their new summer cocktail (and mocktail) menu, an array of flavors—we're talking everything from passionfruit and poblano to kumquat and kiwi—and spirits (including regional liquids from around the world like sotol, cachaca, pisco, and more) are tossed into all forms of service ware from highballs and chalices to handmade tiki mugs and rocks glasses.
"We're going into summer so the flavor profiles are just that: more fun, more bright," said Flores.
The menu is fun indeed.
The bright reds and pinks of raspberry and rhubarb meet with the yellows and oranges of passionfruit and peach to create what is definitively their most fruit-forward (not in a saccharine way) menu that, as always, highlights Johns's idiosyncratic, deft ability toward the subtle and odd: Yellow curry, green peppercorn, and dried chilaca peppers sit next to a house-made "Italian tajín"—a massively and nicely less acidic play on the famed sal-y-limón Mexican flavor crystals—and oft-dismissed liquors like Midori and Tuaca.
And while the majority of the menu was overseen by the concoction mistress of the city that is Johns, she—as is true to her humble nature—gives credit where credit is due, noting that Noah Friedman, the bar's right-hand man and charmer, has some drinks that are fully his own.
Like Noah's spectacular funky "Galactic Slammer" cocktail, where Mexican sotol and Hawaiian agricole rum meld with bits of kiwi, cucumber, the tiniest dash of Midori, and a finish of dry vermouth to lengthen the body of the drink out—because the drink wonderfully holds up after the ice melts.
"This is our take on a tiki drink," Johns said. "We don't do tiki but this is about as close as we'll get."
This does not mean Johns dismisses her Drinker for the Drinker's Sake concoctions—including the best iteration of a martini the city has seen in a long while: Dubbed the "Dirty Dream," do not think this martini reeks of olive juice. Rather, there only a subtle hint of olive, thanks to a olive-washed gin prepared in house.
"This is my dream of a dirty martini," Johns said, noting that it isn't salt-forward but olive-forward—and there is a difference: Earthy, floral, and cheekily risqué with the areola-like red Cerignola olive—a Puglian variety that, like its Sicilian cousin that is Castelvetrano, has a buttery, mild quality to it—it is what one who drinks martinis regularly would imagine of a dirty version of their drink (but avoid ever actually ordering a martini dirty because what is returned is often a salt-bomb).
And yes, while the menu is undoubtedly fun—the Galactic Summer and Vita Brevis cocktails are dangerously sip-able, straight up bordering Porch Pounder status—perhaps what is most thrilling is the fact that, having taken over what was formerly the much-loved dive that was The Red Room, the tiny-but-mighty space has managed to garner the actual trust of its patrons.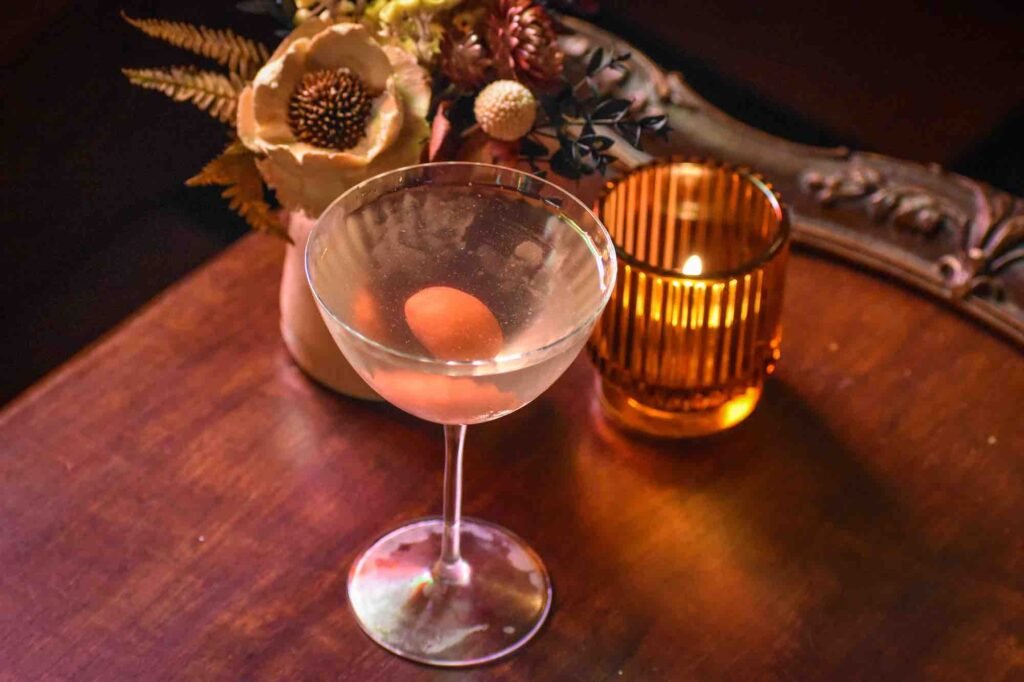 The talent of Johns and Flores—along with that of their stellar team—is a testament the work they put in from the get go: Hearing from the community, understanding they were initially outsiders coming in (though Flores is a native), and that there was to be a balance between what they sought for their dream space and what the community wanted.
And so far? Pretty damn near perfect.
For Brian Addison's full profile on Baby Gee's opening for Eater LA, click here.
Baby Gee Bar is located at 1227 E. 4th St.