From coverage by Architectural Digest to KTLA to the Los Angeles Times, the L.A. Design Festival—an annual event that, at least historically, tends to keep its presence to Los Angeles proper—is a big event for the arts and creative world locally, exploring architecture, textile-making, street art, interior and landscape design, and more.
And it's coming to Long Beach with a set of free events for the first time throughout the heart of DTLB.
"It's a festival that celebrates all things design and had a ton of worldwide events—but Los Angeles didn't have one until 2011," said Sinead Finnerty-Pyne of Studio One Eleven, the locally loved and regionally respected firm heading the Downtown Long Beach hub. "It started as small tours of designer studios and popup exhibitions and has grown into a 20,000-person event that is spread across the region—and we were happy to accept the Festival's invite to include Long Beach."
The evolution of the festival has been amazing to witness: Going from a handful of events in its beginnings, the festival now typically features some 100-plus events across multiple spaces throughout Los Angeles, like the Row DTLA space, where a block party becomes home to popups, art installations, symposiums, and even dinners.
While the pandemic forced the festival to go virtual, this is the first year they are bringing the festival back to in-person.
"They're hosting at three locations: The Row DTLA, Helms Bakery District in Culver City, and now, Downtown Long Beach," Finnerty-Pyne said. "My plan was to bring together these great creative forces we already have in DTLB to eventually create a design district here over time. Come at it with the idea that we're just unearthing the creative flair that is already here and, eventually with time, start to do art crawls, design crawls…"
For now, it is a pretty impressive list of free events, including tours of Studio One Eleven, interTrend's Psychic Temple building, and more:
– Beyond the Frame Podcast welcomes the artist collective People's Pottery Project, an artist-driven initiative to empower formerly incarcerated women and trans ppl through the arts. Founders Domonique and Ilka Perkins will be in conversation with curator Paul Loya at the Long Beach Museum of Art on Friday, June 23, at 4PM.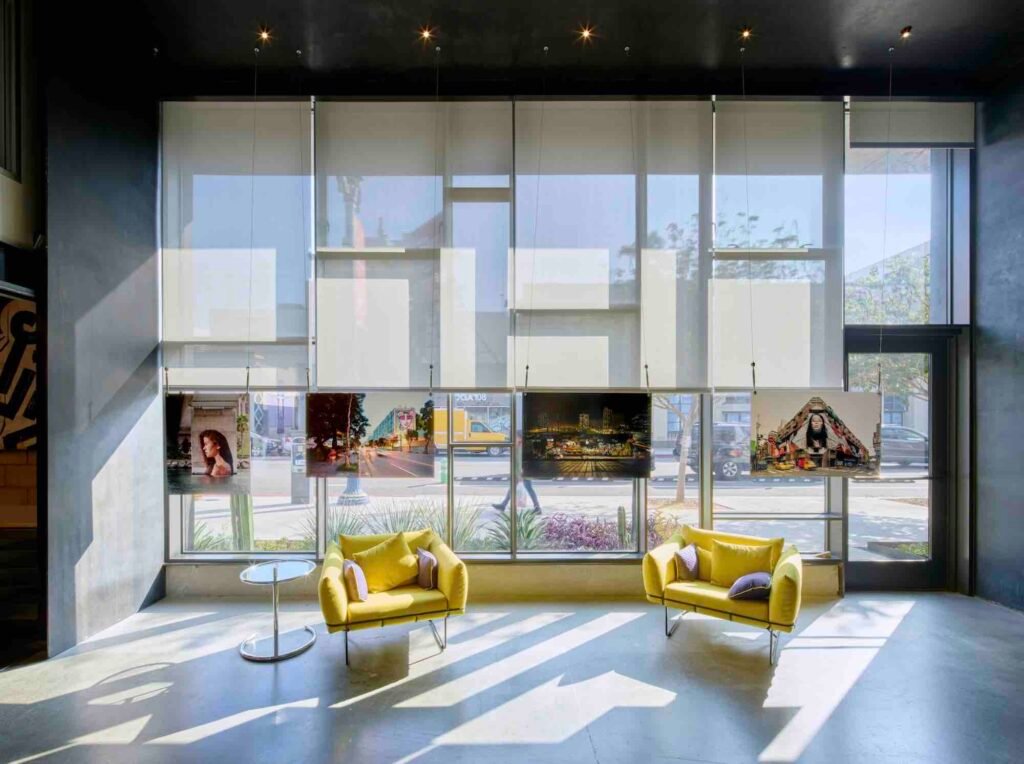 – A tour of Studio One Eleven—an integrated architecture, urban design, and landscape architecture firm dedicated to repairing cities—will take place on Friday, June 23, at 5PM. Their DTLB studio was designed to be an Urban Lab, a space that inspires innovation and promotes economic and social justice, education, and dialogue within design fields that impact cities. Join Studio One Eleven Partner, Michael Bohn, for a studio tour and reception.
– Studio one Eleven and LB Living are throwing a block party on the Mosaic Promenade on Friday, June 23, at 6PM, to celebrate the launch of the LA Design Festival at the DTLB Design District. The event will feature LB design community demos by City Fabrick, S111-RDC, and the LB Community Design Center, vendors, DJs, food trucks, and a beer garden as well as an exhibition by artist Mario Ybarra Jr., entitled 'Like a Cow Visiting a Butcher Shop'. The installation was originally shown at ARCO Madrid and for the first time being shown in the artist's hometown.
– Take a tour of the Billie Jean King Library and Lincoln Park, DTLB's oldest, newest park at the LB Civic Center, recently redesigned by Skidmore, Owings, and Merrill on Saturday, June 24, at 11AM. The guided walk will share the past, present, and future of this community gathering space by Long Beach Heritage, SOM, and the People's Architecture Office, designers of the park's future Covid-19 memorial. This event is organized by the DLBA, Studio One Eleven, and City Fabrick.
– Join Christina Webb for a conversation on Saturday, June 24, at 1PM at Studio One Eleven, where she will discuss work, stories, beauty, and resistance in Queer design. This will look at past and present work that embodies innovation and activates change through diverse ways of creating, while making space in critical ways. Christina will be in conversation with Designer Carolina Ibarra-Mendoza and Carol Wells, Founder and Executive Director of the Center for the Study of Political Graphics.
– On Saturday, June 24, at 2PM, an artist walkthrough of LBMA Downtown's exhibition "Virginia Katz: Transitory Nature," which looks to the human connection with landscape for insight. The exhibit and tour will run in tandem with an open-air market featuring The People's Pottery Project and other local artists' wares from noon to 4PM.
– Long Beach/Los Angeles-based architectural designer, theorist, and writer Demar Matthews, Principal of OffTop Design and adjunct facility at Long Beach City College, will be in conversation with Kevin Sherrod, Arts and Culture Practice Area Leader from Gensler, LA and design faculty at USC on Saturday, June 24, at 3PM at Studio One Eleven.. They will discuss their work and their collaborative work, which investigates the power of architecture as a cultural signifier and vehicle of traditions, values, and identity for Black communities.
– On Saturday, June 24, at 4PM, one can tour Long Beach's second oldest building, The Psychic Temple of the Holy Kiss. The recently renovated landmark built in 1905 has a curious and sordid history. Originally erected by a cult leader for "psychological treatments," the building was then a brothel and hotel and is now home to the creative agency, Intertrend. They will also announce more details on this year's upcoming Long Beach Walls street art event.
Also, on display at Studio One Eleven and throughout the Promenade is an International Poster Exhibition by designers and graphic artists from all over the world to celebrate design creativity, inclusiveness, freedom and love inspired by this year's LA Design Festival Theme "Design for the People." The exhibition was curated by PosterTerritory and sponsored by Velvet Hammer.
For more information about L.A. Design Festival, click here. For free tickets, click here.