Long Beach's cocktail and mocktail game has never been stronger, with bar managers and tenders creating a new era of hospitality and drinkability. Here are some of the best shining throughout the city.
---
The Ordinarie
What kind of cocktail menu?
Classic-meets-contemporary with taste.
The Ordinarie is home to one of the city's best cocktail programs—like this Queen Park Swizzler. Photo by Brian Addison.
Is it safe to say The Ordinarie is home to Long Beach's best bar program? It could be: The recent departure of much-loved bar manager Dave Castillo was largely the reason the cocktail program so largely succeeded, creating a menu that spanned savory and sweet to fruity and funk-forward, also piloting the space's best aspect of its cocktail: A continual rotation of legacy cocktails with the bartender that created them and the year they were created.
But the new hiring of two Seven Grand in DTLA alumni—David Saenz and Kayla Bohner—The Ordinarie will have a bolt of new energy that will include entirely new bar books, a mixture of classic, legacy, and new cocktails, and a program of large format punch cocktails (starting with the classics and moving into newly minted).
Bring it.
For Brian Addison's last feature on The Ordinarie, click here.
---
Baby Gee Bar
What kind of cocktail menu?
Honestly, just one of the best.
An assortment of libations from Baby Gee Bar. Photo by Brian Addison.
Before hitting a half of year of business—hell, it literally just about to hit its three-month mark in business—Baby Gee Bar has already built up a loyal patronage and, in the midst of that short period, garnered national attention (thanks to the prestigious Tale of the Cocktail Foundation's Spirited Awards having named the bar one of the Top 10 best new bars in the U.S. West).
Taking over what was formerly The Red Room, the tiny-but-mighty space's owners (and fiancees), cocktail master Gianna Johns and Long Beach native Daniel Flores, are prime examples of what it means to take on a place that hadn't really seen an update in decades in a community that is mightily protective of its own: You do the hard work—which ins't just building the bar but fostering a sense of community, asking them what they want while intermixing what you want as an owner, and being kind.
Baby Gee isn't just amazing because Johns's cocktails are stellar, where her well-honed palate avoids the all-too-common question of "What's your spirit of choice?" and instead begs, "What's your mood? What kind of flavors are you craving for your mood?" It isn't just that.
It's that her and Flores have created what could possibly be the perfect space for 4th Street that helps its evolve without making it feel too foreign.
For Brian Addison's full feature on Baby Gee Bar for Eater LA, click here.
---
Bar Envie
What kind of cocktail menu?
A nationally-recognized one.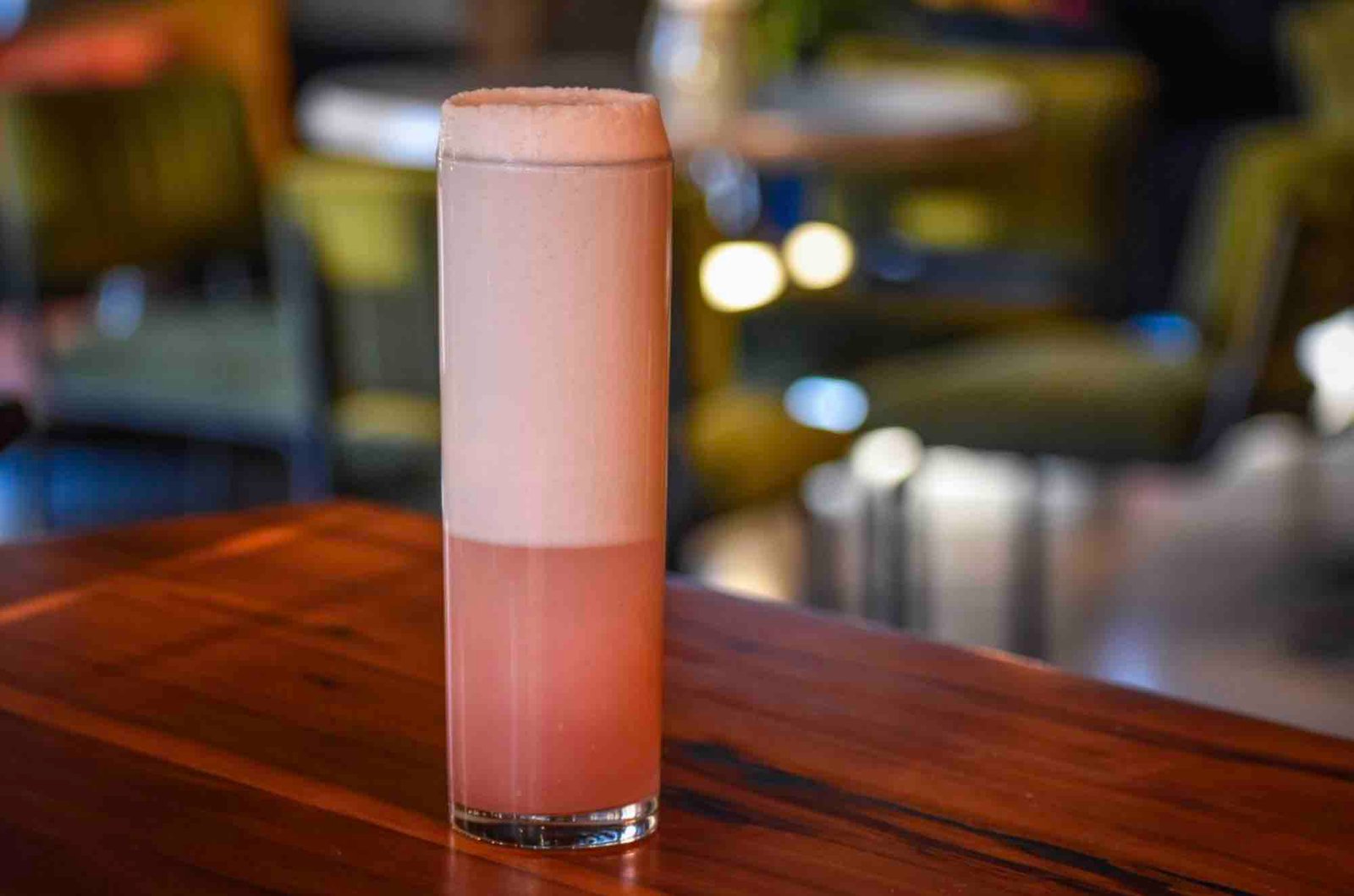 The Rhubarb Fizz from Bar Envie. Photo by Brian Addison.
It doesn't hurt that Bar Envie was nationally recognized less than a year into opening—something Long Beach should be proud of no matter how the drink is shaken. But what it really harnesses is the fact that bar manager Mike Borowski (who also heads owners Geoff Rau and Chef Carlos Jurado's other venture, Selva, which is also on this list) has a knack for creating quality concoctions.
Borowski's careful approach to taking on New Orleans is one that is to be respected, honoring NOLA's legacy in spirits but playing to Long Beach's sensibility and the space's approach to food—meaning the interplay between "staying traditional" and "being playful" is outright awesome.
Their version of a sazerac is a no-fuck-around version that is as NOLA as it gets while their play on the gin fizz—nodding to the man who created it himself, Henry Ramos, in 1888 at his bar, the Imperial Cabinet Saloon on Gravier Street—is a beautiful pink thanks to the addition of rhubarb. The have a menu of alcoholic floats, which may not have necessarily a NOLA origin, but honor the city's playful take on consuming boozy concoctions (like the famed slushee Irish coffee at Erin Rose in the French Quarters).
It's simultaneously fun and sexy—and certainly one of the city's best.
For Brian Addison's full feature on Bar Envie's inaugural menu, click here.
---
The Attic on Broadway
What kind of cocktail menu?
The perfect any-time drinking menu.
An array of Bloody Mary offerings from The Attic—and for those who might be hungover from the previous night. Photo by Sterling Reed.
Let's not be shy: The Attic on Broadway's longtime, heartwarming general manager, Iano Dovi, leads an absolutely stellar cocktail and wine program with equally stellar hospitality, exuding the type of professionalism that more within the city could learn from.
And that type of hospitality is in his blood: "How amazing is it that I've been able to not only witness this place grow but provide this type of service at this type of level in my city?" he once told me—and there was not a speck of forcefulness or performance in that sentiment; it was genuinely genuine.
Perhaps, however, most impressive is not my continual praise of owner Steve Massis's massive shift in what The Attic is and represents—he has long eschewed the space's former shell as an Instagrammable, hype-food joint in favor of becoming one of the city's best restaurants—but the witty nods which recognizes its past while moving forward.
Can you get a nearly perfectly made dry martini? Yes, yes you can—and the olive are as quality as the drink. Can you also get the a choice of one of many Bloody Marys that made the space, well, that Instagrammable, hype food beast back in the day? Yes, yes, you can—just expect a little more taste with all the grandeur.
Can you look at a list of what is one of the best wine lists in the city? Of course. Can you also hop onto a vastly underrated happy hour with $10 short rib poutine and $9 Botanist gin cocktails? Of course.
For Brian Addison's latest feature on The Attic on Broadway, click here.
---
Michael's on Naples
What kind of cocktail menu?
The fully-pampered negroni menu.
The 'Fortunella' cocktail being assembled at Michael's on Naples, featuring kumquat-infused tequila, Aperol, peach bitters, lemon, black pepper, and roasted kumquat. Photo by Brian Addison.
Much like The Attic, Long Beach could learn from Michael's on Naples's longtime, insanely-knowledgable general manager Massimo Aronne, an Italian native who began his hospitality in career in Italy before emigrating from Ligueria to here in Long Beach to open Michael's 15 years ago.
And it isn't just in his spectacular knowledge of wine, particularly Italian wine as it has a newly found renaissance across restaurants in California (which could largely be thanks to two major factors: A return of Californian wine sensibility toward the old-school and, on the entire opposite side of the coin, Gen Z's warm embrace of natural wines and Italy's long-standing production of it led by the Umbria region).
It is the fact that Massimo and his team have let Michael's on Naples evolve: The opening of their rooftop in 2016—one of the city's best eating and drinking spaces—has been paired with an ever-changing food and drink menu.
Of particular highlight? Two things. For one, there is no bad drink order at Michael's. Punto. Secondly, their vastly underrated, perfectly concocted Negroni menu where over ten different versions—from a shockingly stellar Negroni on nitro to a mezcal-soaked take—act as a mighty ode to o the famed cocktail of Firenze.
For Brian Addison's latest feature on Michael's on Naples, click here.
---
Wood & Salt Tavern
What kind of cocktail menu?
Elevated but approachable.
A lemon-basil libation at Wood & Salt Tavern. Photo by Brian Addison.
The cocktail program at Bixby Knolls's best restaurant—one of the best in the city and headed by bar manager Gabriel Ducharme—is one that should not easily be dismissed, with cocktail dinners becoming more regular and a masterful, rotating cocktail list becoming the norm.
"I like to call myself a People's Bartender more than a Mixologist's Bartender," Ducharme said, reflecting Wood & Salt's mantra of being elevated but approachable. "I make drinks with depth and complexity, but I like to make drinks that are for everyone. I don't mind recreating the wheel and being innovative, but I don't think everyone is seeking that kind of drink."
Ducharme's entry into cocktails was anything but glamorous, having served as a barback at Long Beach's Naples Rib Company and being thrown into the bartending position blindly one night. Though stressful, it inspired him to where he is today, with Wood & Salt's cocktail menu having pineapple-basil lemon drops and strawberry-peach margaritas sitting next to vegan Oaxacan sours and in-house barrel-aged Manhattans.
For Brian Addison's full feature on Wood & Salt, click here.
---
Roxanne's / The Exhibition Room
What kind of cocktail menu?
The one with an actual speakeasy behind the telephone.
A tiki concoction is commonly found at Roxanne's. Photo by Brian Addison.
I've long said Robert Molina, the guy behind the Latin American-spanning bar and grill that is Roxanne's in Cal Heights, is a restless man.
He can largely be attributed as introducing the craft cocktail scene to Long Beach by way of Roxanne's and, eventually growing a bit bored, created Long Beach's first contemporary, proper speakeasy, which operates in the back of Roxanne's, through a secret telephone booth entry. And then he made a tiki bar. And then he created a distillery. And he is continually creating a seemingly endless amount of events dedicated to the almighty world of spirits, from Whiskey Wonderland to Gin & Juice.
So it only makes sense that Roxanne's and its attached speakeasy are home to some of the city's best alcoholic concoctions.
For Brian Addison's full feature on Roxanne's, click here.
---
Chuntikis
What kind of cocktail menu?
The popup one dedicated to immigrant-centric, historical storytelling.
The "Corazón de Melón" from Chuntikis, a play of rums, Campari, watermelon, and cantaloupe.
When it comes to Chuntikis—the cocktail popup from history-obsessed, immigrant-loving, all-around-beautiful human Julio Gutierrez—the most beautiful part of it all is how Gutierrez manages to mix cultural history with booze.
While this, of course, seems like a no-brainer concept, pulling it off with taste and tact is another endeavor entirely—and it something Chuntikis does eery single time they opt to do a popup, which started at Roxanne's (also on this list) in 2021.
"Yeah, we share good looking-slash-good tasting drinks but our ethos is much more than that," Gutierrez said. "We feel obligated to share our rich immigrant culture through storytelling—using the cocktails as the medium—but also by bringing awareness to social issues and seeing how we can highlight that cause and help."
The results have been nothing short of wild, witty, and wonderfully out-of-the-box: A halo-halo cocktail at a Filipino collab dinner, honoring the famed dessert of the island nation. A drink that tells the story of how Maria Sabina introduced the world to medicinal mushrooms. Using chicatana ant bitters. Creating cocktails served in plastic bags, an ode to the Mexican tradition of exchanging the bottle (retornable, claro) in which your soda was in for a plastic bag and straw to sip out of (so the store can get the money back on the returned bottle, which they paid for).
"Or how Joh nWayne got his ass kicked by a Mexican actor," Gutierrez hilariously adds.
And no, there is no need for a brick-and-mortar because, as Gutierrez so simply puts it, "bars have to rely on the spaces they've built while, as a popup, our bar program can go beyond the bar to create the full experience for the patron. We do that by curating events that will give you an immersive experience no matter where we're at. From selecting specific food popups to compliment the theme, to selecting the DJs/Performers to transport you to a backyard party or a cantina—like Goth and Cumbia or Norteño and punk."
¡Arriba, abajo, al centro, pa' dentro!
---
Lola's Mexican Cuisine
What kind of cocktail menu?
The perfect-margarita kinda.
Margaritas and more margaritas from Lola's. Photo by Brian Addison.
The Stache bar might have introduced Hudson Baby Bourbon and single-rock whiskies to 4th Street, but it was Lola's—whose tiny-but-mighty, pink-meets-tints of gold bar was one of the first to take advantage of Long Beach's lift of its absurdly archaic law that halted the distribution of any new liquor permits into the city—who taught 4th Street the meaning of a well-made cocktail and the importance of Mexican spirits to the world of drinking.
Long, long, long before mezcal became the new tequila (and before tequila became the new whiskey), Lola's was introducing people to then-basically-unknown bottles of Del Maguey—and not just the "Vida" bottles but their Tobalá and Chichicapa versions.
Come full circle today, owners Luis Navarro and Brenda Riviera host mezcal dinners from some of the most obscure mezcalerías, offer incredible concoctions like their insanely addicting guava-coconut margarita, and remain home to one of the city's most underrated happy hours (which begins at 3PM on weekdays and, if you go on a Tuesday, ends just as Taco Tuesday begins).
For Brian Addison's latest feature on Lola's, click here.
---
The Auld Dubliner
What kind of cocktail menu?
The City's Largest Whiskey Selection kind.
Whiskies have always been an epicenter of The Auld Dub's culture and offerings. Photo by Brian Addison.
The Auld Dub is approaching 20 years serving the Long Beach community—and for those that don't know its owner David Copley, he is one of the most community-centric, community-driven, and community-caring business owners.
He regularly hosts "Friday Night Flights," an educationally-driven, whiskey-centric event that pairs three to four whiskeys with a small bite while Copley takes you on a trip as to how these whiskies were curated and produced.
He takes an annual crew of worthy and loyal patrons to the Motherland of Ireland itself, showcasing not just where their experience comes from but to update the menu and vibe at The Dub in order to keep in pace with Ireland proper.
And when it comes to The Auld Dubliner's bar, there are many cool factors that put it on this list—the best pint of Guinness on the West Coast, the fact that the entire space was literally designed and crafted in Ireland before being shipped to Long Beach in pieces…—but it is one simple fact that needs no Prolix Addison-ness: It is home to the city's largest whiskey selection,
What does that equate to, exactly? 271 whiskies. That was not a type.
I've long said and will continue to say that The Dub is a letter of love to Long Beach from Ireland—a point I hope no one easily dismisses.
For Brian Addison's latest feature on The Auld Dubliner, click here.
---
Padre / Mezcalero
What kind of cocktail menu?
The upstairs-or-downstairs one—that will soon be gone.
Padre's bartenders are more than happy to make a concoction based on your preference—like this request of gin and grapefruit. Photo by Brian Addison.
Padre owner and overall What-Can-I-Do-Next? guy Jay Krymis is, not shockingly, ready to move on—and rightfully so.
Longtime and beloved Chef Manual Bañuelos took off before the pandemic to search for his own food soul (and make no mistake: Long Beach very much misses Fonda Tobalá). Longtime and beloved bar manager Nathan McCullough—the man who made Mezcalero what it was—left both the DTLA and DTLB spots in favor of his new gig at much-lauded Wolves in DTLA.
But even more: Padre's building is going to be destroyed.
Will be Padre be reincarnated in another spot? Unlikely. Can I tell you what will be happening? Not right now.
But rest assured: The new concept will be great but for now, you should hop on Padre and Mezcalero before Padre visits the Bigger Padre upstairs.
For Brian Addison's latest feature on Padre, click here.
---
The Wicked Wolf
What kind of cocktail menu?
The traipse-through-the-magical-woods type—whether you're seeking a mocktail or a cocktail.
The "Into the Woods" cocktail, a drinker's drink where bourbon and amaro meet Carmela and coffee. Photo by Brian Addison.
Wrigley's newest watering hole along its Pacific Avenue business corridor, The Wicked Wolf is fairy tale-meets-adult playground, where and husband-and-wife team Thea Mercouffer and George Wolfe managed to avoid theme park-ing the space while creating something enjoyably whimsical.
There are small details everywhere—like the quick-look-down-and-you'll-miss it "trail" to the woods imprinted on the floor with subtle glitter, leading to the massive wall made to look like you're going into a magical forest, or the fact that the bathrooms, using green vines and smart lighting techniques, make if feel like the sun is peeking through the limbs of trees—that Mercouffer hopes regular patrons will appreciate and remember.
Offering one of the city's best cocktail and mocktail program, Wolf is interested in two things: Making Long Beach's drinking scene better and more accessible while also being a space for hte community.
There's a monthly Cocktail of the Month, where a local bartender (not of The Wicked Wolf) can flex their concoction-making skills at a bar outside their own.
Not a drinker? Fear not: The space has one of the most extensive mocktail offerings where, in the words of Wolfe, "We actually took our time to create a thoughtful mocktail list, where the drinks are sophisticated if not even having a bit of bite."
For Brian Addison's latest feature on The Wicked Wolf, click here.
---
El Barrio Cantina
What kind of cocktail menu?
The one you find in the local barrio.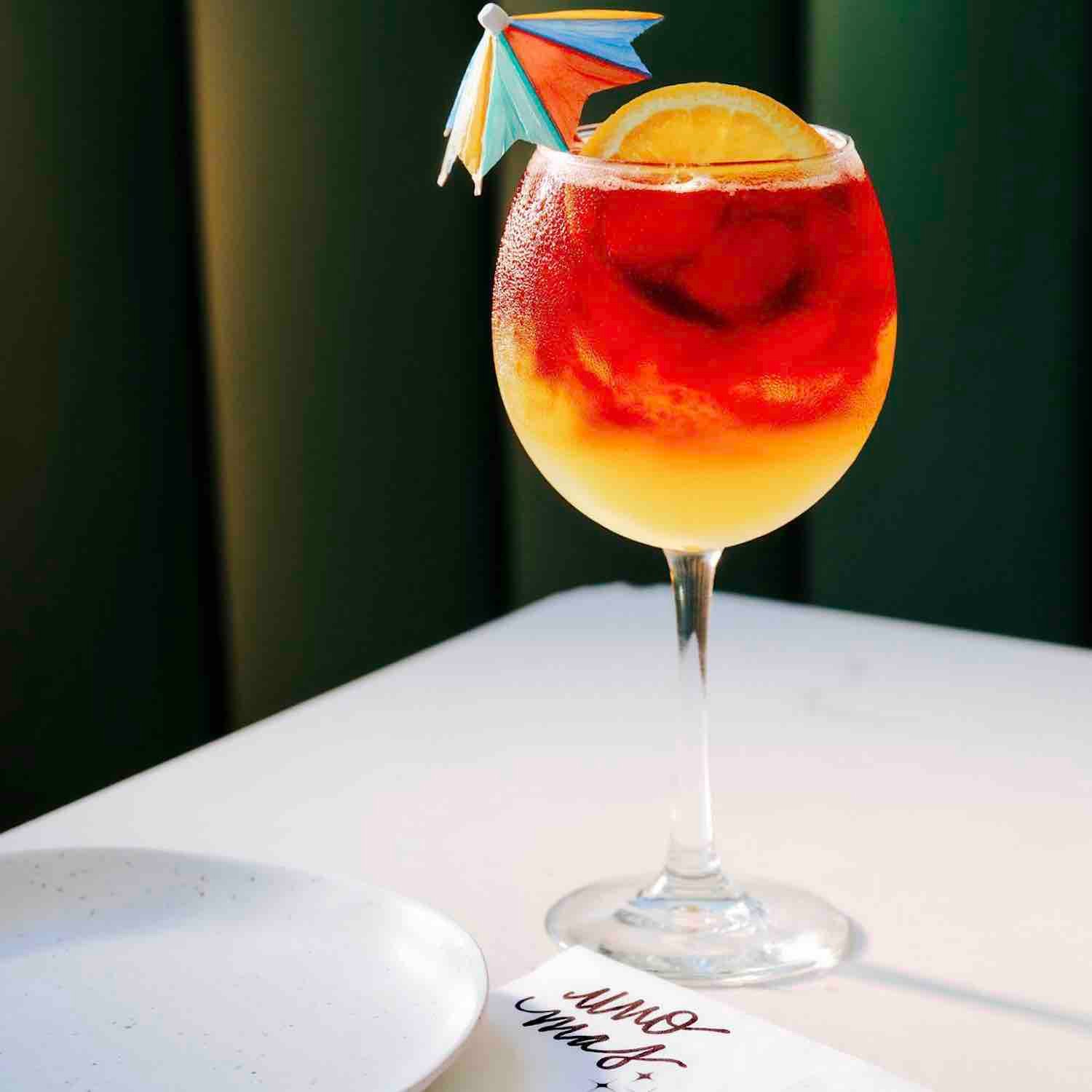 A sangria from El Barrio Cantina. Photo by Wolfe & Von.
El Barrio Cantina's general manager Khristian Berrio and Chef Ulises Pineda-Alfaro have really anchored the space as an essential part of the local food scene—Berrio with her hospitality (a running theme on this list) and Pineda-Alfaro with his food.
The pair have created some stellar partnerships: Their recent "Disciples of the Corn" dinner, headed by the goth-trompo masterminds behind Evil Cooks, where six chefs from across the southwest created bites for every 32 states of Mexíco (and eight well-crafted, . They recently invited the Cambodian Cowboy himself, Chef Chad Phuong, for a collaboration Mother's Day dinner.
And when it comes to the bar, El Barrio's super-straight forward bar program—with a heavy focus on mezcal and tequila, naturally—the pair have created an accessible, likable menu that spans the familiar—great palomas and even better micheladas—to the creative and fun—their blended frozen concoctions and non-tequila/mezcal drinks are stellar.
Even more, they're really becoming an engrained part of the 4th Street community.
For Brian Addison's feature on El Barrio's inaugural menu, click here.
---
Selva
What kind of cocktail menu?
The colorful, Colombian-inspired one.
The La Frambuesa cocktail, an ode to the raspberry, sits in front of a plate of arepas and charred chicken from Selva. Photo by Brian Addison.
The aforementioned Mike Borowski—who also heads owners Geoff Rau and Chef Carlos Jurado's newest venture, Bar Envie on Anaheim—is a man with a mission when it comes to making cocktails: Give the people what they want.
There isn't a bad order at Selva—food- or drink-wise. And that drink menu provides colorful, bold, not-so-subtle concoctions that pair rather well with Jurado's colorful, bold, not-so-subtle food.
Witty takes on things like the pisco sour—where pineapple and apricot create a citrusy, stonefruit-centric cocktail that is delightfully dreamy—and the Brazilian batida—where cachaca meets a house-made coconut cream—create a playful and sexy menu. There's an outright ode to the raspberry via the La Frambuesa and an ode to Colombia itself via a Colombian punch that, well, packs a sneaky punch.
It is a cocktail menu that hasn't changed much and, in all frankness, doesn't need to: It is a beautiful match to a food menu that, combined, makes one understand why the restaurant was on the Los Angeles Times's Best 101 Restaurants list.
For Brian Addison's feature on Selva's inaugural menu and opening, click here.
---
Panxa Cocina
What kind of cocktail menu?
The true Southwestern one that remains an ode to a true Long Beach legend.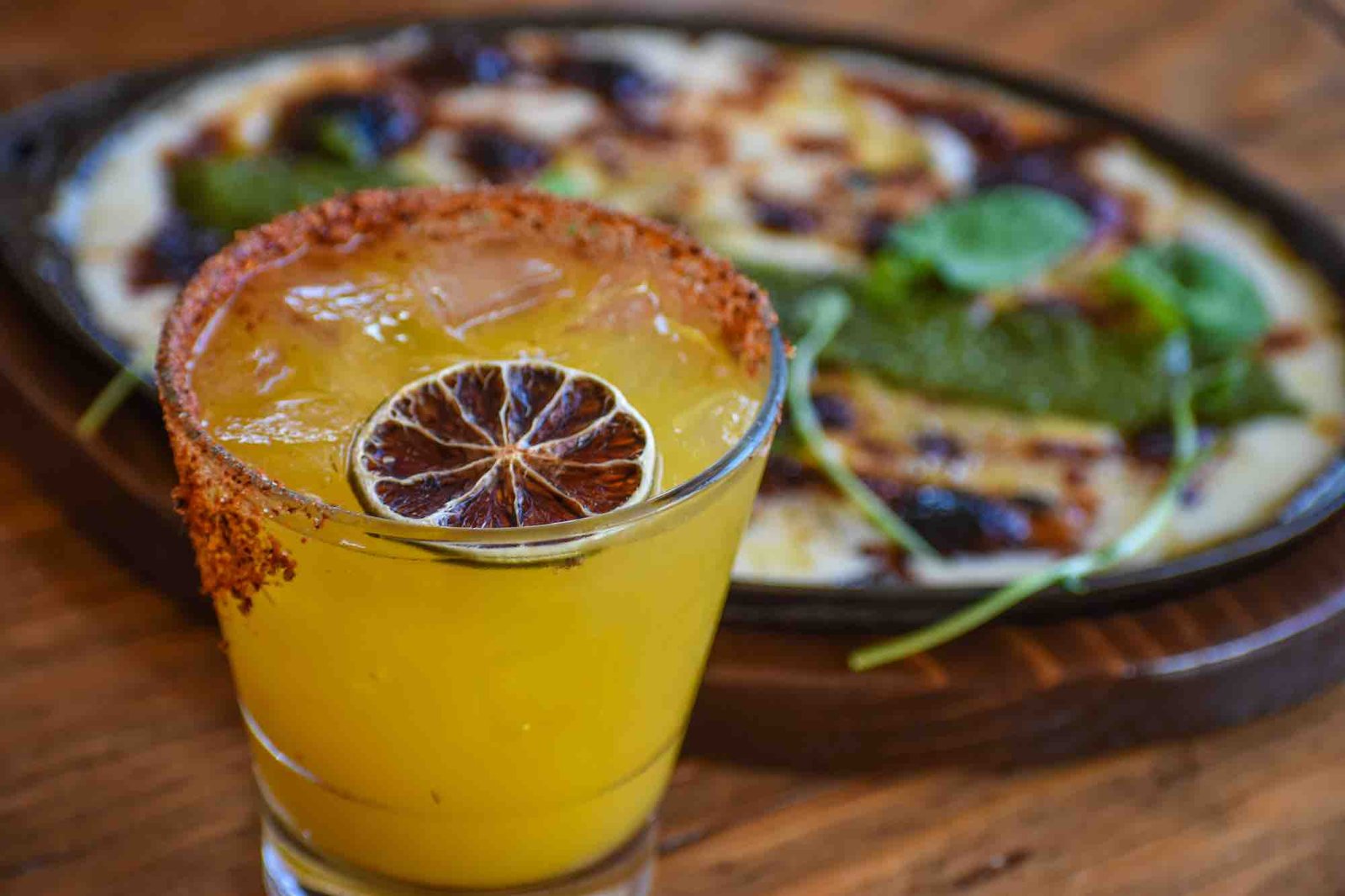 A passion fruit "flaquita" from Panxa Cocina. Photo by Brian Addison.
It is nearly impossible to mention Panxa without mentioning Chef Arthur Gonzalez, its patriarch and founder who died last year at his second home in Colorado. —but in all frankness, to not only better honor him but better honor the fact that Panxa remains alive and strong, one should make it impossible to mention Panxa without mentioning his wife, Vanessa, who has boldly and fearlessly taken on a space where she is constantly reminded of her loss.
Surely, Panxa—the only ode to the Southwest between here and Phoenix—was the place that introduced Clasa Azul long before it became a tech bro's Let's-Get-A-Bottle flex. And surely, one can never tire of the space's gorgeous interior and happily robust happy hour.
But with an upcoming update to the menu with some new items thanks to an appearance from Selva and Bar Envie Chef Carlos Jurado—a full-circle moment if there was one considering Jurado brought Selva to the space that was formerly Chef Art's much-loved steakhouse, The Hideaway—there is no doubt that, with its solid cocktail program, Panxa will continue to be one of the city's most beloved restaurants.
For Brian Addison's remembrance piece on Chef Arthur Gonzalez, click here.