The massive retail complex that is now the Mosaic—or what used to be the oddly and outright un-Google-able name of The Streets and then what used to be City Place and then what used to be the Long Beach Plaza Mall—had their project entitled in January and, in swift speed, had the project unanimously approved by the Long Beach City Council this month.
And developers are looking to move forward with construction just as speedily: Mosaic is already working to secure building permits and hopes to break ground within the first quarter of 2024, according to Waterford co-founder, Sean Rawson, who spoke to The Real Deal.
Part of the venture's acquisition of the $63M loan that defaulted while under the ownership of Shooshani Development, the massive project spans three huge parcels on 5.49 acres of land along the west side of Long Beach Boulevard between 4th and 6th Streets, the developers—a partnership between firms Turnbridge Equities, Waterford Property Company, and Monument Square Investment Group—want to build 900 new residential units across three new buildings.
One eight-story building at the northwest corner of Long Beach Boulevard and 4th Street will be a mixed-use building while two other buildings between 5th and 6th Streets will also be eight stories but only one will be mixed use while the other is entirely residential.
Across the three buildings, they will include 102 studio units, 476 one- bedroom units, 313 two-bedroom units, and nine three-bedroom units; 54 of those units will be affordable units for federally-defined Very Low Income families, meaning a household of four that makes between 30% and 50% of the area's given median income.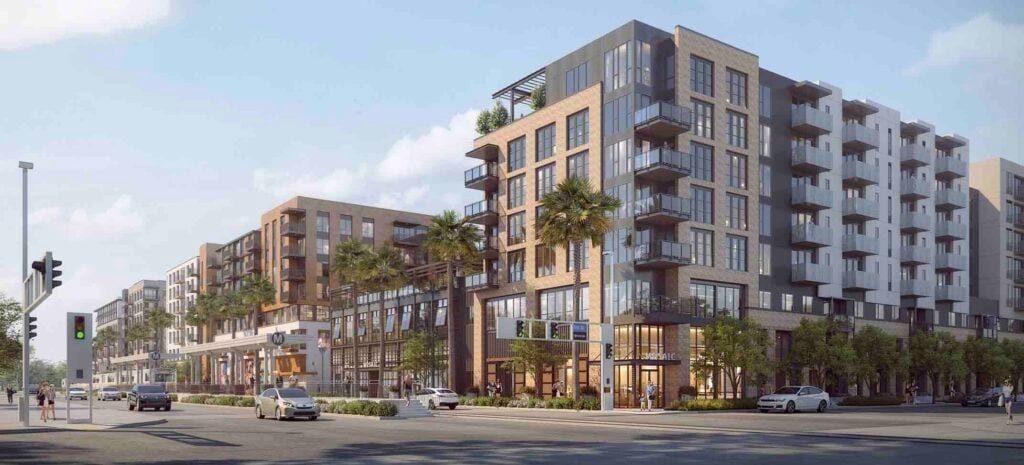 On that latter note, had Mosaic submitted this project for entitlement this year instead of last year, they would have had to create 99 affordable units per the city's staggered Inclusionary Ordinance that was approved in July of 2020.
Entitled in January's planning commission meeting this year, the project will be a massive undertaking and very dissimilar to what The Streets had in mind when they unveiled plans in 2017 to revamp the former City Place.
They will completely demolish nearly 200,000 square feet of existing commercial space that spans the west side of Long Beach Boulevard, with the two mixed-use buildings bringing in some 38,405 square feet of updated ground retail. Additionally, a newly constructed, standalone retail pavilion at the intersection of 5th Street and The Paseo will provide an additional 2,405 square feet of retail space.
Contrary to most projects—especially projects this large—a huge turnout of support from local business owners has come around for the project, particularly due to the developers creating extensive community outreach, which led to its entitlement by the Planning Commission—and it is likely that this support led to the unanimous decision by the council to move forward.