Too many years back, I wrote a very self-indulgent listicle that was about so-called "essential" Long Beach dishes; dishes that I loved and could depend on as long as that place existed—and I wrote it because there's something so elemental and useful about a specific great dish at a specific place. It was less about some grander proclamation than it was about, "This is just great food."

So I want to return to that but not with some grand list of "essential dishes"—that is too hard of a burden to put on a restaurant: You better have this and you better have it all the time. But for now, in this moment, I am happy to share some of my favorite things.

In other words: Why not just own the moment? Without further ado, here are the favorite things I'm eating right now…
Carne en su jugo from Cañada's Grill
3721 Anaheim St.
It's officially soup season—and this one has been a bowl of That Slaps for years, offering up the best version of the famed Jalisciense dish in Long Beach.
Like many of Mexico's grand states, Jalisco is one that is filled with culinary glory: from being the birthplace of torta ahogadas and birria to being home to brilliant interpretations of classics, like the Jalisciense version of flan known as jericalla, it is no shocker that the owners of Cañadas Grill in Long Beach's Zaferia hail from this area, given their menu.
And one particular stand-out is their utterly delectable caldo known as carne en su jugo, roughly translated as "meat in its juice"—and one of the most satisfying, hearty representations of Jalisciense cuisine.
This chunky soup, where minced and roasted bits of beef marinate and stew in their own juices with tomatillos for hours on end, combines that beefiness with chunks of bacon and whole white beans. Cañadas gives you a healthy side of lime slices, raw onion, cilantro, cabbage, roasted jalapeño, and pickled onion to add to your liking.
Grab a cerveza and I promise that you'll be in autumn heaven.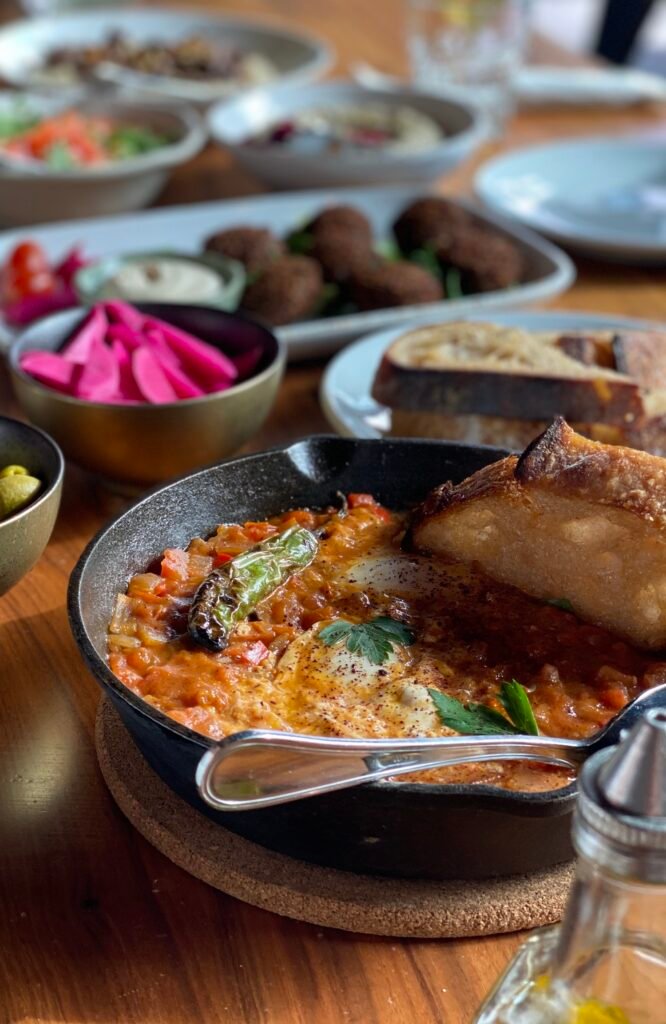 Shakshuka from Ammatolí
285 E. 3rd St.
I continue this month's selection of my favorite warm dishes that fit our incoming (sort of?) sweater weather—and those that are remotely familiar with my work know I adore if not outright worship the food of Chef Dima Habibeh, some of the best Levantine food in the region.
Consistent, layered, and wonderfully aromatic: the smell of her shawarma with its hints of cloves and cardamom give my jaws little pains when I am particularly hungry; I salivate that much.
But on weekends, there is something particularly special coming from her talented hands: the almighty shakshuka, a North African dish that has become a breakfast staple throughout the Levant.
Tomatoes are stewed with harissa, a paste-like concoction of blended chiles, garlic and other spices and then eggs are poached in said sauce. Dima's version—topped with a beautifully charred Serrano pepper, layered with veggies, and served with perfectly hearty, toasted bread—is one of the most stellar examples of shakshuka in the region.
Think of it as Levantine huevos rancheros or eggs in purgatory—only, at least in my humble opinion, Dima's version surpasses both.
For Brian Addison's full feature on Ammatoli for Eater LA, click here.
The chicken pot pie from Noble Bird Rotisserie
6460 Pacific Coast Hwy. #125
There are stories I've written that are always worth re-sharing—and the story of Noble Bird Rotisserie is definitely one of them.
Sidney and Steve Price had to face a parental nightmare that affects over 30 million American families: Their baby was suddenly covered with welts and hives after taking a bite of yogurt. Soon after, allergies to tree nuts, seeds, eggs… It also affected their second child.
Food revolves around much of our lives: celebrations, gatherings, deaths, coming together at the end of the work day… And they saw their kids missing out on just that but they refused. So they opened Noble Bird Rotisserie, one of the most allergen-sensitive restaurants not just in LB but the entire West Coast.
But what most people forget its that their food, allergen-sensitive or not, is simply damn good food. And their take on chicken pot pie—where a beautiful, buttery, flaky disc of crust sits atop a healthy stack of fresh veggies and peppery chicken—is a welcoming dish for the fall season.
For Brian Addison's the full feature on Noble Bird Rotisserie, click here.
The crunchy vegan samosa chaat from Appu's Cafe
3816 Woodruff Ave. (inside the Woodruff Medical Center)
I've long acclaimed the food of Chef Vinod Venkataraman's food, a definitely-Indian-kinda-fusion cuisine being served out of a hidden space in the Woodruff Medical Offices over on the east side.
And his crunchy vegan samosa chaat is one of the main reasons: Using his vegan garbanzo bean soup as a base—which is stellar on its own, by the way—he then takes one of his over-baked-daily samosa and plops it right in the middle of the bowl, topping it with savory little crunchies and a mint-tamarind chutney and cilantro.
The result? One of the best samosa chaats I've ever had.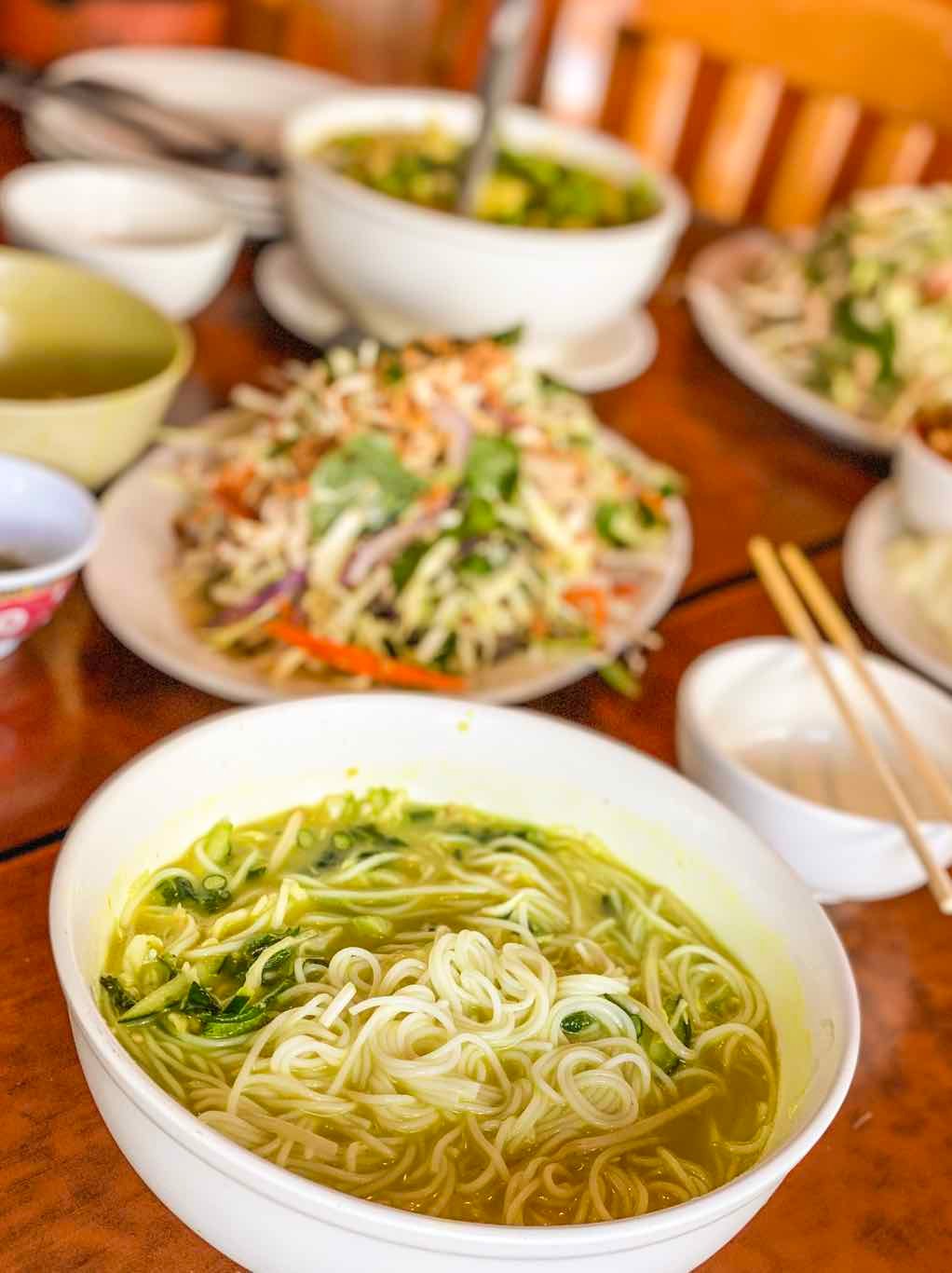 Nom p'jok from Crystal Thai Cambodian
1165 E. 10th St.
If one wants to really take in Crystal Thai Cambodian—which should, in all frankness, own its beautiful Cambo-ness and just drop the "Thai" part out of its moniker—then one should be invited to the space by a Cambodian friend.
I had this distinct honor after having not been to Crystal for years—and as luck would have it, it was none other than my friend James Tir (aka @LBFoodComa on Instagram).
I, of course, have had their green mango salad and their Phnom Penh noodles. And given that these dishes, among the handful of others we would repeatedly order, are pretty decent, we order them. Again and again. That ever paralyzing thing that is being a predictable creature.
But then I was happily introduced to the beautiful range of what James called "a Cambodian house in a bowl."
It was the nom p'jok, a bowl of thick, vermicelli noodles topped with an assortment of herbal leaves and a separate bowl filled with a turmeric-tinged broth that uses catfish as its base and then, through some culinary alchemy, results in a umami-meets-citrus bomb that is as light as it is addictive. Add some fresh squeezed Keffir lime and Thai chile and you have one of my favorite bowls of noodles I've had since first experiencing Noodle Shack's house special.
Cash only and, I want to bear this suggestion: Try to go with a Cambo friend.