Too many years back, I wrote a very self-indulgent listicle that was about so-called "essential" Long Beach dishes; dishes that I loved and could depend on as long as that place existed—and I wrote it because there's something so elemental and useful about a specific great dish at a specific place. It was less about some grander proclamation than it was about, "This is just great food."

And after a year of not doing such lists, I want to return to it. Not some grand list of "essential dishes"—that is too hard of a burden to put on a restaurant: You better have this and you better have it all the time. But for now, in this moment, I am happy to share some of my favorite things.

In other words: Why not just own the moment? Without further ado, here are the favorite things I'm eating right now…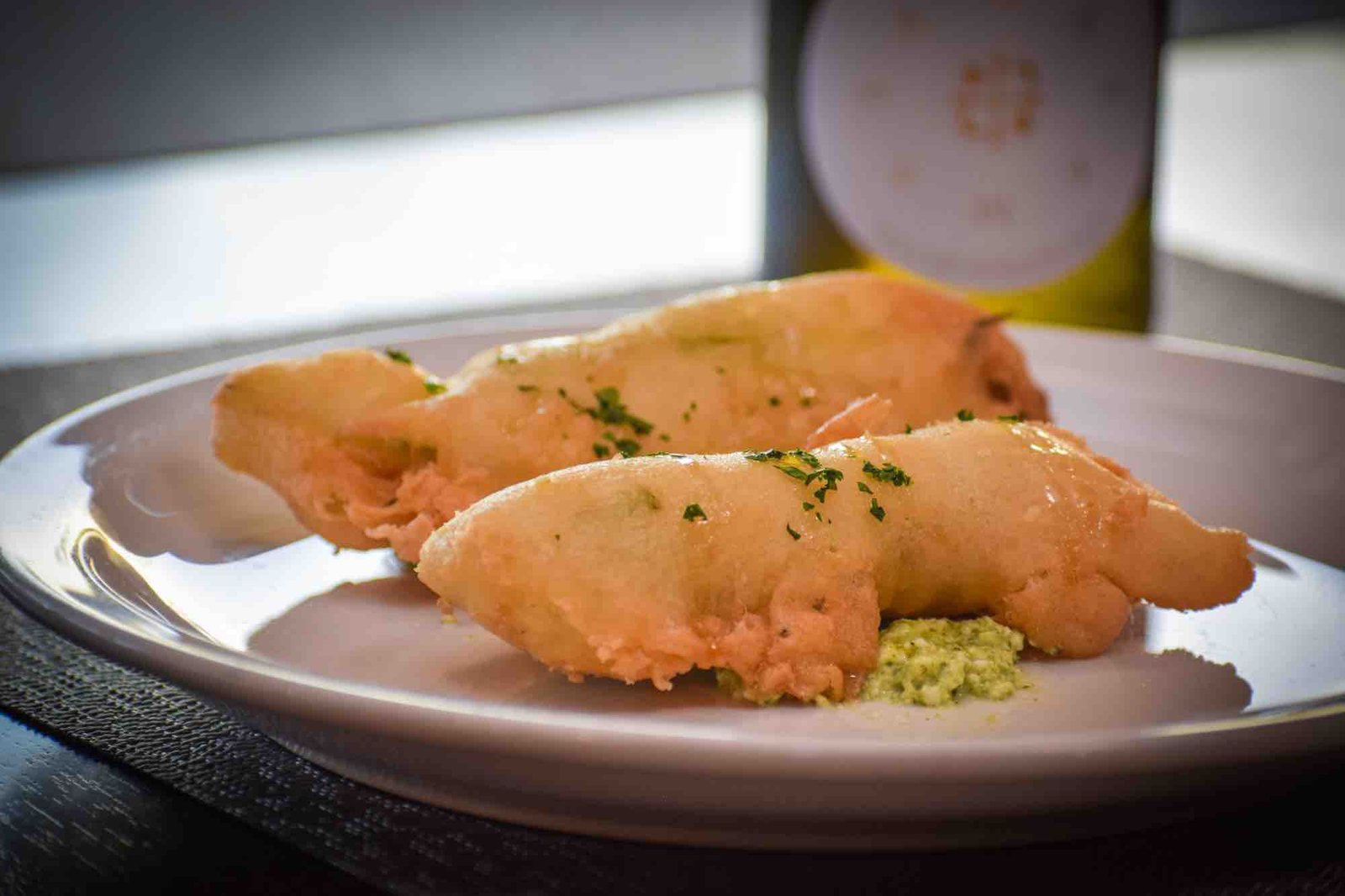 Fiori di zucca at Vino e Cucina
4501 E. Carson St. #105
Firstly, I have long sung the praises of the vastly underrated Vino e Cucina trattoria over in East Long Beach—and with that, I have a full profile coming out in the coming days about this gem of a space.
Before that, however, I have to sing the praises of the humble dish that is fried fiori di zucca (or squash blossoms).
Owner Lorenzo Motolla has them shipped from Puglia because, in his words, "everything about the flower tastes different because of Puglia's terroir and preparation."
And he is right: Surrounded by a light, fluffy casing and stuffed with mozzarella, these earthy, floral delights sit atop their house made pesto and ricotta.
The result? A quite possibly perfect appetizer—and if you really want to take it up a notch, get the Samas vermentino blend as a glass on the side.
Tostada de cueritos from Fonda Tobalá
255 Long Beach Blvd. (inside Rosemallows)
The wonders of Guadalajara-based Chef Manuel Bañuelos are a many—and to see him return to the food scene here in Long Beach with his Fonda Tobalá concept is warmly welcomed, particularly given the beauty that his is tostada de cueritos.
The mayacoba beans that create the first layer of his tostada along with his house-made cueritos—pickled pig skin that is as soft as it is toothsome—create a perfect pair for his Yahualica-grown chile de arbol hot sauce.
That last part is important: Many places grow chile de arbol, but chile de Yahualica—as it is referred to in Jalisco—carries with it a special weight: It is not the commercial chile de arbol you see everywhere but the chile that is grown in the bright, red-as-a-rash soil region of Jalisco that is Yahualica. It is brighter, peppery-er, and definitively spicy—and it is a sauce that needs but a few dribbles for the skeptical but a heavier dash for the adventurous when it comes to a tostada that is so masterful, it gave My Dude a moment of pause.
Looking up, smiling in a way that I know is one of reflection and reminiscence, he said, "This reminds me so much of my home [in Jalostotitlán, Jalisco]. This is like my childhood on a plate—the days where we went to the plaza and got something special."
For Brian Addison's full profile on Fonda Tobalá, click here.
The "Just Your Ordinarie" burger from The Ordinarie
210 The Promenade N.
First thing first: The Ordinarie has always has incredible burgers but newly minted Executive Chef Shelbi Ulm's take, an ode to the SoCal staple-that-is-so-strong-it-borders-culty that is In N Out, is one that elevates The Ordinarie into offering one of the best burgers in the city.
Ulm's house made Thousand Island—just a hint of sweet but more toward the salty and tart—is slathered onto each side of the bun, where pickles and house-pickled jalapeños—a nod toward the packet of hot yellow chiles one can and should get upon request from In N Out—and good ol' American cheese and lettuce.
The result is a wonderfully nostalgic, this-is-what-I-remember-as-a-kid bites of a burger, where In N Out was more than a fast food joint but a destination toward something great. And with french fries that are not only some of the best in the city—let's not even go into the nonsense called "fries" from In N Out—it is one way to rediscover why the Promenade, and particularly The Ordinarie, was such a beautiful way to experience our city.
For Brian Addison's full profile on The Ordinarie's new chef and menu, click here.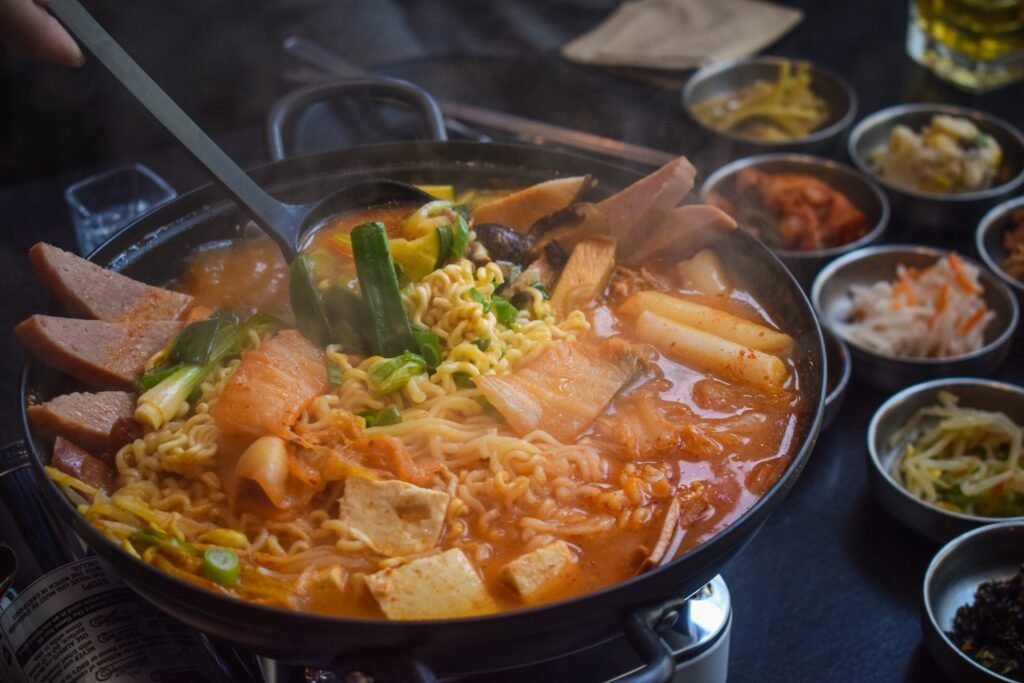 Budae-jjigae from Sura Korean BBQ & Tofu House 
621 Atlantic Ave. 
Budae-jjigae is one of Sura's newest menu items, is a rather beautiful projection of Sura's own development. Homing in on the traditional to expanding to varying palates and becoming a mixture of both traditional and forward-looking Korean food in SoCal, budae-jjigae reflects much of the same, albeit following the horrors of the Korean War.
"It basically translates into 'army base stew,'" said co-owner Brandon Kim. "And it stems from when the Americans officially pulled out of the war, leaving behind many of their supplies."
Amid a tragic food shortage after American troops vacated the theater, Koreans were left with what the marginalized are often left to do: Make something out of very little. Amid former American bases being filled with canned and cured meats ranging from Spam and bologna to hot dogs and salami, they created a stew that has not only stood the test of time but has made its way back to the United States.
Sura's version is no exception to the soup's popular and beloved reputation: A house-made beef broth sits as the base for this instant ramen noodle dish, where layers of shiitake mushrooms, tofu, and rice cakes sit among their very American counterparts, including Spam, bacon, and good ol' American cheese.
Arriving at your table atop a mini-stove top burner, it is wonderfully warm, holding a savory depth that pairs perfectly with a hangover and a pour of Sura's partnership with brewery Strand, their Seoul Lager.
To read Brian Addison's full profile on Sura, click here.
The fried cheese curds from Sideburns
941 E. 4th St. 
Long before Chef Melissa Ortiz headed the stellar kitchen that is to be found at Rose Park Roasters on Pine Avenuein DTLB, she took a brief stint with the crew over at The Stache Bar in between tours of Afghanistan to exercise her skills in cooking what she describes as "straight-up good bar food."
And she's did it—and that menu has been relatively transferred unchanged into the food spot next door to Stache, Sideburns (which was the plan the entire time).
Yes, there are excellent chili cheese fries, an astounding Chicago dog, and other fare—but it's those beautiful fried cheese curds that are surprisingly light and genuinely worth savoring. Each little golden ball of creamy, crunchy Wisconsin cheese curds is covered in a delicate, tempura-like beer batter that one can lightly dip or heavily dunk into some house-made jalapeño ranch. Addicting and perfect with a beer, these bits of fried goldenness are the perfect representation of bar food.
Editor's note: The address for The Ordinarie originally appeared incorrectly.