For Brian Addison's full history of VIP Records in Long Beach for KCET—a primer for this article—click here.
In a sold-out show at the Edison Theatre in DTLB—the third show in the Altruism concert series, with longtime hip-hop producer and SoCal legend DJ Battlecat headlining—VIP Records founder Kelvin Anderson Sr. told the audience, "This is my 51st year in the record business."
Presented by Oeuvre Creative Group in collaboration with VIP Records and Grey LB, the response was nothing but cheers—and whether those cheers stood for the sheer stability of a 50-plus-year career in an industry all too known for dismissing its elders or for those that know Kelvin's singular influence on West Coast hip hop, those cheers were deserved.
To those that know him, there was no surprise that Kelvin's math was exact: On a late May day in 1972—the 24th, just two days after he graduated high school—Kelvin's life went from the rural, dusty backroads of Mississippi to the blossoming, zooming highways of L.A. Across the span of three decades, he would humbly (to this day) have his name sit amongst the most powerful influences on our country's love of West Coast hip hop—along with, nonchalantly as he would explain it, birthing a creative space that would not only act as neutral grounds between the Bloods and the Crips but foster, home, and cement artists that would define the G-funk sound.
And come 2023, he stands on a stage in Long Beach: Next to him, a man he mentored and, in a sense, created a second home for outside of South Central—Battlecat. On the other, one of Long Beach's most prolific DJs, producers, and overall champions, NiceGuyxVinny. And that dichotomy and history—Kelvin, an anchor in West Coast hip-hop, showing the breadth of his influence with Battlecat on one side and Vinny literally on the other—was, in itself, astounding.
"It was a musical moment for Long Beach to know VIP Records is still here to service the community—happy to be able to put the show together through my long relationship with Battlecat, something that goes all the way back to his World Class Wreckin' Cru days," Kelvin said. "This event happening in June—Black Music Month, Juneteenth, the 50th anniversary of hip hop… This event merged all genres and took us through a journey that created an open environment, where all forms of music could come together cohesively. Battlecat being the special guest DJ—with his knowledge of all realms around sound—was the icing on the cake."
That "merging" is an understatement: While people were Crip-walking during the G-funk-laden, ultra-West Coast set of Battlecat, house heads were grooving to none other than Soulection's Jared Jackson's four-on-the-floor, 90s-meets-more-90s house set.
In true Kelvin fashion, honoring the culture, he didn't forget to shout-out his collaborators—Grey LB being one of them—but that melding of genres? That cohesive coming-together of things?
That's Vinny, the Eastside-born, Long Beach native that wants the music scene to, well, return to its roots in Long Beach.
---
The first show was after ComplexCon, featuring Blaq Pages, Lakim, Budgie, and, of course, Vinny—and that makes sense: Vinny is likely the most ubiquitous, prolific DJ here in the city if you've lived here or partied here or visited a music venue here across the past decade.
"From the house and punk rock shows to all the hip hop shows at Que Sera, I was there—I was doing those shows," Vinny said. "And one thing I noticed with ComplexCon was that there was no after parties. I thought it was weird—there was no official local involvement. Zero in terms of Long Beach-related."
Thus, Altruism.
But don't get it confused: This isn't about Vinny. Or Vinny's crew. Or really anything about Vinny specifically. It is about Long Beach's inherent brotherly and sisterly connection: We have the back of our own, our own deserves uplift, and despite one's crew, there needs to be a space where those that are of Long Beach can be uplifted. Where Boiler Room-like sets—the famed electronic and techno sets that have partnered some of the world's most respected (and most importantly: disparate) DJs that has connected club culture globally—are, well, right here in Long Beach.
But in Long Beach style.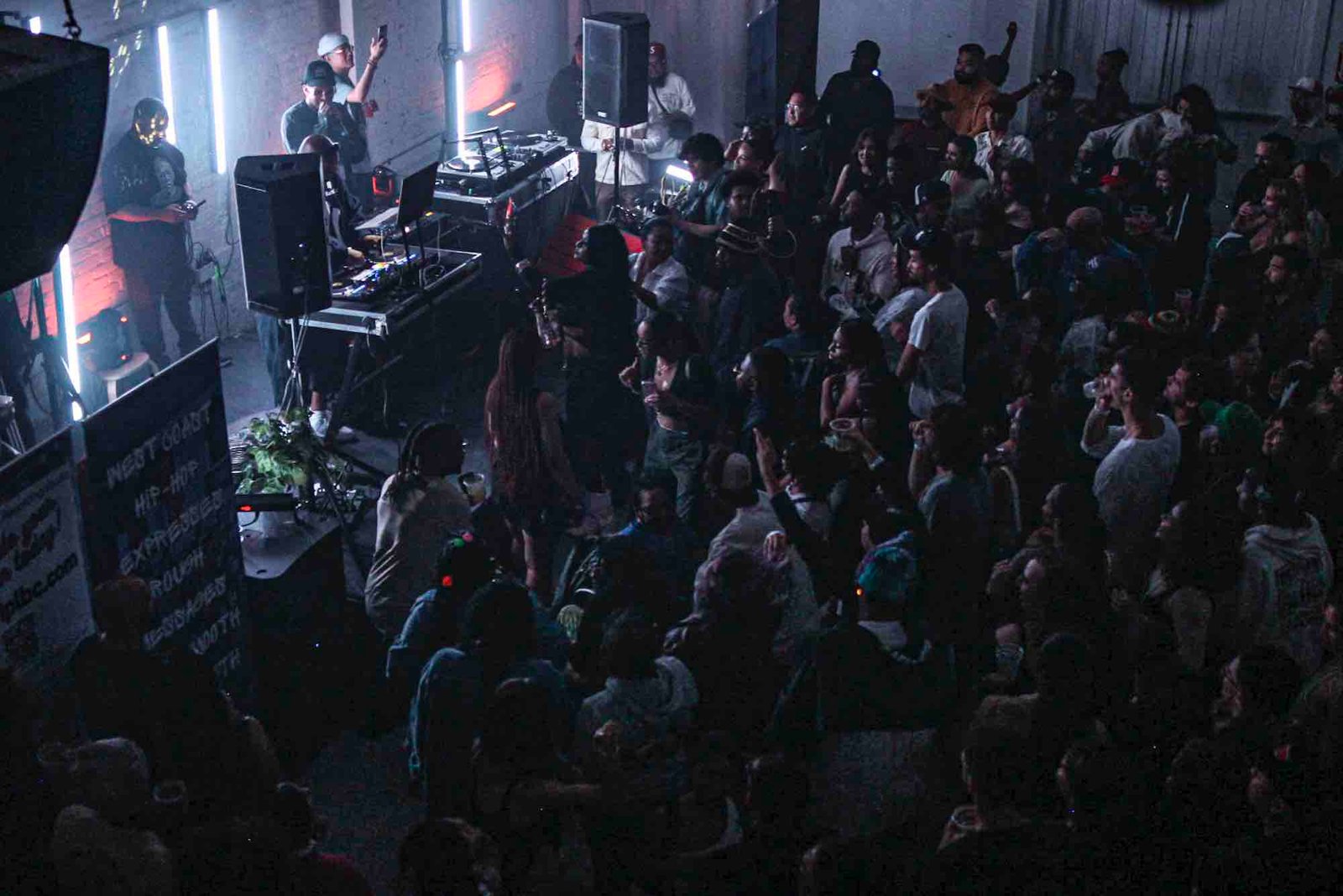 "In a lot of ways, I have to convince people of what I'm doing—and it doesn't make sense to a lot until they see it in the flesh," Vinny said. "There's these stacked lineups in L.A. where at first glance, it makes zero sense. Or lineups where you expect one thing and get another—and I want to create more spaces like that for Long Beach."
Vinny notes sets like Easy Mo Bee—one of Tupac's producers—playing an all-house set for the much-loved Soul Source and other events like the now defunct but renowned Low End Theory at The Airliner.
"There's a lot of cool places to go in LA where you can experience seeing legends on the same line up as rising talent, and I'd like to create that same kind of experience here in my neighborhood," Vinny said.
And Altruism is a reflection of that: From Blaq Pages and Budgie playing side-by-side to this past weekend's Battlecat set amid Jared Jackson, Altruism is about the intersection of musics.
"I'm a hip hop head but my uncles were house DJs," Vinny said. "My G-funk soul and my house groove are two things I've always wanted to bring together—and Altruism represents the spaces that we had back in the 90s, where different walks of life were always welcomed and showcased: A lot of genres intersect and we need a space in Long Beach that appreciates that."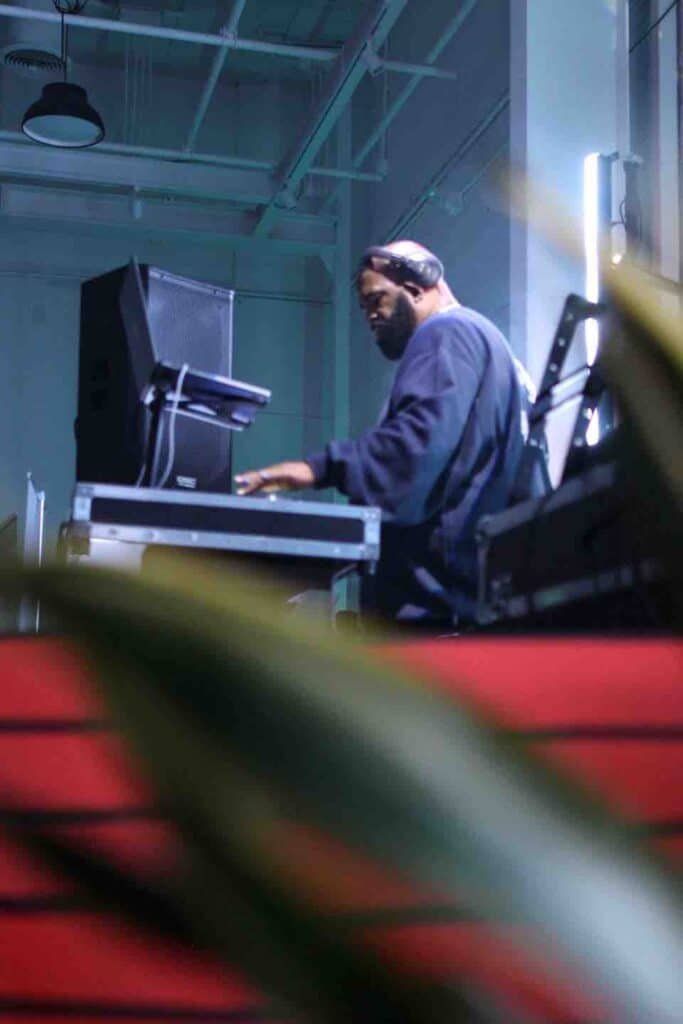 Going from "Battlecat to some house shit," as Vinny put it, really isn't a dramatic shift: Surely, Drake's Honestly, Nevermind was met with shrugs and jokes about Drizzy creating "unce-unce music" while Beyoncé's Renaissance is largely considered the best record of 2022—but the two share an important narrative: Black people reclaiming house music on a major level after EDM, particularly house, has been overtaken by rowdy'n'loud straight white men. Let us not forget: House music is a black and brown queer sound—and it should never be dismissed as otherwise.
And Vinny puts its best when he says, "People are beginning to understand that I am creating something that isn't happening here.
"We were there on Broadway, which home to all the gay bars here in Long Beach," Vinny said. "Bringing house music was essential in that sense because it fulfills Altruism's mission: To bring people together… But also, to bring shows that typically Long Beach people would have to go to L.A. for and bring L.A. people to a show in Long Beach. I can do this in L.A. and I've already done everything you can think of in L.A.—but if I am going to invest my energy in something, I want to put into the place where I'm from."
Can we get an amen?