For Long Beach Vegan Pizza—the pizza popup that has impressed vegans across the region and will move onto Retro Row into the former Scholb space at the southeast corner of Junipero Avenue and 4th Street for its first brick-and-mortar—its humble owner Paul Reese has always said one thing: It all began with a desire for a pepperoni pizza.
A vegan one, of course.
"The whole journey of Long Beach Vegan Pizza started based off of pepperoni," he said in a video showcasing his story. "My wife and I really wanted a good vegan pepperoni pizza and there was nothing around. We saw the opportunity and we said, 'Okay, cool, we need to make an amazing pepperoni pizza.'"
By October of 2020, after multiple pepperonis, multiple doughs, multiple cheeses, they felt they had something worth selling and began selling online. Soon, with steady popups at spaces like Hi-Lo Liquor in DTLB, the brand began to grow and became not only a growing part of L.A.'s regional Black- and POC-owned vegan spaces scene but owned Long Beach as the premiere vegan pizza spot.
And now, they're ready to expand into their first brick-and-mortar.
"We sure are ready to expand," Reese said. "The fact that his space was already equipped with a wood-fired oven sold us, along with the kitchen allowing us to expanded our menu to include things like pastas and more."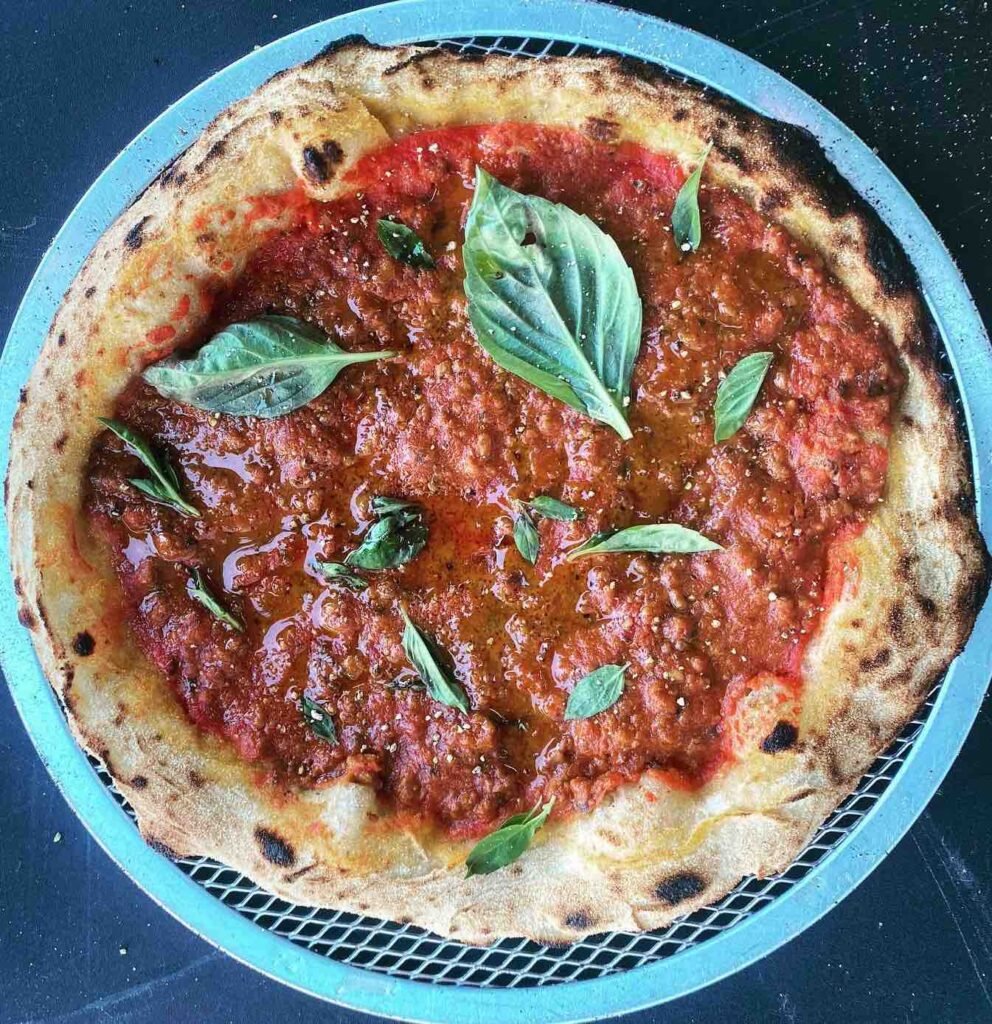 The potential tenant is a warm welcome to what has been otherwise a loss of local business mired in controversy: After 32 years of serving the community and becoming an essential part of the cultural fabric, Portfolio Coffeehouse's owner Kerstin Kansteiner opted to walk away from the space entirely.
While Kansteiner remained insistent the closure was about change in the coffee culture post-pandemic, the dismissal of her neighbor, Scholb LB, was met with anything but applause: Rumors began spreading wildly that the landlord was difficult to work with and entitled, forcing the brewery out without little say or defense.
"Long Beach residents may be aware that our neighbor Portfolio Coffee had to relocate," Scholb owner Jason Kolb wrote on the restaurant's website when they were forced to close in August of 2022. "During Covid they fought with the landlord in court to exercise the option to renew their lease. They ultimately won—but only after spending $100,000 in legal fees. Even with the win they still had to leave because to stay for another 5 years would again require a legal battle.
"Scholb did nothing wrong and we had a valid lease with options to renew, but the landlord feels he can do whatever he wants and has the money to do it. Scholb is not in a good position to start a legal battle, we lack the resources to fight or to relocate and feel it is better to step away and regroup.
And while many brands have toured the spaces—from La Parolaccia to Wood & Salt Tavern—none have decided to sign on until now.
Mangiafoglie, should everything move forward, will be located at 2306 E. 4th St.