"Drag is freedom—that is the definition of me: putting on whatever you want for that day, that time, and expressing yourself that way."
These are the words of Long Beach drag legend and the seemingly endless always-willing-to-give-and-help-ness of Jewels, who has always dreamt of a stage at Pride where the art of drag isn't used solely as interjections between other aspects of the festival.
Yes, there have been appearances by drag queens at Prides across the nation—of course. And yes, they've been given the space to perform and what not between the sets of music artists or speeches from the board of [insert nonprofit here]—as is needed.
But when it comes to a full stage—at least in California—drag queens and kings and everything in between have not been given a stage of their own, dedicated to showing off their craft.
Until now.
Thanks to Jewels and the determination of Long Beach Pride's board leading the effort, Long Beach Pride will have a drag dome dedicated to nothing but the art of drag.
"We're celebrating the art of drag—that's what I want to emphasize: We are celebrating the art of drag—and that includes all types of drag," Jewels said. "That includes drag kings, drag queens, nonbinary, trans women, trans men… We're filling every single spot you can imagine."
And they won't be getting just any stage but a goddamned dome dedicated to the art of drag—and not just, well, the whole sampling of regional drag but a particular focus on Long Beach drag and the queens and kings who have consistently appeared to foster our local drag culture: Television superstars who have spent decades enriching the Long Beach scenes like Delta Work, Mayhem Miller, Jasmine Masters, Honey Davenport, Milita Scunt, April Carrion…
This crop of drag artists will be doing a full drag show on the hour from 2PM to 8PM on both nights of the Long Beach Pride festival come Aug. 5 and 6. Yes: Six hours each day filled with six full-on drag shows.
"There's really no complicated story behind why we're doing this: With the country up in arms over drag and we have this great drag culture in Long Beach—so let's celebrate it," Jewels said.
Jewels—who is Executive Director of Entertainment for Hamburger Mary's, the sponsor behind the Drag Dome at Long Beach Pride that helped amped up the budget of the event—knows first hand the dangers of anti-drag laws, as Hamburger Mary's has not only led a lawsuit against the State of Florida (and won), but has also supported the opening of Mary's locations throughout the South.
The child of a minister and raised in a starkly conservative town in SoCal, Jewels knows all too well the importance is having spaces where one can both feel seen and safe as well as the need to accept things you might not fully grasp initially.
That latter part is important: Long before drag began expanding its definition of what it represented and did, gatekeepers—including RuPaul herself, who has now begun to alter her tune about what constitutes drag—largely relegated drag to cis men who dressed as women. Jewels, well over a decade ago, was long welcoming trans folk and drag kings as part of the art of drag—and with it, helping lead Long Beach's queer community to become, well, more queer.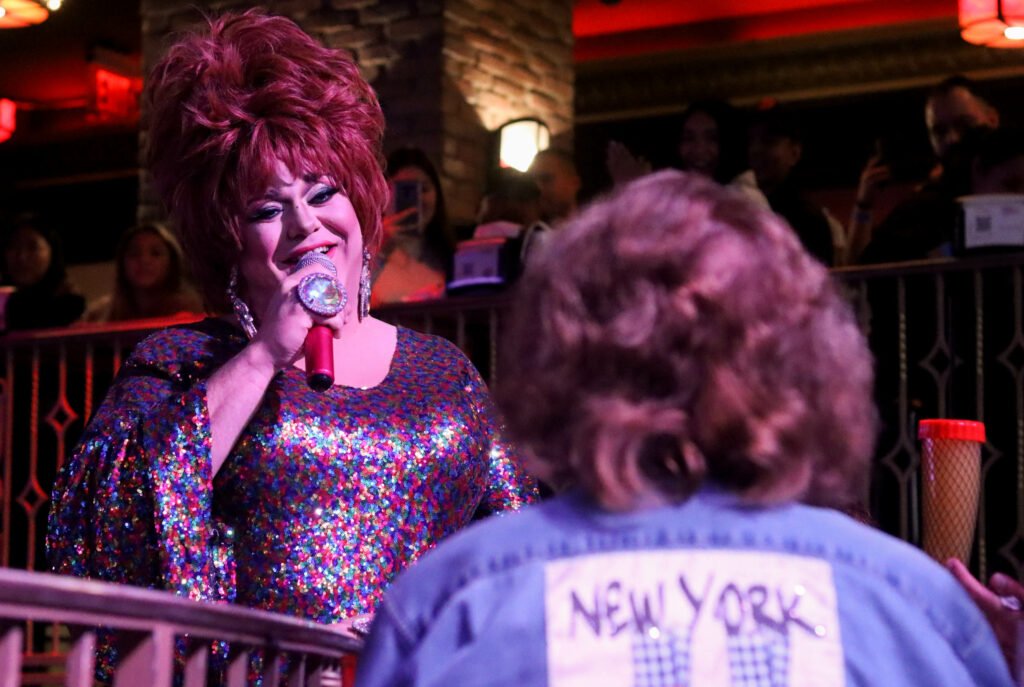 The shows at Hamburger Mary's that Jewels has curated across the past decade and more have organically expressed this diversity: There has been a continual presence of drag artists of all colors, identities, genders, and styles—something that will be reflected at Long Beach Pride's Drag Dome.
"Especially with newer generations, we are continually learning more and better terminologies—I am learning new terminologies and new identities all the time. It's so cool with this advancement in language regarding pronouns because the honest fact is, who the hell knows what all our pronouns would be if we had these options prior? It really is beautiful, especially younger people, forcing this conversation: We don't need to live in a binary, there is nuance, and why don't we love the fact that we're heading there?"
Drag is an art form that also celebrates—and it's about damn time the kings and queens and drag artists of Long Beach get their own damn stage with a hot damn audience of tens of thousands of people.
The Long Beach Pride festival takes place on Aug. 5 and 6. For more information, click here.