Editor's note: This series first appeared on Longbeachize in 2017 and 2018; some articles have been republished.
"We're not even involved at the moment—not even what's being proposed at the moment."
These are the words of Studio One Eleven Principal Alan Pullman, the firm behind what could arguably be viewed as some of the most ambitious and radical renderings that take direct aim at conceiving an entirely new Shoreline Village—an endeavor that hasn't been taken on since the retail space was first constructed in 1982.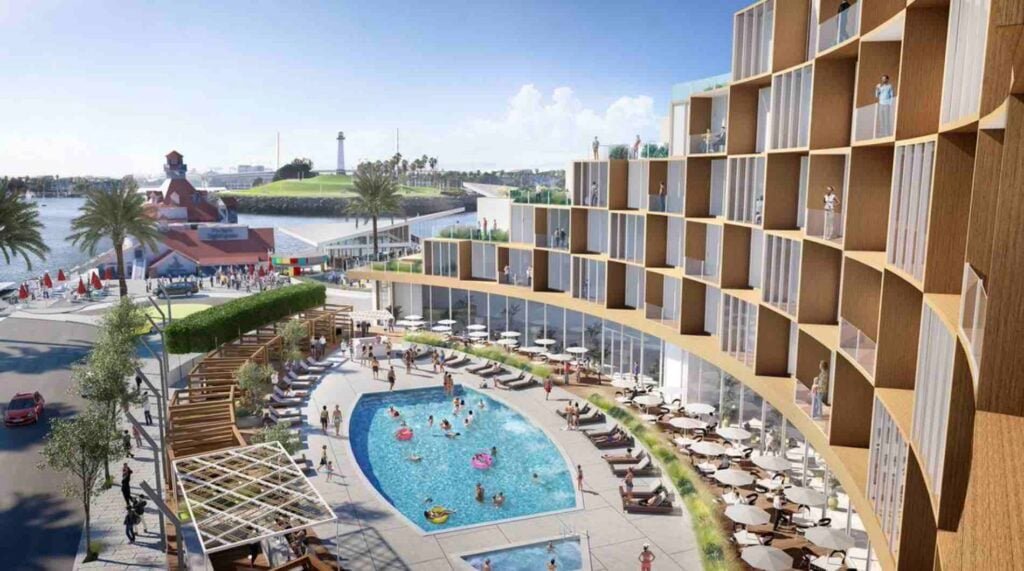 Studio One Eleven's vision for the shoreline space is giddily glamorous, comfortably contemporary, and eschews—as Studio One Eleven tends to do—from the theme park-y vibe that has defined civic attempts across the country to "rebrand" their touristy spots.
On that latter point, the architectural firm's proposal for the land surrounding the Queen Mary, for example, stood out as thoroughly clean and modern amid proposals which sought to return to older times a la Disneyland. The City of Long Beach eventually went with Urban Commons to overtake the space and, well, we know how that went…
Shoreline Village actually has quite a history—the birthplace of Yardhouse, long before it was bought by Olive Garden, for example—and is filled with local shop owners though many find the space corporatized
And while the Queen Mary was considered a "costly municipal white elephant" even 40 years ago, Shoreline Village has been a quiet local success that, well, even locals may not know about.
Constructed in 1982, Shoreline Village was part of the revamp of the shoreline—including what is now the Shoreline Marina and Marina Green Park—after the City of Long Beach was financially "flat on our backs. Nobody was knocking on our door [to invest in the city]," in the words of then-City Manager James C. Hankla, who headed the early redevelopment effort.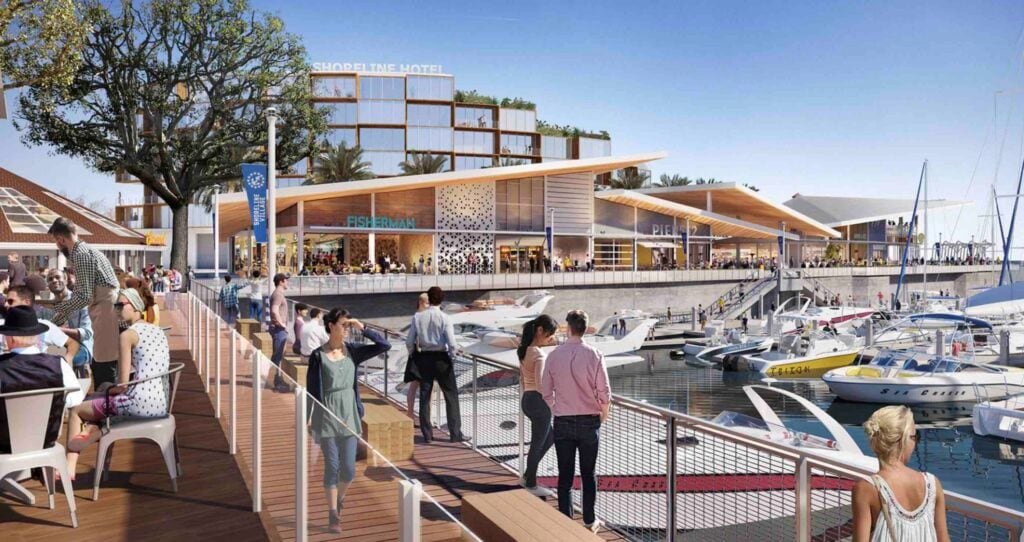 One other city official, then-Assistant City Manager John Shirey, bluntly told reporters in 1992 that "we had a funeral in Long Beach: We declared downtown dead."
Given the dire situation that had faced DTLB since the Pike was overran by the theme park perfection of Disneyland and Knott's just shortly eastward, Shoreline Village was, in essence, a roaring success.
By 1975, city officials called DTLB thoroughly lifeless—and if we are being entirely honest, the site that was once viewed as an artificial boon was, in actuality, part of DTLB's saving grace.It's development was followed by a rush in other development, including the now-demolished Long Beach Plaza (replaced by what is now City Place, undergoing its own rebrand as Mosaic), the Aquarium, the Pike redevelopment (before it was altered into what is now known as the Pike Outlets), Marina Pacifica (rescued in 1995 from Beverly Hills developer Ari Lerner)…
And yes, Shoreline Village had its own nightmare in the early 1990s like Marina Pacific did: In 1992, investors owed the city some $430,000 in late rent—only to find itself once again the Golden Child in 1997 after a newly sought interest in the space, from both locals and tourists, kept it alive.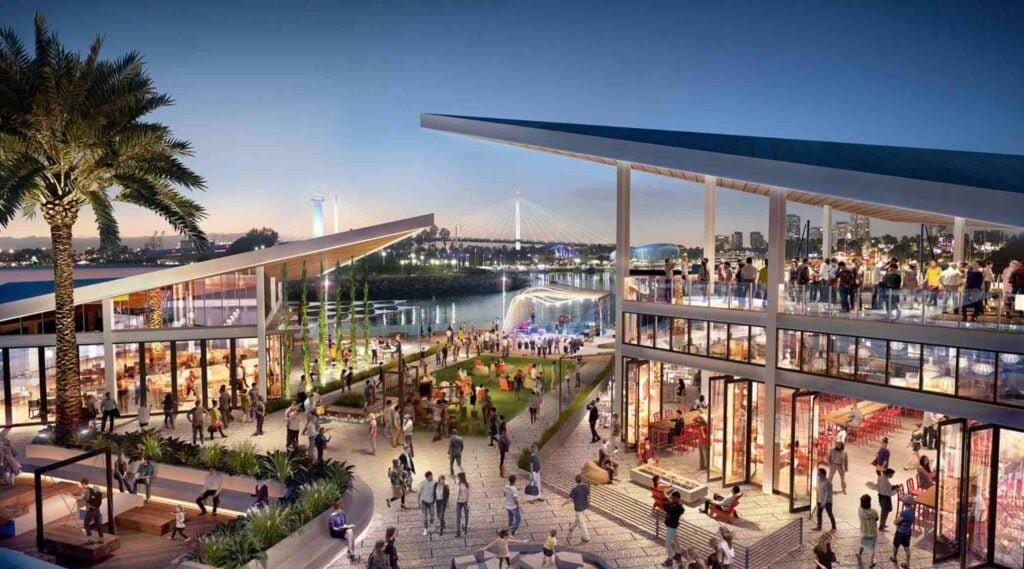 But throughout its history, Shoreline Village had its own share of huge business successes: In fact, it wasn't until 1992 that the village saw more than two of its 30 outlets tenantless. And the history of those tenants is as widely varied as they were part of keeping Long Beach's local business scene alive and well.
Mardi Gras, once the Village's largest restaurant tenant, is the reason that to this day the Shoreline has a Mardi Gras parade; up until its closure in the early 1990s, it was, along with Parker's Lighthouse, the Village's longest-renting tenant. It was replaced by Cantina Tiburon, a short-lived Mexican concept that is now home to the Disney World of Mexican Food, Tequila Jack's.
But perhaps Shoreline Village's greatest business contribution? The birthing of Yard House.
Wanting to mimic Belmont Brewing Company's aura from down the way on the coast—a craft-y joint complete with a view and, at the time, much sought after "California cuisine"—Harald Herrmann, Carlito Jocson, Steele Platt, and Steven Reynolds had a particular vision that they had originally hoped to create in Queensway Bay: a 400-tap beer behemoth where customers would pair their food with the beers.Creating the world's greatest tap room was no easy feat and, after inking a deal with Shoreline Village, the Yard House was born (albeit with 250 taps, not 400).
On opening night, they served Elvira's Night Brew with Elvira in tow. They soon, however, did something another craft beer giant—Ballast Point, discussed ahead—did: they sold out for a cool check, abandoning their craft roots and comfortably escaping on their boatload of cash (over $100M broken between the main four investors). However, despite still being a massive corporate chain still in existence, Yard House holds a distinct place in the history of Long Beach food and drinks—and that is because Shoreline Village has managed to survive this entire time.
Is it worthy or even in need of an update? That is arguable: Studio One Eleven's outright ambitious proposal—boutique hotel, upgraded restaurant and tenant facades, and the removal of its carnival-on-a-pier vibe—is something that can be seen as both admirable or destructive.
As to where this project is—along with the entire shoreline revisioning project that was directed by city staff to begin looking into in 2019—is up in the air. As of last year, the Downtown Shoreline Specific Plan visioning process was noted by the city as being halted due to COVID-19, with staff "working to determine when staffing would be available to resume this work."