"This is about a return to the collective listening of an album—something I don't think can be lost as long as people love music."
These are the words of Luis Navarro, co-owner of Lola's Mexican Cuisine and The Social List, who has invested in a customized DJ booth that permanently sits on the eastern edge of The Social List; it sits there each month until, come the third Tuesday, it becomes basically the only piece of furniture of space.
A hand-selected DJ then takes over that booth and begins with, first and foremost, what will be a listening of an specifically chosen artist's specifically chosen album. That is then followed by a sample of the DJ's own collection, where the amount of mixing skills isn't as important as the intensity of thier own collection of vinyl that can be played as an ode to the album everyone listened to.
In other words, and specifically in the words of Isaak Navarro, who partnered with his mom Brenda Riviera on the project as well, "I feel like just having a place where you can nerd out about your vinyl and music is very much needed in the community—and that idea can bring really new people together."
Japan's audiophile influence on the Vinyl Club
For DJ Caveman Leo—the man behind Soul Times at Alex's Bar, Sabor! at The Grasshopper, At the Party at Bamboo Club…—when first approached about the project, this was his first shot at doing something hi-fi, helping the Navarro family curate and create great sounds.
"Sound is always a priority for me," the lover of music, who has been collecting records for some 25 years, said. "I want the best possible but it's not always accessible with the Good Luck Vinyl Club… We were able to get something great but then again, it's something that is still in the works and always being further dialed in."
Spoken like a true audiophile out of Japan, the idea that a listening bar is "never perfect" is an echo of where the listening bar found its stride: For audiophiles, Japan's hi-fi listening bar scene is unparalled, having been birthed by jazz-kissas, spaces in the 1960s and 1970s that allowed locals to hear jazz albums they otherwise couldn't hear for the price of a cup of tea or a beer.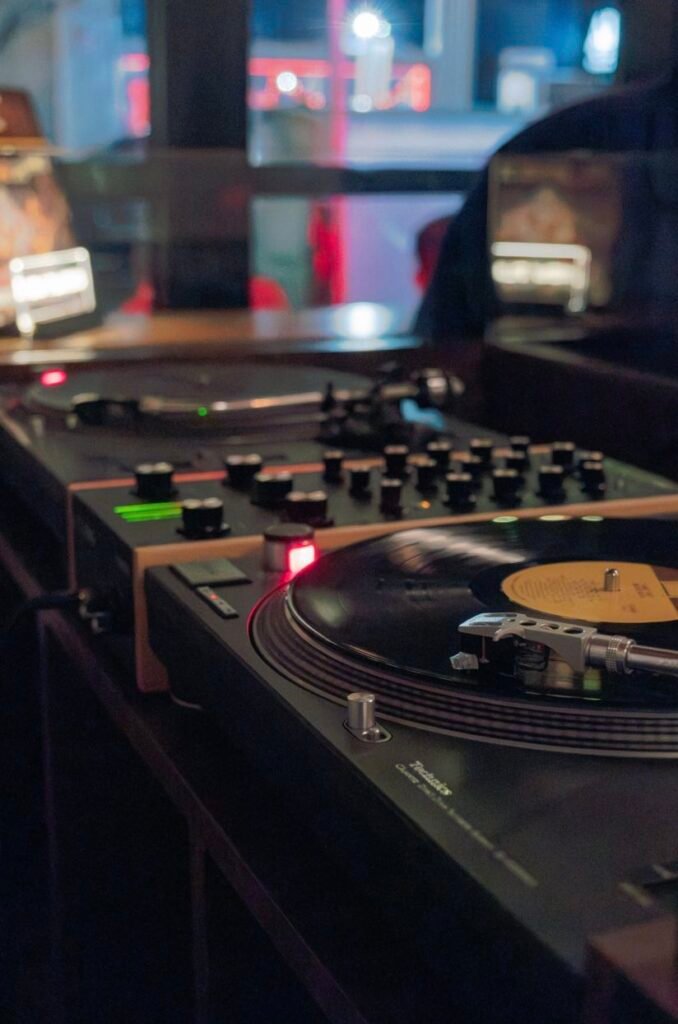 Come the 1980s, listening bars of all types playing all genres flourished: SHeLTeR, which opened in 1989, has had the same owner for decades—Yoshio Nojima—and that "rarely does a day go by when Nojima doesn't tinker with his setup in some subtle way. Foam and cardboard tubing line the walls and ceiling, dampening the sound's reflection."
In other words, some three decades later, the sound still isn't there—and even after two massive sold out events and a third sell-out on the way come Nov. 21, Leo and the Good Vinyl crew are likely never to be satisfied.
These spaces are even flourishing in the States: With vinyl sales topping $1 billion for the first time since in over three decades, it has inspired spaces like directly-influenced-by-Japan Bar Shiru in Oakland to the reimagining of existing spaces, like Chef Dominique Crenn handing over an entire redesign of her Bar Crenn space to a hi-fi lover, listening bars are officially here as well after a near non-existence.
"This is my first time messing around with real hi-fi," Leo said. "And honestly, I am just glad to be a part of something cool that we can eventually grow in our community and give vinyl and music lovers out there something to look forward to."
From MF Doom to Marvin Gaye: The inaugural album and DJ choices for Vinyl Club
Leo knew precisely what he wanted to play for the inaugural Vinyl Club album of choice: Marvin Gaye's late-bloomer critical darling and controversial "I Want You," the 1976 follow-up to his massive albums, "What's Going On?" and "Let's Get It On."
Upon its release, though quite commercially successful, critics largely panned what was, for the time, one of the most forthright sexually-driven albums—and it eventually took decades of songwriters and music lovers insisting on the album's brilliance for it get its second listen.
It was then that quiet storm tracks like "After the Dance (Vocal)"—finding new life in the discos after a middling chart on the main charts—that folks began to realize the album's discussion of sex, relationships, and commitment came with astonishingly good taste and welcomed the ability for artists like Prince, Sade, and D'Angelo to mix high quality soul sound with confidently sexual lyrics.
This was followed by a sold-out ticketed event hosting DJ Gaslamp Killer spinning MF Doom's "Madvillainy," the sole album between hip-hop artists MF Doom and Madlib—the latter of which produced the album and what is largely considered the former's pièce de résistance.
Rivera spent hours creating Doom masks—calling her the "muscle behind the operation," Navarro said Riviera "is again going along for the ride with our wild ideas—and guess who's the person making sure the guest experience is 10? Brenda"—that 150 people donned to celebrate the hip-hop masterpiece.
And come Nov. 21, which is already sold out, DJ Smilegoth will be playing "Heaven and Las Vegas," the Cocteau Twins classic that simultaneously closed the door on the 1980s while opening a new one upon its release in 1990.
These selections are very specific, according to Isaak.
"Leo has a huge collection of soul and funk records," Isaac said. "So it would make sense following 'I Want You' for him to dip into that collection. For 'Madvillainy,' we brought in Gaslamp Killer who has been in the Stones Throw Records scene since the beginning and helped found the Low End Theory sound which birthed Thundercat, Flying Lotus, Tyler the Creator… Also himself having a huge collection of hip-hop and related records."
See the trend? It isn't necessarily about mixing skills—which many of the DJs have, for sure—but more about the record itself being highlighted and the collection attached to the DJ playing that record.
"For this Cocteau Twins event, I brought in DJ Smilegoth who has her own show on NTS Radio where she interviews many bands from that era, as well other bands from the 4AD label that the Cocteau Twins were signed to."
In other words, she will be playing a shoegaze and dream-pop heaven of sounds post-"Heaven and Las Vegas."
Prince was and is right: Albums still matter
Whether you like their music or not, the monolithic tours of Beyoncé and Taylor Swift proved three major things: Women are perfectly fine creating the music they want, artists which focus on creating fully-envisioned albums can be pop acts, and that the collective listening of an artist's discography, where tracks are not skipped, is still very much a human pleasure.
Both powerhouses are contemporary pop acts that defy pop's approach to creating music that largely eschews albums in favor of numbers-driving singles with an album here and there—and the success of their respective 2023 is no denial of that: Record-breaking numbers for tour shows which lasted for hours and went through the entirety of some albums, with Swift selling 580,000 vinyl copies of "1989 (Taylor's Version)" in its first week alone.
Albums are not dead—and the return to discovering the entirety of an album surrounded by music lovers and through an incredibly detailed audio system is an experience each generation deserves despite advances in technology.
There is no doubt: The fact that each of us have the entirety of the world's music library in our pocket is awesome. That experience removed from the people who both create it and love it, however, is not—and Good Luck Vinyl Club proudly advertises the importance of standing against a purely digitized, isolated experience of music.