Courtesy of LA TACO.
Tacos La Carreta wins big at LA TACO's annual TACO MADNESS
ICYMI: North LB's Tacos La Carreta scored the Best in Show title at LA TACO's annual TACO MADNESS event. It brings a huge sense of pride for Long Beach, who faced some of Los Angeles's most respected and beloved taco slingers: From DTLA's flour-tortilla master Sonoratown to goth-trompo kings Evil Cooks to back-to-back winner of LA Taco's taco tournament, decided by online readers, the (rightfully) much-loved Villa's Tacos (whom also faced a shocker when they were de-throned by Tacos Los Cholos for the online taco tournament). Click here for the full article.
La Parolaccia new hours
Praise be the to Pasta'n'Pizza gods: La Parolaccia, Long Beach's OG Roman restaurant, is now open seven days a week. The Procaccini family—led by patriarch Stefano, his son and pizzaiolo king Michael, and daughter Francesca—have historically left Mondays as their sole day off during the week but in the vein of Stefano's penchant for masochism, the family has agreed to give up that very small break. So please, be kind to them for giving us such a carb-filled gift at their own expense… For my full feature on La Parolaccia for Eater LA, click here.
Foodologie to open brick-and-mortar in The Shore
Filipina-American Maria Leyesa is about to majorly expand her sugar-coated online business, Foodologie: She's moving into a brick-and-mortar in Belmont Shore, taking over the space formerly occupied by Cheese Addiction at 195 Claremont Ave. From her famed ube-and-cream brownies to churro- and ubedoodle cookies, the move is big for her (as it is for any bourgeoning small business owner)—and In An Absolutely Adorable Instagram Post, she turned on the electricity to her new space last week. So send her a congratulations and let her know we'll happily be in to visit.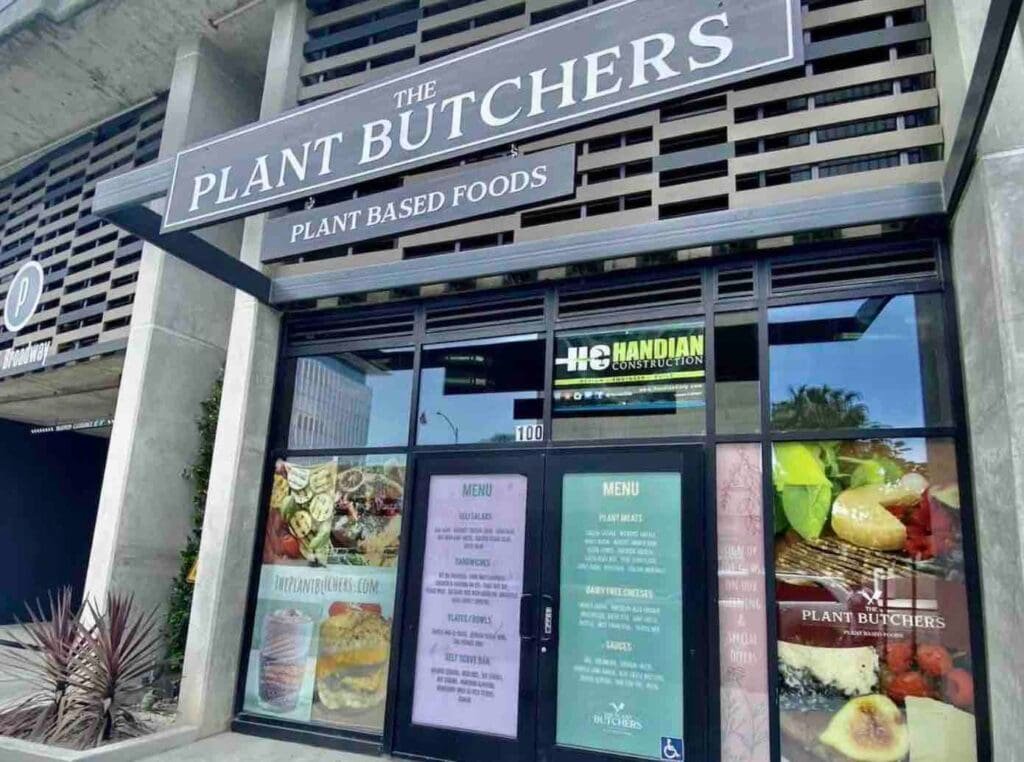 Vegan deli The Plant Butchers raised their sign
Vegan meats and cold-cut shop The Plant Butchers has seen their sign officially go up next to The Vegan Taco Shop Sugar Taco. Sugar Taco co-owner Tina Louise is the owner of the new "butchery," which plans to offer everything from vegan charcuterie and cheese boards to fried plant-based chicken and sandwiches, basically going full-on vegan deli. According to publicist Natalie Griffiths, both spots are "pretty much ready and it shouldn't be long for opening."
Istanbul Home's new offspring, Galata, to open in Belmont Shore
The owners of Istanbul Home in Belmont Shore are expanding into the restaurant business: Galata, a restaurant dedicated to the Turkish delights of their heritage, will open in the former Buona Gente space, which Closed In 2022 After Serving The Shore's Community For Over Three Decades. While owners said they expect the space to be open "in a couple weeks," that is highly unlikely but I appreciate the tenacity.
Long Beach BBQ Festival coming
The first Long Beach BBQ Festival, headed by Axiom Kitchen Smoked Meats & BBQ owners Qiana and Ian Mafnas. The Mafnas family holds a very special place in my heart: Resilient, focused, and utterly down to earth, the husband-and-wife team have created a mini-barbecue empire with their Axiom popup throughout the region—so it only makes sense they host and Create A BBQ Festival, this Saturday, May 13, from 1PM to 8P at Trademark Brewing. But Before You Visit, Learn Their Incredible Story By Reading My Full Profile On Eater LA About Them Here.
Bungalow re-brands and re-opens
ICYMI: The re-branded Bungalow Lounge—formerly Bungalow Kitchen when it was a shared concept between Chef Michael Mina and owner Brent Bolthouse—will be having its grand opening come May 13 in a big fashion: Anderson .Paak, under his DJ Pee Wee pseudonym, will be on hand to spin tunes (and will also be appearing at Solita in DTLB that same night as well to promote his and Bruno Mars's SelvaRey rum brand). Click Here For The Full Article.