Chef Ross Pangilinan, the man who opened Remix at the Long Beach Exchange retail complex on the eastside just weeks before the pandemic, has many laurels when it comes to his cuisine.
He worked for the Patina Restaurant Group under renowned restaurateur Joachim Splichal in 2008 after they opened up its namesake restaurant in DTLA, eventually heading the respected restaurant group's Leatherby's Cafe Rouge at the Segerstrom Center for the Arts in Orange County.
After seven years there, he decided it was time to fly on his own by creating the Michelin Bib Gourmand-recognized Mix Mix in 2016—a Tagalog-to-English wordplay on the famed Filipino dish halo-halo, a direct reference to Pangilinan's Filipino heritage. Then came Terrace by Mix Mix, and now Remix in Long Beach.
"In Orange County, I kind of have this built-in audience—something I am so lucky to have. Here, I've admittedly been struggling to connect with the community and I want to genuinely alter that."
This is just a small sliver of the man's story with food—one that mingles a collage of cultures, inspirations, and purposes. And for such levels of complexity, his demeanor does not reflect such grandeur—quiet, reserved, humble, and soft-spoken—there is almost a difficulty in discussing his accolades.
Born in Tennessee by Filipino parents and raised in La Mirada—where he went to high school with Luis Navarro, owner of Lola's and The Social List here in Long Beach—Pangilinan's whole life reflects precisely what his food (and nod to halo-halo) represent: A mix.
He has lumpia on his menus—a Filipino, eggroll staple—but his is filled with shrimp rather than pork. His version is also made with feuille de brique, a French wheat pastry dough, rather than the ultra-thin eggroll wrapper common for lumpia. His sit atop a spread of charred jalapeño aioli rather than the traditional sweet and sour sauce accompaniment.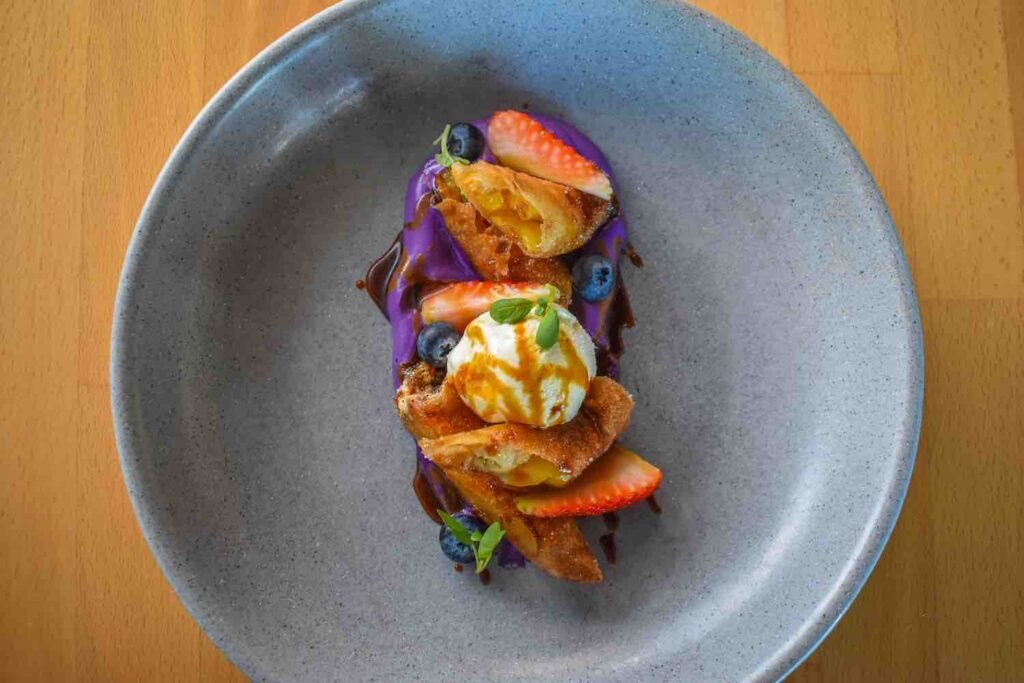 He often has a fish crudo drizzled with calamansi juice, an ode to the Philippine lime. Or he'll sear Albacore to create a tostada with either a Kewpie-based dressing or avocado mousse.
He has an adobo dish which deviates from the massively popular chicken-meets-pork adobong manók version. He uses the pork cheek, a more tender cut, and lathers it in an Argentine chimichurri, all served over a bed of garlic fried rice to add depth.
He hand makes the pasta, where strings of fettuccine or hollows of penne are bathed in sauces. His carbonara pasta dish is made with cavatelli and dusted with pork rind crumbs, and the penne bolognese is made with a Wagyu beef ragù. The vegetable pancit is yet another ode to the food of the Philippines.
He has roasted brussel sprouts that skip the pancetta and balsamic in favor of Korean chili and peanuts.
There's Filipino. There's French. There's Italian. There's an ode to the flavors of the world, and Pangilinan, well, mixes 'em up.
"Growing up I was always into cooking shows like 'The Frugal Gourmet,'" Pangilinan said, noting the famed show of defamed Jeff Smith. "And then Emeril got popular and then TV cooking show hosts in general became popular—and I wanted a piece of that. I loved going to restaurants, I loved watching the whole theater of it all."
With this, the appreciation of his grandparents as cooks soared, and while a career in skateboarding proved a genuine possibility (he was sponsored by both Ambitious Clothing and Skechers), he sought something from the opposite side of the spectrum—Le Cordon Bleu culinary school.
And much like his future pedigree, his youthful one is a powerhouse—he worked under French chef Jean-Pierre Lemanissier at Big Canyon Country Club in Newport Beach. At the time, Patina's was Orange County's most respected French restaurant, and it is still missed by locals to this day.
The French—upon both technique and kitchen experience—sent him to France itself, specifically to two-Michelin-starred Les Trois Marche in Versailles. Come 2008, he found himself at the flagship Patina space when they scored their Michelin star.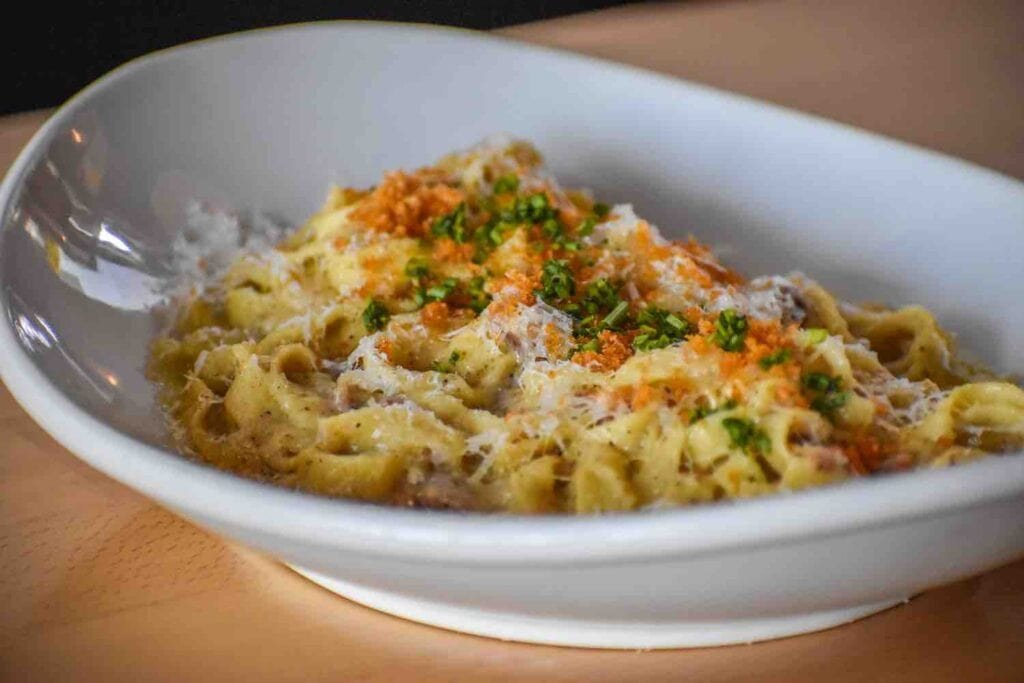 "That was one of the hardest things I've ever done," Pangilinan said. "I was 23, 24 and most of the sous chefs were a decade older than me. The way I earned respect was just working my ass off, working harder than them… living in La Mirada and driving to Downtown LA was soul-crushing."
Furthering his storied career—he at one point worked for a "shady investor" restaurant in Newport that didn't last more than six months, and also opened Sinatra, the fine-dining Italian restaurant at Encore Las Vegas with his former Patina chef. It was here that Pangilinan bought a house and used the sale of it to start what would become his life's greatest culinary achievement to date—his career in Orange County.
So why hasn't anyone been sold on Remix? They've tried burgers, albeit briefly, and they continue to have a stellar three-course prix fixe lunch for $23. They also offer a three-course prix fixe dinner menu for $40—and get this—it comes with a free wine pairing on Wednesdays.
Yes, a $40, wine-paired, three-course dinner.
"We've always had that at our Orange County locations, and they've always been big hits, even though they're actually more expensive there… we were trying to chase these different things and nothing has clicked," Pangilinan said. "Did we not do it long enough? Did we not market it enough?"
But amid all that, he made the move of any wise chef—he returned to his roots and started cooking what made him happy.
Pangilinan's spirit lies in the worldly, where multiple cuisines meet with each other. This is where he shines best—when Filipino adobo and pancit have wildly new interpretations, when the rigidity of Roman mother pasta dishes are reinterpreted (even if only slightly), and when loco moco, the humble Hawaiian and Filipino dish, is made with Waygu beef, an adobo gravy, and garlic fried rice.
This is the food that East Long Beach should be yearning for, because once you learn to trust Pangilinan, you'll discover that—like his Orange County restaurants with much more challenging menus—it is worth the ride.
Remix is located inside the Long Beach Exchange retail complex, located at 3860 Worsham Ave.