For street vendor Zhukry Gonzalez, who goes by "Zook" and runs Zook's Kitchen along the beach path at Junipero Beach, the scene just last week was rather alarming: Over ten police officers showed up and began sweeping up the popular strip of small businesses that offer everything from acaí bowls and fresh fruit to clothes and haircuts.
"It was wild and, to be honest, really scary," Gonzalez said. "Out of nowhere, just cops yelling at you repeatedly, over and over, 'You gotta get out, you can't be here!' It was… Well, man, today is just an entirely different sensation."
Gonzalez's "different sensation" is the fact that he no longer has to worry about such a confrontation: On Friday, California Governor Gavin Newsom signed SB 972 (authored by Long Beach state Sen. Lena Gonzalez) into formal law, altering state code and regulations surrounding street vending—and that includes streamlined pathways to accessing permits and prohibiting criminal penalties from health and law officials.
Street vending is a way for "those with the least to be able to sustain themselves without depending on an outside employer, who can fire you or let you go at any second, like a ton of my friends during the pandemic."
The result? An instant absence of police officers badgering street vendors. And that badgering leaves a mark: Gonzalez set up the week after the decision with a smaller setup than usual because he still fearful he would be part of another sweep.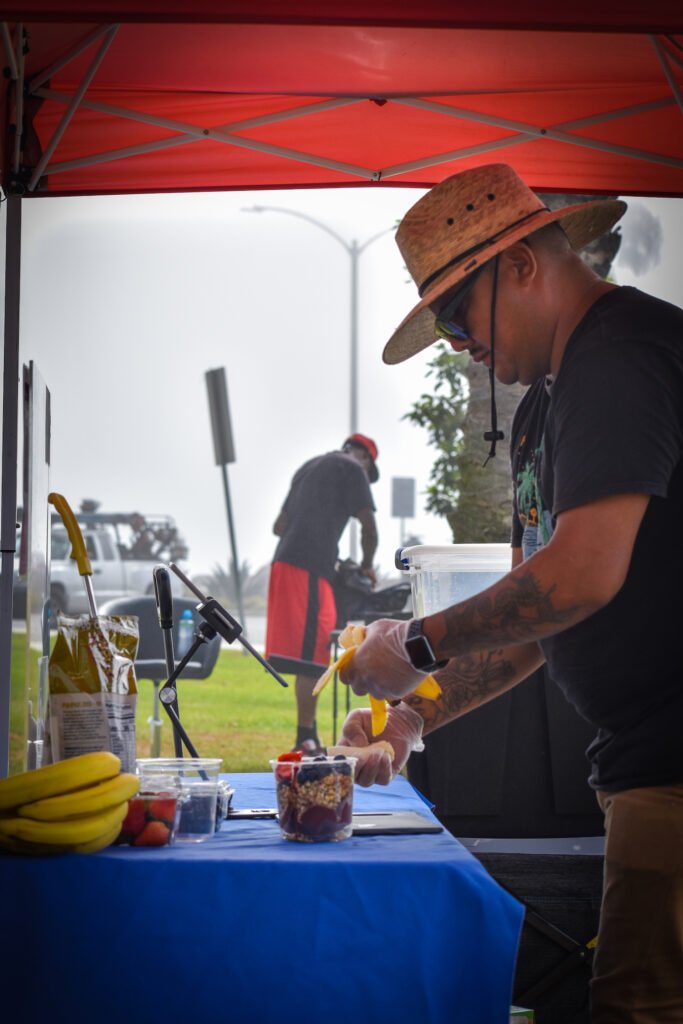 "That day was rough," Gonzalez said. "And to be honest, the moment I called Cameron, he was right there arguing with police for us, standing by our side—that's the kind of support we need… I didn't even know [SB 972] passed until I saw Cameron's post so I called him on Saturday and asked if I as cool to set up any time and he happily told me, 'Yup, any time.'"
Gonzalez is referring to Cameron Kude, the owner of Cafablanca, a mobile, donation-based, social justice-centric coffee cart, who sets up on the northwest corner of Ocean Boulevard and Junipero Avenue.
He encouraged not only Gonzalez but others to join him in a much more front-facing effort: Go to City Hall and speak up. On that path, Kude has become a steward of the street vending community at Bixby Park and along the beach path, Kude has been one of the most vocal opponents regarding policing street vending.
Setting up the day after the decision was made this past Friday, Kude exuded a confidence and happiness that he had not experienced since opening his caffeinated cart of goodness since the start of 2020.
"I finally get to work without fear," Kude said. "Seriously: This is the first time I get to make coffee, serve my customers, and not have to constantly look up the street in fear that a cop car is about to stop and penalize me."
In March of 2021, despite having a food handlers license and sales permit, Kude—like thousands of vendors across the state—were in line for the rest of the permitting process to follow through and, without it, was shut down.
At first, Kude acquiesced; then, he mobilized in more way than one: Understanding that street vending is a way for "those with the least to be able to sustain themselves without depending on an outside employer, who can fire you or let you go at any second, like a ton of my friends during the pandemic."
Gonzalez is one those friends: After reporting certain behaviors to the Occupational Safety and Health Administration regarding his previous employer, he was promptly fired, leaving him to find work in a pandemic that was making the economy nearly impossible to succeed within.
"I got fired and it was like, 'Oh shit.' Reality hit: What do I do? How do I get by without struggling when I was already struggling? I applied to job after job but was getting nowhere. I had to find a way to be entrepreneurial because I could never let that happen to me again," Gonzalez said. "I've been at this for a year-and-a-half now and it's been enough to pay my bills and let me get by so now I want to expand."
Expansion means things like a nighttime vegan taco stand on the beach—something coming in the near future, Gonzalez promises—and also, echoing that entrepreneurial spirit are his neighbors, like on-the-beach barber Andre Cobbs Jr.
The man is one-stop shop for hair cuts, setting up his barber station near the beach path to not only occasionally hand out free cuts to those who need them, but also let his regular clientele—which includes famed skater Boo Johnson—enjoy an open-air cut.
But still, calls from nearby residents upset over his barber station would result in police officers coming down.
"Every time the police come, it is because someone is complaining," Cobbs said. "One police woman was like, 'It's annoying getting all these calls but seriously, someone is upset you're cutting hair?' It's like even some of the police themselves know this is bullshit."
Cobbs takes a deep pride in his craft and his location, noting that he takes particular caution in keep his area clean, both during and after his presence is felt.
"I can't have Zook coming to set up after I left and finding hair everywhere," Cobbs said. "It's a mutual respect thing: As long as all of us respect the place we're doing business, we can create a culture where customers love visiting us and vendors treat each other kindly. I don't want the people working with me to be mad because we're all about supporting one another."
Well, now is the time, Andre and Zook—without the perpetual fear of unhinged residents upset at folks making a living and therefore sending the police—to take those entrepreneurial skills to the next level.