There are arguments over when the Potholder on Broadway in Belmont Heights—the oldest of the three Long Beach locations and a fourth in Los Alamitos—actually opened but it can be no later that 1973.
"That's the earliest photo we have," said owner Michael Pergolini. "So histories become mixed but 1973 in the earliest."
The second Potholder—dubbed Potholder Too—opened in Seal Beach but eventually closed, which is why the original location has a giant red "Potholder Too" that was salvaged from the Seal Beach location (and also remains the reason behind the moniker of the DTLB location).Also, despite the popularity of the other two Long Beach locations—one in DTLB and another by the traffic circle—there is a particular fondness held for the Belmont Heights location.
But which Potholder is the eldest?
The eldest Potholder sibling, the Belmont Heights location sits on Broadway in the historic-feeling, over-100-year-old El Don building, stretching across multiple rooms where seemingly endless colors and memories are attached.Of course, what most patrons notice are the proud displays of photos from years past, all sharing one particular characteristic: Someone in the photo is holding a sign that says, "Eat at The Potholder."
From London to the Grand Canyon, the photos cover the walls and act as windows into The Potholder's history—something that had been an essential cog in restaurant's spirit but has since lost momentum in the dawning of the digital age."Long before we had phones that could do everything, the owners of The Potholder would buy ads in the paper," Pergolini said. "The ad was always one of these pictures and if someone's photo was chosen, they would actually reimburse that person for the use of the photo."
Looking back, it's a bit of marketing genius: Locals could get their face in the paper while Potholder slowly began clutching its trophy as the go-to spot for breakfast.And that influence shouldn't be dismissed: Long Beach is, through and through, a breakfast city, where proclamations of proudly being day drinkers while brunching is a local badge of honor. With nearly fifty year of non-stop service, The Potholder in Belmont Heights is not only one of the city's oldest restaurants but one of its most influential.
How the Potholder became synonymous with Long Beach's breakfast culture
The Potholder is a key cog to our city's love of breakfast, inspiring the onslaught of mimickers—cooks from The Potholder would often just replicate the menu at other spaces throughout the city with few being offended—and the welcomed evolution of breakfast, with spots like The Breakfast Bar and Coffee Cup coming decades later with a warm, Potholder-induced embrace.
It then begins to make sense how each owner has not only affectionately held onto the spirit and food of The Potholder—menu changes are rare and interior alterations are even rarer—but also proudly bought into the idea of taking on a space that is its own animal.In a world where budding chefs and new-school restaurateurs have a deep sense of what they want to distinctly offer to their local food scene, the owners of The Potholder have opted to eschew going contemporary in the name of tradition and nostalgia.
And current owner Pergolini is no exception.
With three decades of service to the corporate giant that is Las Vegas, where he headed hospitality programs for some of the nation's largest entertainment conglomerations, Pergolini felt a need to not only escape to the water's edge of the West Coast but also rediscover a different type of life in a community where he was the newcomer.
"With my kids grown now—my eldest son graduated not too long ago and serves in the Navy—and honestly, it took a few years to find what I was searching for," Pergolini said. "I knew I wanted to get into the breakfast business because I genuinely feel like breakfast culture is its own kind of lifestyle. So I wanted to purchase something that was in decent shape in a place where I didn't have to drive. Where I could bike and walk to the beach."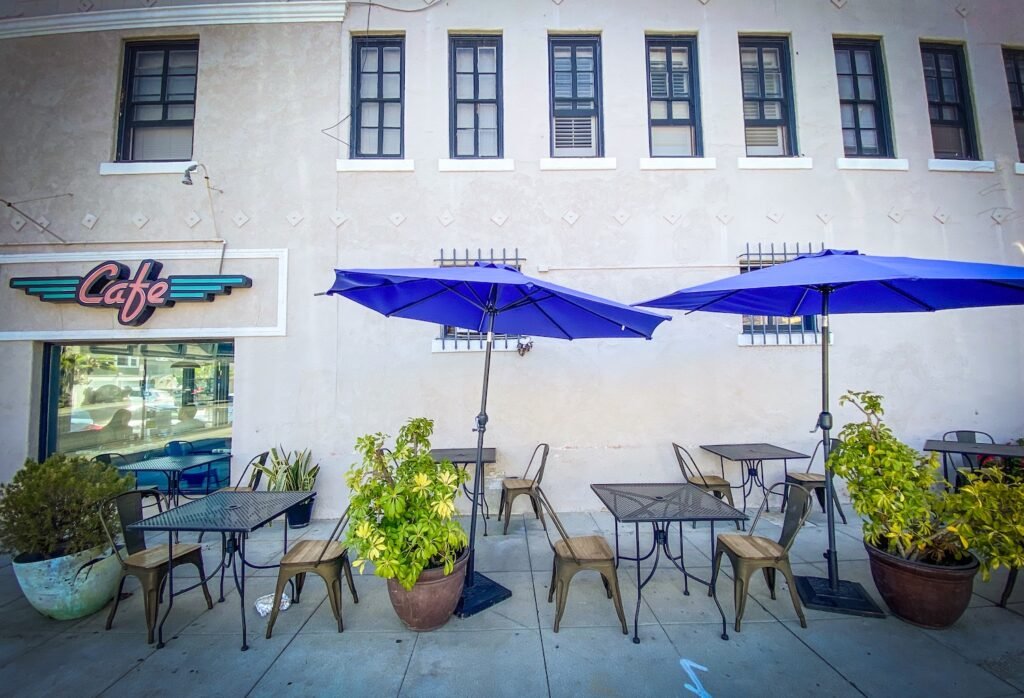 He follows its previous owner, Kevin Pittsey, in a similar vein: Not only does he consider Kevin a friend—"I'll call Kevin with to bounce ideas off him—not because I need permission but I want to know if anything has been done before and whether it worked or not," Pergolini noted—but like Kevin, took on The Potholder because of the aura it oozed."It's not easy taking on something that is so dear to a lot of people's hearts," Pergolini said. "And I wanted to assure folks, just like Kevin had to do, that I am not here to turn The Potholder into something it's not."
Keeping the Potholder, well, the Potholder
If anything, Pergolini has extended the original spirit in many ways.
For example, he got in touch with Temecula-based artist Jeff Jones, the man behind the Broadway location's iconic moralized ceiling of colorful human figures. He then asked Jones to take on the other locations and bring in the same design, finally and formally tying all three locations together with an aesthetic that honors one of The Potholder's key aesthetic components.
And yes, he updated the booths, created new tables adorned with beach culture, and added a few things of his own (including and most notably a gorgeously sculpted wooden American flag in honor of his son's service in the Navy).
But what he did not follow Kevin with is taking on a business shortly before the pandemic."It was a particularly rough moment there," Pergolini said. "This neighborhood has seen so many businesses come and go and I had to hold up my promise that The Potholder would be going nowhere."
That juggle of clinging to tradition while adapting to the post-COVID world is one that Pergolini struggles with to this day, where even subtle changes can have far-reaching outcomes.But perhaps most, it is that, in the handful of years he has taken on one of the city's most beloved food spaces, is that he can have share sense of ownership.
"You know, I have people tell me they've been coming here since they were toddlers—and that is not something I take lightly," Pergolini said. "But I do have to admit that the first time I heard one of the patrons tell a server, 'We love Mike's place, we can't wait to come back,' there was a real sense of pride there hearing someone call it my place."
And they call it Mike's place for good reason: Eschewing the stereotypes of bosses and owners, it is not uncommon to see Pergolini bussing tables, serving food, pouring coffee, or asking you about your day.
If anything, that is a genuine extension of the spirit of The Potholder: Come in, mow through some super spuds, and meet someone new in a place that feels like home.
The Potholder has three Long Beach locations: The original location at 3700 E. Broadway; its second location in DTLB at 301 W. Broadway; and one near the traffic circle at 2246 N. Lakewood Blvd. A fourth location exists in Los Alamitos location at 5008 Katella Ave.