For those that might not know, tucked into an unassuming building at the northwest corner of Junipero and Anaheim is what could easily be Long Beach's most dedicated and beautiful ode to the vast, region stretching food of Mexico, with its heart at Mexico City—and it also offers Lent food for those observing that will fulfill your heart and stomach.
Los Reyes del Taco Sabroso has been serving up massive corn tortilla quesadillas stuffed with meat, cheese, lettuce and crema or barbacoa de borrego or stuffing gorditas with chicharrón prensado, where tiny bits of pork are rendered in fat before being compressed to drain that fat.
Tortitas de papa. Tortitas de camarón with mole con nopales y papas. Chile rellenos en salsa. A taco gobernador. These are but a few of the wonders being shared by Los Reyes for those wishing to have a meal respectful of Lent.
And while the loving, affable patriarch Carlos Hector Montesinos García is the man who handles the store's incredible meat options—I have said it and will say it again: Los Reyes is home to the city's best carnitas—the equally loving and sweet matriarch, Patricia (or what the family lovingly calls "Chef Patito") is the woman who handles, well, everything else.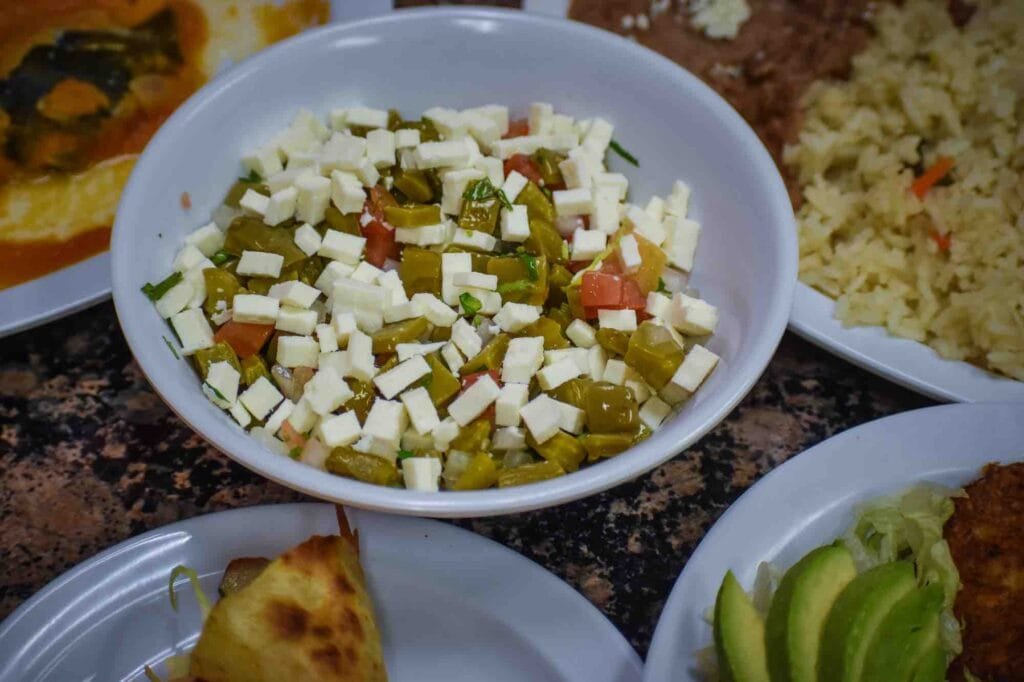 And that means Lent—the time when predominantly Catholics, though all Christians can practice, steer away from land meats and focus on seafood and plants—is the time for Chef Patito to shine.
Patricia, like many Mexican mothers who center themselves in the kitchen, is particular, a swift hand in nearly every aspect of the food coming out at Los Reyes.
"I make everything fresh, which is sometimes hard for visitors to understand," Patricia said. "Sometimes we only have a few orders so I can be quick; sometimes we have ten and there will be a small wait. But everything is by hand, by order, to taste. I use fresh tomatoes for my salsa—like that one on the chile relleno—and I taste: If it it's too tart, I add a pinch of sugar or baking powder. Not every time because not every time they are tart—but it does alter day after day."
When you eat at Los Reyes, you're eating in someone's makeshift home; these are hearty, distinctly Chef Patito dishes—and they are delectable whether one is observing Lent or otherwise.
Her chile relleno is one of the offerings for Lent, a charred-and-peeled poblano stuffed with queso fresco, battered in a fluffy egg white mixture, and fried before being topped with a tomato sauce worthy of being eaten with pasta—as this Italian boy would have it—or using the space's spectacular handmade tortillas to dip.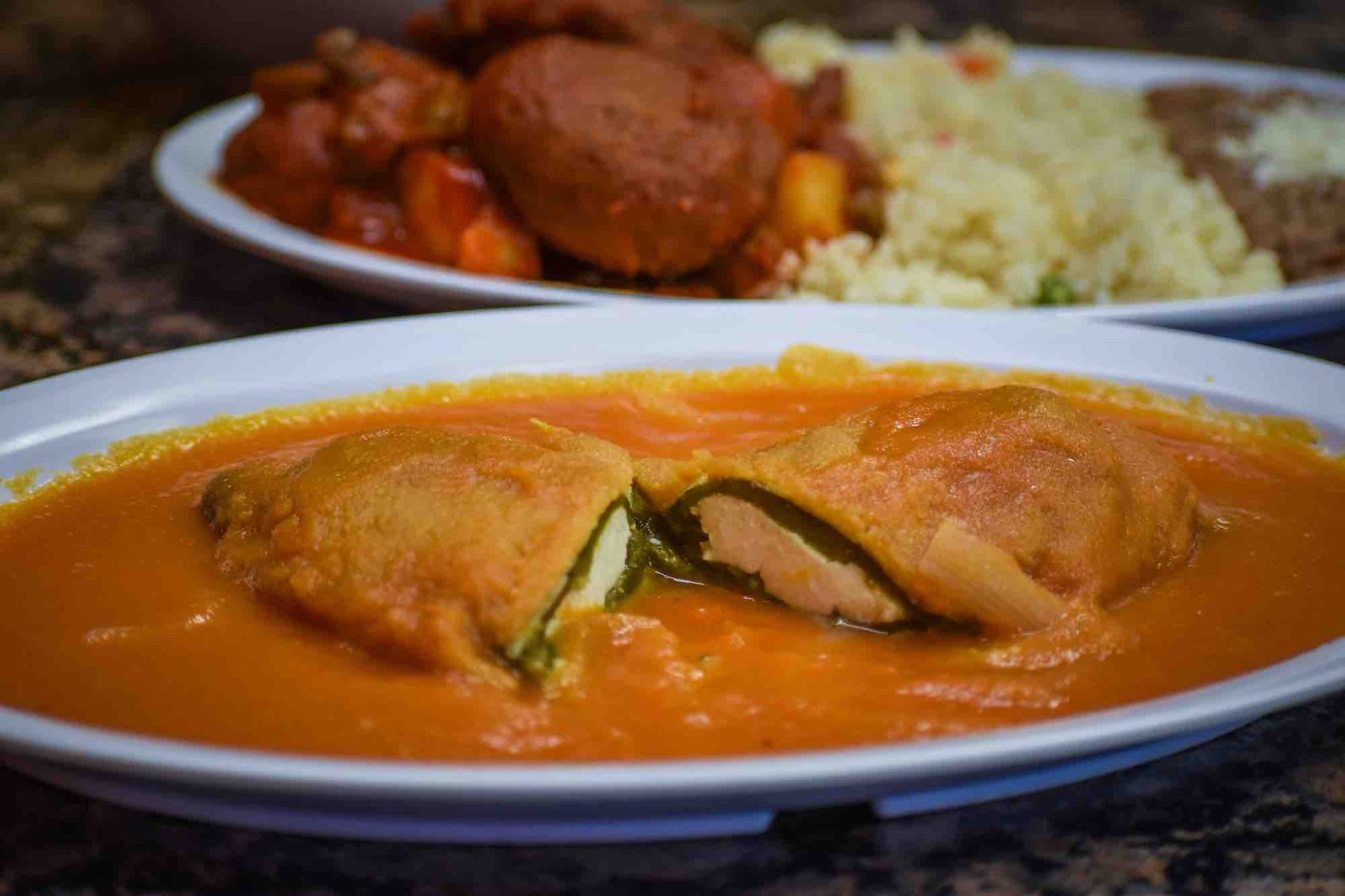 And the chile relleno—which is available in and out of Lent—is one of many dishes that accompany both Lent-specific dishes and regular menu items that are Lent safe, so to speak, with dishes offering the array of potatoes, shrimp, fish, cheese, nopales, tomatoes, green beans, carrots, avocado, and everything under the land meat-less sun.
The taco gobernador, an ode to the underrated combo of shrimp and cheese? Easily one of the best in the city, if not the best, and one of the most popular items at the space.
A handmade flour tortilla is crisped to perfection while being stuffed with shrimp and cheese, the cheese often finding itself peeking outside the fold to create bits of brown crust, stuffed with lettuce and topped with a creamy chipotle sauce. Savory and umami in a single flavor bomb.
Patricias fried fish taco? Eschewing a light, liquid-based batter and going for the Milanese-style breadcrumbs, the heavily-seasoned, hearty crust is a perfect accompaniment to squeezed lime a and chipotle cream drizzle. This hefty bad boy—which definitely needs the two tortillas provided in order to lift—is what one might find in the kitchen of an abuela, a comforting dish that is as welcomed during the summer months as it is the freezing cold.
But it is in the Lent-specific dishes where Chef Patito showcases a warmth and, truly, an expression she is inviting you into her home.
We have the tortitas de camarón, a wonderful concoction that is commonly found in the Mexican kitchen during lent, where egg whites are beaten to a puffy cloud while folded with ground dried shrimp and other seasonings. Chef Patito's, however, are the fluffiest, roundest versions I've yet to have, resembling meatballs when doused in her mole con nopales.
"I have a very, very small window to fry them in order to maintain their shape and texture," she said.
Combined with a spice-forward sauce that is layered with cactus and potatoes, the result is an ode to the sea and vines and earth, saltwater explosions with savory and creaminess in between. It's as delightful as it is Lent-friendly.
And the real star? It comes in the form of potatoes.
Patricia's tortitas de papa are a dish for Lent I've personally never experienced upon arrival, wondered why I hadn't. Chef Patito takes seasoned, boiled potatoes and mashes them into a medium grind, smooth enough to patty out but textured enough to respect the potato's humble origins. Mixing in cheese, garlic, parsley, and magic, she fries the patties creating a mashed potato-meets-hash brown concoction that is as addicting as it is warming.
Put a slice of avocado on it, add some drizzles of their chile de arbol or habanero salsa, and you have yourself a meal for Lent that you will be craving every month of the year.
Ultimately, what makes Los Reyes so special is something personal: Having been with My Dude for over a decade and having the honor of being invited in the homes of many Mexicans and Mexican-Americans, the food of Los Reyes isn't trying to "elevate" or transcend Mexican cuisine traditions but uplift them and honor them—like in the home.
And those places are sacred because you have to be invited into homes—and Patricia and Carlos and their daughters have opened their door freely. You would be a fool not to accept the invite.
Los Reyes del Tacos Sabroso is located at 2345 E. Anaheim St.