Missed out on previous Favorite Things? I got you covered—just click here.
Too many years back, I wrote a very self-indulgent listicle that was about so-called "essential" Long Beach dishes; dishes that I loved and could depend on as long as that place existed—and I wrote it because there's something so elemental and useful about a specific great dish at a specific place. It was less about some grander proclamation than it was about, "This is just great food."
And after a year of not doing such lists, I want to return to it. Not some grand list of "essential dishes"—that is too hard of a burden to put on a restaurant: You better have this and you better have it all the time. But for now, in this moment, I am happy to share some of my favorite things.

In other words: Why not just own the moment? Without further ado, here are the favorite things I'm eating right now…
Gordita de chicharrón prensado from Los Reyes del Taco Sabroso
2345 E. Anaheim St.

There is some irony in that, immediately after praising Los Reyes's land meat-free Lent menu, I am sharing a gordita filled with fried pork—but this is something truly awesome, Long Beach.
Chicharrón prensado translates roughly into "fried pork pressed," a process where, instead of chunks like traditional chicharrón, the pork is chopped into tiny bits before being fried and then pressed to leak the fat.
If you don't think this is decadent enough, it is stuffed into a gordita before being fully fried, then sliced back open to stuff with lettuce, crema, and queso. Crispy on the outside, savory on the inside, it is the perfect hand-held food.
And don't skip out on the habanero or chile de arbol salsa for the table.

For Brian Addison's full feature on Los Reyes, click here.
For Brian Addison's feature on Los Reyes's special Lent menu, click here.
Tangerine Dream Cake from Wide Eyes Open Palm
416 Cherry Ave.
There is something deeply special about owners/team/couple/badasses Kat McIver and Angie Evans's wonderfully underrated Wide Eyes Open Palms shop.
It isn't just wonders like this Tangerine Dream Cake, a citrus bomb that feels has the texture of a beautiful polenta olive oil cake with the brightness of tangerine—a cake so perfectly executed that it almost (almost) makes me give it a slight edge to Chef Kat's OG Olive Oil Cake.
It's the fact that this queer women-owned, happily unapologetic, resilient little spot cooks up some of the city's best food on little more than induction burners and ovens while feeding the community spiritually and ethically.
Garlic Cheesy Squares from Canadian Pizza
1241 E. 4th St.

Though it took me many years—as to why is beyond me—but I've extolled the wonders of this 4th Street gem that has been in my phone for well over a decade, harnessing the power of good ol' American-style in a distinctly Long Beach way.
But beyond including them on my pizza guide, there's another aspect of Canadian Pizza that, despite the carbs and cheese with the pizza itself, I can never skip out on ordering: their insanely awesome garlic cheesy squares.
Not to be confused with their garlic cheese bread—which I once made the mistake of ordering, receiving a sadly, hefty loaf of middling, halved French bread stacked with cheese—their garlic cheesy squares are a pizza gone rogue: A buttery, garlic layer between the bread and the cheese is really all it is.
And it is nothing short of addictive.
For Brian Addison's guide to Long Beach pizza click here.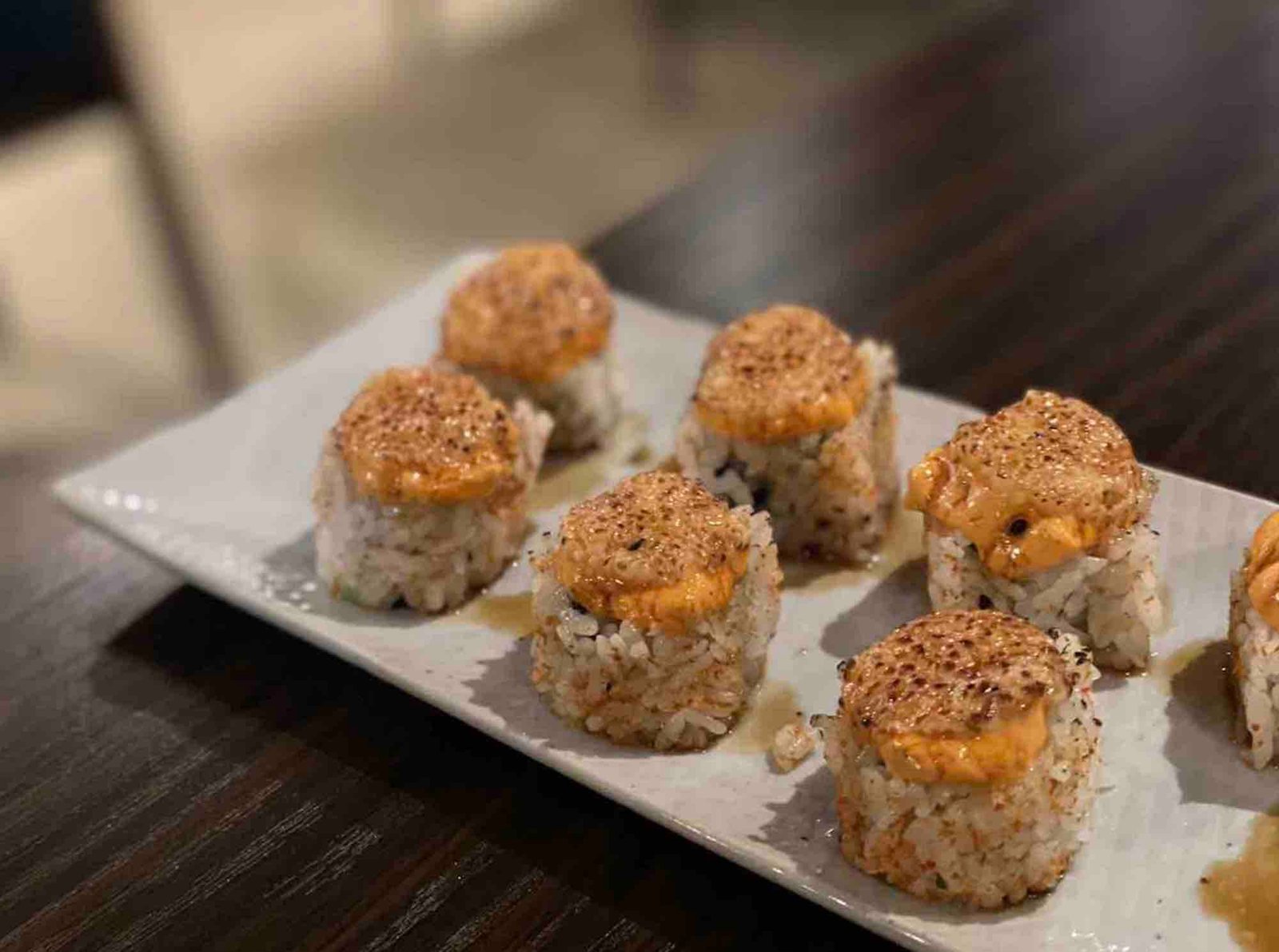 Dusty Roll from Sushi Nikkei
3819 Atlantic Ave. in Bixby Knolls & 5020 E. 2nd St. in Belmont Shore
There is much reason to praise the owners of Sushi Nikkei sushi master Eduardo Chang Ogata and his wife, Daiwa Wong: After opening their flagship location in Bixby Knolls in 2022—with much attention from critics and patrons alike, earning a recognition from the Michelin California Guide as well as being persistently packed—they have now opened a second location in Belmont Shore, taking over the former Haewah Dal space in between Argonne and Granada Avenues.
But perhaps more importantly is the fact that we have this kind of cuisine at all, especially here in Long Beach: While "nikkei" refers to anyone of Japanese heritage outside of Japan proper, the Nikkei in Peru have face immense struggles in order to maintain their existence, making their food not just unique but one of cultural resilience (much like the Cambodian food we are blessed to have in the city).
And while I've praised their Sushi Nikkei taster—certainly one of their best dishes—there is something special about the Dusty Roll because, well, none of it should work: Crisped parmesan cheese sits atop a tuna roll, giving creamy on top of unami in a way that is outright delectable.
For Brian Addison's full feature on Sushi Nikkei, click here.
Boozy Ice Cream Floats at Bar Envie
4000 E. Anaheim St.
The space at the southeast corner of Anaheim Street and Termino Avenue has not fared well since The Red Leprechaun had successfully made the space a neighborhood restaurant but eventually closed: Tennessee Jack's followed, a pair of liquor store owners stepping into the world of food hospitality and, with it, bringing a string of chefs coming and going, a reputation of rowdiness, and an overall middling appeal.
With this, restaurateur Geoff Rau and Chef Carlos Jurado of Selva—the Colombian-inspired space just a bit east of their new concept on Anaheim, one which was recognized by the Los Angeles Times as one of the best restaurants in the region—saw opportunity.
Bar Envie is already thriving with its fried frog legs, gumbo, fried bologna sandwiches, and masterful sazeracs.
But the fun comes with their Build Your Own Float menu, where your choice of soda, ice cream, and booze makes this an dessert for adults in the best way possible.
For Brian Addison's full feature on Bar Envie and their inaugural menu, click here.