Tucked into an unassuming building at the northwest corner of Junipero and Anaheim is what could easily be Long Beach's most dedicated and beautiful ode to the vast, region stretching food of Mexico, with its heart at Mexico City: Los Reyes del Taco Sabroso.
While they have what many consider the classics and the trends—from chilaquiles, definitively some of the best in the city, and carne asada to California burritos and quesabirria—it is their focus on the food of CDMX where the Montesinos family truly shines.
It is in their quesadilla de maiz, a massive, nearly-foot long, hand made corn tortilla, stuffed with cheese imported from Mexico and your choice of meat (or, my personal favorite, huitlacoche). But honoring the street food culture of Mexico City, loads of shredded lettuce, crema, and queso fresco crumbles are added. The result? Hot meat and cheese meets cold lettuce and crema in a wonder of a folded treasure, where an earthy, crisped-to-perfection corn tortilla carrying a savory bomb of flavors and textures, temperatures and sensations.
Quesadillas de maiz filled with huitlacoche. Barbacoa de borrego on the weekends. Tamales dulces filled with strawberries and cream. Los Reyes is a splendid ode to the wonders of the food that makes Mexico City one of the most culinary rich spaces in the world.
It is in their meats, where patriarch and owner Carlos Hector Montesinos García uses the crossing roads that is CDMX—it is safe to say that, at some point, every food from the massive stretch that is Mexico eventually makes its way to the capital, with each person using their own particularly unique touch to make the food "theirs"—and his mother and grandmother as guiding courses for recipes.
His carnitas—dare I say the best in the city?—mix the styles of Michoacán and Oaxaca to create lovingly braised and fried bits of pork that are best exemplified in the simplicity of their taco: A perfectly made-by-hand corn tortilla, its outer sides sealed to create a pocket of air in the center, with nothing more than carnitas, onion, cilantro, and salsa act as the perfect deliverer of this mighty poem to the pig.
His pastor eschews pre-made achiote, where Carlos proudly proclaims his own proprietary blend of spices to mix with pineapple for his own version of pastor (which adds an incredibly beautiful touch of sweetness in a quesadilla de maiz).
The most infectious aspect of the Montesinos isn't just their delectable taste in cuisine but their honoring of the matriarchs in their family: Carlos perpetually acknowledges his mother, daughters, and abuelita as the most important figures in his life, both in and out of the kitchen.
For the entirety of his life, Carlos has been cooking with the women of his life, including his mother and grandmother (who hail from Guanajuato), his mother-in-law (from Querétaro), and also teaching his wife his own knowledge of the kitchen. Under the sound of airplanes flying overhead as they lived by the airport, surrounded by eight brothers, Carlos found sanctity in the kitchen—and were it not for this precious skill handed down to him by the matriarchs of his life, it was likely that Carlos would be in a dire situation.
"I am the son of the kitchen," Carlos said. "I would stand side-by-side with my mother and grandmother, watching them. They were the ones that taught me to cook and thank God they did: At 40, I was laid off from being an electrician and in Mexico, there is no new work an old man can seek to continue to take care of his family."
This passing-on of traditions in the kitchen was not just a way to connect with and assist his mother in taking care of the family but expanded into a lifelong interest in food, where Carlos would buy recipe books to analyze techniques, ingredients, and flavor combinations. And, in his own words, thank God for that: Were it not for this precious skill handed down to him by the matriarchs of his life, it was likely that Carlos would be in a dire situation.
At 40, he was laid off from being an electrician after his boss's son decided to come in and alter the entirety of the labor force of his father's company.
"And in Mexico, there is no new work for an older people to seek and continue to take care of his family," Carlos said. "They didn't care for an old man like me."
This led him to come to the States, staying on an uncle's couch in Anaheim, figuring out how to find what is nothing short of discovering an entirely new life—no easy feat for someone in an entirely new culture whose professional career had been decimated with a pink slip. With his wife's inspiration, however, he realized what was once just a passion for enjoying and making food could become a business.
"My wife worked in a restaurant," Carlos said, "and it was there we realized the complications of working for someone else: You have managers, owners, and others who can bring you down to the point of not enjoying where you work. So we created our own space. Simple as that."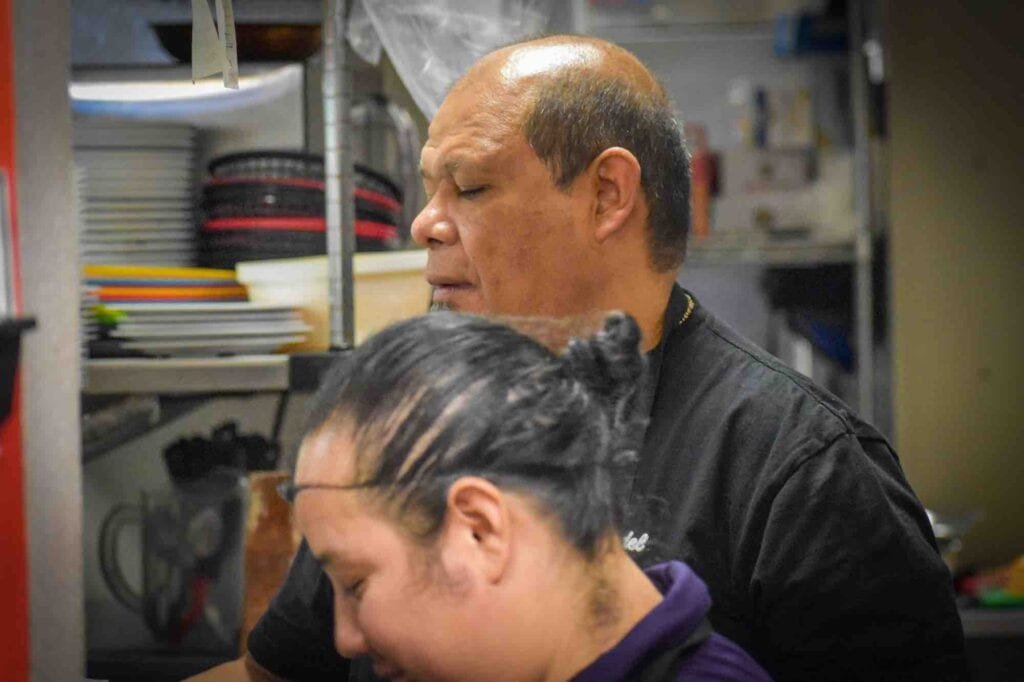 With no in-house fighting, particularly dealing with the arrogance of self-centered business owners, and money saved up from his career in Mexico, Los Reyes del Tacos Sabroso was birthed.
This surrounded-by-women aura in Carlos's life is perhaps no more beautifully exemplified than in the space of Los Reyes itself, where Carlos's two of three daughters—Karla and Dulce—and wife are constantly seen directly involved in the restaurant's operations, from cleaning and taking orders to cooking and serving.
And like many well-oiled family operations, they work together seamlessly with one goal: to uplift Los Reyes—the obvious silver-lining being that the food of Carlos (and therefore the food his mother and grandmother) is not just decent or okay but outright delectable.
It is a space that has long existed in Long Beach's culinary fabric, having first opened in 2014 but being lost in the idea that it was "just another Mexican restaurant." And to that, I have a few things to say: For one, can there be too many Mexican restaurants, especially when so much of the Mexican food diaspora—the food of Oaxaca, Yucatán, and Veracruz immediately come to mind—is missing in our scene?
And perhaps even more is the frank reality that not all Mexican food is created equal. Surely, I will not yuck someone's yum directly but there are places which depend on Tapatīo and Chalupa while there are places like those of Carlos, where fiery green habanero and blood-red chile de arbol sauces are concocted by hand on the daily to douse your tacos and quesadillas. There are places which depend on pre-made packs of spice for their proteins and places like those of Carlos that create their own proprietary blend of achiote for pastor. There are places that egregiously depend on Guerrero or Mission tortillas and places like those of Carlos that make each one by hand.
In a perfect Long Beach, we would always choose places like those of Carlos.
Los Reyes del Tacos Sabroso is located at 2345 E. Anaheim St.