Want to view previous Essential lists of mine? I got you covered—just click here.
2022 brought with it some baggage of this decade's gruesome beginning along with some genuinely beautiful parts as restaurants began to somewhat return to a time when patrons mingled alongside one another in the common name of breaking bread.
For Long Beach, it lit a culinary, creative fire under the asses of many a chefs across the city, making way for what I firmly believe to be its strongest year in terms of gastronomical clout: A diversified, quality-driven showing that has brought forth some of our city's best food.
While I tend to shy away from direct, pen-to-publishing criticism—I have always said I am a food writer, first and foremost, telling the stories of the people who make our food rather than strictly judge the merits of the food alone—I wanted to share my favorite 22 dishes I experienced from 2022.
In no particular order…
Panino con mortazza from La Parolaccia
2945 E. Broadway

The many wonders of the carb master and gluten samurai that is pizzaiolo Michael Procaccini cannot be understated: glorious pastas, practically perfect pizzas, and, for this particular post, delectable paninos.

Most of the patrons at the long-loved (and rightfully so) Roman restaurant that is La Parolaccia often guide their eyes toward his takes pizza—one which beautifully straddles the line between a nearly carb-for-carb imitation of Roman pizza proper and something distinctly Long Beach—one should not ignore his offerings made on his perfect focaccia bread—particularly the simplicity of nothing but mortadella, burrata, and olive oil stuffed between sliced focaccia.
The panino con mortazza: Savory, creamy, simple, wondrous.
For Brian Addison's full feature on La Parolaccia for Eater LA, click here.
Scallop crudo from Selva
4137 E. Anaheim St.
While many lamented the loss of The Hideaway—myself included in that communal mourning—there could have been no more serendipitous of a replacement than Selva, a love letter to Colombia thanks to the stunning talent of Chef Carlos Jurado and dedicated owner Geoff Rau.
Jurado's talents rightfully earned him a spot on the Los Angeles Times's Best 101 Restaurants list—joining only one other Long Beach space, Ammatolí—and people have continually praised his smoked bird dish, rice and beans, and plays on the food that honors his homeland.
But there is something spectacularly beautiful about his scallop crudo: Part art, where the scallops are displayed upon rocks and flowers like a mini rocky beach in a dish, and part food, where greens and oranges and purples jump out, there are not enough scallops in the city to make not want to come back to this dish over and over.
For Brian Addison's full feature on Selva, click here.
Carnitas from Los Reyes del Taco Sabroso
2345 E. Anaheim St.
The Montesinos—the family behind the massively underrated gem that is Los Reyes del Taco Sabroso—are a humble, hard-working bunch, reflecting the same ideals that have come to define Mexican immigrants and their endless contributions to American culture, labor, and society.
What makes the addition of the Montesinos to the Long Beach fabric even more beautiful is their love of Mexican food, particularly that of Mexico City. Led by their affable and loving patriarch, Carlos Hector Montesinos García, there is honestly no singularly best dish at Los Reyes but many—but I had to choose one.
Their meats are a wonder to behold, where Carlos uses the crossing roads that is CDMX—it is safe to say that, at some point, every food from the massive stretch that is Mexico eventually makes its way to the capital, with each person using their own particularly unique touch to make the food "theirs"—and his mother and grandmother as guiding courses for recipes.
His carnitas—dare I say the best in the city?—mix the styles of Michoacán and Oaxaca to create lovingly braised and fried bits of pork that are best exemplified in the simplicity of their taco: A perfectly made-by-hand corn tortilla, its outer sides sealed to create a pocket of air in the center, with nothing more than carnitas, onion, cilantro, and salsa act as the perfect deliverer of this mighty poem to the pig.
For Brian Addison's full feature on Los Reyes, click here.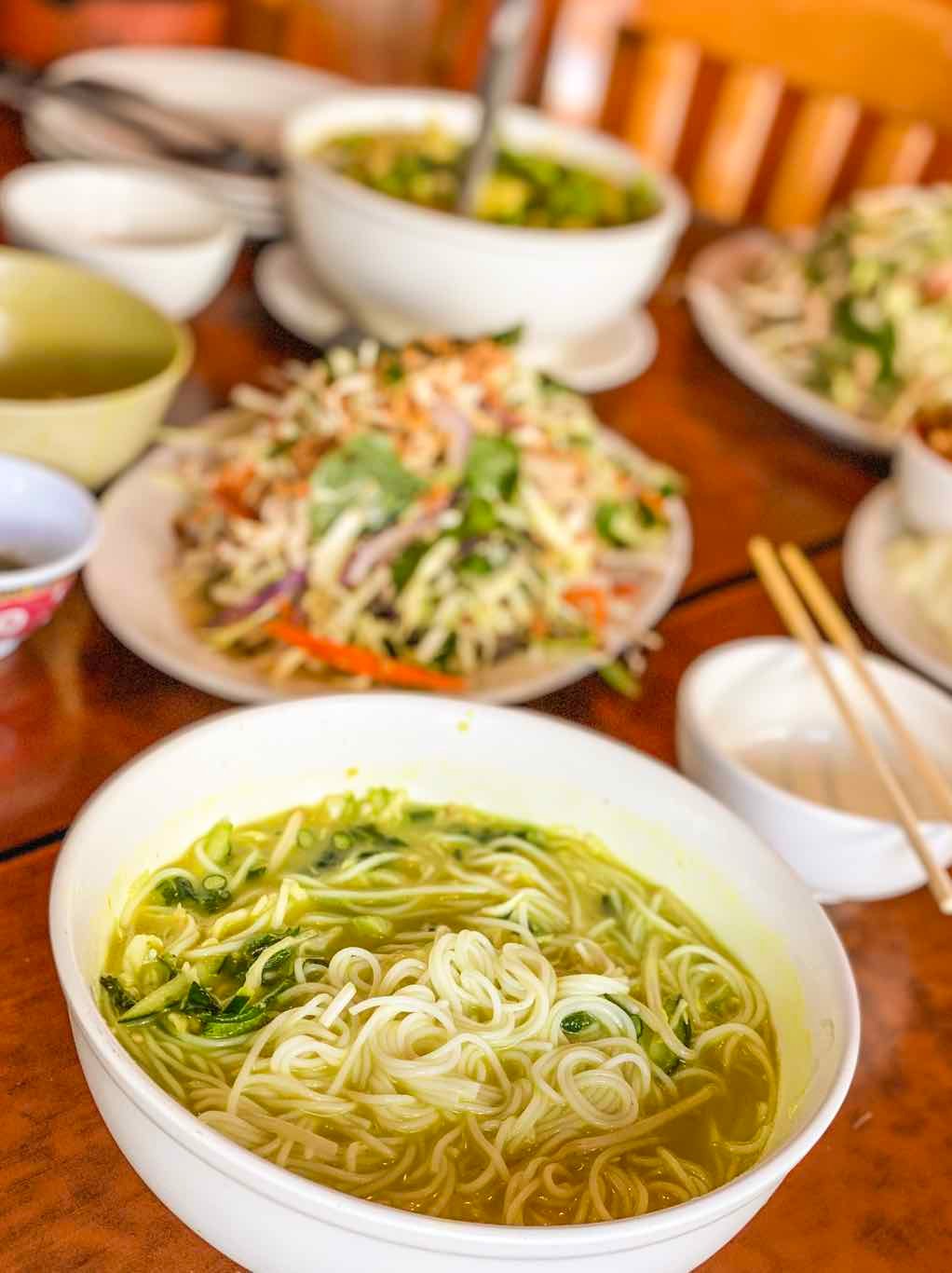 Nom p'jok from Crystal Thai Cambodian
1165 E. 10th St.

If one wants to really take in Crystal Thai Cambodian—which should, in all frankness, own its beautiful Cambo-ness and just drop the "Thai" part out of its moniker—then one should be invited to the space by a Cambodian friend.
I had this distinct honor after having not been to Crystal for years—and as luck would have it, it was none other than my friend James Tir (aka @LBFoodComa on Instagram).
I, of course, have had their green mango salad and their Phnom Penh noodles. And given that these dishes, among the handful of others we would repeatedly order, are pretty decent, we order them. Again and again. That ever paralyzing thing that is being a predictable creature.
But then I was happily introduced to the beautiful range of what James called "a Cambodian house in a bowl."
It was the nom p'jok, a bowl of thick, vermicelli noodles topped with an assortment of herbal leaves and a separate bowl filled with a turmeric-tinged broth that uses muddled catfish as its base and then, through some culinary alchemy, results in a umami-meets-citrus bomb that is as light as it is addictive. Add some fresh squeezed Keffir lime and Thai chile and you have one of my favorite bowls of noodles I've had since first experiencing Noodle Shack's house special.
Cash only and, I want to bear this suggestion: Try to go with a Cambo friend.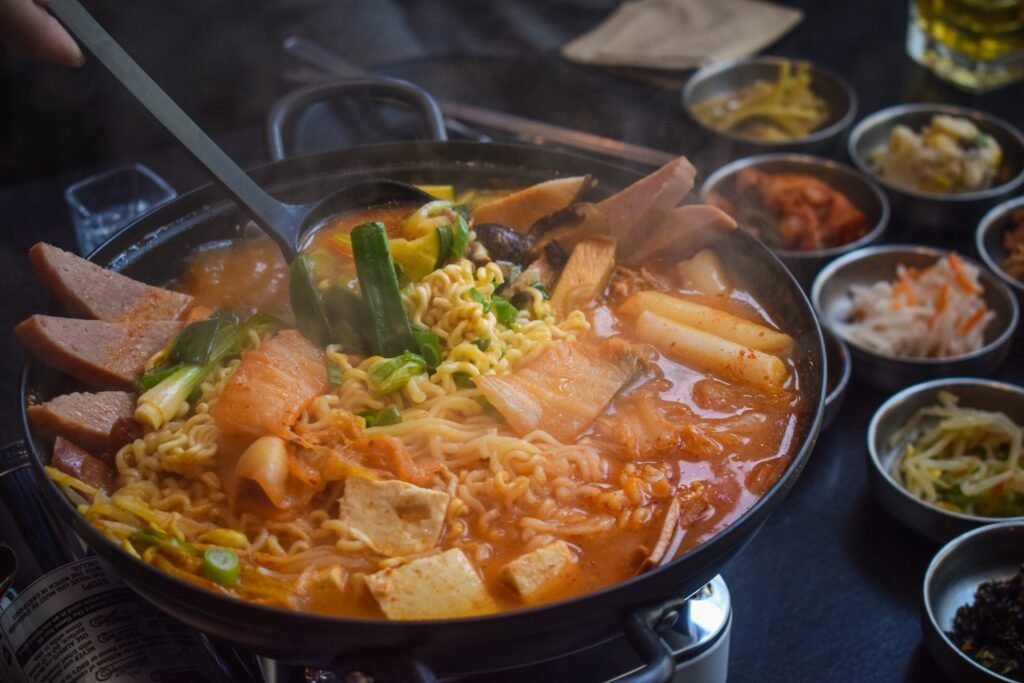 Budae-jjigae from Sura Korean BBQ & Tofu House
621 Atlantic Ave.

Budae-jjigae—an item that Sura owners Clair and Brandon Kim added in 2022—is a rather beautiful projection of Sura's own development. Homing in on the traditional to eventually taking on varying palates and becoming a mixture of both traditional and forward-looking Korean food in SoCal, budae-jjigae reflects much of the same, albeit following the horrors of the Korean War.
"It basically translates into 'army base stew,'" said co-owner Brandon Kim. "And it stems from when the Americans officially pulled out of the war, leaving behind many of their supplies."
Amid a tragic food shortage after American troops vacated the theater, Koreans were left with what the marginalized are often left to do: Make something out of very little. Amid former American bases being filled with canned and cured meats ranging from Spam and bologna to hot dogs and salami, they created a stew that has not only stood the test of time but has made its way back to the United States.
Sura's version is no exception to the soup's popular and beloved reputation: A house-made beef broth sits as the base for this instant ramen noodle dish, where layers of shiitake mushrooms, tofu, and rice cakes sit among their very American counterparts, including Spam, bacon, and good ol' American cheese.
Arriving at your table atop a mini-stove top burner, it is wonderfully warm, holding a savory depth that pairs perfectly with a hangover and a pour of Sura's partnership with brewery Strand, their Seoul Lager.
For Brian Addison's full profile on Sura, click here.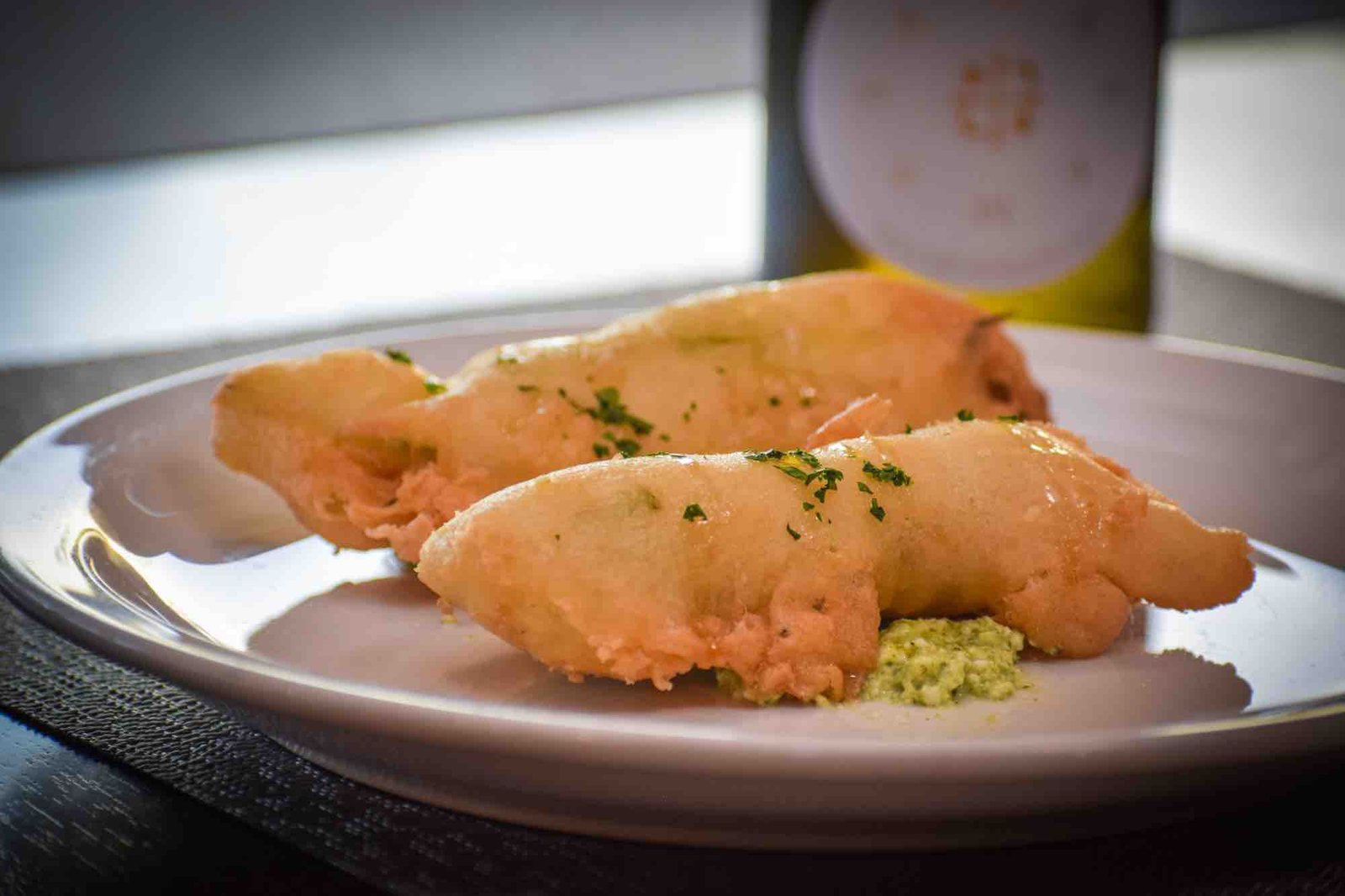 Fiori di zucca from Vino e Cucina
4501 E. Carson St. #105

Much like many of the restaurants on this list—La Parolaccia, Los Reyes, Sura…—there is really no bad order at Vino e Cucina, the tiny-but-mighty Italian spot on the Eastside that serves up some of the city's best pastas.

But the humble dish that is fried fiori di zucca (or squash blossoms) exemplifies that special sort of "Non lo so" that surrounds a seemingly simple Italian dish.
Affable and lovingly loquacious owner Lorenzo Motolla, a native of Milan, has them shipped from Puglia because, in his words, "everything about the flower tastes different because of Puglia's terroir and preparation." And he is right: Surrounded by a light, fluffy casing and stuffed with mozzarella, these earthy, floral delights sit atop the restaurant's house-made pesto and ricotta.
The result? A quite possibly perfect appetizer—and if you really want to take it up a notch, get the Samas vermentino blend as a glass on the side.
For Brian Addison's full feature on Vino e Cucina, click here.
Butter chicken pot pie from Cali Chilli
4111 N. Viking Way

Cali Chilli is Long Beach's self-described "inauthentic" Indian restaurant, offering up a wonderful fusion of flavors from across the globe: Korean-inspired sticky ribs, quesadillas with chicken tikka, a gooey lasagna made with paneer and eggplant…
And while there is much to rave about—one is unlikely to receive a remotely bad reception from its stellar General Manager Vijay Rajput—there is something beautifully comforting about their butter chicken pot pie.
Coming out in a piping hot, burnished clay pot, its top a golden brown dome of puff pastry, this is a dish that while best for a day amid the rain and cold, is so delicious that it defies seasons.
Offering up some of the best butter chicken I've had in the States—the birthed-in-Delhi dish that has come to be one of the most popular and recognized dishes in the world, albeit it one of the most arduous to traditionally produce—its creamy, savory, and succulent center is the perfect companion to the buttery, crispy layer of puff pastry.
The only thing I ask? Someone create a savory butter chicken danish because that would be my morning's dream grab-n-go.
For Brian Addison's full feature on Cali Chilli for Eater LA, click here.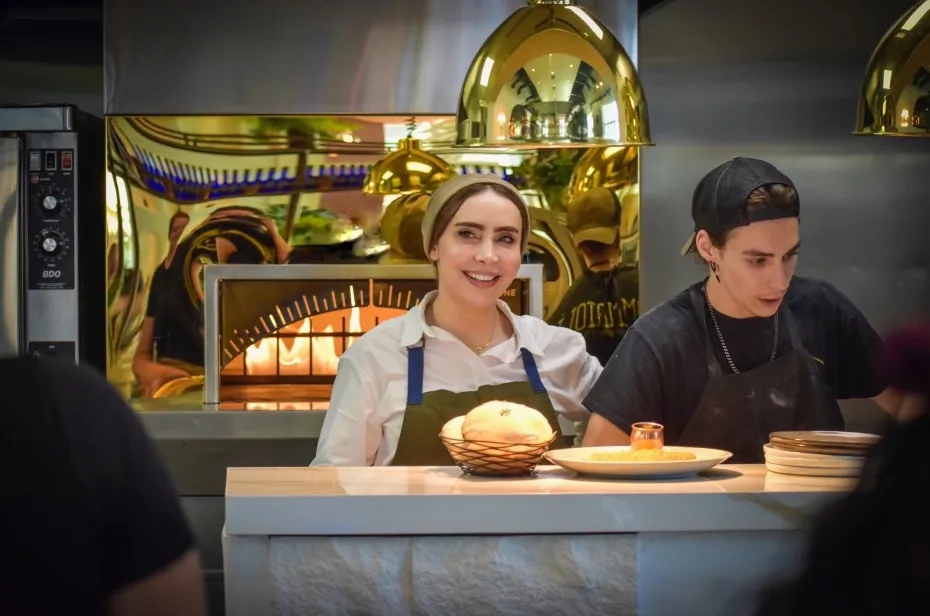 Fresh pita from Ammatolí
285 E. 3rd St.
Joining its sister restaurant Selva, Ammatolí was the only other Long Beach restaurant to be recognized by the Los Angeles Times as one of the region's best—and for good reason.
As many have known, Ammatolí has long reigned as my favorite restaurant for a few years, thanks to the incredibly clean, nuanced, layered food of Chef Dima Habibeh. Homing in on the culinary wonders of the Levant—a rich region that includes Jordan, Palestine, Cyprus, and more—the consistency in her product is what has propelled her food from the get-go: Offering Long Beach its best versions of Levantine dishes, from beef shawarma—it can only stand to be compared to the version that many around the world flock to inside the Fifth Circle of Amman, Jordan—to silky smooth bowls of hummus.
But with her expansion in 2022 came a whole new level of quality while continuing to flex her gastronomical skills: Made-to-order pita.
Surely, this seems like a non-event in the food world but, much like fellow gringos having handmade tortillas for the first time, those unfamiliar with Levantine food proper will marvel at the carby pillows constructed by Chef Dima and ponder why they've been relegated to those hard, chewy discs mass produced and pawned off as "pita."
And much like the mighty tortilla, this perfect pocket of gluten is the equally perfect delivery device for Dima's beautiful food.
For Brian Addison's full feature on Ammatolí for Eater LA, click here.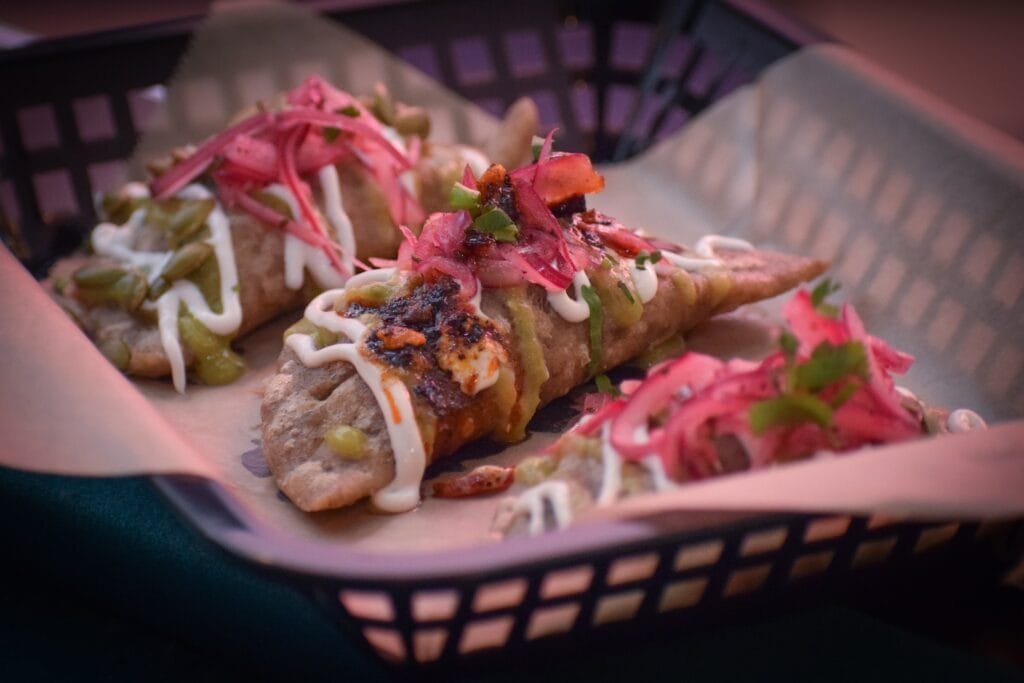 Fried quesadilla with huitlacoche from Fonda Tobalá
255 Long Beach Blvd. (inside Rosemallows)

Have I written before about the wonders of Guadalajara-based Chef Manuel Bañuelos and his tiny-but-might Fonda Tobalá concept? Yes. Is it still vasty underrated? Absolutely. Do I constantly feature them on listicles because I continue to find them deeply underrated? Yes and yes.
There is no bad order with Chef Bañuelos: Masterful barbacoa. Nearly perfect torta ahogada (only being restricted from calling it "outright perfect" because such a thing ought not to exist but this is pretty damn close). A private dinner in their kitchen that is worth every damn cent.
Take, for example, his fried quesadillas, which come in a variety of stuffings, each one hard to argue with the other: squash blossoms, huitlacoche, or rajas—but the huitlacoche is the one that patrons ought to uplift, given Bañuelos's masterful preparation of the delectable corn fungus.
The first sense is not the aroma of their fillings but the dense earthiness of the corn tortillas they are fried in: Using heirloom corn shipped from Oaxaca, Fernanda notes that part of Bañuelos's approach to Fonda Tobalá has been a much deeper return to roots than expected: He handles the nixtamalization himself.
This "doing his own nixtamal" means that he soaks the dried corn pulled from the stock in an alkaline solution, allowing the hardened shells that surround each kernel to be removed so that it can then be dried again, and broken down into a powder via a stone mortar. That masa then gets turned into a dough and made into tortillas.
Stuffed with cheese, a deep purple huitlacoche, and fried, out comes a pocket of, well, something worth repeating: damn near perfection. The overall result? Probably the best tortillas in Long Beach, light blue discs of beautifully earthy, warming bits of Mexico gastronomy—and certainly some of the best quesadillas ever.
For Brian Addison's latest profile on Fonda Tobalá, click here.
Kung Pao cauliflower from The Social List
2015 E. 4th St.
Perhaps the most beautiful thing about The Social List—outside of the love it rightfully attracts from the community—is its blunt admission that it is not trying to reinvent the food wheel.
It proudly harnesses comfort food: Chinese chicken salads that put any CPK to shame. Hush puppies. Fries slathered in chunky clam chowder and bacon bits. Stellar deviled eggs. A spinach-artichoke dip so creamy and decadent that you forgot it was even a food trend from the 90s (albeit ten times better anything created in that era).
It is a beautiful, I-don't-care middle finger to food trends, prompting pretentious foodies to scoff but genuine lovers of food to adore.
And muchlike that aforementioned Chinese chicken salad they had on their last menu update (and happily still remaining on it), they pull and play with Californian food nostalgia in a way that is both welcoming and delicious with their nod to Panda Express: Kung Pao cauliflower.
Bright, not too sweet, not too spicy, it reminded me of the many lines of steam trays, watching a styrofoam container get piled with excessive spoonfuls of various things.
For Brian Addison's latest feature on The Social List, click here.
Fish and chips from The Auld Dubliner
105 Pine Ave.

The Auld Dub is approaching 20 years serving the Long Beach community—and for those that don't know its owner David Copley (along with his longtime creative partner, former Dub overseer, and now owner of The Ordinarie, Christy Caldwell) there is a particular brand of "This Is Special" that applies to The Auld Dub.
Forget the fact that the space was designed in Ireland proper and flown over in pieces to be assembled on sight, attempting to mimic an Irish pub as traditionally as possible.
Forget the fact that Copley takes an annual crew of worthy and loyal patrons to the Motherland itself, showcasing not just where their experience comes from but to update the menu and vibe at The Dub in order to keep in pace with Ireland proper.
It is an letter of love to Long Beach from Ireland—a point I hope no one easily dismisses.
And their fish and chips—unquestionably the best in the city—is a mighty ode to one of the Irish's staples of sustenance: A massive, single chunk of haddock sits atop fresh cut fries, next to a heap of coleslaw and some of the best tartar you'll ever enjoy.
Addictive, creamy, crunchy, salty, wonderful.
For Brian Addison's full feature on The Auld Dubliner, click here.
Calzone from The 4th Horseman
121 W. 4th St.

While the owners of that other pizzeria have largely peaced out of Long Beach, leaving the space to new investors as they consult and advise, Long Beach's OG let's-fuck-around-with-flavors pizzeria that is The 4th Horseman continues to ride strong with local owners, Jeremy Cross and Jeremy Schott, who are genuinely invested.
Bringing on Chef Mike Royal—a humble, genuinely kind soul whose love of metal music and carbs makes for a perfect pairing in the Downtown restaurant-meets-macabre art gallery—was one of the best decisions The Two Jeremys could have made: Creating yeasty wonders that act as odes to the dark side, Royal has genuinely refined the already-rad pies and taken them to a heightened level of greatness.
And while I can praise pie after pie, it is the unexpected calzone that really made me fall back in love with The 4th Horseman.
Gooey, garlicky (thanks to a garlic butter spread slathered on post-cooking), and filled with the stuffings of your choice, it is everything you wished a calzone could be in the 90s but wasn't.
For Brian Addison's full feature on The 4th Horseman for Eater LA, click here.
Pulled pork bahn chao from Battambong BBQ
Various locations; check Instagram
When it comes to my food writing, it is safe to say that for me, 2022 was the year of the Cambodian Cowboy, Chef Chad Phuong—and it has been a wonderful scene to witness as his persona and cooking (literally) garnering national attention.
Honored and humbled to have been entrusted to tell his story, his story is an unequivocally human one that ties three seemingly disconnected cultures and places—Cambodia, Texas, and Long Beach—into one defiantly and strongly fused array of food, uplifting and focusing on the almighty smoked meat.
But his cuisine is far more than just the barbecue he churns out on the weekly.
There is no better example of this than his absolutely stellar, Cambodian-meets-Texan take on the classic Vietnamese bánh xèo: Using the coconut milk and turmeric base that is in the Vietnamese version, Phuong stuffs the egg-like crepe with pulled pork from his smoker and allows you to fold the stuffed creation into lettuce wraps with cucumbers a sweet-meets-heat fish sauce that make it roller coater of flavors that might be part Cambodian, part Texan, and part Vietnamese—but I can assure you: This dish is entirely Long Beach.
For the full feature on Chef Chad Phuong Brian Addison did for Eater LA, click here.
Nikkei tasting from Sushi Nikkei
3819 Atlantic Ave. in Bixby Knolls & 5020 E. 2nd St. in Belmont Shore
For the owners of Sushi Nikkei—sushi master Eduardo Chang Ogata and his wife, Daiwa Wong—2022 has proven beyond fruitful: After opening their flagship location in Bixby Knolls earlier this year—with much attention from critics and patrons alike, earning a recognition from the Michelin California Guide as well as being persistently packed—they have now opened a second location in Belmont Shore, taking over the former Haewah Dal space in between Argonne and Granada Avenues.
But perhaps more importantly is the fact that we have this kind of cuisine at all, especially here in Long Beach: While "nikkei" refers to anyone of Japanese heritage outside of Japan proper, the Nikkei in Peru have face immense struggles in order to maintain their existence, making their food not just unique but one of cultural resilience (much like the Cambodian food we are blessed to have in the city).
And for those uninitiated in Nikkei cuisine—just as I was—fear not: The servers are there to help or, if you trust me, I can assure you there is no bad order at Sushi Nikkei. However, I do have a sincerely deep suggestion: The eight-piece Sushi Nikkei tasting, where you can feel and taste the evolution of Eduardo's sushi journey. From popped-and-seasoned quinoa atop a white fish to a genuinely surprising butter-meets-parmesan scallop, where Eduardos house-made compound parmesan butter is set atop a scallop before being seared to a golden brown crisp.
It's nigiri gone Peruvian—and its as wondrous as it is warming to experience, particularly given the journey of Eduardo and Daiwa to the shores of Long Beach.
For Brian Addison's full feature on Sushi Nikkei, click here.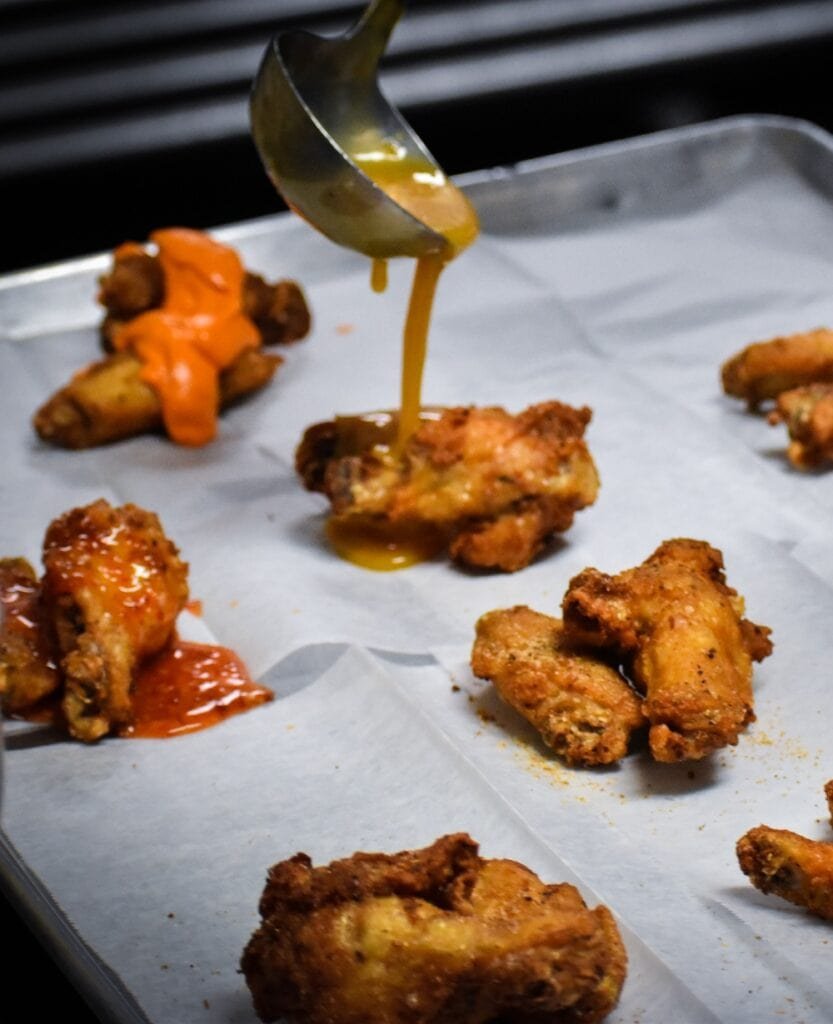 Cambodian chicken wings from Shlap Muan
2050 E. South St. #105
Husband-and-wife team Hawk and Sophia Tea's heritage—a mixture of Cambodian, Chinese, and American cultures swirled into one beautiful familial pot—lead the way for what I would call, no questions asked, the best wings in the city.
A tangible love poem to his hard working parents—Hawk's mother and father, Chhay and Leeann Tea, opened a Chinese-meets-Cambodian restaurant upon arrival in the States following the final phase of the grisly, inhuman Khmer Rouge ruling of Cambodia—Hawk had taken his father's mighty wing recipe and created something distinctly Long Beach, definitively Cambodian, and unquestionably delicious.
Surely, Shlap Muan (which means "chicken wing" in Khmer) offers some stellar takes on Cambodian classics—kuyteav, lok lak, garlic noodles upon garlic noodles—but it is their dedication to the humble but mighty chicken wing that is cause for celebration.
Using a secret seasoning, pre-game trick on the poultry before taking them to the frier stadium, Hawk's ability to fry fowl—a method he learned from his father, Chhay—is one that brings out his equal mastery in seasoning and saucing them.
With witty odes to both his American and Cambodian heritage—think a lemongrass take on lemon pepper called "Cambodian Dirt" or an outright mockery of MSG conspiracy theorists with his "Jalapeño MSG" seasoning—Shlap is more than just a wing spot. It is a reflection of Long Beach's deep ties to the Cambodian community and how Cambodian food can evolve in a city that has been home to refugees for fifty years.

For Brian Addison's full feature on Shlap Muan for Eater LA, click here.
Tacos de papas from El Barrio Cantina
1731 E. 4th St.
In just over a year, El Barrio has proven to be a real community gem—no small feat since it took over a place like Ashley's, a much-loved dive that once sat in the heart of the 4th Street bar and restaurant crawl.
El Barrio isn't traditional Mexican, nor is it trying to be. And it isn't a taco joint. Nor is it a mariscos place. And, perhaps most of all, this doesn't mean it is confused with its identity.
That's what makes it refreshing.
It is the boldness of Chef Ulises Pineda-Alfaro's choices—mixing SoCal's expansive blend of cultures while keeping the book of Mexican gastronomy front and center—that make this kinda-new joint warmly welcomed as it just passes a year in operation. After all, post-pandemic, our city needs to be invested in and when it is food like this being so cleanly executed, they should be welcomed.
On their menu since day one and still unable to not order them upon arrival, their mini-potato tacos are as addicting as they are delectable to mow through: chunks of an avocado salsa, slathered in crema and queso fresco. Try to eat one before you've noticed it's been three.
For Brian Addison's full feature on El Barrio's inaugural menu from 2021, click here.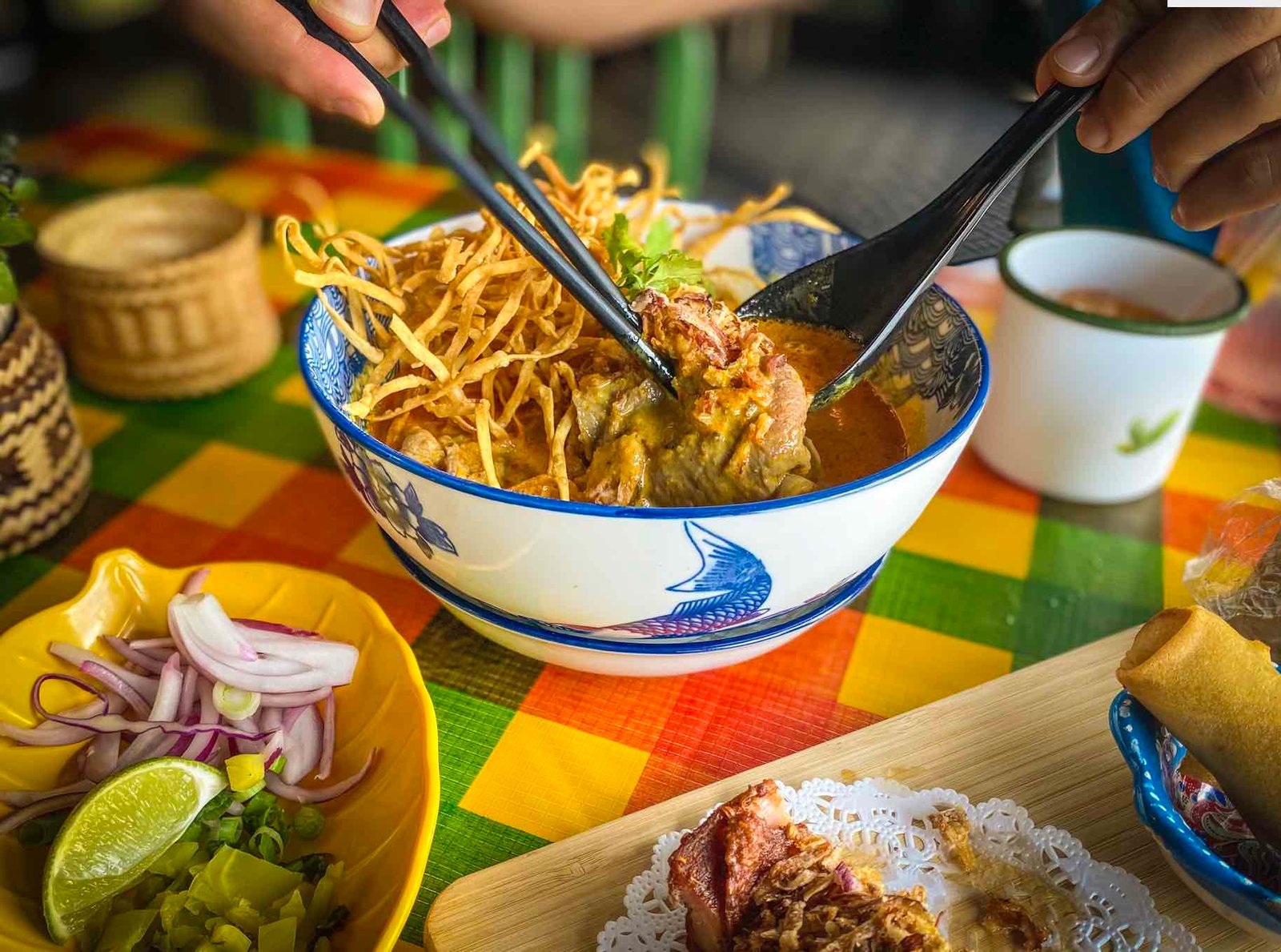 Khao soi from Chiang Rai
3832 E. Anaheim St.
Chiang Rai has gone from way (way, way) under-the-radar to Michelin-recognized within seven months of it opening, after it took over the Moo Pa space before it.
And for good reason: Unassuming on the outside and colorful, bright on the inside, Chiang Rai represents the full spectrum of Thai food proper and Thai food-gone-Californian.
Their khao soi, featured on the menu that blends traditional Thai food with more local ingredients, is a stellar stand-out: Egg Noodles are slathered in a bright yellow curry sauce serve before being topped with fried, crispy egg noodle strings, pickled mustard greens, and shallots. My protein suggestion? The house-made sausage.
Chicken and waffle from Noble Bird Rotisserie
6460 Pacific Coast Hwy. #125 (inside the 2nd + PCH complex)
There are stories I've written that are always worth re-sharing—and the story of Noble Bird Rotisserie is definitely one of them.
Sidney and Steve Price had to face a parental nightmare that affects over 30 million American families: Their baby was suddenly covered with welts and hives after taking a bite of yogurt. Soon after, allergies to tree nuts, seeds, eggs… It also affected their second child.
Food revolves around much of our lives: celebrations, gatherings, deaths, coming together at the end of the work day… And they saw their kids missing out on just that but they refused. So they opened Noble Bird Rotisserie, one of the most allergen-sensitive restaurants not just in LB but the entire West Coast.
But what most people forget its that their food, allergen-sensitive or not, is simply damn good food—with a special thanks to the talents of Chef Andrew Bice, a man who has worked everywhere from alongside chefs Mary Sue Milliken and Susan Feniger at the lauded Border Grill to Downtown Santa Monica's Blue Plate Oysterette only to face the challenge head of creating an allergen-sensitive menu.
And his take on chicken and waffle pie—where the decadent fried fowl of tradition is replaced with a succulent, savory-bomb rotisserie chicken breast and thigh—is a warm, comforting dish to ring in 2023. Sincerely lighter than its traditional version but not lacking in flavor, this is a dish worth repeatedly visiting.
For Brian Addison's the full feature on Noble Bird Rotisserie, click here.
Tasting menu from Michael's on Naples
5620 E. 2nd St.
A tasting menu from Michael's on Naples? On a best dish list? I know, it seems unfair and, to an extent, it is—but it is also a testament to the talent and culinary prowess of longtime Executive Chef Eric Samaniego.
Since fully reopening in February, the famed and lauded Naples space has altered its menu three times to reflect season, ingredients, and innovation—with a wine list curated by General Manager Massimo Aronne and a food program steered by Samaniego.
And while the more steady, seasonal menu is always stellar—don't you dare skip out on a pizza while sipping a negroni from their extensive and joyous negroni menu—if one wants to truly experience Michael's, I always point to Samaniego's always-surprising, always-satisfying tasting menu.
Visits have resulted in a puttanesca-gone-raw, where habachi crudo sat atop raw tomatoes, capers, and olives. A beet casoncelli that shone with deep reds and purples. There was a wild boar tagliatelle that was one of the best pastas I've had. Fried squash blossoms that were as delectable as they were delicate.
Simply put, it was simply stellar.
For Brian Addison's full feature on Michael's on Naples, click here.
"Just Your Ordinarie" burger from The Ordinarie
210 The Promenade N.
First thing first: The Ordinarie has always has incredible burgers but newly minted Executive Chef Shelbi Ulm's take, an ode to the SoCal staple-that-is-so-strong-it-borders-culty that is In N Out, is one that elevates The Ordinarie into offering one of the best burgers in the city.
Ulm's house made Thousand Island—just a hint of sweet but more toward the salty and tart—is slathered onto each side of the bun, where pickles and house-pickled jalapeños—a nod toward the packet of hot yellow chiles one can and should get upon request from In N Out—and good ol' American cheese and lettuce.
The result is a wonderfully nostalgic, this-is-what-I-remember-as-a-kid bites of a burger, where In N Out was more than a fast food joint but a destination toward something great. And with french fries that are not only some of the best in the city—let's not even go into the nonsense called "fries" from In N Out—it is one way to rediscover why the Promenade, and particularly The Ordinarie, was such a beautiful way to experience our city.
For Brian Addison's full profile on The Ordinarie's new chef and menu, click here.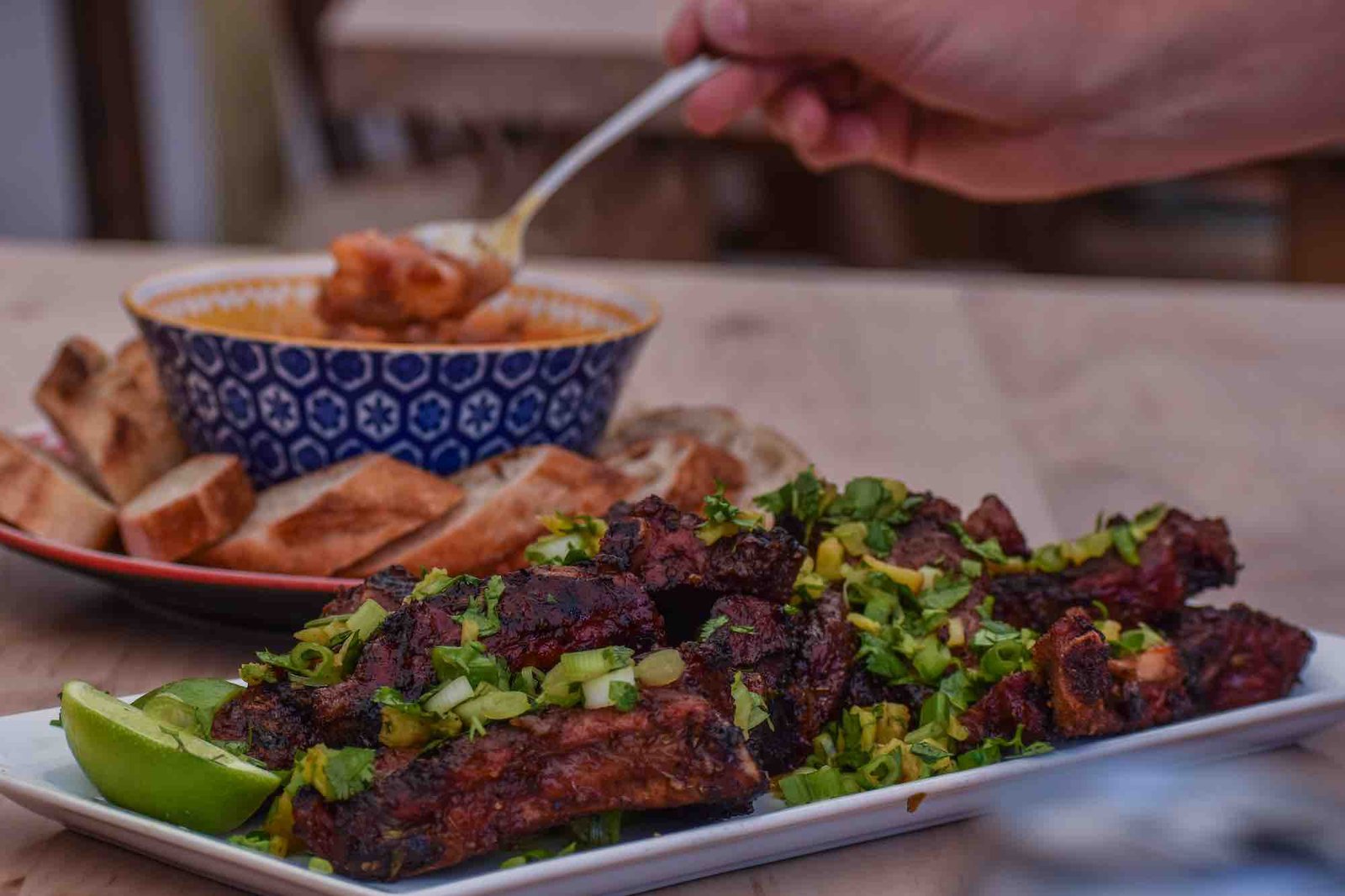 Sticky ribs from Shady Grove Foods
2708 E. 4th St.
It is easy to love Shady Grove Foods: Homegrown and home-made, father-and-son team David and Dennis Robicheau have turned their smokey creation that is Long Beach barbecue into a full-fledged brick-and-mortar after years and years of doing popups, events, festivals, and slingin' meats out of backyards.
There are many, many things to love about their inaugural menu—a masterful Tomahawk pork chop, equally masterful smoked chicken, a green curry gumbo…
But their sticky pork ribs showcase an ode to not only Long Beach, but the long, lovely friendship the Robicheaus have had with our city's Cambodian community.
Meaty pork ribs—cut individually and seared across all sides— are marinated in a fish sauce concoction before being smoked and charred around all sides, finishing off with a pineapple, cilantro, and green onion topping that melds the flavors of Cambodian ribs with Southern smokiness. The result is a beautiful representation of a menu that oozes odes to the cultures who have long called Long Beach home.
For Brian Addison's full feature on Shady Grove Foods and their inaugural menu, click here.
Bean and cheese burrito from Rose Park on Pine
801 Pine Ave.
I end on a note of lamentation and a call for Long Beach to support its best: This marvelous ode to the humble bean and cheese burrito, a creation of Chef Melissa Ortiz, was the city's best version of said burrito. Dreamy, hours-long-cooked small navy white beans layered with tart nopal and creamy cheese—a menu item so popular that one would often find Ortiz questioning why she opted to offer it in the first place while she stirred yet another pot of beans.
This was the city's best version. Emphasize the "was."
This, along with a slew of other dishes in her bold seafood-only approach to proteins, was part of the now-defunct food program at the still-open Rose Park on Pine, which has switched operations from being a restaurant to being a limited hours coffeeshop.
By its end, Ortiz—along with her stellar manager and wine procurer, Sasha Schoen—had created a dining destination like no other in the region, let alone Long Beach.
And it is a call to not let these things happen in 2023—and the only way we can do that is by supporting these spaces which feed us, which help us socialize and connect, and introduce us to things we've likely never would have otherwise stumbled upon.
For Brian Addison's first feature on Rose Park on Pine's food program, click here.
For Brian Addison's final feature on Rose Park on Pine's, click here.