It is safe to say that that Maria Delores Navarro—referred to by friends and family simply as "Lola" and the founder of Lola's Mexican Cuisine—introduced Long Beach to birria when she humbly opened up her business in 2007 on what was then a way less cool 4th Street.
Coming to Long Beach from Guadalajara in 1972 with nothing but fifty bucks and the dream of opening a restaurant, her beef-centric take on birria was a then-unheard of dish—contrary to the birria boom that has spread across every corner of the barrios across SoCal.
With the birria boom came the quesobirria craze, where corn tortilla wrapped quesadillas are crisped in the oily consommé of the birria broth and served with a side of the liquid to use as a dipping agent.
So naturally, Lola's co-owner, Brenda Riviera, asked a very simple question: Why don't we dip them in pozole?
"This is entirely Brenda's creation," said husband Luis Navarro. "And not gonna lie, it makes me wonder why we never thought of it before."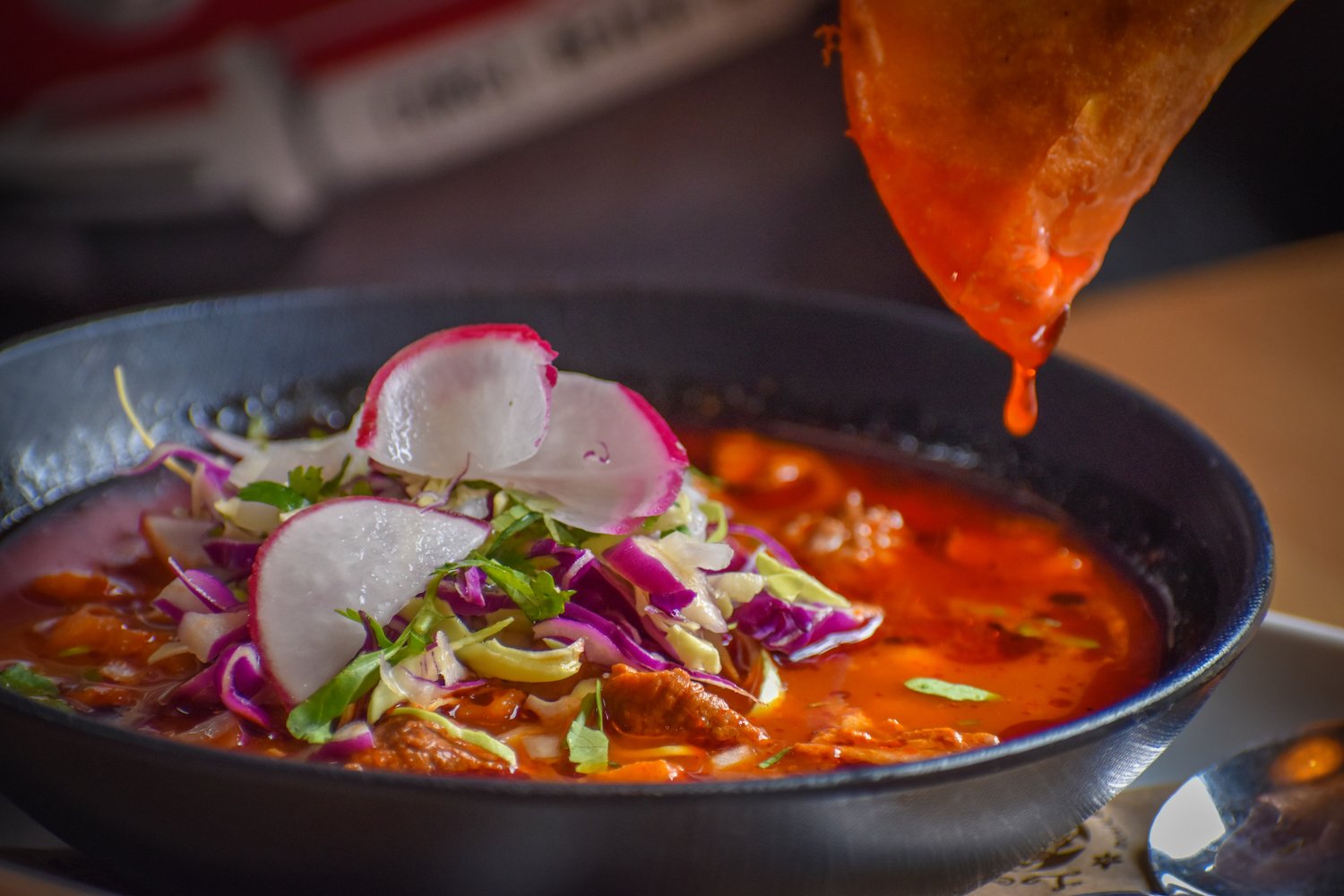 Though formally dubbed Pozole Quesa Tacos on the menu, I've dubbed them "quesopozole," where the kitchen crew at Lola's takes chunks of pork from stewed pozole, lathers them in birria sauce, cooks them again, and adds them inside corn wrapped tortillas with a side of hominy-filled pozole.The result is a heavily savory, perfectly greasy wonder of a dish that does, indeed, make one wonder why we haven't been using pozole as a dipping agent before. And feel free to build your taco as you see fit, putting in strips of cabbage and radishes alongside hominy and more pork to create a pozole-meets-taco eating venture unlike any other.
It is quite the warm welcome to winter, where one can revel in the steam of pozole, the comfort of tacos, beneath a drab grey Long Beach sky—all the while also honoring the legend that is Lola herself and the mini-Mexican food empire her son and daughter-in-law have built up since she passed.
Add onto this an array of Lola's stellar tamales—ranging from pork and pollo verde to rajas and sweet corn, that last one being a shockingly fluffy tamal that is as light as it is addicting—and you have yourself a winter food kit that will make that drab sky feel much more cozy.
Lola's has two locations, one on Retro Row at 2030 E. 4th St. and another in Bixby Knolls at 4140 Atlantic Ave.