This particular list is one where I hope the stories behind these spaces can connect patrons beyond the great food coming out of them. The past two years have been extremely taxing and, upon reopening, there was a sense of dismissal from patrons as to what these spaces had gone through in the pandemic, let alone through their evolution.
Staff shortages, distribution disruptions, the simple stress of the relentless relay… Despite having reopened, these facets are a harsh reality that we are still very much in an awkward, liminal space where business is not as usual and, as cheesy as it may sound, taking care of and having patience with one another is paramount.
These spaces—new or well-established, dedicated to a specific cuisine or traversing many—are a part of Long Beach's culinary tale.
These spaces are a reminder of how we must continue to push forward by supporting the people who have made our community better connected and well fed.
The Attic
3441 E. Broadway 
To begin with The Attic is to begin with humility. 
I once had the audacity to call this now stellar restaurant "overrated" in a tongue-in-cheek post that was meant to drive Long Beach out of its toxic positivity: Not everything can be spectacular—and that is okay.
Of course, I naively dismissed the humility that was brewing on the other side: Attic owner Steve Massis was distressed and unsatisfied—an aspect of the food world we rarely discuss publicly—and had to make an extremely difficult choice: To override guaranteed, Instagrammable Brunch Mayhem success and go back to his roots of creating a food destination that honors gastronomy but still remains "pretty food."
That kind of step isn't just difficult—to look at something that ain't financially broken, which is one of the hardest things to achieve in the first place when it comes to the food industry—but definitely worthy of praise. But it also requires someone to execute the food.
Enter Eleven Madison Park alumnus Chef Cameron Slaugh.
Slaugh's food at The Attic is unquestionably some of the best in the city, his style hovering between classic high-end offerings—like his wonderfully decadent bone marrow, topped with three billowy pillows of mustard-and-vinegar laden bits of filet tartare—and witty plays with a variety of proteins and veggies.
Not to mention his brick chicken is one of the best chicken dishes in the city: Sitting atop a bright, citrusy creamed farro that sits somewhere between a risotto and a perfectly firm pasta, this chicken's masterfully caramelized skin crackles at the touch of your knife and fork before giving way to outright succulent meat.
For Brian Addison's full feature on The Attic, click here.
Suggested items: bone marrow and tartare; brick chicken; roasted peppers appetizer
Ammatoli
285 E. 3rd St.
While I have long extolled the virtues and brilliance of Chef Dima Habibeh's Levantine wonder that is Ammatoli, her food officially reached new heights this year when, in a rare display of dipping below the 10 freeway, the Los Angeles Times named her one of the best restaurants in the region. 
And rightfully so: The consistency in her product has what propelled her food from the get-go, offering Long Beach its best versions of beef shawarma—it can only stand to be compared to the version that many around the world flock to inside the Fifth Circle of Annan, Jordan—to silky smooth bowls of hummus.
Stuffed between what was once a definitely middling burger joint and an architectural firm, Habibeh's intention was simple: Show the love of her birthplace in Jordan and the love of her new home here in SoCal. Signs honoring The City Of Long Beach can be read in both English and Arabic. The style of the space is both warm but contemporary.
But as with all things Dima, it begins and ends with that love of the imperfect human: It is always in her distinctly bold way of pushing Americanized palates toward the the true depths of Levantine food where one can discover the astonishingly wide breadth of her culinary skills.
Her masterful mansaf, lamb shanks braised in yogurt. Chicken livers selectively spiced to perfection. Desserts like Egyptian umm ali or the wildly gorgeous and trippy Turkish osmalieh.
There is not a single bad dish at Ammatoli—and I say that with the full weight such a compliment provides but I mean it.
But first and foremost: Say hi to Dima.
Suggested items: mansaf; moussaka; beef shawarma; knafe; spicy hummus; kibbeh… Need I go on?
The Auld Dubliner
71 S. Pine Ave.
Fun fact: Did you know that The Auld Dubliner, the steadfast Irish pub that has been serving DTLB for nearly two decades, annually pours the most amount of Guinness than any other West Coast establishment? Sure, it has an occasional second-place spot but for the most part, 'tis true. 
But an even more admirable fact about Long Beach's OG, true-to-the-roots Irish pub is that longtime owner David Copely takes an annual trip with his most loved patrons back to his homeland of Ireland.
There, he not only introduces his patrons to the rich history of an island whose gastronomical resources have long been undervalued but to a cuisine largely dismissed as little more than potatoes. There, the locals introduce his patrons to the history of Ireland and, oppositely, how the Irish have become engrained in American culture.
After all, the Irish contributed a healthy portion toward creating what this country is, all in a time of tragedy. The Great Famine, extending from 1845 to 1849, was one of Ireland's most devastating times. In the year of 1847 alone, often dubbed "Black '47," one million Irish people starved to death, pushing another million to immigrate, most toward the U.S. Somewhere between 20% to 25% of Ireland's population was lost in one way or another, shifting the country's political, philosophical and population demographics for the next century.
"If they stayed in Ireland, they likely would have died," Copley once told me while sharing a pint. "I would be remiss to not remind people: America saved one million Irish people."
It is in this vein where Copley, through these annual trips, continually updates his menu as Ireland grasps the reigns of its ingredient-rich terrain: As budding Irish chefs ship off to culinary school and return home, Irish food itself is altering—and Copley wants to continually reflect that evolution here.
The Auld Dubliner is more than a place that serves a perfect pint of Guinness. It is a reflection of how immigrants and outsiders are the binding fabric of our entire culture.
Suggested items: pint of Guinness; oysters; curry chips; shepard's pie
Heritage
2032 E. 7th St.
I had questioned earlier this year the importance of the famed Michelin Guide returning to Southern California following a decade-long absence after former Michelin Directeur Général Jean-Luc Naret said in a GQ interview that Los Angeles was vapid and vacuous in terms of food culture. I had wondered whether we should really care because I didn't want any chefs, particularly Long Beach chefs, curving their creativity to an angle that does fit their soul.
And Chef Philip Pretty—whose stellar Heritage was recognized in the guide—said something to me quite frankly: We should care. Period. It doesn't matter whether the guide, by this point, is a facade; chefs often work their whole career to achieve a level of service that made the guide famous in the first place. And to have it in Long Beach? That is worthy of note.
He is right. And what makes his achievement even more astounding is how he has managed to get his name in Michelin following a distinctly difficult past few years: The man who introduced Long Beach to the SoCal bistro through his work at Restauration watched that space damaged-and-almost-totally-destroyed by a fire, had to step away as one of its main figureheads, only to watch his former boss go disgracefully head-on against health protocols and close up shop.
But like the chefs and cooks he talks about fighting to make their way into a restaurant whose overall aura is astounding, he created a sandiwich-shop-during-the-day-and-prix-fixe-menu-at-night space that offers the city a very different experience.
California-meets-French is the easy way to put it; simply great, differing-from-the-crowd food is a better way.
The prix fixe menu? Genuinely great—and its stand-out star for me is once again his sweetbreads, braised and then given an outer crisp, sat atop a mound of green bean salad and a beautiful buttermilk sauce drizzled with a dill oil. It mimics his spicy sweetbreads of before—ranch-like dressing included—but this one feels a bit more sophisticated.
Umami and creamy meet tart and salty in this genuinely gorgeous dish that reminds the American palate that all of the animal should be given places on plates if we have the audacity to take its life for food.
Suggested items: sweetbreads; scallops; duck
Berlin Bistro
420 E. 4th St.
Kerstin Kansteiner has taken two major business risks in her life: Opening up Portfolio Coffeehouse in the 1990s when Retro Row was anything but what it is now and, in the same vein, opening up Berlin in DTLB in an area in need of more places for residents to stay local.
Taking over an arts supply store and sharing the space with Rand Foster's beloved record shop Fingerprints, Berlin had to adapt to its surrounding and vice versa—and I know this because I was the first barista to open its doors on a 4:30AM morning in 2011.
While every new business needs oil to get its gears going, Kansteiner had to put her initial dream of having a full-on bistro—a place that reflects the ubiquitous bistro of Europe where simple, seasonal, solid food was found on nearly every sidewalk corner—to the side and stick to a similar formula she had Portfolio. Mostly a coffeeshop/meeting space with a bit of an expanded menu beyond pastries.
But the pandemic changed all that: Seeing the slowed days as a way to push herself and her business, she officially wanted a restaurant restaurant; one the that didn't succumb to a staple menu or expectations but to seasons, quality, and a sense of comfort.
Enter Chef Rob Fry.
Fry's work is something of magic, a much-needed return to quality-sourced ingredients and, frankly put, just damn good Californian food. Braised greens. Steak tartare. It's, simply put, kind of everything we want not in an European bistro, but a Long Beach bistro.
For Brian Addison's full feature on Berlin Bistro, click here.
Suggested items: spigarella and burrata; sage butter salmon
Playa Amor
6527 E. Pacific Coast Highway
This is something I've said before and I really want people to understand: Playa Amor is Chef Thomas Ortega's very personal love letter to Mexico—a love letter also very much sent from the United States.
This national dichotomy is important for his food: Like many Mexican-Americans—too "pocho" for their Mexican relatives still living in the motherland and too Mexican for white Americans—his food simultaneously uplifts and reinterprets Mexican-American food. Playa Amor is Ortega's confession: He loves both Mexico and the United States.
And like any great confession of love, it comes with challenges to the status quo. This is modern, playful food for which Ortega is unapologetic.
His version of pescado zarandeado, a fish that is slow-cooked over extremely hot coals, is proof that he can be playful but careful to the point of being respectfully referential. Using Chilean sea bass instead of the more traditional snook, you're offered a cleaner but direct descendant of the classic Sinaloan dish, with a side of deeply smokey salsa that doesn't need to be slathered on the fish but, rather, lightly brushed. It is a dish that is enlightening and mind-blowingly executed—and yes, stands perfectly side-by-side with his longtime tortilla maker, Maria Barraza of Sinaloa.
His octopus is brined before being carefully fried and grilled at ultra-high temperatures. And don't think he won't slyly throw in a wrench into what you think defines Mexican food.
He, indeed, even has a pasta dish: spaghetti tossed with roasted New Mexican Hatch chiles, cream sauce, garlic and pecorino when the chiles are in season (which is right now, by the way).
Either way, whether you play it safe with Chamoy-glazed pork belly or short rib birria or become adventurous by trying a bowl of chapulines, grasshoppers that Ortega classically fries to a crisp and tosses with citruses and spices, or getting his Mexicano shrimp'n'grits with house-made hominy, you should feel honored to have a place that respects Mexican and American cuisine the way that Playa Amor does.
Suggested items: pescado zarandeado; pulpo; carnitas; hatch chile spaghetti; mole tots
Ellie's / Ginger's
204 Orange Ave.
One of Chef Jason Witzl's most humbling admissions is that his first menu at Ellie's was overly ambitious—and it wasn't necessarily overly ambitious because of what it offered but because Witzl admitted he didn't know what the neighborhood wanted.
This is a truly admirable confession—and one he didn't just say aloud and do nothing; no, he actually went around Alamitos Beach, knocked on doors, and introduced himself. He wasn't here just for himself; he was there because he wanted to build a better community.
In that same vein, Witzl made another wondrous move: Re-introducing Long Beach to the beauty of tasting menus. Taking over a small space directly next to Ellie's, he set up a small dining room where you can buy out all twelve seats in a single swipe or opt for one if you desire to dine among neighbors that are likely to become friends post-dinner.
Named Ginger's—after his wife's beautifully flowing red locks—it was a bold move but a needed one for Long Beach, reminding us to sometimes let go of the obsession of being specific and ordering what we think we want and trusting someone else direct our palate.
In that sense, the relay between Ellie's and Ginger's is a palpable one: Ellie's offers you the freedom to choose with discretion while Ginger's is experiential, letting Witzl take you down a road that would be akin to having dinner with the man himself. It's wonderfully personal and, even more, incredibly satisfying.
This is not a cute, light, amuse-bouche-counts-as-one-of-the-courses prix fixe. This is a full-dive, seven-course, walk-out-wobbly-and-happy dinner that showcases the best of old school Italian cuisine.
Fish crudo meets Wagyu carpaccio. Tortellini meets gnocchi. And, of course, his grilled bread with pork butter and other accoutrements.
It's a space Long Beach will long be proud of, as it should be.
For Brian Addison's full feature on Chef Jason Witzl's latest adventure, click here.
Suggested items: Go with the prix fixe menu at Ginger's and go with the flow.
Wood & Salt Tavern
4262 Atlantic Ave. 
In all honesty, Wood & Salt owner Bjoern Risse's other Bixby Knolls restaurant, Rasselbock, should be on this list as well, offering up some of the best German grub not only in the city but in the region. The presence of Risse has been essential for the neighborhood, especially during the pandemic, as it was not just the consistently stellar food of Rasselbock that kept spirits up but the opening of a new endeavor mid-pandemic.
In all frankness, Wood & Salt offered the neighborhood precisely what it needed: A step away from the more casual and boisterous and into the more refined and sexy, all the while providing a momentary step away from the pandemic blues.
And yes, Wood & Salt Chef Phillip Mack, with experience ranging from the esteemed Patina Group to Fig & Olive, takes on Wood & Salt's original, contemporary Californian and makes it, well, like I said, quite sexy.
His fettuccine frutti di mare? It is hard to not be obsessed with the comfort and layers of this dish: strands of deep black squid ink pasta are tossed in a silky, outright wondrous saffron sauce that clings to a heap of succulently poached scallops, clams, mussels, and shrimp. It oozes with delicate subtleties that are paired with hammering flavors: light cream and saffron with hefty doses of umami and the ocean.
Mack's mussels and clams are advertised as an appetizer but should be considered a dish worth ordering as an entree: Doused in a hefty sofrito-meets-tomato broth filled with chunks of lamb sausage and slices of Gusto bread for dipping, it is but one of many standouts with the Moroccan spices of the marguez melding with the flavor-rich, house made sofrito.
For Brian Addison's full feature on Wood & Salt's latest menu, click here.
Suggested items: fettuccine frutti di mare; mussels and clams; lasagna
The Social List
2105 E. 4th St.
I've said this before: The Social List was, if anything, a food experiment for Retro Row, the tiny-but-seemingly-ever-evolving stretch of 4th Street that has become one of the city's most recognizable stretches of commercial space. 
It wanted to be old-school-y, a place that wasn't necessarily an end destination but a stepping stone in the very urban ideal of old cities across the globe: Food- and drink-hop by foot as an adventure within one's neighborhood.
And if we're being honest, at first, The Social List failed to achieve that. But as with all things Luis Navarro and Brenda Rivera-associated—two of Long Beach's most recognized and busy restaurateurs—with just a few needed tweaks and listening sessions with patrons, The Social List has become one of the warmest neighborhood eateries on 4th Street.
It's newest menu—a pseudo-pan-Asian-slash-Long-Beach-inspired array of offerings using everything from wasabi and yuzu to sake and Kewpie mayo as guiding rails for flavors—is a reflection of that neighborhood-y-ness.
One of its stars? The Geisha Burger.
This chili-and-(no)-cheese burger sounds about as American as you can get—even without the cheese, which honestly is a great choice because it is sincerely not needed—with its crispy leaf of good ol' iceberg, a thick tomato slice, and sesame bun. But Rivera and her crew play with Japanese-style chili, where heat and tartness override savory and rich. The result is a steady ride of heat that is once again coated with Kewpie mayo, this time mixed with yuzu, and layered atop a Wagyu beef blend patty.
It's definitely a chili burger—and yes, you can request some cheddar but I honestly dissent such a request—but it not the chili burger you'll be finding at Douglas, Louis, or Golden Burger.
It's different and that's why it's worth every damn calorie. And hell, even if you aren't hungry, sit on the parklet and listen to the vibes and aura—because it feels like a space that has been here much longer than it has.
For Brian Addison's full feature on The Social List, click here.
Suggested items: the Geisha Burger; Thai Fighter cocktail; the Chinese salad
Rose Park Roasters (Pine Location)
800 Pine Ave.
The story of Rose Park is a definitively rich, Long Beach-y one when it began in 2010: Coffee roaster Andrew Phillips, then a roaster for coffee boss Martin Dietrich at his Costa Mesa-based Kean Coffee, decided to pair up with design and business friend Nathan Tourtellotte to offer something that, at the time, didn't exist outside the now-defunct True Beans Roasters in Long Beach: A local roaster dedicated to specialty beans.
Once it moved into the former Roasted Nōtz space in Bluff Heights, Rose Park Roaster had officially established itself as a caffeinated powerhouse within Long Beach's growing coffee culture—but with its second location in DTLB at Pine Ave. and 8th St., Tourtelotte wanted more.
Bringing on Chef Melissa Ortiz, Rose Park is not only offering some of the boldest food in the city—Ortiz has eschewed all land proteins in favor of a fish-and-veggie only menu—but some of its most delectable.
We're talking "seacuterie" where scallops are turned into a mortadella-like roll which is sliced and served charcuterie style. Or a sea fish nduja structured with Plugrá butter and Calabrian chiles, creating a light-but-ultra-creamy umami bomb whose flavors are expanded when used as a spread on a miso-seaweed flatbread that Gusto exclusively makes for Rose Park.
The menu perpetually shifts so don't get your heart set too much on one thing but you can be assured of this: While you might see a favorite dish become a thing of the past, Ortiz's absurdly wondrous creativity will be there to hook you right back in with something new.
In fact, they'll be updating their menu come early January—so explore this menu before it disappears.
For Brian Addison's full feature on Chef Melissa Ortiz's inaugural menu at Rose Park, click here.
Suggested items: sea fish nduja; clams and shrimp chorizo; seacuterie board
El Barrio Cantina
1731 E. 4th St.
It isn't always being the new kid—especially the new kid who took over a place like Ashley's, a much-loved dive that sits in the heart of the 4th Street bar and restaurant crawl.
El Barrio isn't traditional Mexican, nor is it trying to be. And it isn't a taco joint. Nor is it a mariscos place. And, perhaps most of all, this doesn't mean it is confused with its identity.
That's what makes it refreshing.
It is the boldness of Chef Ulises Pineda-Alfaro's choices—mixing SoCal's expansive blend of cultures while keeping the book of Mexican gastronomy front and center—that make this new kid warmly welcomed. After all, in a pandemic, our city needs to be invested in and when it is food like this being so cleanly executed, they should be welcomed.
Surely, the mini-potato tacos are as addicting as they are delectable to mow through: chunks of an avocado salsa, slathered in crema and queso fresco. Try to eat one before you've noticed it's been three.
But the most beautiful dish of all—a dish that can easily be shared among multiple people—is Pineda-Alfaro's gorgeous beef rib asada. A mightily hefty rib—a perfect line of charred, crispy fat mixed in with succulent, just-pull-it-off-with-a-fork meat heavily marinated in his own carne asada rub—is beautiful to look at and even better to eat. Served with flour tortillas and an array of salsas—aguacate salsa, salsa verde, and salsa macha, the mighty chile paste out of Veracruz—it is a taco that is as bold as it is soulful.
For Brian Addison's full feature on El Barrio's inaugural menu, click here.
Suggested items: the beef rib asada; tacos de papa; cameron marinero
The 4th Horseman
121 W. 4th St.
The 4th Horseman in Downtown Long Beach has quickly—within its tiny-but-mighty three years of operation—become a citywide favorite. And rightfully so.
The artistic gems that comes with its decor aren't just a visual feast for horror-core fans. The tables, adorned with cut-outs of old horror and sci-fi comics like "Eerie" and "Famous Monsters," are pieces of art themselves that allow anyone to appreciate the collages of hand-drawn wonders. Vintage NYC Monsters Convention posters and creepy analog televisions showing nothing but static are paired with paintings of Poe's raven clinging to a piece of pizza, while constant streams of horror flicks play on a small projection screen near the bar. There's a giant Chuck E. Cheese head greeting you on your way to the bathrooms, which are entitles themselves worth exploring.
Then there's the perpetually changing, always stellar beer list.
It's a vibe—but it's more than that
The true diamonds of the Horseman are its hyper-minimal menu that creates a hyper-focus on pizzas. These pies are not perfectly Neapolitan-style nor perfectly New York-style. Rather, they're odes to the Californian culture of fusion; a chewy, not-too-thick-not-too-thin, sourdough-y crust that comes with an abundance of options.
And their specials? Wildly diverse, from odes to NOLA with a muffuletta pizza to tongue-in-cheek jabs at pizza rivals, one will usually be remiss if they do not partake in getting one every now and then. But to be honest, their cheese slice is one that comes from the Pizza Gods, perfect in every sense with its floppy triangle of carbs and cheese.
Suggested items: Pizza, of course.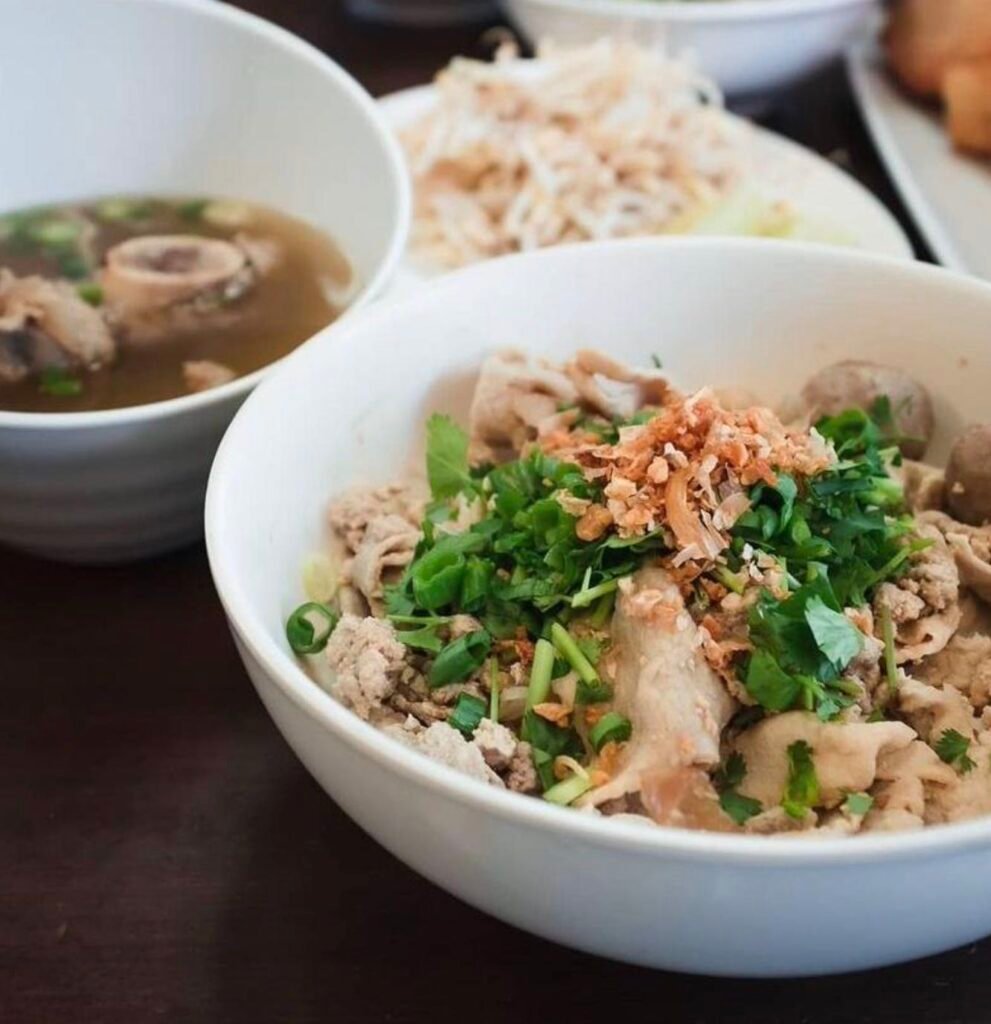 Phnom Penh Noodle Shack
1644 Cherry Ave.
There is no other to put it other than the way I always do: Cambodian food in Long Beach is more than a cuisine; it is the essence of a community that was nearly annihilated from history. 
Those that escaped the genocide made their home here in Long Beach after being taken to Camp Pendleton by rescuers from the U.S. military. For that reason alone, Long Beach is home to the most authentic Cambodian cuisine.
This family-owned shop opened in 1985 and has since been serving the best forms of Cambodian food in the region.
Their Phnom Penh House Special, typically served dry but which also comes as a soup, is nothing short of wondrous: ground pork and sliced pork, paired with slivers of pork stomach and liver and shrimp, placed atop noodles and served with as little or many accoutrements as you would like.
It's more than a cup of noodles; it's a beautiful display of culinary art and cultural resilience.
Suggested items: Phnom Penh house special; rice porridge house special; breads (cha quai, nom hing, and nom sa-kieu)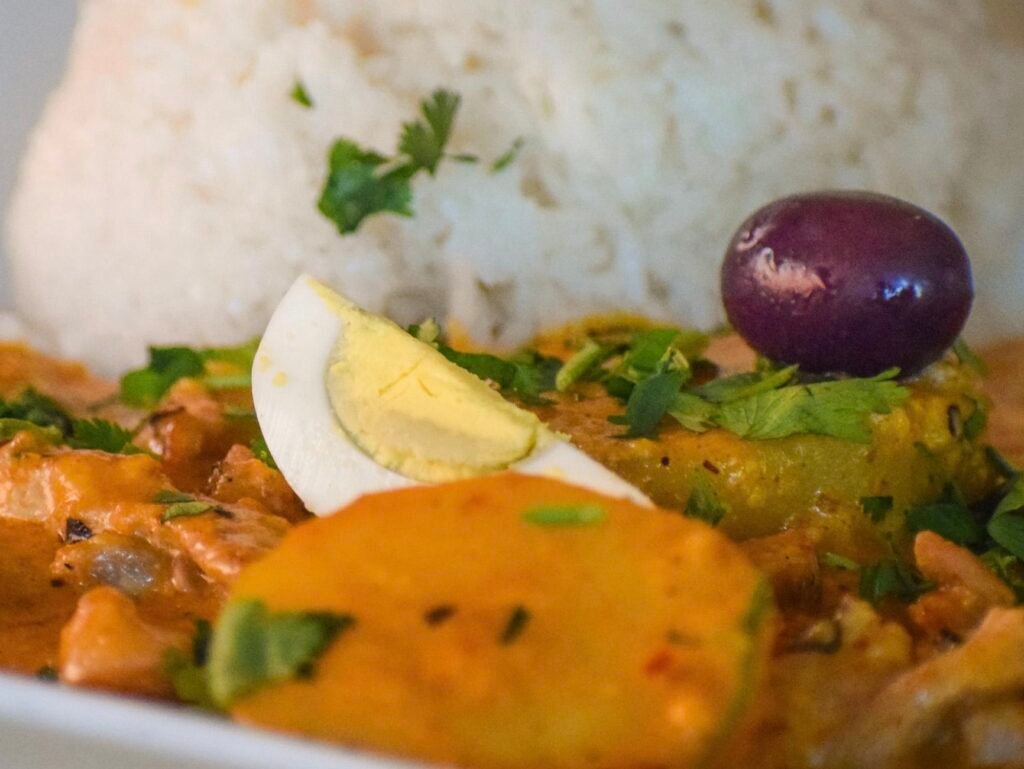 El Pollo Imperial
5991 Atlantic Ave.
I've long sang the praises of this North Long Beach gem, an institution for the neighborhood for over a decade after Oscar Ramirez and wife-and-husband team Alicia and Carlos Cortez decided to repurpose a shuttered KFC—and rather than take the route of continuing to offer American fast food, they stuck to their roots and offered us a gift in exchange: A Peruvian restaurant that isn't only one of Long Beach's most underrated; it's one of its best.
Unwitting Angelenos and OC'ers might claim El Pollo Inka or Picca or Aji Limon as the best Peruvian joint. But, in reality, it has always been El Pollo Imperial in North Long Beach, with its takeover of an old drive-thru (that they still keep active) filled with classic, unapologetically Peruvian grub.
Surely, most come for their lomo saltado and I will always—always—openly advertise the beauty of their seco de cordero, their braised lamb shank. (Though as of lately, lamb has been pricey and they have been offering an equally stellar beef version.)
But there are many other stand-outs, including the picante de pollo, a wonderfully bright yellow-and-orange, tumeric-meets-aji amarillo, long-simmered chicken concoction layered with potatoes and a hard boiled egg. It's an outright beautiful dish that shows the layers and wonders of not just a local, underrated restaurant but an underrated cuisine.
At this point, it's a Long Beach institution, worth visiting not just every now and then but regularly.
Suggested items: lomo saltado; seco de cordero; picante de pollo; ceviche mixto
Tasty Food to Go
2015 E. 10th St. #B
I come to an end with the most humble of offerings on this but honestly, one of the best: Tasty Food to Go is an exemplary example of what it is to be part of a community.
Next door to Lam's Barber & Beauty Salon is Lam's Tasty Food to Go, situated just east of Cherry Avenue on 10th Street, and since opening some five years ago, it is quickly becoming one of the city's favorite go-tos for Lao and Thai food.
And while Lam is the face of the outlet, it is his aunt and uncle—mortaring spices, chopping vegetables, ladling scores of various liquids—that are the masters in the tiny-but-mighty kitchen that churns out the very specific, 24-item menu represented by each numbered plate photographed and framed on the wall.
This menu includes their nom tok, a cold, lime juice-marinated beef salad layered with punches of Thai chile and sweetness to counter the tartness. Yes, it's like a carpaccio ceviche—or, in this case, Lao ceviche, as my fellow writer and Suppertime in the LBC (RIP) co-host Sarah Bennett once put it.
It's beautiful.
And yes, there are plenty of other items worth getting, especially Tasty's pineapple fried rice.
Suggested items: nom tok; tom-kai-ki; Lao papaya salad; beef jerky