Too many years back, I wrote a very self-indulgent listicle that was about so-called "essential" Long Beach dishes; dishes that I loved and could depend on as long as that place existed—and I wrote it because there's something so elemental and useful about a specific great dish at a specific place. It was less about some grander proclamation than it was about, "This is just great food."

And after a year of not doing such lists, I want to return to it. Not some grand list of "essential dishes"—that is too hard of a burden to put on a restaurant: You better have this and you better have it all the time. But for now, in this moment, I am happy to share some of my favorite things.

In other words: Why not just own the moment? Without further ado, here are the favorite things I'm eating right now…
Carne asada beef rib carne asada taco at El Barrio
1731 E. 4th St.
I am entirely at fault for sharing this and making you angry because, well, you can't get this yet. And you can't get this yet because El Barrio isn't even open—but my impatience has gotten the better of me because it is nearly impossible for me to not share what has easily become one of my favorite tacos ever in Long Beach. Or the region for that matter.
While you can expect a full-fledged feature on El Barrio tomorrow (Oct. 13), what I can tell you about this wondrous creation from Chef Ulises Pineda-Alfaro is that it is one hefty plate, easily shareable between multiple people and playfully plated on a cafeteria platter with literal jars of aguacate salsa, salsa verde, and salsa macha—the mighty chile paste out of Veracruz—to remind you: This is a plate to dig in on.
Pineda-Alfaro's use of a hefty rib—a perfect line of charred, crispy fat mixed in with succulent, just-pull-it-off-with-a-fork meat heavily marinated in his own carne asada rub—is both beautiful to look at and better to eat. Served with flour tortillas, it is a taco that is as mighty as it is soulful.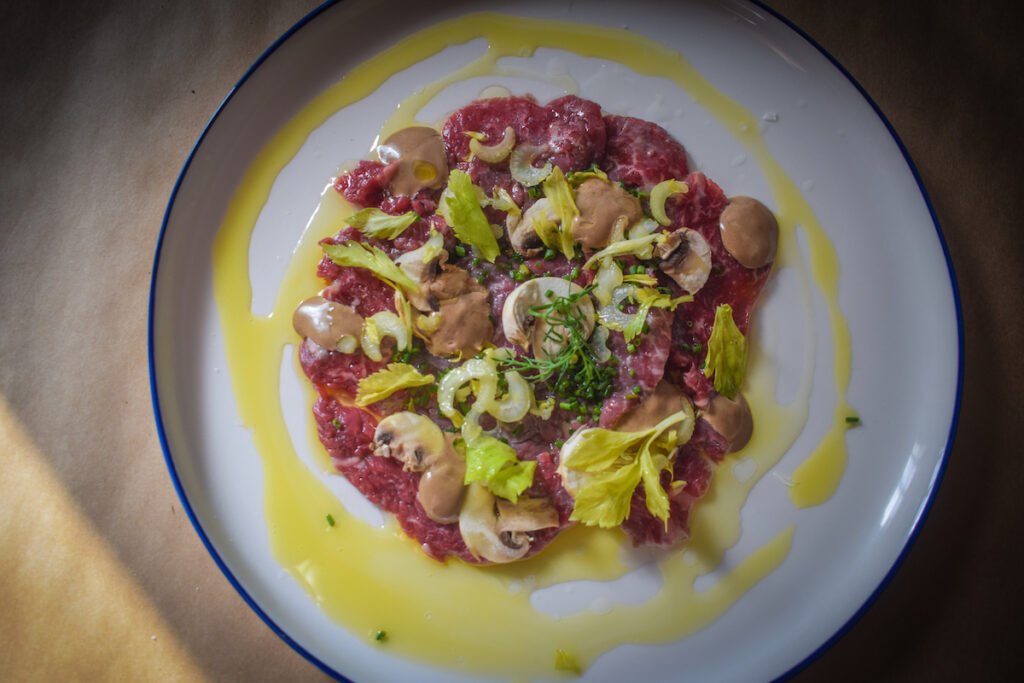 The Wagyu carpaccio at Ginger's
204 Orange Ave. (private room next to Ellie's)
Ginger's is the tiny-but-mighty, 12-seater taster space next to Ellie's—and the home to Chef Jason Witzl's playroom.
Here, you'll find Witzl either flexing his culinary muscle to challenge the status quo or, as of right now, returning to classic, high-end Italian cuisine that reminds us of why its one of the world's most beloved foods.
His duo carpaccio—a fish crudo and a Wagyu carpaccio—are not just stellar but remind us the of the Italian cuisine canon's power. His incredibly creamy Wagyu—thin white lines of fat marbling the bright red, thinly slices pieces of meat—is topped with black garlic emulsion that stands somewhere between Dijon with a better bite and addictiveness.
To read Brian Addison's full feature on the new menu at Ginger's, click here.
Chicken under a brick at The Attic
3441 E. Broadway
The work of Chef Cameron Slaugh should not be understated: Taking over a place that was filled to the brim with basic brunchers willing to wait However Long and throw down as much as needed in order to score mac'n'Cheetos and sliders atop their bloody Mary, Slaugh has had to slowly inch that basic crowd to a more sophisticated palate—and in doing so, has scored The Attic a mention in the Michelin Guide, one of only three Long Beach restaurants to achieve that.
One of his most accessible dishes—I'll have more for you on their fall/winter menu in the coming weeks—is his chicken under a brick. (A dish that the most nostalgic of Long Beach eaters still tiredly relate to At Last Cafe despite being closed for years.)
Slaugh's version is unequivocally the best I've had: Sitting atop a bright, citrusy creamed farro that sits somewhere between a risotto and a perfectly firm pasta, this chicken's masterfully caramelized skin crackles at the touch of your knife and fork before giving way to outright succulent meat. And while the peanut gallery may find chicken boring, scrunching their faces at the irony of me bringing up basic brunch goers and listing a chicken dish, I will always stand by this: The ability of a chef to serve a hot-but-moist piece of fowl is a reminder of how we have bastardized poor chickens and forgotten their distinctly wonderful flavor.
The beef Wellington from Next Kitchen
245 Pine Avenue inside Suite 130 on the ground floor
The menu at Next Kitchen can be a trip: plates of tom yum goong shrimp and Sichuan bean paste-coated pork belly sit next to beef Wellington and Portuguese egg tarts.
Yes, beef Wellington—and it is not just good but excellent.
The menu works because of Chef Victor Zhou—and it not only works on all levels but offers genuinely quality food executed by a man who trained under famed Alinea Chef Grant Achatz—at the group's Next restaurant, which Next Kitchen's namesake is a nod to—and in the kitchen of Quince in San Franciso, the Michelin-star, lauded restaurant of Chef Michael Tusk.
Zhou's Wellington is surrounded in a beautiful encasing of decorative, cross-hatched puff pastry sits a chunk of filet mignon. That filet—wonderfully cooked, perfectly beefy—is slathered in a deeply earthy mushroom pâté, wrapped in smoky prosciutto before wrapped in that puff pastry. It is then sent off to the oven before being sliced table side and served.
To read Brian Addison's full feature on Next Kitchen, click here.
The sea fish nduja at Rose Park Roasters
800 Pine Ave.
Chef Melissa Ortiz's hyper-minimal, no-land-protein menus at Rose Park Roaster's Pine Avenue location is one of the most bold in the city—and one of its best.
Her nduja—pronounced EN-DOO-YAH and nodding toward the Calabrian pork pâté of Italy— Ortiz uses a seasonal fish—my first round was yellowtail; on the current menu is swordfish—that's muddled into a cream base of Calabrian chiles and Plugrá butter.
The result?
An extremely addicting, light-but-ultra-creamy umami bomb whose flavors are expanded when used as a spread on a miso-seaweed flatbread that Gusto exclusively makes for Rose Park. Once you've added a healthy dollop of nduja on the seasame-ladened flatbread, top it with Ortiz's spicy pickled relish—a four-weeks-in-the-process garnish whose fermented Fresno chiles are a welcome bite of tart heat—and cooled with a drop of yuzu crème fraîche.
To read Brian Addison's full feature on Chef Melissa Ortiz's menu, click here.