Love renderings of future buildings and projects? So do we. Check out our archive here.
An entire revamping of Downtown Long Beach's Shoreline Village is being proposed by its owners, Pacific Ocean Management, and will face the initial phase of approval, with developers hoping to garner entitlement at this week's upcoming Planning Commission meeting in order to move forward the renovation of existing buildings the destruction of three, including two kiosks and one commercial space.
It marks the retail and entertainment complex's first major aesthetic and structural alteration since its creation in 1982.
"I am thrilled for the next stage after years of discussion," said Debra Fixen, a real estate management professional who oversees Shoreline Village for Pacific Ocean Management. "Shoreline Village will retain its original charm and its tenants while receiving some impressive upgrades, including a new façade, board walk, and improved open spaces to take in the view."
Fixen wants to emphasize: No tenant is being kicked out.
This is not the first time the Shoreline Village has had a revamp proposal—nor as ambitious: Studio One Eleven proposed a mid-mod inspired hotel along with a ton of other additions that, when the project was proposed over five years ago, were deemed too grandeur for the seaside space.
Constructed in 1982, Shoreline Village was part of the revamp of Long Beach's shoreline—including what is now the Shoreline Marina and Marina Green Park—after the City of Long Beach was financially "flat on our backs. Nobody was knocking on our door [to invest in the city]," in the words of then-City Manager James C. Hankla, who headed the early redevelopment effort.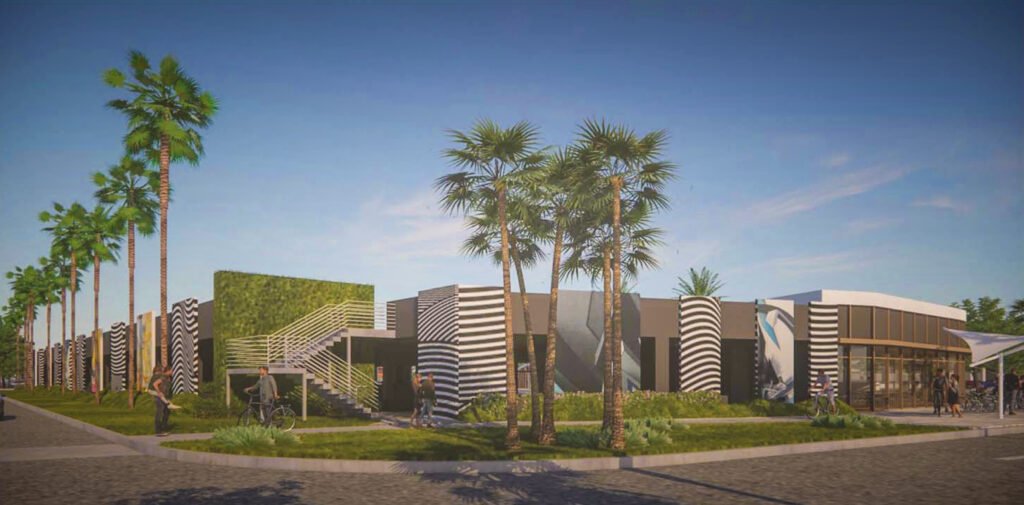 The most dramatic additions?
For one, the creation of a two-story parking structure at the southeast corner of the property, giving the property an additional 100 spaces—and though not directly mentioned, hopefully the potential for new event space on its rooftop.
Secondly, the space's long-existing and much-loved arcade and carousel, Pelican Pier Pavilion—likely considered relics by contemporary developers, even in a space that lends toward a theme park-y vibe for visitors—will be replaced by inclined, dual half-circle structures that will offer retail as well as relaxation and hang out spaces for visitors.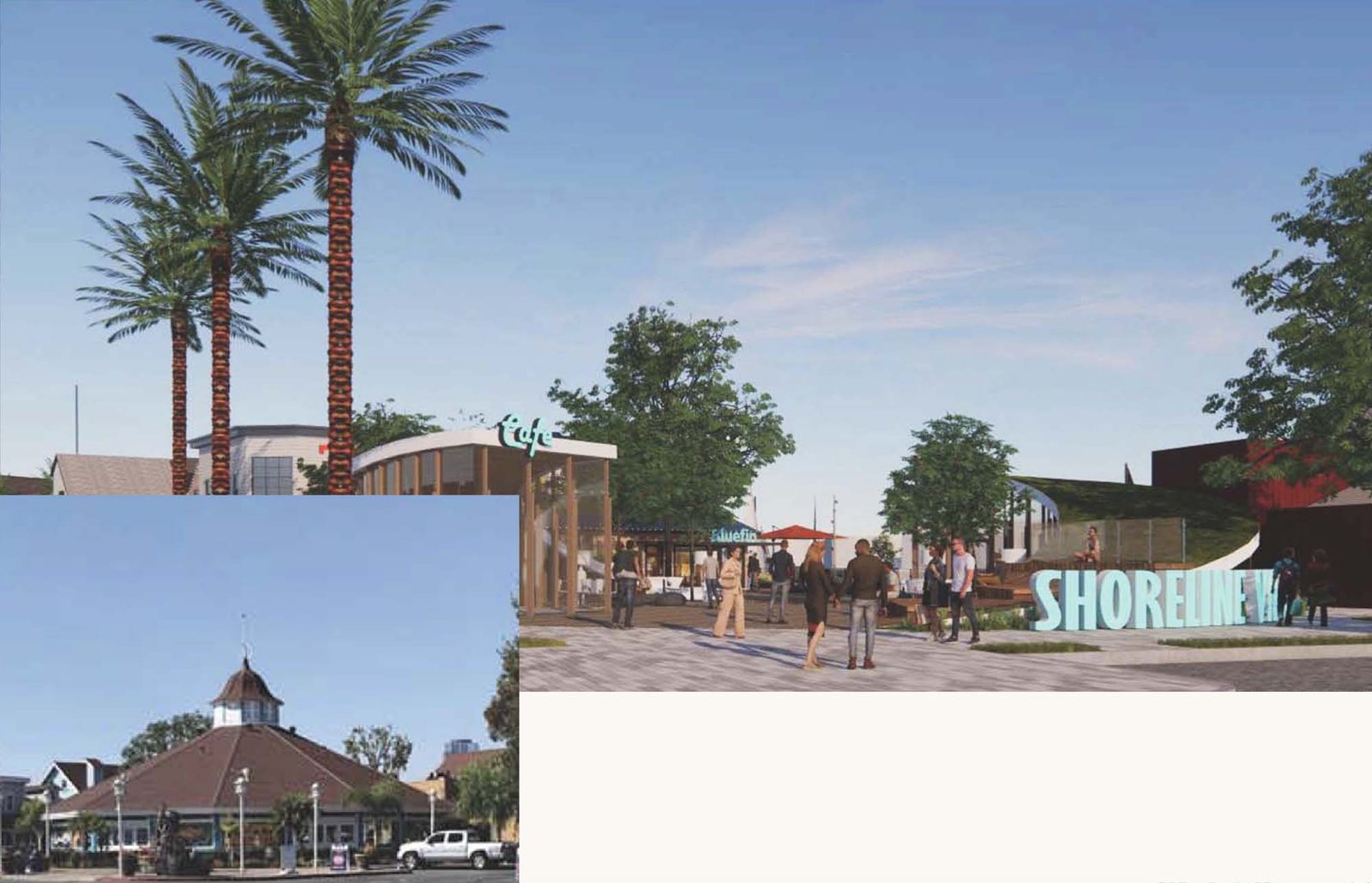 Also of note:
– A new bike path connection between the existing path along Rainbow Harbor and the bike path along Marina Green—a much-needed connection that many bicyclists in DTLB find outright odd;
– An entire new boardwalk floor along the fronting of Rainbow Harbor/Rainbow Marina with wood decking;
– New lighting, cable rail, and glass guardrail;
– New public seating areas, with the existing edge of the boardwalk's seating to remain;
– Repaving of the corridors;
– Upgrading Harborside Plaza with public seating, landscaping, and a public dining deck;
– Public viewing deck located on the southern boundary of the project site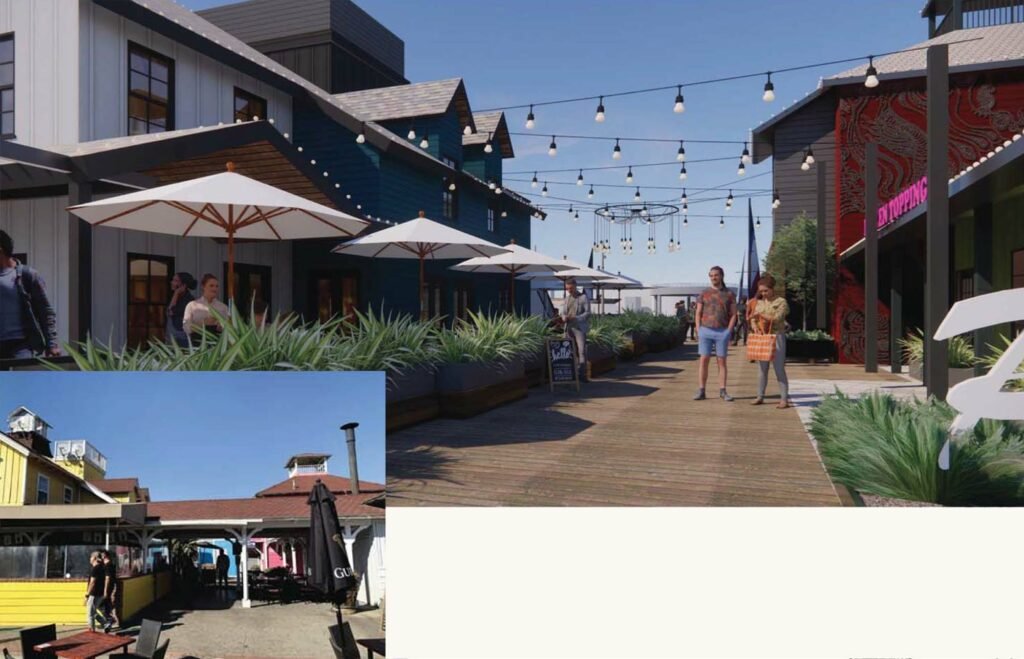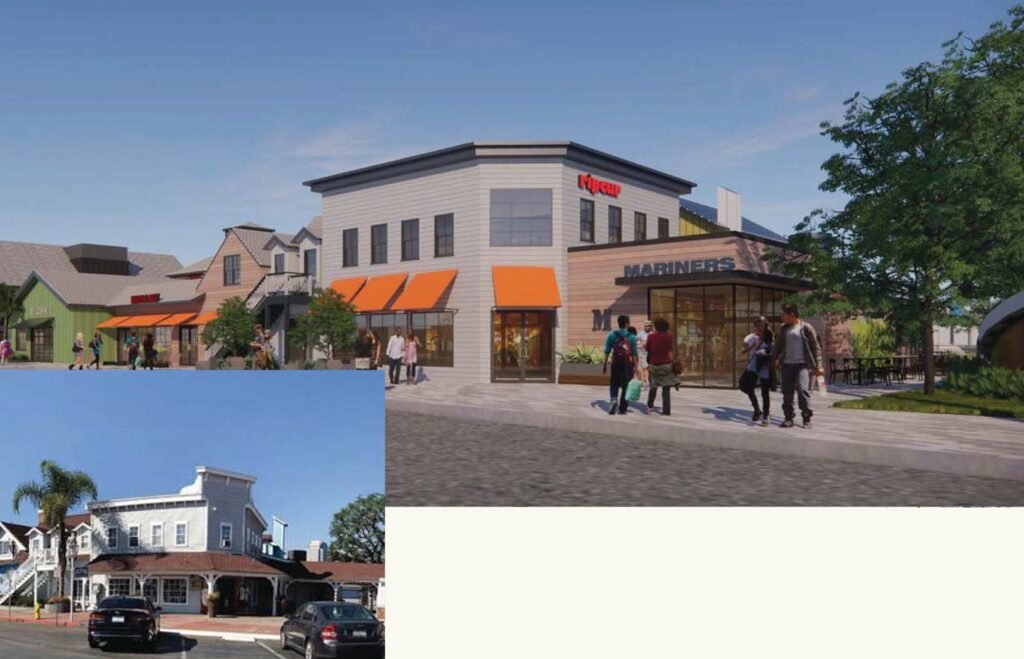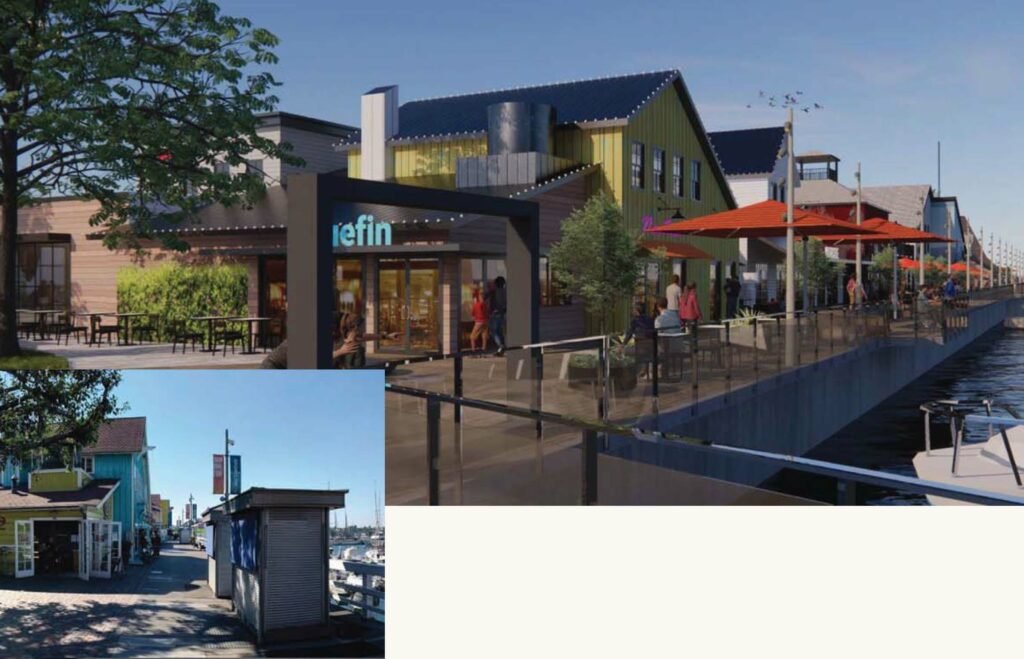 This article has been updated with Fixen wanting to emphasize that no tenants are being removed.