Spanish-to-English translation by Samuel Cornejo
For Crystal Hernandez—half of the duo behind Partake Collective's tamales heaven, Toma Tu Tamal—the mighty Mexican tamal holds a special place: During the holidays, her mother, Lilia Fuentes, would make tamales by the dozen, yelling at kids and adults alike, "Toma tu tamal!" when they were ready to be consumed.
Come get your tamal—a phrase that, Mexican or not, if you've had the privilege of consuming a well-made tamal can be warming. The unwrapping of the tamal—in this case, given they are Mexican tamales, a corn husk wrap—and its masa-filled present stuffed with veggies or meats is an experience that evokes warmth and, as with many Mexican-Americans like Crystal and many Mexican natives like Lilia, evokes deep nostalgia.
"I wanted to feed my kids the food I was fed at home," Lilia said, responding in Spanish. "And this was because there was a time I bought pre-made tamales and my son would basically rip it apart, only eat the filling, and dismiss the rest. And it's because it was a tamal that wasn't remotely like the one I would make. So the tamal made me return to my roots in Michoacán."
Toma tu tamal, indeed.
The pathway to a new tamal business
"There's a bunch of ways that phrase can be used," Hernandez said, hinting at the many colloquialisms within Mexican Spanish, "but for me, it's really something that brings back great memories. And when my boyfriend [Robert] randomly asked me one day if he could have tamales, I had to obviously approach the person I know who makes the best: my mom."
Lilia, like many Mexican moms who claim every recipe is "really simple—just a little bit of this, a little bit of that that," was ready to teach Crystal but couldn't do through measurements. Like many moms, abuelitas, and tias, they cook with their eyes: "Just a little bit of this, a little bit of that."
Soon enough, Crystal and Lilia had created a power team of tamal makers—making Robert, ever the encouraging entrepreneur, to suggest the two make a business.
"There was no way I could not let them know that their tamales should be sold," Robert said. "They weren't remotely dry, they were insanely delicious, the meat-to-masa ratio was perfect… We had family and friends consistently asking for their tamales. It just made sense to encourage the business."
With a nice chunk of change from her mother—$10,000—and the money from her daytime corporate job—which helps keep the business afloat during its newly minted stage—Crystal and Lilia opened Toma Tu Tamal inside Partake Collective.
At first, they used the ghost kitchen to prep for the hefty orders of coworkers, with Crystal's office often seeing their coworker delivering their orders of a dozen here, two dozen there—which would amount to hundreds a week. Then, after a coworker mentioned Crystal's blossoming tamal machine, Toma Tu Tamal's first major catering order came in: 1,500 tamales.
And to keep up with the schedule, Crystal heads to her corporate job at 5:30AM, works until the late afternoon, and spends nights with her mom at Partake Collective making tamales.
"Now we're doing events, we do popups at festivals, and we just celebrated our soft opening where people can actually order tamales through Partake Collective's kiosk system that is open to the public," Crystal said. "And you can order online."
Her smile wide, it is easy to tell that Crystal isn't just proud of herself—and rightfully so—but her mother and the family affair that is Toma Tu Tamal.
What, precisely, makes these tamales Michoacán-style?
Siblings and cousins are often found in the kitchen, assembling Lilia's Michoacán-style tamales: Rajas, or chile and queso fresco, rolled into some. Pollo verde into others. Pork with salsa rojo into the rest.
And what, precisely, makes them Michoacán-style? In true Mexican Mom style, she is as vague as she is poetic.
"What makes is that?" she repeated, responding in Spanish. "Well, I would say there are different styles throughout Mexico—and it's not because of the state we represent but the fact that we consume what the land provides. In Michoacán, you have lighter soil, redder peppers, some different seasonings—and that gives our tamales the brightness that I feel makes them stand out."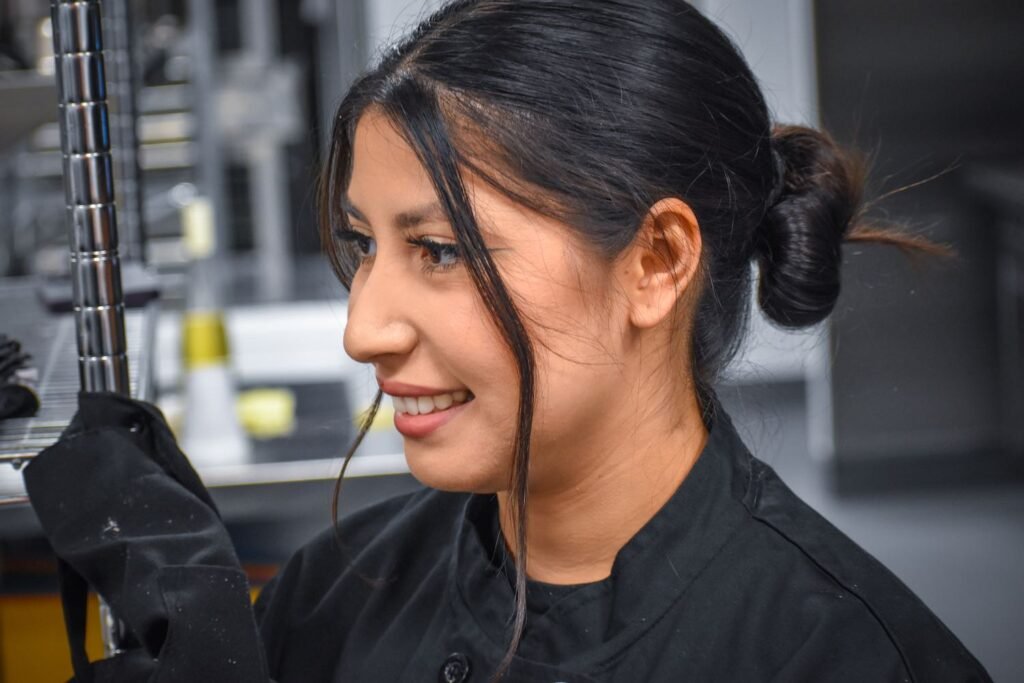 Those seasonings are clutch—and certain vendors can only provide certain things: A particular vendor is used for the corn husks, which Lilia and Crystal both want a certain size. Chiles and seasonings come from a variety of vendors that can best mimic the food of Michoacán that Lilia grew up with.
And while Lilia is happy to show you her basic red salsa—salt, onion, garlic, warm water, tomatoes, dried chiles—and other little tidbits, the way in which her masa is specifically seasoned will always remain the secret.
"That's actually the key to a great tamal," Crystal said. "It is not just the proportion of masa-to-filling but the way in which the masa is seasoned. And my mom's masa is not only a family secret but the reason our tamales are so addictive."
We'll have a small order then, Crystal—just 30 or 40 or so. Nothing big.
Toma Tu Tamal is located inside Partake Collective at 456 Elm Ave. in Downtown Long Beach. To order online, click here.