When I first published my underrated (not necessarily the best) restaurants on Longbeachize in 2017, it was, at the time, my most popular piece, a testament to the fact that Long Beach's culinary scene was flourishing.
That's been going on for a few years now and, with it, comes change—and, admittedly, the fact that this will always be incomplete because there are always more that deserve the same nod. Given that, there both newbies and some repeats—and there are repeats because they just still fly under the radar, even after years of operation, and are rarely mentioned.

This year's list, however, includes a largely new batch of choices, which makes me happy because we've moved from "flourishing" to outright evolving.No matter how you dice it, these are spaces that deserve more attention and there are spaces that aren't mentioned that deserve the same.In no particular order….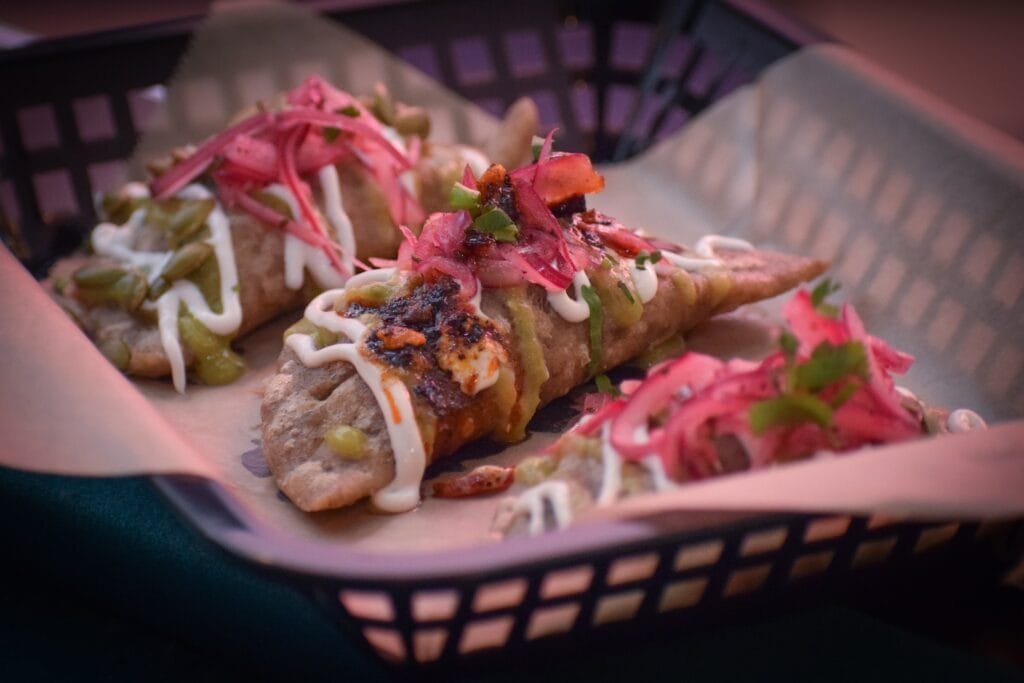 Fonda Tobalá
255 Long Beach Blvd. (inside Rosemallows)
The gastronomical wonders of Guadalajara-based Chef Manuel Bañuelos and his wife Fernanda are a many—and to see them create a side-by-side team for a return to the food scene here in Long Beach has been one of my culinary highlights of 2022.
Fonda Tobalá is, genuinely, a place that deserves an entire brick-and-mortar of its own—but until then, I am genuinely grateful we have a space to experience some of the city's best Mexican food. And that last part? It's not hyperbole.
There are his fried quesadillas, where after doing the nixtamalization himself with heirloom corn from Oaxaca, he created a folded pocket of odes to the best of Mexican cuisine. Squash blossoms and quesillo in one. Huitlacoche in another.
The result is the earthy bomb of the corn on the nose followed with the sweet and savory mixture of its innards.
This is but one example of a stellar dish that sits among many. In fact, there is no bad order at Fonda.
For Brian Addison's full profile on Fonda Tobalá, click here.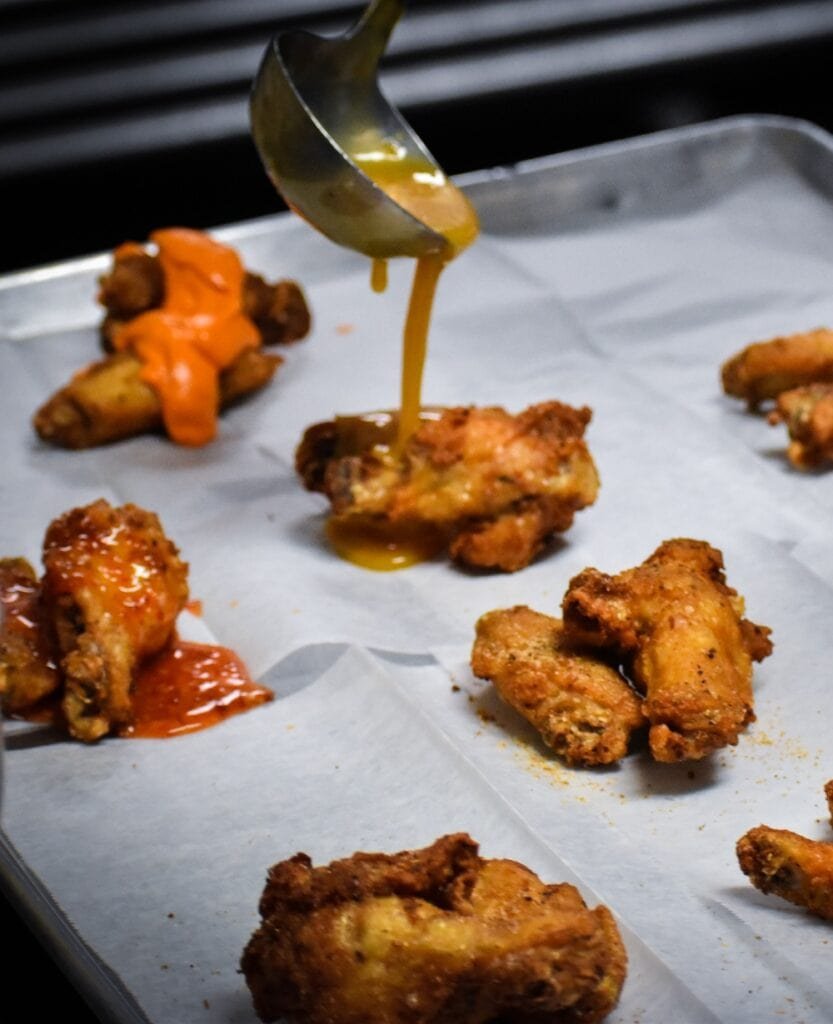 Shlap Muan
2150 E. South St. #105
While my full feature on this joint for Eater LA will come out in the coming days, there was simply no way I could exclude them from this list.
Husband-and-wife team Hawk and Sophia Tea's heritage—a mixture of Cambodian, Chinese, and American cultures swirled into one beautiful familial pot—lead the way for what I would call, no questions asked, the best wings in the city.
Surely, Shlap Muan (which means "chicken wing" in Khmer) offers some stellar takes on Cambodian classics—kuyteav, lok lak, garlic noodles upon garlic noodles—but it is their dedication to the humble but mighty chicken wing that is cause for celebration.
Using a secret seasoning, pre-game trick on the poultry before taking them to the frier stadium, Hawk's ability to fry fowl—a method he learned from his father, Chhay—is one that brings out his equal mastery in seasoning and saucing them.
With witty odes to both his American and Cambodian heritage—think a lemongrass take on lemon pepper called "Cambodian Dirt" or an outright mockery of MSG conspiracy theorists with his "Jalapeño MSG" seasoning—Shlap is more than just a wing spot. It is a reflection of Long Beach's deep ties to the Cambodian community and how Cambodian food can evolve in a city that has been home to refugees for fifty years.
Oh La Vache
2112 E 4th St.
"A cheese shop? Are you cheating in the creation of this listicle, Addison?"
I am not: Oh La Vache owners Erika Ponzo and Jessica Sarwine jumped into the lactescent world of cheese mid-pandemic—and in return, have created a cheese (and sandwich) shop that Long Beach definitively deserves.
What this humble, amicable, truly caring pair bring to the table are those very ideals applied to cheese: While a cheese shop, complete with wine pairings and an ever evolving array of sandwiches that change weekly could be viewed as pretentious or even luxurious, Ponzo and Sarwine leave pretense on the rind.
Their knowledgable spirits are happy to take those wishing to experience cheese but need to save extra pennies or those wishing to throw down on rare, expensive cheeses. And that balance will likely make those who tend to buy cheeses at Ralph's or Whole Foods realize how much they're actually getting ripped off at these mass grocers.
Oh, and if you are seeking out their sandwiches, you might want to head in early, especially on weekends: They tend to sell out because, yes, they are that good, using (the also underrated) Hey Brother Baker's bread.
For Brian Addison's full feature on Oh La Vache, click here
The Attic on Broadway
3441 E. Broadway
This one is a rather special (and personal) entry for me, Long Beach—and, I would venture to say, a special segue as well for owner Steve Massis, for it is more than just The Attic on Broadway going from a place filled to the brim with basic brunchers to becoming a Michelin-recognized restaurant.
In fact, for both of us, there is a sense of humility about it all.
Three years ago, I posed a very harsh albeit honest question—"What is a restaurant that is overrated for you?"—and, amid 600-plus comments, I said, "The Attic." I stood my ground only to have myself happily and humbly proven very wrong just a year later, when Massis introduced Chef Cameron Slaugh's undeniably beautiful, stellar food to Long Beach.
And for Massis, it is about being a restaurant owner facing a wild, almost cult-like popularity and admitting to himself he is both unfulfilled and unhappy—a sentiment that is so common in the restaurant industry yet rarely discussed, especially openly.
That takes a deep sense of self-reflection to step away from easy success and dive into the sometimes brutal waters of creativity, but Massis and Slaugh have both proven that a city in which one loves not only always deserves good food, the people who provide that food deserve to direct themselves with authenticity and pride.
And let me make this clear in case it wasn't: Not only is it some of the best food in the city, it's just incredibly crafted food period.
For Brian Addison's full feature on The Attic, click here.
Sura Korean BBQ & Tofu House
621 Atlantic Ave.
The soul and spirit of Sura lies in its family: Matriarch Eunice Kim, who founded the space in 2008, and her daughter Claire and Claire's husband, Brandon.
While Eunice was the originator, together, the trio has taken Sura into heights that offer Long Beach the deepest and most heartfelt look into Korean and Korean-American food.
For the regulars of Sura, their persistent push toward remaining both respectful of their Korean roots but also innovative—keeping up with the food trends that span Korean food proper and fusion food trends—is a given.
This is in their jarred kimchi that is for sale. Their seemingly endless assortment of banchan. The sizzling stone pots of bibimbap, where a layer of rice sits against the searing hot bottom of a heated stone bowl, topped with anything from egg and bulgogi to chicken and tofu. The plates of galbi-jjim, braised short ribs that come on a pile of shiitake mushrooms, dates, glass noodles, and rice. The absurdly wonderful, deftly savory take on budae-jjigae, a dish born out of war and resilience.
But the majority of Long Beach, with both old-school residents and new arrivals perpetually asking, "Where do I get some Korean food?" Sura continues to be, well, unnoticed.
Let's just put it as it is: This is the city's best Korean food.
And the Kim Family proves to be a genuine conduit in creating community: They took on ownership of Long Beach's flagship kombucha brand, Fine Feathers, when its previous owners were ready to close up shop. They consistently listen to customers, including their vegan customers, to create menus that cater to both Korean and individual sensibilities. They are unafraid of change as much as they are proud of their traditions.
To read Brian Addison's full profile on Sura, click here.
Los Reyes del Taco Sabroso
2345 E. Anaheim St.
I've talked about this little hole-in-the-wall joint for nearly five years now, lauding its Mexico City-centric menu with large, corn tortilla quesadillas stuffed with huitlacoche and lettuce and crema… It's offering of tacos de canasta… Their taco gobernador…
Hidden on the northwest corner of Junipero and Anaheim, Los Reyes offers a ton of awesomeness but I always go for two things: For one, it's their tacos de canasta, or "basket tacos." While called tacos de canasta in Mexico City, other regions refer to them as tacos sudados—an unappealing translation of "sweated tacos" tacos al vapor, or tacos mineros, referring to the miners who often brought the food for their lunch.
These soft, moist tacos come with fillings you barely have to chew—and Los Reyes' chicharrón version is wonderful. A steamed tortilla-wrapped package of long-stewed-after-being-fried pork comes on a plate with perfectly pickled carrots and onion, cabbage and a side of spicy, dark red salsa.
Secondly, their quesadillas, massive corn-based folded wonders stuffed to the brim with quest, lettuce, crema, and your choice of additional filling, ranging from squash blossoms—don't underestimate this—and huitlacoche to chicharrón and birria.
And to this day, they have rarely failed.
Noble Bird Rotisserie
6460 Pacific Coast Hwy. #125
I've written this before and it bears repeating: There are stories I've written that are always worth re-sharing—this the story of the owners of Noble Bird is definitely one of them.
I want to emphasize, before going into their personal tale, that the food at Noble Bird is often forgotten because their story is so beautiful; the food, however, is the star because of how they apply their story to the food itself.
Sidney and Steve Price had to face a parental nightmare that affects over 30 million American families: Their baby was suddenly covered with welts and hives after taking a bite of yogurt. Soon after, allergies to tree nuts, seeds, eggs… It also affected their second child.
Food revolves around much of our lives: celebrations, gatherings, deaths, coming together at the end of the work day… And they saw their kids missing out on just that but they refused.
So they opened Noble Bird, one of the most allergen-sensitive restaurants not just in Long Beach or SoCal but the entire West Coast.
Inclusivity in food can mean so many things—allowing other cultures to flourish if they choose Long Beach and L.A. as their home, having a menu that caters to multiple diets—but there is something particularly special about seeing a father, his child in his lap, mowing through some food and telling you, "This is the only place I don't have to worry about my kid going to the hospital."
And there is something additionally special when, if you have the luxury of not having allergies, you can still visit this place and proclaim, "This is simply damn good food."
For Brian Addison's full feature on Noble Bird Rotisserie, click here.
Next Kitchen
245 Pine Ave. #130
In a mostly abandoned, former AMC Theaters food court, a tiny-but-mighty food space sits tucked into the back southern section of the concrete cocoon, where you'll see a hodgepodge of red and orange chairs parked next to various wood and metal two-seater tables.
And if there happens to be patrons using those chairs, they are eating food from a restaurant where plates of tom yum goong shrimp and Sichuan bean paste-coated pork belly sit next to beef Wellington and Portuguese egg tarts.
And all of it is thanks to China native Chef Victor Zhou.
Zhou hails from from Changsga, the capital of the Hunan province and home to one of the most respected and mimicked cuisines in the world. For Zhou, one need not adhere strictly to one cuisine or another. In fact, he believes the culinary wonders of the world are meant to be explored—something he has long held when it comes to both Chinese cuisines and cuisines beyond the one he was raised on.
Next Kitchen represents this in a beautiful way that lifts the much-needed-culinary lift Pine Avenue needs.
For Brian Addison's full feature on Next Kitchen, click here.
ReMix Kitchen Bar
3860 Worsham Ave., #330
There is zero question that the Long Beach Exchange development in East Long Beach has completely altered its food scene in what was largely a corporatized array of restaurant offerings.
And while there are many highlights—Chef Thomas Ortega's Amorcito specifically comes to mind, a place that might just have to return to this very list next year—I am amazed that Chef Ross Pangilinan's ReMix Kitchen Bar continues to lack the attention it deserves.
The La Mirada native and master of the kitchen that brought much-deserved love to his seamless blend of styles at Mix Mix Kitchen in Santa Ana and later Mix Mix Terrace in Costa Mesa, has finally moved past the Orange Curtain to take on Long Beach.
With a new menu that highlights Pangilinan's scope in talent—from a succulent fried chicken thigh drizzled with calamansi honey and spicy vinegar on the side to plays on carbonara and truffle pastas—ReMix continues to be one of the most solid additions to the Eastside.
Rose Park on Pine
800 Pine Ave.
Chef Melissa Ortiz's array of hyper-minimal, no-land-protein menus at Rose Park Roaster's Pine Avenue location across the seasons have proven to be some of the most bold and challenging in the city—and definitively some of its best.
Her cooking is not only perpetually clean but continuously innovative: From seafood ndujas and to "seacuterie" boards and shrimp chorizo and raw fish Chile Colorado, Ortiz's choice to stick solely to creatures of the water isn't a brag or diet trend restriction; it is solely the desire to challenge herself.
Of course, the privilege to exercise that kind of culinary freedom exists only because Rose Park owner and coffee master Nathan Tourtelotte has opted to trust Ortiz with her vision.
The result? An owner-chef partnership that offers the city's best bean-and-cheese burrito—yup, I said it: Peruvian beans-meet-nopal-meets-crusted quesillo—and the city's best Ensenada-style tacos—yup, unquestionably: Using Masienda blue corn as her base for both tortillas and the fish batter, the result is a taco that screams both traditions and innovation.
With a continuing-to-get-better wine list and a vibe that can only be achieved by its location and decor, Rose Park on Pine should have lines out the door.
To read Brian Addison's original full feature on Chef Melissa Ortiz's menu, click here.Look for an updated feature in the coming days.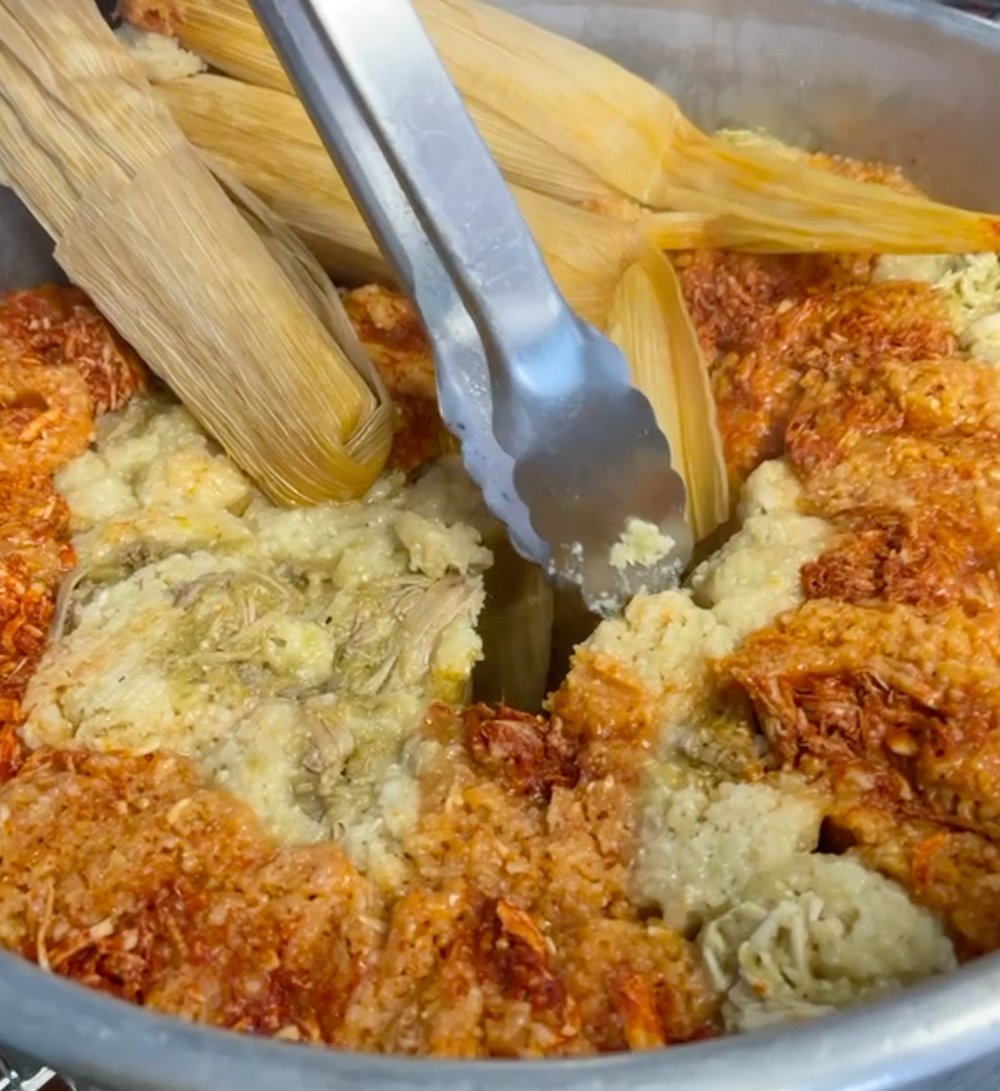 Nehemiah's Restaurant
5439 Cherry St. Suite #B
It was thanks to the stellar reporting of L.A. Taco's Javiar Cabral that I learned the masterful tamales from Nehemiah's stemmed from a very sacred space for tamaleros shucking tamales: The almighty parking lot.
Nehemiah's owner Ramon Martinez, along with his wife, Andrea, have a formal restaurant space on Cherry—they are, however, still to be found every day except Sunday in the Home Depot parking lot just down the street from their restaurant. This is to honor their roots, their community, and the tamal itself.
For the tamal is just as sacred.
Eschewing the common instant masa used at nearly every Mexican restaurant and home across SoCal, Ramon takes on the arduous, lengthy task of nixtamalization of the masa himself.
The result? Quite arguably the city's best tamales. I dig on the pork in green sauce and the queso y jalapeño, though you can choose your own favorite from three other varieties: pork in red sauce or chicken in green or red sauce.
Either way, you're happy.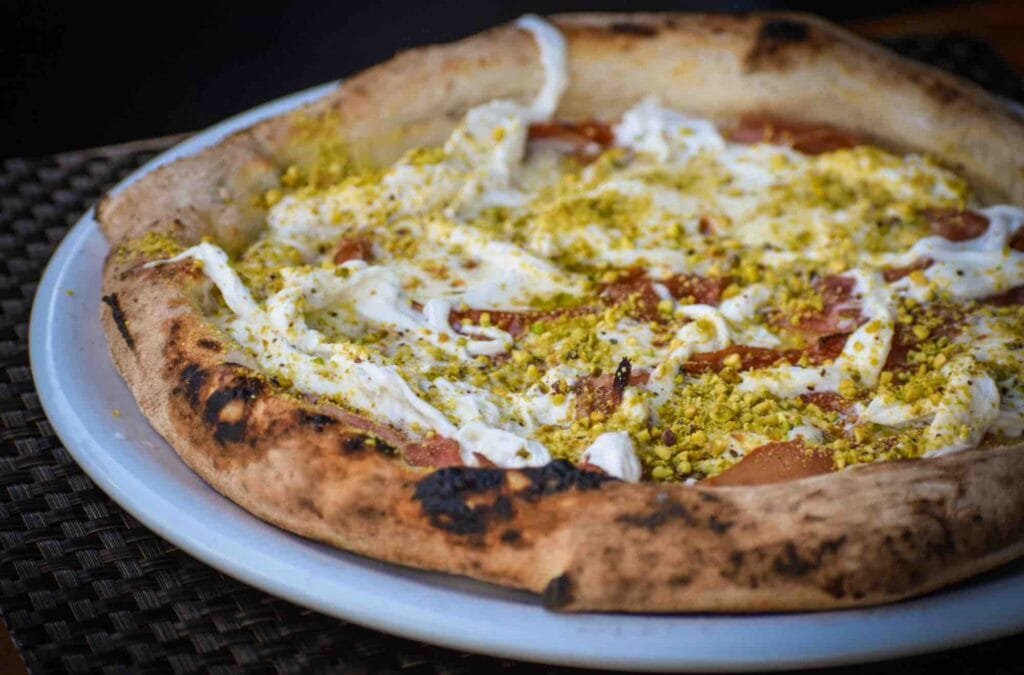 Michael's on Naples
5620 E. 2nd St.
Since fully reopening in February, the long-loved Naples space has altered its menu three times to reflect season, ingredients, and innovation—with a wine list curated by General Manager Massimo Aronne and a food program steered by longtime Executive Chef Eric Samaniego.
And yet, really doesn't have a reach beyond Naples and The Shore in the capacity that it not only should but definitively deserves.
The restaurant can easily boast of one of the city's best bar programs—a continually changing seasonal cocktail menu paired with a steady negroni menu that includes quite possibly the wittiest play on a negroni, a negroni sour, that turns the sipping staple into a dangerous porch pounder of a cocktail…
Their pizza—full-on, unapologetically Neapolitan—is some of the best in the city, and their pasta, which rotates from handmade orecchiette and pappardelle to deep black squid ink tortellini and gorgeously purple beet casoncelli.
Samaniego's talent, mixed with Arrone's absurd knowledge about pairings, creates for one of the city's most elevated, consistent, stellar Italian experiences.
Has Michael's on Naples rightfully received its laurels in the past? Yes—something that tends for many to dismiss them as a restaurant they've seen at some point on the Best Of lists. But the reality is that we should see them as always on the Best Of list.

For Brian Addison's full feature on Michael's on Naples, click here.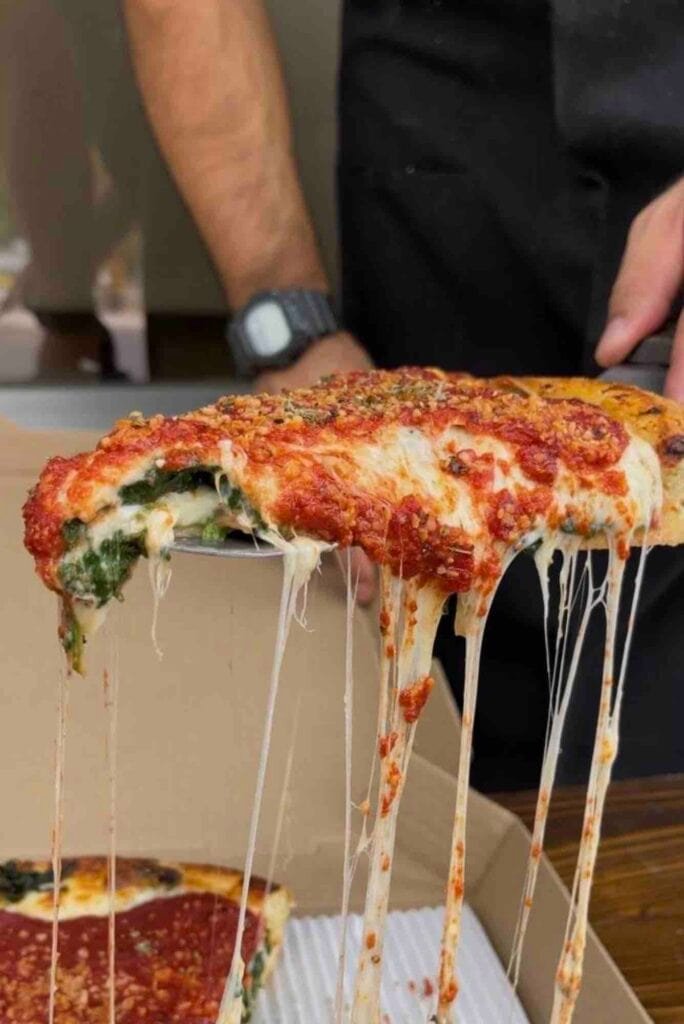 5,000 Pies
2064 Santa Fe Ave.
While many know of Rance's as one of the city's go-to spots for Chicago-style deep dish pizza, 5,000 Pies continues to fly under the radar after years and years of serving the Westside.
Becky Teter and her husband John, the pastor at the Fountain of Life Covenant Church in West Long Beach, sat down with church members Michael Martinez, Sharon Im-Lee and Sara Culver one day, and all of them fell into the same idea: their church, as an organization in which supporting your neighbors was essential, had to do more for West Long Beach.
And 5,000 Pies was birthed.
According to the founders, the name comes from the Book of John, Chapter 6, where Jesus fed 5,000 people from a few loaves of bread.
Since opening in 2017, 5,000 Pies has become a place to work for former gang members, locals in need of a job and those trying to better their lives, and with it, they have brought stellar deep-dish pizza.
Support this truly local joint (and even go for their regular crust pizza, which is an all-American ode to the pie with chewy, doughy crust and plenty of goopy cheese).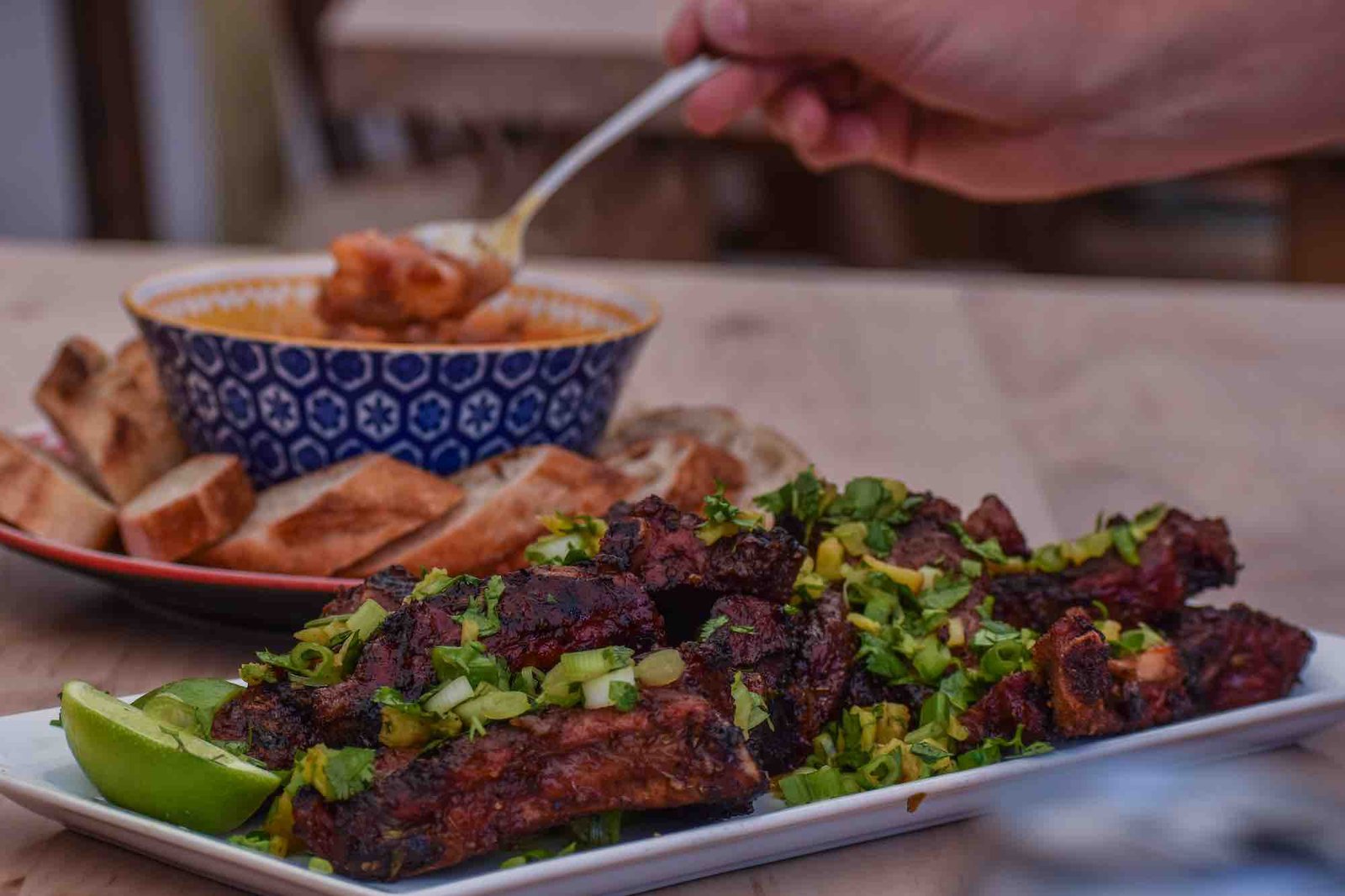 Shady Grove Foods
2707 E 4th St.
"We love Texan barbecue but we're not Texas. Sometimes, I wish Long Beach understood what it really has: Its own unique ecosystem with its own distinct characteristics. What we create is for and through Long Beach."
These are the words of Dennis Robicheau, the pit master behind the smokey, barbecued meats of Shady Grove Foods.
There are many, many things to love about their menu—a masterful Tomahawk pork chop, equally masterful smoked chicken, a green curry gumbo…
Especially special? Their sticky pork ribs, an ode to not only Long Beach, but the long, lovely friendship the Robicheaus have had with our city's Cambodian community.
Meaty pork ribs—cut individually and seared across all sides— are marinated in a fish sauce concoction before being smoked and charred around all sides, finishing off with a pineapple, cilantro, and green onion topping that melds the flavors of Cambodian ribs with Southern smokiness. The result is a beautiful representation of a menu that oozes odes to the cultures who have long called Long Beach home.
Even better, they are testing new Creole flavors, like turtle soup yes, I said turtle soup. And it is stellar but I can easily understand the qualms some folks have with it, there is a rich history—which is why James Tir (aka @LBFoodComa on Instagram) and myself are hosting a dinner with the Robicheaus. The 'Roots' dinner series seeks to explore one simple idea: where our food in Long Beach comes from. For this inaugural event, we will be taking you through a culinary journey that showcases the background and history of the food at Shady Grove Foods. The highlight? Turtle soup. The hopes? That this classic Creole dish's rich history allows us to explore how our palates evolve with the influences of sociality and culture.
It all goes down Oct. 6. More info to come.
For Brian Addison full feature on Shady Grove Foods, click here.
The Auld Dubliner
105 Pine Ave.
The Auld Dub is approaching 20 years serving the Long Beach community—and for those that don't know its owner David Copley—along with his longtime creative partner, former Dub overseer, and now owner of The Ordinarie, Christy Caldwell—there is a particular brand of "This Is Special" that applies to The Auld Dub.
Forget the fact that the space was designed in Ireland proper and flown over in pieces to be assembled on sight, attempting to mimic an Irish pub as traditionally as possible.
Forget the fact that Copley takes an annual crew of worthy and loyal patrons to the Motherland itself, showcasing not just where their experience comes from but to update the menu and vibe at The Dub in order to keep in pace with Ireland proper.
It is an letter of love to Long Beach from Ireland—a point I hope no one easily dismisses.
"I was extraordinarily fortunate—and I want to emphasize that: extraordinarily fortunate," Copley told me earlier this year, "I had walked into [immigration and naturalization services office] with nothing: no notes, no lawyer—and in all honesty, I was somewhat jovial about the whole thing. What changed was when I was in that waiting room, looking at hundreds of people. I don't say this lightly and I really don't read too much into situations but I say this with all earnestness: I think it was a matter of life and death for many people in that room. If they were sent back home, they'd likely die."
This particular story essentially anchors what The Dub represents—that immigration, none the matter from where, is an important part of American culture—and that the celebration of cultures worldwide can only be achieved if those celebrations come from the people who directly represent those cultures.
Even better? It's just a great food—and don't skip the oysters, fresh and fried. (Yes, get the fried.)
For Brian Addison's full feature on The Auld Dubliner, click here.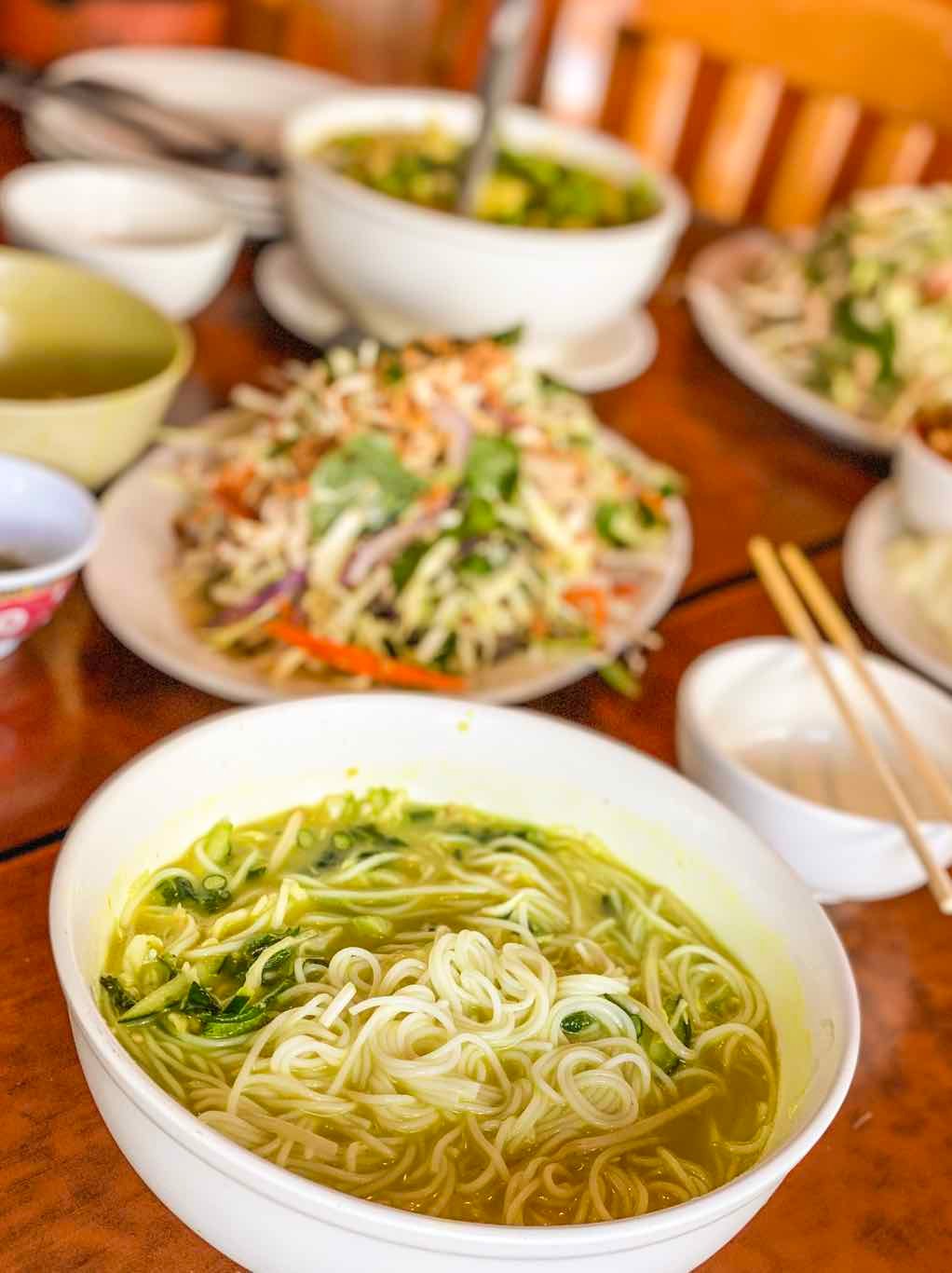 Crystal Thai Cambodian
1165 E. 10th St.
If one wants to really take in Crystal Thai Cambodian—which should, in all frankness, own its beautiful Cambo-ness and just drop the "Thai" part out of its moniker—then one should be invited to the space by a Cambodian friend.
I had this distinct honor after having not been to Crystal for years—and as luck would have it, it was none other than my friend James Tir (aka @LBFoodComa on Instagram).
I, of course, have had their green mango salad and their Phnom Penh noodles. And given that these dishes, among the handful of others we would repeatedly order, are pretty decent, we order them. Again and again. That ever paralyzing thing that is being a predictable creature.
But then I was happily introduced to the beautiful range of what James called "a Cambodian house in a bowl."
It was the nom p'jok, a bowl of thick, vermicelli noodles topped with an assortment of herbal leaves and a separate bowl filled with a turmeric-tinged broth that uses catfish as its base and then, through some culinary alchemy, results in a umami-meets-citrus bomb that is as light as it is addictive. Add some fresh squeezed Keffir lime and Thai chile and you have one of my favorite bowls of noodles I've had since first experiencing Noodle Shack's house special.
Then there was nhom sdao, a bitter-forward wonder uses a mixture of fried-until-their-crisp-as-all-bits of pork belly and fish parts—my inner-slash-wannabe-Mexican wanted to called it chicharrón de pescadero—tossed in a vinegar-y, fish sauce dressing. While some may be off-put by the bitterness, it is a flavor I consistently went back for.
Cash only and, I want to bear this suggestion: Try to go with a Cambo friend.
Long Beach Beer Lab
518 Willow St.
Too long ago, I wrote about a union (and one I need to update). This union is of many things, including beer and food at the Long Beach Beer Lab—but it's mainly and particularly the union between the life's work of business partners Levi Fried and Harmony Sage.
It goes beyond Sage's beautiful sourdough creations, from multi-pronged sourdough pizzas and loaves to their beautiful round challahs that comes just at this time of year, celebrating Rosh Hashanah. And it goes beyond the stellar beers—and outright odd creations like the "Imperial seltzer" that is more like a fruit smoothie with a 10% ABV punch…
It is the pairing of these two creatives.
Fried is a beer enthusiast-meets-fermentation nerd that churns out incredible brews while Sage is a master baker-meets-gluten samurai creating some of the city's best sourdough boules and more carb-y wonders that should be garnering more attention (even after years of serving the city).
Consistent staples at beer festivals across the city and region, they truly represent the power of beer, bread, and love in this city: Sandwiches? Wonderful. Soups? Awesome. Her food overall? Underrated and damn tasty, with or without a beer.
Chiang Rai
3832 Anaheim St.
Oh Chiang Rai…
The joint itself has gone from way (way, way) under-the-radar to Michelin-recognized within seven months of it opening, —but still has its ability to take the city by storm after it took over the Moo Pa space before it. And for good reason: Unassuming on the outside and colorful, bright on the inside, Chiang Rai represents the full spectrum of Thai food proper and Thai food-gone-Californian.
Their khao soi, featured on the menu that blends traditional Thai food with more local ingredients, is a stellar stand-out: Egg noodles are slathered in a bright yellow curry sauce serve before being topped with fried, crispy egg noodle strings, pickled mustard greens, and shallots. My protein suggestion? The sausage (and, if they are out of its because that often happens, go for the ribeye).
Their Midnight Chicken—which can be ordered from their valuable lunch special menu or as a full entree at dinner—is an ultra savory bit of soy-meets-garlic magic needs nothing more than its self. While some would recommend the entree dish that comes with the space's roti and yellow curry dip—I personally find the roti to be too heavy on the grease and too little on the crisp—I go for their lunch special continually.
The Wild Chive
2650 Broadway
One must not underestimate the intense vegan scene here in Long Beach whether that is at a restaurant dedicated to veganism, like the stellar Seabirds, or a non-vegan restaurant which offers heft vegan options, like Sura and Ammatoli.
Of those many options, it remains The Wild Chive, the brainchild of vegan chef Soozee Nguyen, that is by far the most underrated. And what makes that odd is not only its large following—the restaurant's Instagram has over 23,000 followers but that it has been a vagabond staple across the city for over five years before she settled into the Chive's forever-home in Alamitos Beach. With that brick-and-mortar, she has introduced a steady place where the public can experience her spectacularly creative and solid vegan grub.
A decade in the making—she left Long Beach to train and learn in what is arguably the most competitive food market in the nation, New York—Nguyen now offers her famed vegan brunch on a regular basis within her own space and joins the growing vegan scene that has taken hold throughout the city.
Nguyen's keen sensibility for high quality vegan food kept vegans and non-vegans alike returning for signature dishes such as stuffed french toast filled with pumpkin pie cheesecake. Or croquettes dedicated to the almighty chick'n pot pie.
Highlights for this space? Vegan Vietnamese Coffee with housemade condensed milk, French Quarter beignets, a vegan Monte Cristo sandwich and vegan mac 'n' cheese.