When I first published my underrated (not necessarily the best) restaurants on Longbeachize in 2017, it was, at the time, my most popular piece, a testament to the fact that Long Beach's culinary scene was flourishing.
That's been going on for a few years now and, with it, comes change—and, admittedly, the fact that this will always be incomplete because there are always more that deserve the same nod. Given that, there both newbies and some repeats—and there are repeats because they just still fly under the radar, even after years of operation, and are rarely mentioned. No matter how you dice it, these are spaces that deserve more attention and there are spaces that aren't mentioned that deserve the same.In no particular order….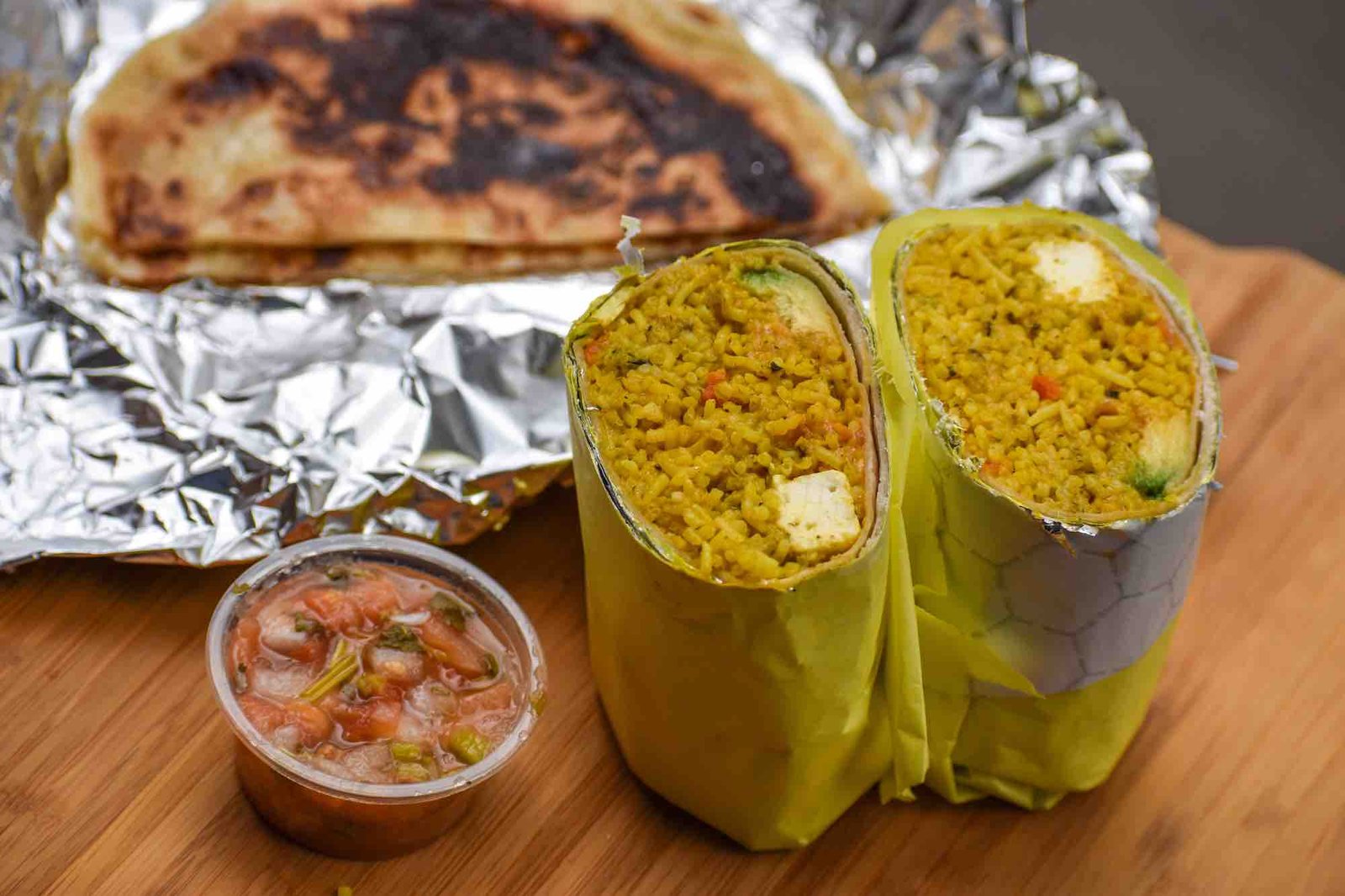 Appu's Cafe
3816 Woodruff Ave. (inside the Woodruff Medical Center)
In the overall realm of underrated-ness, it is perhaps Appu's Cafe that most deservedly defines that honor—and I am perpetually shocked that it doesn't get more love when it's not only underrated but genuinely great.
The draw of Chef Vinod Venkataraman's food at his definitely-Indian-kinda-fusion restaurant hidden in the Woodruff Medical Offices over on the east side, is one of both simple quality and contagious affection.
It serves up some of the best quality vegetarian food in the city and Vinod's wife works as a doctor in the building so they can both promote health through food and direct care: a win-win no matter how you dice it.
Amid the many worthy dishes—their soups are genuinely great, from their stellar mushroom soup to spinach soup, and I particularly miss their mulligatawny which is sadly not on their menu—it is their Maharaja Burrito that is the most popular and, per Yelp!'s admittedly eyebrow-raising burrito rankings across each state of the country, was named the best burrito in the state of California in 2019. The vegetarian burrito is filled with turmeric rice, chunks of saag paneer, and lentils (and mushrooms if you request it).
And while I am admittedly a huge fan of the carb-on-carb monster that is the Maharaja, there are other wonderful things to get.
My suggestion? Go for their samosa chaat—one of the best versions I've ever had—their paneer tikka masala, their creamy or one of their incredible soups.
Tasty Food to Go
2015 E. 10th St. #B
The love of both Indian and Thai food is strong on this list—and much Appu's Cafe mentioned above, Tasty Food to Go is an exemplary example of what it is to be underrated.
Next door to Lam's Barber & Beauty Salon is Lam's Tasty Food to Go, situated just east of Cherry Avenue on 10th Street, and since opening some five years ago, it is quickly becoming one of my favorite go-tos for Lao and Thai food.
And while Lam is the face of the outlet, it is his aunt and uncle—mortaring spices, chopping vegetables, ladling scores of various liquids—that are the masters in the tiny-but-mighty kitchen that churns out the very specific, 24-item menu represented by each numbered plate photographed and framed on the wall.
This menu includes their nom tok, a cold, lime juice-marinated beef salad layered with punches of Thai chile and sweetness to counter the tartness. Yes, it's like a carpaccio ceviche—or, in this case, Lao ceviche, as my fellow writer and Suppertime in the LBC co-host Sarah Bennett once put it.
It's beautiful.
And yes, there are plenty of other items worth getting, especially Tasty's pineapple fried rice. And while their pineapple fried rice is delicious…
Beach City Deli & BBQ
1714 Clark Ave.
At first I was torn. Do I highlight the brisket or the tri-tip? The pastrami or the lamb dip? The corned beef or French dip?
The thing I am admitting is this: Beach City Deli & BBQ honestly deserves a piece of its own—and this is something I've been saying for over a year now. And I will get there.
For now, I am going to keep this short and sweet: Go there for some of the best sandwiches in Long Beach.
Located next to dive legend Interlude in the small strip mall on the eastern side of Clark Avenue at Atherton Street, it is one of those sandwich shops that is desperately needed in any city. Hot or cold, sweet barbecue or salty pastrami, pasta salad or potato salad, everything is precisely what you want from a sandwich shop while also have a bit of hominess that is hard to replicate.
Heritage/Heritage Sandwich Shop
2032 E. 7th St.
Chef Philip Pretty's duo-restaurant is a boss-ass-sandwiches-meet-this-is-what-should-be-Californian-cuisine—and it it isn't just an underrated space but easily one of the city's best restaurants. Even more, both stand individually on that front.
It has been a distinctly difficult past few years for Pretty: the man who introduced Long Beach to the SoCal bistro through his work at Restauration watched that space damaged by a fire nearly, had to step away as one of its main figureheads, only to watch his former boss go head-on against health protocols and close up shop.
But he didn't hesitate in creating his own path—and that was the path to Heritage, along with sister Lauren, creating a sandwich shop for Long Beach that it not only deserves but also one that churns out some of his most quality comfort food since the beginning days of Restauration.
Thick cuts of brisket—smoked for hours on end in the tiny-but-mighty smoker in the back. House-fermented pickles. Braised-then-confited slab of pork belly sits in the fat until hitting room temperature, before being slapped onto a scorching pan for sandwich stuffing…
These are sandwiches of the heart.
And when it comes to his more formal endeavor, Heritage, there is nothing really more to say than it is one of the richest examples of Californian cuisine to hit Long Beach: Pretty's choice of regional ingredients—tomatoes and melon paired with burrata seem and look simple but the quality and arrangement are the true deceivers—paired with the perfect array of proteins—octopus and scallops sit side-by-side with aged duck and pork belly—make this restaurant a space I can't continue to visit over and over.
It's witnessing a chef and his family step away from stress, frustration, and a pandemic to focus on food they love. This is happy food—and that means it is something we all need.
Oi! Asian Fusion
6600 Atlantic Ave.
For me—as both a food lover and longtime advocate for the Northside—the lack of mentions Oi! gets is as baffling as it is surprising: The small, immigrant-owned restaurant serves food that is precisely the opposite of what has inundated the neighborhood: instead of corporatized food by way of mass chains—the very thing North Long Beach said it was tired of seeing in community outreach meetings hosted by the city—Oi offers quality, affordable grub.
Eric and Erwin De La Cruz immigrated from the Philippines in their teens, welcoming themselves to the culture shock that was the United States: With little to no adobo, lumpia, or tasilog in sight, the siblings quickly assimilated in a world in which they felt they would sink or die without doing so.
Eric opted not to offer up some hyper-innovative, ultra-high-end form of Filipino food but a Filipino-centric space with hints of Japanese, Korean, and other influences—and when it comes to North Long Beach, it is a refreshing addition to a food scene dominated by American and Mexican cuisines.
Pinoy-centric dishes—specifically, a truly great variation of tapsilog, an oyster and soy sauce marinated beef dish—sit side-by-side with more witty offerings on the menu, including genuinely addicting jicama tacos topped with chunks of pork belly.
One of the most underrated dishes in this underrated dish—a dish that I personally return to repeatedly—is their mushroom and egg dish: hefty chunks of king oyster mushrooms sit amongst beautiful bouquets of enoki and bunapi mushrooms, sautéed in a mystery unami bath before being topped with cotija cheese. Paired with a genuinely perfect soft-boiled egg, a fried shishito pepper, and plated atop rice, the dish is truly a heartfelt ode to vegetarian food.
Los Reyes del Taco Sabroso
2345 E. Anaheim St.
I've talked about this little hole-in-the-wall joint for nearly five years now, lauding its Mexico City-centric menu with large, corn tortilla quesadillas stuffed with huitlacoche and lettuce and crema… It's offering of tacos de canasta… Their taco gobernador…
Hidden on the northwest corner of Junipero and Anaheim, Los Reyes offers a ton of awesomeness but I always go for two things: For one, it's their tacos de canasta, or "basket tacos." While called tacos de canasta in Mexico City, other regions refer to them as tacos sudados—an unappealing translation of "sweated tacos"—tacos al vapor, or tacos mineros, referring to the miners who often brought the food for their lunch.
These soft, moist tacos come with fillings you barely have to chew—and Los Reyes' chicharrón version is wonderful. A steamed tortilla-wrapped package of long-stewed-after-being-fried pork comes on a plate with perfectly pickled carrots and onion, cabbage and a side of spicy, dark red salsa.
Secondly, their quesadillas, massive corn-based folded wonders stuffed to the brim with quest, lettuce, crema, and your choice of additional filling, ranging from squash blossoms—don't underestimate this—and huitlacoche to chicharrón and birria.
Noble Bird Rotisserie
6460 Pacific Coast Hwy. #125
Owner Sidney Price's story is a distinctly unique one: the mother of children with severe allergies, eating out was anything but social bliss but a constant fear that something may not be mentioned and could endanger her kids.
Hence Noble Bird Rotisserie, a space where every single dish is dairy-free, peanut-free and tree nut-free—excluding coconut—and you can ask for a menu (or look online) which shows every single ingredient in every single dish to assure no confusion.
But what her and Chef Andrew Bice—a man who has worked everywhere from alongside chefs Mary Sue Milliken and Susan Feniger at the lauded Border Grill to Downtown Santa Monica's Blue Plate Oysterette—have created is really stellar food.
The namesake dish is simply wonderful and divinely simple: Whole brined-and-marinated chickens, chopped to your size preference, and served either traditionally or "g-style," meaning spicy. Squeeze your lemon or lime and you have yourself one of the simplest joys in life: a plate of wondrous, succulent chicken.
Tack onto this salads of perfection—the roasted peach salad is something of a wonder—and excellent sides and you have yourself a restaurant that is not only underrated but one of the best in the city.
Uncle Fung Borneo Eatery
5716 E. 7th St. #A
Laksa mee. Ayang goreng penyet. Roti prata.
These are just a few of the dishes that span Indonesian, Malaysian, and Singaporean cuisine—and what owner Chef Phin F. Then draws inspiration from to create the food from one of southeast Asia's biggest islands, his home of Borneo.
Back in Alhambra, Then had a tiny-but-mighty fish'n'chips joint lovingly called The Little London Cafe. With his healthy portions of Britain's most known form of grub, Then would offer bits of Borneo here and there until customers were asking for his full Kalimantan menu, forcing him to alter the cafe and dub it Boreno Kalimantan.
With Uncle Fung, which opened four years ago, Then takes his previous cuisine and simultaneously ups the quality while dropping the formality; it's casual, fast, and incredibly well-crafted food.
Then's pride in his food shines with rich, if not outright powerful flavors—and his laksa mee, a curry soup based out of Singapore, being a prime example of this. A fairly-but-not-too spicy coconut broth is packed with shrimp paste, giving a wonderfully sweet'n'salty aroma that, well, fits the description of an island. Swimming in the broth are are the housemade egg noodles, what Then describes as "curly and elastic" and "most famous in West Kalimatan on Borneo and Jakarta" and makes the dish simultaneously Singaporean and Indonesian. Mixed with that are fried tofu chunks, a handful of (not overcooked) prawns, eggs boiled in the broth, some fishcakes, and a side of fried shallots and fresh green onion.
Top it off with a squeeze of the unlabeled plastic red bottle on your table—no, it's not ketchup but sambal terasi matang, a cooked chile sauce with a shrimp paste base—and you have yourself a wonderful, warming dish.
In other words, go explore the islands without leaving Long Beach
ReMix Kitchen Bar
3860 Worsham Ave., #330
There is zero question that the Long Beach Exchange development in East Long Beach has completely altered its food scene in what was largely a corporatized array of restaurant offerings.
And while there are many highlights—Chef Thomas Ortega's Amorcito specifically comes to mind—I am amazed that Chef Ross Pangilinan's ReMix Kitchen Bar hasn't gotten the attention it deserves.
The La Mirada native and master of the kitchen that brought much-deserved love to his seamless blend of styles at Mix Mix Kitchen in Santa Ana and later Mix Mix Terrace in Costa Mesa, has finally moved past the Orange Curtain to take on Long Beach.
During the pandemic, his first to-go meal—a wondrous mixture of his Filipino heritage and classic training with raviolo al' uovo, lumpia, pork cheek adobo, tuna tostada, and chicken liver toast—was genuinely delicious.
But Pangilinan is, first and foremost, a restaurant chef; his food isn't meant to be carried for up to an hour to a different location and served in a tin box. And now, he is exercising that with weekend brunches that are stellar and dishes presented with such a gorgeous flair that you forget you are, indeed, in the 'Burbs.
Manaow
3618 E. Broadway
Tucked between a liquor store and a laundromat, sits one of Long Beach's shining example of Thai restaurants.
Unassuming and solid, the family of Pungauthaikans—led by mom-and-daughter team Nitaya and Parry—have created a neighborhood spot that creates consistently warming, heartfelt dishes which harken to their Thai heritage while using local resources.
Nitaya's garden is not excluded from that resource list, which grows the betel leaves used for the shop's stellar miang kham: the forest green leaves, wide and large, are spread around a bowl of light, sweet shrimp broth drizzled across the pile of shredded coconut, peanuts, red onion and lime. It's the perfect precursor to any of their lunch soup specials, worthy of suffering through additional heat in the summer or any time.
Light dishes like that are countered with deeper dishes like nam yang—dubbed "grilled Thai salami" on the menu—a housemade, minced pork sausage that has its saltiness cut by ginger.
These are but two examples of incredibly great Thai food from Manaow.
Go.
Honduras Kitchen
1909 E. 4th St.
Have you ever had great plantains? I mean the kind where the server asks you beforehand whether you want ripe or green before they're even served to you?
That's Honduras' Kitchen on Retro Row—or, if you happen to be Huntington Park, at their other location—which is the kinda place you might notice and when you do, unsure if they're perpetually celebrating the World Cup or just another bar along one of Long Beach's most revered bar crawl-able strips.
You'll be introduced to baleada, a massive flour tortilla stuffed with beans and deliciousness… Pollo frito, their version of fried chicken…
Arroz con pollo, a deceptively simple dish that has been lauded since the 1990s (and I really mean that: In 1995, the Los Angeles Times called it the best dish of the year)…
The Menu Hondureña, the Honduran version of steak and eggs with chimol—a Honduran/Salvodorean-style pico de gallo—beans, rice, cream and thick cut of queso fresco.
Or just go all out and get the Parrillada Hondurena, a family-style plate which comes with—no joke—chicken, pork chops, shrimp, chorizo, platano fritas, beans, rice, and baleadas.
Get your Honduran on, complete with a straw-roof mini hut inside (and now outside post-pandemic) and club lights (because you can always dance with good food).
Berlin Bistro
420 E. 4th St.
Nearly a decade ago, I was the first employee to open what is now known as Berlin Bistro, half of an endeavor to reimagine what used to be a massive art supply space. The other half, Rand Foster's iconic record shop, Fingerprints, would leave its longtime Belmont Shore home to join Berlin's owner Kerstin Kansteiner in a cafe-meets-music spot that was unique to DTLB.
Kansteiner had already built a name with Portfolio at 4th and Junipero—and what so many didn't get at the time of Berlin's opening is that she didn't want another Portfolio though that is precisely what people were expecting of her. She wanted a restaurant—but one the that didn't succumb to a staple menu or expectations. She wanted what she missed in Europe: Quality food from a place you happened to stroll by. Food driven by the season, not demand.
Enter Chef Rob Fry.
Fry's work is something of magic, a talent so focused and so humble that I have little question Berlin (as with the previously mentioned Heritage) will be making my Best Restaurants list.
It's his steak tartare: minuscule cubes of New York strip lathered in a tart coating—that tartness cut with a sharp-but-subtle grate of fresh horseradish and the witty addition of the nuttiness with both grated hazelnuts and hazelnut oil—served with a healthy heap of grilled Gusto bread to heap the tartare onto.
It's his braised greens: Using a black cabbage kale—its an Italian variety often dubbed "lacinato" or "dinosaur" kale—he somehow creates a vegetarian-friendly dish that is as hearty as it is warming. Hefty chunks of Maitake mushrooms and a single fried egg sit amid greens brushed with the sweetness of sherry.
It's, simply put, kind of everything.
Thunderbolt Pizza & Ambitious Ales
4085 and 4019 Atlantic Ave.
I proudly insert this oddity: A restaurant next to a brewery.
Whether we want to face it or not, we are still very much in pandemic times—and while we have to luxury of going out to restaurants and breweries, those businesses depend very much on partnership and support from one another in order to keep their heads above water.
Thunderbolt Pizza and Ambitious Ales exemplify that type of community partnership, all the while peddling some of the city's most quality pies and beers—with Ambitious, in all frankness, competing with Beachwood as the best beer in the city.
Now, given the diabolical, devilishly good competition that is underway between The 4th Horseman and Little Coyote—easily the city's two best pizza slingers—now is the time to bring up the underdogs. And the relatively new Thunderbolt, fulfilling Bixby Knolls' quality pizza gap after it lost the much-beloved and gone-too-soon Pow Wow Pizza, is worthy of mention.
Owner and pizzaiola Jay Stebbins sues quality ingredients to create some quality pies that are the perfect companion to Ambitious Ales' GABF-winning brews.
Happy Cow Kitchen
371 Redondo Ave.
Happy Cow Kitchen is trying to keep it old-school simple: no wifi, no complex menu and seemingly eschewing a hipster vibe on every level, owner and baker Claudette Pentz offers up incredible baked goods every Saturday and Sunday from 9AM to 3PM.
You can find little wonders—her cream horns are cream cheese-y stuffed little wonders while decadent offerings like her buttery strawberry and almond croissant put most others to shame—or you can go full sit down and have a genuinely solid breakfast or lunch.
Housemade pretzel buns and brioches are stuffed with drool-worthy combinations: slices of prosciutto are paired with plum jam and brie cheese on a pretzel bun while heirloom tomatoes and pesto sit with a thick slice of sheep's milk cheese on brioche.
And then there are her quiches: open pockets of buttery crust filled with chunks of egg, cheese, bacon, and milk—arguably the city's best.
El Taco Loco #3
1465 Magnolia Ave.
There's many things about El Taco Loco—this particular El Taco Loco—that proves it is one of the most legit taco joints in the region, let alone Long Beach. And while I've talked about it before, seeing it return to life after the worst of prohibitions of the pandemic were lifted was what returned me to it.
It's not just that the place is open 24/7 and we saw its hours dwindle and then rekindle. It's more than the fact that the parking lot has returned to always-full status and its tables, showing their wear'n'tear with a humble charm, are once again equally filled with Latino families of all sizes or loner workers wanting the comfort of solid comida.
It's the reminder that their taco de tripas are par none. Their buche is creamy, succulent, wondrous. Their cabeza is perfectly greasy and warming.
But it is especially their tripas that win my heart.
Handmade tortillas—not too small, not too thick, and plenty of room for a meaty filling—come with a healthy dose of tripe, marinated and wonderfully charred with a slight crisp, slathered in salsa verde and topped with onion and cilantro. This is the classic taco at its finest, served with a part of the cow all-too-often dismissed by boring American appetites.
Vino e Cucina
4501 E. Carson St.
Vino e Cucina has been on this list for three years running.
And it still deserves to be on this list because, while Ellie's, La Parolaccia, and even the new Wood & Salt Tavern are easily the most recommended joints when it comes to pasta—and rightfully so—this is the type of place that lacks any sense of pretense, like many of the restaurants in owner Lorenzo Mottola's home country of Italy.
Nestled between a middling Nashville hot chicken wannabe and a hair salon within a strip-mall lined by bright green awnings, Vino e Cucina welcomes you to bright, outright homey yellow walls meeting white tiles and various hung knick-knacks. It reminds me of a place my Grandpa Natalino and Mom would enjoy and, more importantly, one they would both cook at.
It's straight-forward pasta at its best, all made in-house and fresh. You'll find the giant tubes of rigatoni tossed in any sauce you can imagine. Even their takes on things that are starter bites like crudo—here, they've taken Sicilian yellow tuna, thinly slice it and pair it with white cannellini beans and polenta, create a chèvre polenta with mushrooms and drizzle a bit of truffle oil over it—are on point.
Not fussy, not complicated; simple, straightforward Italian food made great.
Cheko el Rey del Sarandeado
343 Market St.
Even years after Chef Sergio Peñuelas left his Los Angeles staple and Jonathan Gold-favorite Coni'Seafood—developing a cult-like following there because his mariscos are stellar—his Long Beach offshoot, Cheko, has yet to really garner the myth and legend of Coni'Seafood even though it's superior.
Tiny, tucked off Market in North Long Beach, blue walls adorned with trophy taxidermy-ed fish mounted on the walls next to a required mural of the Virgin de Guadalupe… This off-the-grid seafood joint is dedicated to the sarandeado-style preparation of fish, where it's cooked over the high heat of simmering coals.
What makes Cheko is the work of Peñuelas.
I mean, inside the most unassuming of places sits one of Long Beach's best fish taco: Cheko's marlin taco. It's smoky, salty, downright spectacular and even minimalist with just smoked marlin that is then heated over hot coals, cheese and a single avocado slice smudged inside a wonderfully hand-crafted tortilla.
And do not forget to get down on Peñuelas' tostaditas locas, the ultimate appetizer that heaps shrimp and octopus ceviche on top of marlin "pâté" raw and small fried tortilla rounds.
Flamin' Curry
3344 Broadway
Great Indian food is difficult to find in Long Beach: I know many rave about Kamal but I find it middling and before I even began the trip into the depth of one of the world's greatest cuisines, I actually though Natraj was good… Alas, I grew.
Enter Flamin' Curry.
Surely, some of the dishes can lean toward the salty but, that being said, this joint is unapologetically straightforward: A line of steam trays offering up a splendid array of Northern and Southern Indian staples that help my inner cravings for channa masala and masala and, of course, various curries with the type of spiciness to transcend and heat up dining experiences.
One of my favorite dishes is one you will have to be a bit patient for, as it takes a whole ten minutes to serve rather than being served directly out of the trays: their goat biryani, arguably city's best and the dish that defines the Indian city of Hyderabad. It's centered on two things: rice and meat.
This plate can be ordered with other meats but the goat (as with their curry) is the par-none choice: Succulent, bone-barely-clinging chunks of marinated goat sit atop a bed of basmati rice, coriander and saffron lurk up from the pile of food when you open the lid of its black styrofoam vessel. It's nothing short of wondrous.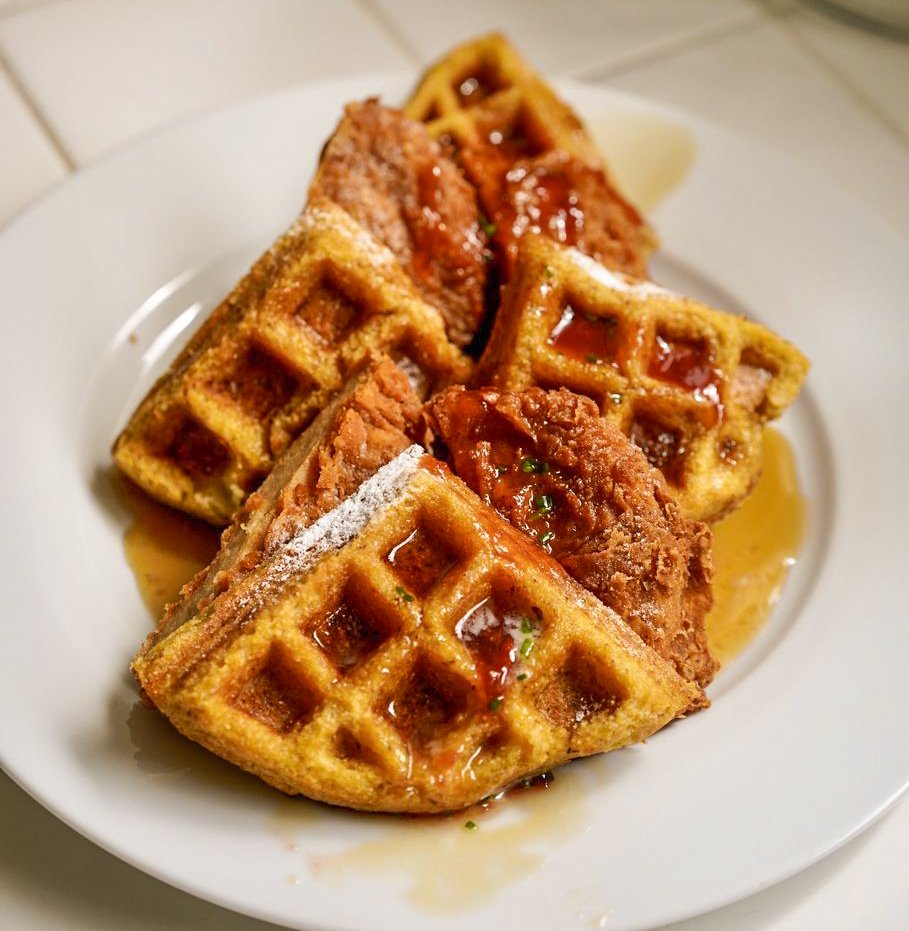 The Wild Chive
2650 Broadway
One must not underestimate the growing vegan scene here in Long Beach—whether that is at a restaurant dedicated to veganism, like the stellar Seabirds, or a non-vegan restaurant which offers heft vegan options, like Sura and Ammatoli.
Of those many options, it remains The Wild Chive, the brainchild of vegan chef Soozee Nguyen, that is by far the most underrated. And what makes that odd is not only its large following—the restaurant's Instagram has over 22,000 followers—but that it has been a vagabond staple across the city for over five years before she settled into the Chive's forever-home in Alamitos Beach. With that brick-and-mortar, she has introduced a steady place where the public can experience her spectacularly creative and solid vegan grub.
A decade in the making—she left Long Beach to train and learn in what is arguably the most competitive food market in the nation, New York—Nguyen now offers her famed vegan brunch on a regular basis within her own space and joins the growing vegan scene that has taken hold throughout the city.
Nguyen's keen sensibility for high quality vegan food kept vegans and non-vegans alike returning for signature dishes such as stuffed french toast filled with housemade chocolate hazelnut spread, fresh strawberries, bananas, coconut whip and topped with maple and almonds. Or a breakfast bánh mì filled with tofu, tempeh bacon and ham, pickled veggies, cucumber, cilantro, chile, fried shallots, and a chive-cilantro aioli.
Highlights for this space? Vegan Vietnamese Coffee with housemade condensed milk, French Quarter beignets, a vegan Monte Cristo sandwich and vegan mac 'n' cheese.