Tucked into the back of Rosemallows bar in DTLB at the southwest corner of 3rd and Long Beach Boulevard is a Mexican gem I've long praised, where the scents of freshly nixtamalized blue corn and huitlacoche, squash blossoms and barbacoa waft toward the pool table from the back corner.
It is the work of chefs and husband-and-wife team Manuel and Fernanda Bañuelos, creating some of the most exciting and beautiful Mexican cuisine in the city, and it is all coming to an end come April 29.
After announcing the closure in a heartfelt Instagram story by Fernanda—who was clearly choked up and cut the video short—Manuel and Fernanda spoke about the troubles facing the restaurant. And it goes beyond the difficulty that faced them from the onset: Being a restaurant tucked inside an already existing bar.
"The weather, simply put, just annihilated our business," Manuel said. "You tack this on top of the issues facing downtown, other places closing, us losing foot traffic—those small things add up. And unfortunately, there's just no way to make it possible for us to move on."
Manuel and Fernanda sang the praised of their landlord and Rosemallows owner Jimmy Han, who already has an as-of-now unnamed tenant lined up to take over the space.
"It's definitely with a heavy heart I say goodbye to this beautiful chapter in my life," Fernanda said. "Fonda has seen me grow and flourish within the kitchen, being able to do things I never imagined I was capable of.,, The sense of being a part of something bigger than our selves will always give me a sense of purpose."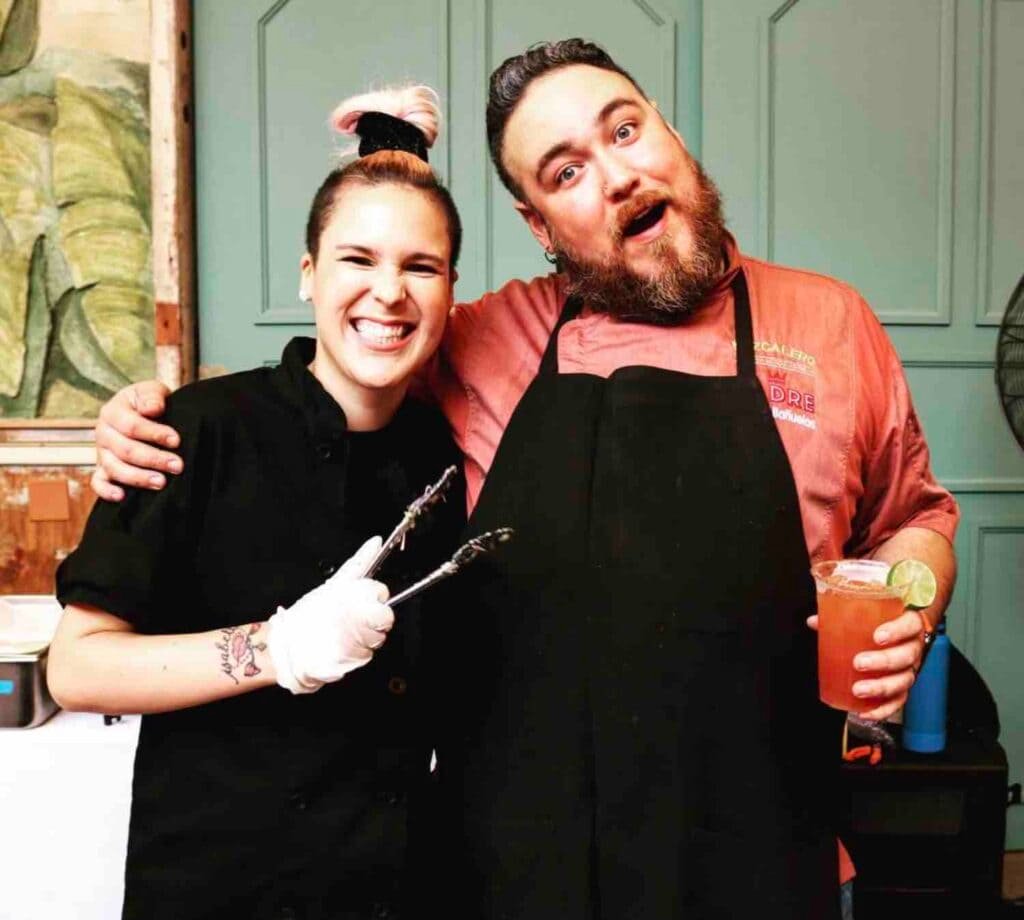 That "sense of purpose" was exuded through the food served at Fonda: It is one of the most beautiful reflections of Mexican food and culture proper—and the greatness of Fonda Tobalá is not necessarily in its ability to directly mimic the scents and tastes of Mexico but because its owners have been unabashed at harnessing their nostalgia for their home city, Guadalajara, while making sure their home here in Long Beach gets to share that experience with them.
Born in Guadalajara, trained internationally and heading everything from fine dining in London to earning his stripes as making one of the best torta ahogadas in the region when he headed Balam in Lynwood, the food of Bañuelos has been consistently clean and consistently varied in terms of influences.
But with Fonda Tobalá, a genuinely familial effort that brought Manuel back to the stomachs of Long Beach mid-pandemic, he returned to Mexico full and proper, from those mind-blowing torta ahogadas to masterfully created cueritos tostadas that remind me of the food stalls in plazas throughout Jalisco.
It was and remains something special for Long Beach and, if you permit me to be a bit personal, this one leaves me admittedly teary-eyed and frustrated; I continue to be baffled that such a space is not thriving and, like so many places we proclaim to love, is instead struggling. Struggling to make rent, which extends in struggling to pay for the living costs of workers outside the restaurants.
In short: It is a damn shame.
"To my friends and my community, we are forever grateful for the love and support we've received—you've become our family," Fernanda said. "Fonda and everything that it tries to embody? It personally saved my life. We will come back for another beautiful chapter—I promise. 'Til then…"
Until then, hermano y hermana.
Fonda Tobalá, located inside Rosemallows at 255 Long Beach Blvd., will have its last day of service on April 29.