Judging from the tiny window with which The Wicked Wolf has been open and already connected with the surrounding neighborhood while dishing out some genuinely solid libations, one would be hard-pressed to believe that owners and husband-and-wife team Thea Mercouffer and George Wolfe weren't really intent on being in the bar business.
"We were blessed to be able to sell our longtime home in Venice after having an empty nest and wanted to start our own business, do something more hands on and commercial," Wolfe, who is a writer and whose wife is a documentarian, said. "And we were genuinely open to anything while looking last summer across of nearly all of SoCal: mini-markets, car washes, restaurants… Wherever we thought there was something interesting and this place really charmed us."
Wrigley's newest watering hole along its Pacific Avenue business corridor, The Wicked Wolf is fairy tale-meets-adult playground, where Mercouffer tended to avoid theme park-ing the space—"I had many more vines and greenery but I didn't want to step into Rainforest Cafe territory," Mercouffer said, laughing—while creating something enjoyably whimsical.
There are small details everywhere—like the quick-look-down-and-you'll-miss it "trail" to the woods imprinted on the floor with subtle glitter, leading to the massive wall made to look like you're going into a magical forest, or the fact that the bathrooms, using green vines and smart lighting techniques, make if feel like the sun is peeking through the limbs of trees—that Mercouffer hopes regular patrons will appreciate and remember.
But most importantly, she wants people to see the Wolf as an extension of community—and she's already doing that after being open just a week.
The neighboring, Black-owned and -operated Wrigley BBQ not only has their menus on nearly every table, offering patrons a chance to get some smoked meat'n'mac to bring over while they drink, Mercouffer has already partnered with the space to do a "skip the kids" Mother's Day Brunch: Wrigley's BBQ will be offering everything from chicken and waffles to greens and mac while The Wicked Wolf will be crewing a slew of champagne cocktails.
Let's not also forget her scrubs offer: To honor the vast amount of medical workers in the surrounding area, the Wolf encourages you to come in happily with your scrubs on and say, "I'm ready for my shot."
Once these simple tasks are completed, you will score yourself a $9 boilermaker—a beer and a shot of whiskey—as a thank you for your service and commitment to the health of Long Beach and humanity in general.
There's a monthly Cocktail of the Month, where a local bartender (not of The Wicked Wolf) can flex their concoction-making skills at a bar outside their own, like this month's offering from Ashleigh Hehmann, a bartender who has served Long Beach for over a decade through being Gallagher's and House of Hayden alumn.
Her offering? "The Jack Albert," a gin-meets-maraschino libation that uses a pea flower syrup and lime juice to create a beautiful lavender tone while adopting aquafaba—that's chickpea juice whipped up to create an egg white-like puff—so as to be friendly to vegans.
Not a drinker? Fear not: The space has one of the most extensive mocktail offerings where, in the words of Wolfe, "We actually took our time to create a thoughtful mocktail list, where the drinks are sophisticated if not even having a bit of bite."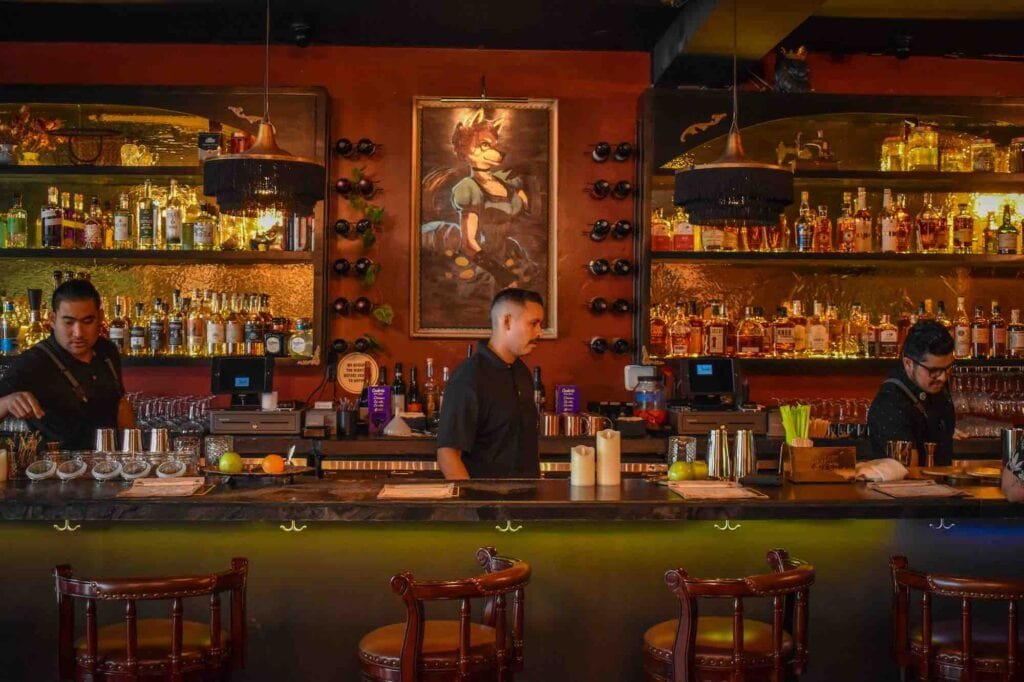 This invitation to outside bartenders will be a monthly offering—and don't think that just the bartenders will be in on the action: Mercouffer will host distributor nights that are open to both her employees and patrons. Meaning, say, if a rum manufacturer wants to have a taste sampling of their product, patrons and employees alike will be invited—as long as supplies last—to join in on learning about and tasting the spirits.
"These are just small ways we're already trying to thank Long Beach for being so welcoming," Mercouffer said. "Because this has been a fun labor of love—my heart is really in on this place and I want people to feel the same amount of pride as do when they step in."
Welp, we're on our way to the woods, Thea.
The Wicked Wolf is located at 2332 Pacific Ave.