It is certainly the first drag performance at Wilson High School in Long Beach and likely the first one in the entire school district's history: Decked out in a Teenage Mutant Ninja Turtles robe and matching pants, drag star Tammie Brown performed some of her new music, gave a mini-queer history lesson, and received not one single jeer, boo, or dismissal after performing in front of hundreds of Long Beach high school students.
"It was an immediate yes, of course—any way I can be a better part of the community," Brown said when asked about her willingness to step in front of high schoolers who, very likely, had never seen a live drag performance in their life. "Wilson, after all, always had the kind kids."
Kind kids, indeed: Athletic coach and newly minted teacher Erin Carey was recently appointed chair of the school's Pride Club, where student members wanted a way to celebrate Pride Month. Their initial idea? Perform their own drag for the first time. And the very much makes sense, considering the club's obsession with another drag star—Trixie Mattel—whose image adorns the door of Carey's room saying, "Drag is not dangerous." But, after all the proper channels had to be set up—signing up, giving their drag name, the song they would perform to…—nerves settled in.
"When push came to shove, they were honestly a bit afraid," Carey said. "And of course, it was highly unlike I could get Trixie to come out to Wilson so we reached out to [Long Beach drag leader and royalty] Jewels, [L.A. Sisters of Perpetual Indulgence fully-professed sister] Bearancé Knowles—y'know, just names of people who could connect us with somebody."
Connection after connection, text after text, eventually Carey was connected with Brown and "within seconds," Brown said she would happily perform.
"Tammie is just wildly humble and took zero time responding," Carey said. "She did everything we asked of her: We asked it be educational and she did, highlighting the history of drag. We asked her to show up early to sign paperwork and learn the rules and she did. An amazing human and the kids loved her.
Again, kind kids indeed: Brown's nod toward the kindness of Wilson High students is a direct reference to her long love affair with Long Beach, where she moved here in the fall of 2000: "I had friends who grew up here and went to Wilson and in my early twenties, it was those who went to Wilson who were the nicest. I'll always remember that—but I won't lie: I was hesitant in approaching it because of all this controversial stuff going on."
"Controversial" is putting it lightly: Across the country, multiple states have attempted to pass or have passed anti-drag laws—with Hamburger Mary's straight up taking the State of Florida to court as they continue to push, both dangerously and proudly, more location openings throughout the South—and, along with it, infused narratives into their legislative talking points that associate drag performance, especially among younger audiences, as some type of child grooming.
"I was thinking about having #NotGrooming somewhere in my performance just to make clear that drag has nothing to do that," Brown said, noting she was "unnerved and shaken" about even her wardrobe in fear that someone would misinterpret her art as something malicious or inappropriate.
Of course, the irony to that—drag somehow being offensive—is that Brown's influence on the art of drag has been surrounded by her willingness to incorporate her own experience and knowledge, be it about indigenous cultures of Mexico—Brown, born Keith Schubert, lived in Rincón de Guayabitos, Nayarit and Guadalajara, Jalisco during his childhood—or queer history. This intellectual aspect of his performance mixed with her appearance—unlike the pageant and stunt queens, Brown's drag avoids the fabricated breasts, a seemingly gymnastic quality to movement, and the removal of identity that often accompanies popular drag—Brown's drag is, well, thoroughly Brown's.
"I didn't even want a drag name, to be honest—they forced me into the drag name," Brown said. "I am Tammie Brown; there is no separation or blurring of lines between myself and Tammie Brown. Of course, my character becomes exaggerated for performance purposes but if someone is to take me home and take everything off, I still want it to be me. I am me. I don't need boobs—so happy they're queens who don't have to wear boobs and we can just have our bodies—and I always want it to be me."
While every drag performer has a distinct style that is their own, the niche of Brown's drag world is entirely her own, calling herself an "art and theatre queen," where storytelling and dustings of historical references blend to create a drag that is, in her own words, "entirely original."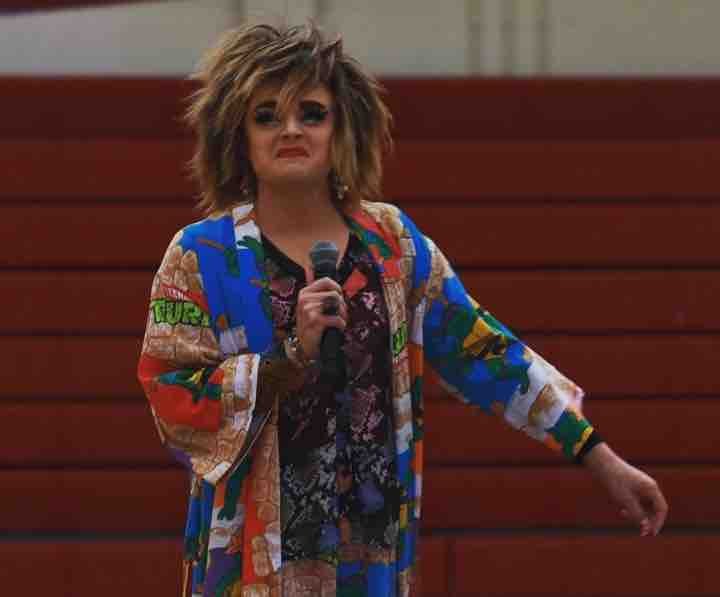 And that is what garners Brown such respect in the drag world: From her clothes and makeup to her dialogue and performances, Brown has built Tammie from the tuck up and has been a persistent critic against bullying in the community, even famously standing up to RuPaul herself and honoring the real art behind drag—not the one in which a team oversees nearly every aspect of your look, performance, and style.
"There is no hierarchy in drag—RuPaul just gives off the aura of some hierarchy because of his relationship with [production company] World of Wonder," Brown said. "She's a studio queen who has her makeup and hair and dresses chosen for her and regurgitated, stolen material. There's holes in his wings—he's just a performer who lucked out."
These criticisms give a weight and authority to Brown's drag persona as one of both kindness and no-bullshit—something that can only be exuded by someone who owns their self, which is precisely what Brown wanted to extend to the students of Wilson.
"It was really about just telling them the power of being themselves," Brown said. "It's really that simple. I won't tolerate bullies and neither should they. I won't tolerate someone forcing someone else to be something they're not and neither should they. And if they wanna put on a dress and stand up a stage, go for it."
I think we all know what that deserves, don't we? Amen, Tammie. Amen.
(On the note about the RuPaul fight, where Tammie tells Ru she doesn't see Ru and her cohort "walking children in nature" is a line of shade that won the internet over, from Trixie Mattel using it as the title of one her shows to Tammie writing a song called, well, "Walking Children in Nature." And she really has walked children in nature—that's not a joke: Tammie has been a park docent for the Hollywood Hills and Temescal Canyon.)