Too many years back, I wrote a very self-indulgent listicle that was about so-called "essential" Long Beach dishes; dishes that I loved and could depend on as long as that place existed—and I wrote it because there's something so elemental and useful about a specific great dish at a specific place. It was less about some grander proclamation than it was about, "This is just great food."

And after a year of not doing such lists, I want to return to it. Not some grand list of "essential dishes"—that is too hard of a burden to put on a restaurant: You better have this and you better have it all the time. But for now, in this moment, I am happy to share some of my favorite things.

In other words: Why not just own the moment? Without further ado, here are the favorite things I'm eating right now…
The grilled cheese from Saltwater Deck
Junipero junction of the beach: Take Ocean Blvd. east or west until you hit Junipero and turn toward the Ocean. Plenty of parking and toward the east end of the parking lot.
No joke: I abso-fuckin'-lutely love this grilled cheese—and it is a rather unconventional grilled cheese in terms of both its location and bread.
Found at the beachfront, simple-but-awesome gem that is Saltwater Deck, owners Amy and Melvin keep their kitchen's operations as streamlined as possible by only using one type of bread: the telera roll from local panaderia Marilu off of Cherry Avenue (with a second off of Anaheim)
Using plenty of butter and a variety of cheeses—including a pepper jack that adds to the homey goodness—this little bit of dairy deliciousness not only holds up well for a walk on the coastline path but is kind of the perfect way to feel like a kid on beach.
To read Brian Addison's full feature on Saltwater Deck, click here.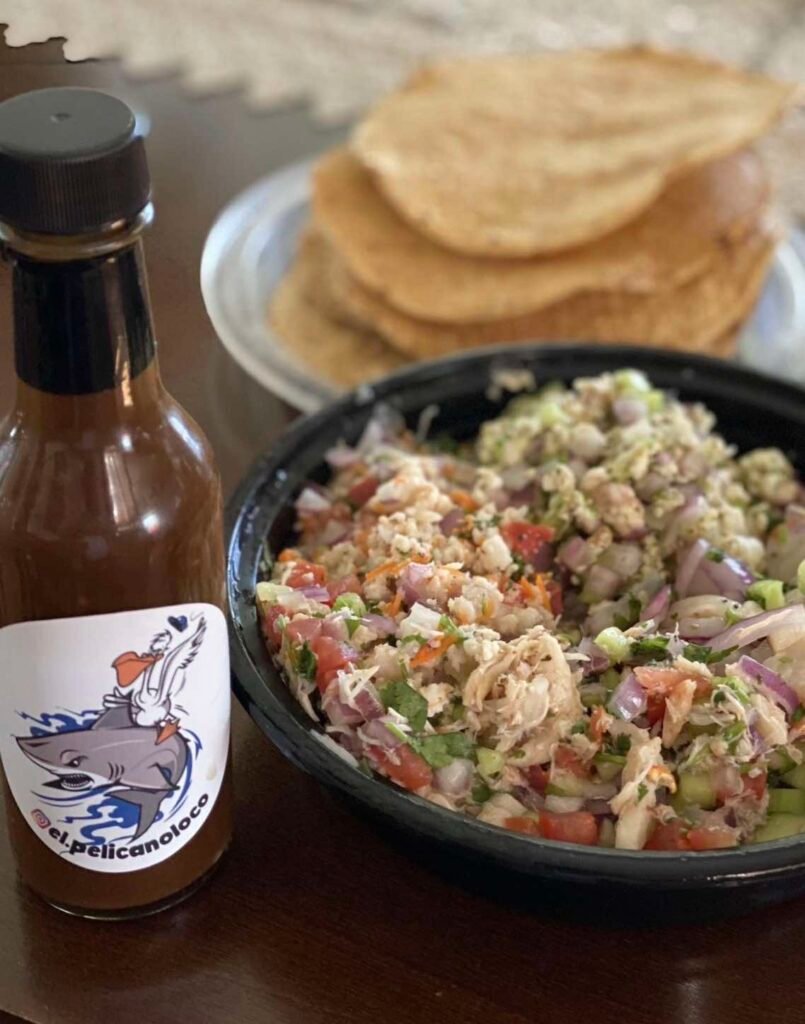 The ceviche flight from El Pelicano Loco
Order via Instagram: @el.pelicanoloco
Ceviche has been a hot topic here in Long Beach: from the rightful blow-up of Elsa Barragan's take-up of her father's famed westside Mariscos el Garage to arguments on the Long Beach Food Scene over the ultimo ceviche, it is a genuinely beautiful welcome to the world of mariscos…
…and it has left me wondering why it taken me so long to discuss the wonder that is Guillermo Guitron's Instagram-based cevicheria El Pelicano Loco, which is celebrating its first-year anniversary.
Guitron's various creations are a thing of wondrous: from callo de hacha—"The real deal," Guitron tells me, "imported from Mazatlán, Sinaloa on a weekly basis"—to chilean sea bass—paired with heirloom green tomatoes and sweet peppers…
This is where ceviche is at.
Add onto it his absurdly wondrous hot sauce—sold by the bottle—and you're in for a treat from a Jaliscan transplant straight to Long Beach.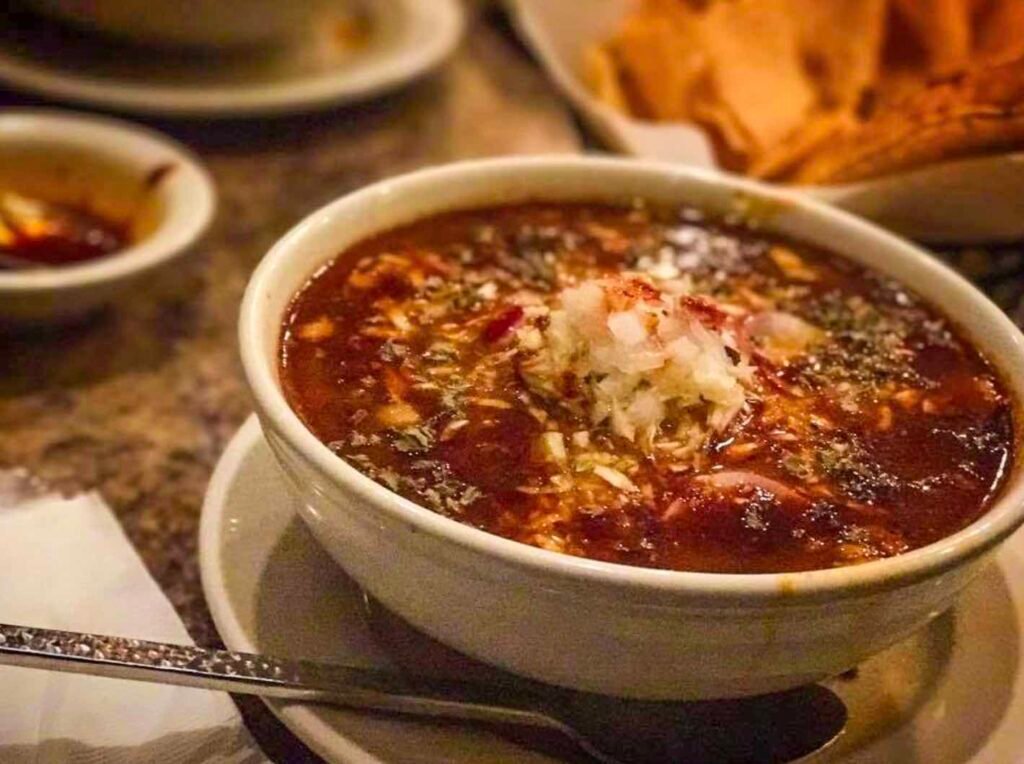 Pozole from Los Compadres
1144 Pine Ave. (Pine Avenue location only)
Surely, the Anaheim location of the wildly popular Los Compadres is the most patronized space among its various locations: With a separate bar room, large dining space, and bigger parking lot, it is often the shadow cast on its much-more ignored cousin on Pine Avenue in DTLB.
But the Pine location will always be the one that has my heart: Smaller, way more intimate, but still with a full bar, it is an easy place to sneak in a margarita and chips without much brouhaha to bring to your table.
And it is particularly special because they have pozole, a version that I find to be one of the best in the city, if not the best. (I sometimes tend to teeter between it and the version at Rivera's but I stand by this version most of the time.)
A salty, rich, deep maroon broth (with a hefty amount of heat if you so desire with a spoonful of their masterfully spicy salsa macha) is paired with chunks of creamy pork—seriously: its so succulent, your spoon becomes a knife—and hominy. The result? A dish that is honestly one of my favorite dishes to experience in any weather, be it 90 degrees or 40—but given the gloomy, slowly chilling atmosphere as of late, this dish is rather perfect.
The only bummer? No pata—which be pig's feet for the hyper English crowd—and that is why I tend to stick to asking my sister-in-law to make it. Perhaps one day, she'll share her recipe…
Ethiopian food from Teff Cafe
Order via text: 562-277-1474
One of the longest running culinary gripes of Long Beach is its lack of Ethiopian food: With the bustling, beautifully clustered array of offerings off of Fairfax in Little Ethiopia, the entire absence of any substation here in Long Beach makes that gap feel even larger.
Enter Yaya Adi Ssu, the Sidamo, Ethiopia-native that is churning great grub directly out of her home kitchen in Long Beach.
From aromatically awesome rosemary-centric lamb tibes—chunks of lamb meat seared with an array of herbs—to keek wot—an equally awesome yellow lentil stew—to keey ser—chunks of beets with potatoes—Ssu's food is both heartwarming and distinctly East African.
Paired with her genuinely great injera—an Ethiopian flatbread that is your serving utensil: bendable, yeast-y in the best way possible, and the perfect picker-upper for Ssu's food—and you have yourself a taste of the great Ethiopia.
The Geisha Burger at The Social List
2105 E. 4th St.
There are a lot of great new things at Luis Navarro and Brenda Rivera's much-loved Retro Row staple, The Social List: A Szechuan pepper-laced fried chicken sandwich whose numb-inducing qualities are paired with sweet and sour perfection… An ode to the Chinese salad that was a staple throughout the 90s and early 2000s, with bits of mandarin and crispy chow mein noodles meet edamame, red cabbage, almonds, and carrots in a surprisingly addictive sesame dressing…
But the burger that is dubbed "The Geisha" is where it's at.
This chili-and-(no)-cheese burger sounds about as American as you can get—even without the cheese, which honestly is a great choice because it is sincerely not needed—with its crispy leaf of good ol' iceberg, a thick tomato slice, and sesame bun. But Rivera and her crew play with Japanese-style chili, where heat and tartness override savory and rich. The result is a steady ride of heat that is once again coated with Kewpie mayo, this time mixed with yuzu, and layered atop a Wagyu beef blend patty.
It's definitely a chili burger—and yes, you can request some cheddar but I honestly dissent such a request—but it not the chili burger you'll be finding at Douglas, Louis, or Golden Burger.
It's different and that's why it's worth every damn calorie.
To read Brian Addison's full feature on The Social List's 2021 menu, click here.