Too many years back, I wrote a very self-indulgent listicle that was about so-called "essential" Long Beach dishes; dishes that I loved and could depend on as long as that place existed—and I wrote it because there's something so elemental and useful about a specific great dish at a specific place. It was less about some grander proclamation than it was about, "This is just great food."

And after a year of not doing such lists, I want to return to it. Not some grand list of "essential dishes"—that is too hard of a burden to put on a restaurant: You better have this and you better have it all the time. But for now, in this moment, I am happy to share some of my favorite things.

In other words: Why not just own the moment? Without further ado, here are the favorite things I'm eating right now…
Butter Chicken Pot Pie at Cali Chilli
4111 N. Viking Way
While I will have a full feature on the beauty and uniqueness of Cali Chillii in the coming weeks, the self-described "inauthentic" Indian restaurant is a wonderful fusion of flavors from across the globe: Korean-inspired sticky ribs, quesadillas with chicken tikka, a lasagna made with paneer and eggplant…
And while there is much to rave about—genuinely: I have yet to have a middling order at Cali Chilli, let alone a bad reception from its stellar General Manager Vijay Rajput—there is something beautifully comforting about their butter chicken pot pie.
Coming out in a piping hot, burnished clay pot, its top a golden brown dome of puff pastry, this is a dish that while best for a day amid the rain and cold, is so delicious that it defies seasons.
Offering up some of the best butter chicken I've had in the States—the birthed-in-Delhi dish that has come to be one of the most popular and recognized dishes in the world, albeit it one of the most arduous to traditionally produce—its creamy, savory, and succulent center is the perfect companion to the buttery, crispy layer of puff pastry.
The only thing I ask? Someone create a savory butter chicken danish because that would be my morning's dream grab-n-go.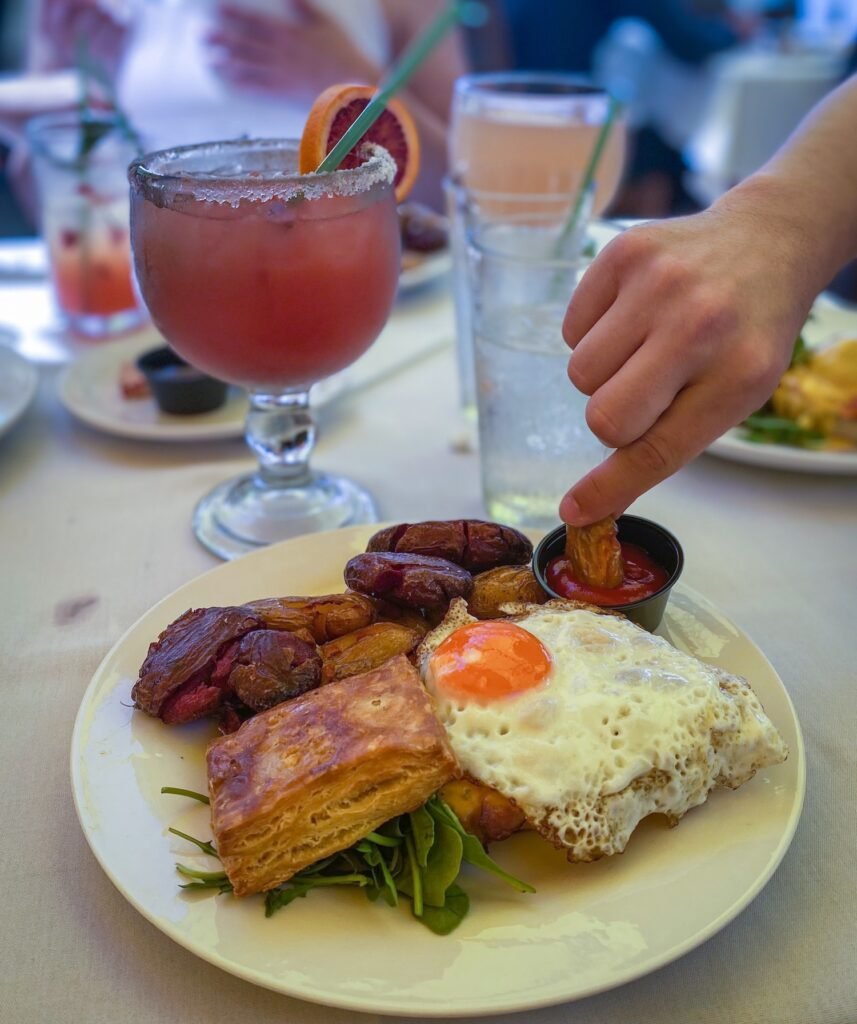 Breakfast biscuit sandwich from Claire's at the Museum
2300 E Ocean Blvd. (inside the Long Beach Museum of Art)
It has always offered one of Long Beach's best views and most distinct dining experiences—situated in the center of Long Beach Museum of Art's open-air courtyard among fountains and sculptures, with views of Junipero Beach below as it sits perched on the bluff—but for many years, the food coming out of its kitchen failed to reflect its romanticism.
But shortly before the pandemic, looking at the potential of a truly chef-driven menu, Claire's opted to eschew the beyond basic breakfast and lunch items in favor of elevated, straight-forward California bistro food that doesn't necessarily challenge any trend—there's no need for that, in all frankness—but aims solely for quality.
Take its stellar breakfast sandwich: Served on a buttery, flaky, house-made biscuit, it is layered with one of the thickest slices of bacon this side of Shady Grove Foods's version, a gorgeously deep-orange-yolk sunny side-up egg, cheddar, and arugula.
My approach to eating it? Save the top of the biscuit, eat the bottom with a knife and fork, ask for a side of their house-made marmalade, and use the top as a sweet treat after. Also, pro tip: Order the potatoes well done, ask for Tapatío, stir that into the ketchup, and enjoy the crispy tater dips.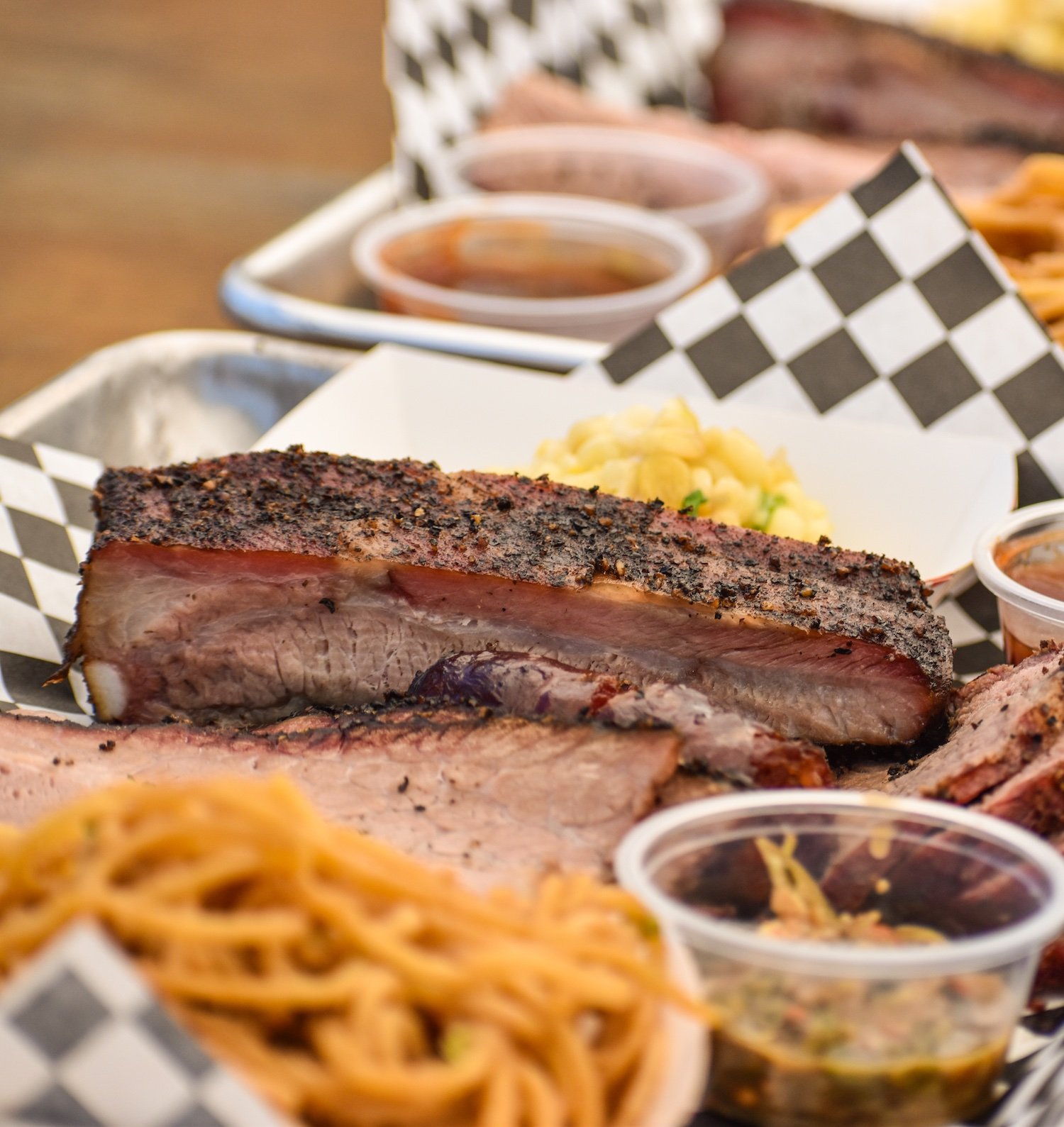 Smoked meats from Battambong BBQ
Various locations; check Instagram.
While my much larger feature on the community-anointed Cambodian Cowboy that is Chef Chad Phuong is coming out in the coming days for Eater LA, there is something to be said about his self-dubbed Cambodian barbecue: Distinctly blending three seemingly opposite cultures—Texan barbecue, Cambodian cuisine, and SoCal flair—Phuong is churning out some of the best smoked meats in SoCal.
Hauling his grill-meets-smoker on the tailed of his Toyota Tundra (and boasting of a newly minted food truck to expand his presence at both popups and catering events), Phuong masterfully blends the flavors of the three cultures that have affected him most.
The result? Wonderfully earthy, fully smokey meats paired with tuk phahok and hoisin-based barbecue sauces for dipping, garlic noodles instead of mac'n'cheese, and a style that is one-thousand-damn-percent Long Beach.
Sticky Pork Ribs from Shady Grove Foods
2708 E. 4th St. 
Speaking of barbecue finding its roots in Long Beach…
It is easy to love Shady Grove Foods: Homegrown and home-made, father-and-son team David and Dennis Robicheau have turned their smokey creation that is Long Beach barbecue into a full-fledged brick-and-mortar after years and years of doing popups, events, festivals, and slingin' meats out of backyards.
There are many, many things to love about their inaugural menu—a masterful Tomahawk pork chop, equally masterful smoked chicken, a green curry gumbo…
But their sticky pork ribs showcase an ode to not only Long Beach, but the long, lovely friendship the Robicheaus have had with our city's Cambodian community.
Meaty pork ribs—cut individually and seared across all sides— are marinated in a fish sauce concoction before being smoked and charred around all sides, finishing off with a pineapple, cilantro, and green onion topping that melds the flavors of Cambodian ribs with Southern smokiness. The result is a beautiful representation of a menu that oozes odes to the cultures who have long called Long Beach home.
For Brian Addison's full feature on Shady Grove Foods and their inaugural menu, click here.
Fried quesadilla at Fonda Tobalá
255 Long Beach Blvd. (inside Rosemallows) 
Have I written before about the wonders of Guadalajara-based Chef Manuel Bañuelos and his tiny-but-might Fonda Tobalá concept? Yes. Is it still vasty underrated? Absolutely. Will he be included on my upcoming underrated restaurants list? Yes and yes.
Take, for example, his fried quesadillas, which come in a variety of stuffings, each one hard to argue with the other: squash blossoms, huitlacoche, or rajas.
The first sense is not the aroma of their fillings but the dense earthiness of the corn tortillas they are fried in: Using heirloom corn shipped from Oaxaca, Fernanda notes that part of Bañuelos's approach to Fonda Tobalá has been a much deeper return to roots than expected: He handles the nixtamalization himself.
This "doing his own nixtamal" means that he soaks the dried corn pulled from the stock in an alkaline solution, allowing the hardened shells that surround each kernel to be removed so that it can then be dried again, and broken down into a powder via a stone mortar. That masa then gets turned into a dough and made into tortillas.
The result? Probably the best tortillas in Long Beach, light blue discs of beautifully earthy, warming bits of Mexico gastronomy—and certainly some of the best quesadillas ever.
For Brian Addison's full profile on Fonda Tobalá, click here.