Editor's note: The owners have asked to have their last names removed from the article.
Long Beach's waterfront is undergoing its biggest update in decades, with the city upgrading the beach's amenities via three junctions set to include a variety of uses—and one of those most look-forward-ed to uses are what will hopefully be quality food hubs that go beyond old hot dogs and pre-packaged popsicles.
And the first restaurant to tackle the newly minted beach views has finally opened.
For Saltwater Deck owners and husband-and-wife team Amy and Marvin, the road to their tiny-but-might food hut on the beach has been a lot of casual, verbal "yeses" met with few formal ones: While informed they would take over the space at the Junipero junction along Long Beach's shoreline in October of 2019, they weren't handed the keys to the space until June of this year.
That go-time meant living in the space almost 24/7, installing an entirely new kitchen—an endeavor in and of itself—getting furniture, proofing and settling on branding, getting product, testing that product, and getting open.
All in the span of about three months—and, in the words of Marvin, Amy simply "knowing exactly what she wanted."
With a background in upscale corporate food via McCormick & Schmick's, Amy has long known the restaurant game—but wanted to tackle the more local, more humble, more communal side of food. And the upgrades along Long Beach's waterfront—which includes a full, build-up-from-scratch space at Alamitos toward the west that has to open and amenity upgrades at the Junipero and Granada junctions more east—proved to be the perfect segue into that dream.
"Going from super-hyper-corporate to this is just exactly what I wanted," Amy said. "And our strengths and weaknesses come together really well on this space."
Marvin has been a business owner since basically graduating high school: At 21, he operated and owned a liquor store in Compton and, since then, operates a furniture business along with dabbles in e-commerce. Together, they feel they won't be siding out with Saltwater deck.
"I am unsure of everyone else but growing up in SoCal, but experiencing food on the beach is like a rite of passage," Marvin said. "Huntington Beach, Newport Beach—all that. And you end up paying 20 bucks for a rubbery burger and you end up pissed off. I am not saying we're a Michelin-starred restaurant but we want to offer something genuinely better."
Open Tuesday through Sunday from 7AM to 7PM, those kick-back beach dreams of eating decent food on the sand come to life with an accessible, kick-back menu that provides genuinely quality grub.
Their breakfast burritos—one with bacon, cheddar, eggs, and potatoes; another with soyrizo, tofu scramble, potatoes, and vegan cheese—each come with a side of their housemade salsa that is worthy of any burrito.
Their breakfast sandwich—using torta bread from Marilu Panaderia in Central Long Beach—is the precise simplicity you want from an egg sandwich: three eggs, cheddar, lettuce, tomato, and mayo. All for $8.25. Three bucks more to add bacon (and I suggest you do so).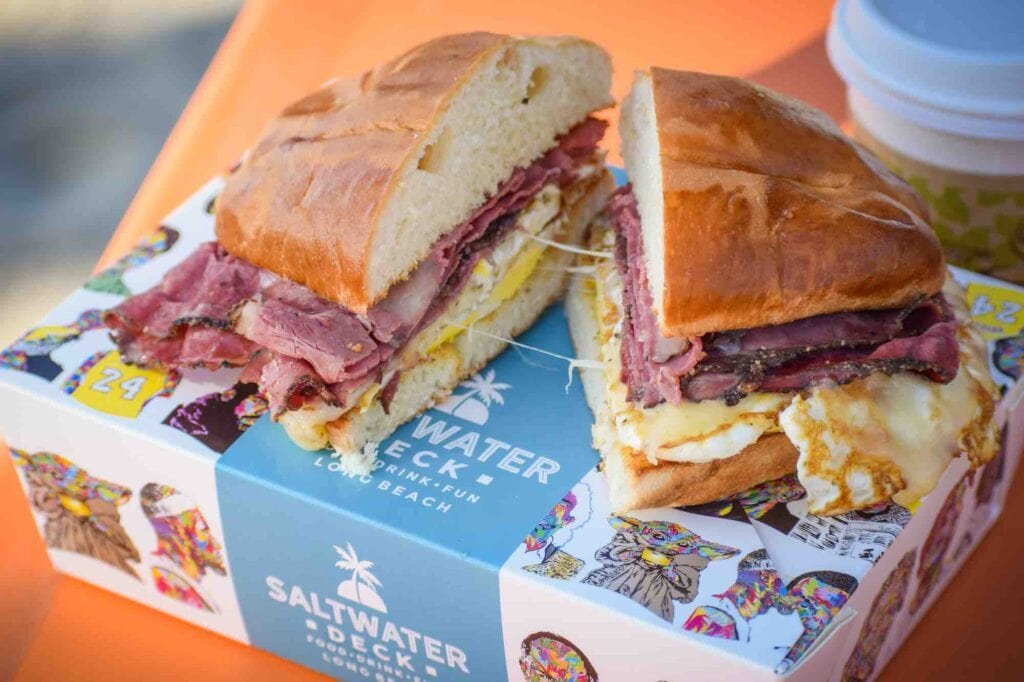 The use of Marilu's telera roll is ubiquitous throughout the menu: It's used on everything from their would-have-normally-skipped-it-but-glad-I-didn't turkey chipotle sandwich to Amy's ode to her work at an old-school Italian restaurant as a teenager that is Italian sandwich, loaded with mortadella, salami, capicola, and provolone.
It's used—and even welcomed—on their tofu "bánh mí," an underrated gem on the menu that eschews the baguette for a telera roll and is filled with soy-and-ginger marinated tofu, pickled carrots and daikon, cilantro, and vegan mayo with a side of house-pickled jalapeños. (Yes, Amy said she heard the cries of my food group's complaint that the sandwich didn't provide jalapeños.)
And while you can take the girl out of the upscale dining, you can't take the upscale dining out of the girl: Amy doesn't just hope to keep it sandwiches and breakfast burritos, but eventually do ticketed, prix fixe dinners on the beach for a more elevated experience—and expanding the use of their prime location and (for the space) massive kitchen.
"First things firsts: Getting this part of the project tuned in and well-set," Amy said. "But we wanted to create a maximum kitchen space so we can do other things, like catering and private dinners. With a beer and wine license on the way, I wanna do—like once a month—a chef-inspired dinner on the beach that is a complete detour from what we offer on our everyday menu."
Until then, they simply want folks to know they exist. Even being directly on the bike path, runners and bicyclists, walkers and skaters still pass by without noticing their bright blue chairs and orange tables.
"We really need folks to know we're here and let us know how we're doing," Amy said. "We are open to suggestions because this is for and by the community. This is about making Long Beach a little bit better."
Saltwater Deck is located at the Junipero junction of the beach: Take Ocean Blvd. east or west until you hit Junipero and turn toward the Ocean. Plenty of parking and toward the east end of the parking lot.