During its first year, Miracle at The Ordinarie in DTLB was a spectacle to behold: While the holiday season of 2019 brought out crowds the restaurant had never seen before—the space was a thing of the past given current standards: hundreds of folks standing shoulder-to-shoulder, oftentimes waiting the time it would take to get three drinks just to get one—it was also something that, experientially, Long Beach hadn't really seen before. 
Nearly every inch of its interior space was covered: From retro, reflective red, silver, green, and gold tinsel to white and multi-colored lights to wrapping paper-wrapped frames to presents to nods to "Christmas Vacation" and "A Christmas Story," it was an overwhelming, over-the-top and excessive in every great way imaginable, including the holiday libations.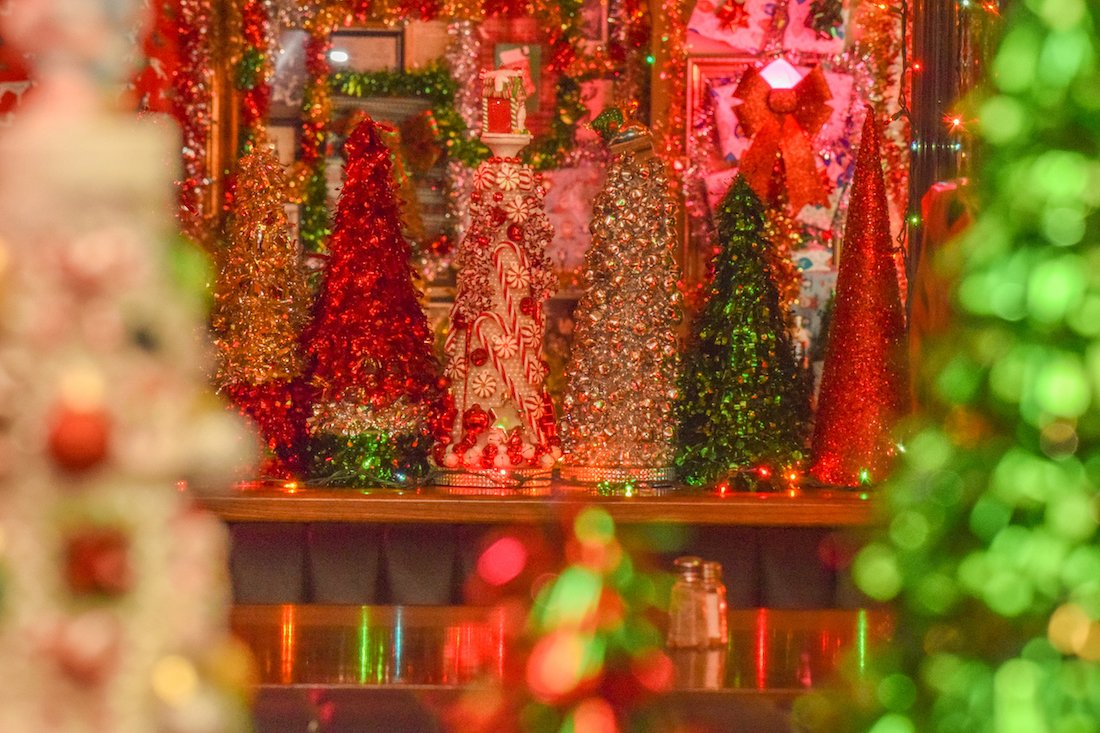 "Last year was good for as it could be—it was different," said owner Christy Caldwell. "And this year is also going to be different. We certainly will not be packing folks in like we did on year one and are trying to focus on a safer, more experiential type thing. Come, sit, enjoy a cocktail or two, take in the holiday aura, and bring that home with you."
The pandemic has proved to alter much of the hospitality world—and this includes events like Miracle. Guests have a time limit—90 minutes—and are encouraged to make reservations while the patio and bar space will be held for walk-ups.
Kitschy as all hell, outright overwhelming, and overwhelmingly over-decorated, Miracle at The Ordinarie turns an already-wonderfully warming watering hole into one of the most beautifully saturated-in-the-spirit spaces in Long Beach for the holidays.
That experience returns with many of the same things it had before—Santa bottom mugs, T-Rex-as-Santa cups, snowballs as ice cubes—but some of the updates are proving to be upgrades from previous seasons.
I was frankly honest with Caldwell about The Ordinarie's inaugural Miracle season: While I appreciated the holiday excessiveness of it all—it really is an encapsulating, enveloping experience that is hard not to immediately warm up to—I was a much larger fan of the restaurant's house cocktails over the Miracle cocktails, whose recipes are strictly dictated by the folks who created the Miracle brand.
But this year has some deviations from its previous array of concoctions that are greatly appreciated and—dare I say—somewhat mimic the balance that has made The Ordinarie's cocktails some of the most well-made in the city.
Take, for example, the ode to one of the best Christmas films of all time, "Die Hard" (and yes, "Die Hard" is and will always remain a Christmas movie). Dubbed the Yippe Ki Yay Motherfucker!—we don't censor quality uses of the English language on this publication but you will not find the F-word actually spelled out on the menu so I am taking liberties—this drink's base is a trio of rum: Barbados rum, French Caribbean rum (known as "rhum agricole"), and overproof rum. Mixed with an ube-meets-coconut orgeat that is genuinely delicious and the tartness of pineapple, and you have yourself a wonderfully purple, wonderfully tropic drink to ironically celebrate all things snowy and cold.
The old-fashioned—with handmade snowball ice cubes that, simply from an outsider looking in, feel like could easily be the bane of bartender in having to create—returns with its gingerbread base but somehow has a warmer feel to it this year. And yes, that warmth could very well be the a byproduct of the fact that that last year's holiday season was a no-bar, no-restaurant, no-socializing stretch of isolation and This-Christmas-Is-Shitty sentiment but I am hopeful that in reality, it was just a better made cocktail.
There's even an ode to the early 2000s cocktail obsessions that was the Midori Sour, a loving that was your sweetheart-until-it-projected-onto-the-pavement type of relationship for young drinkers. While it doesn't remotely exude the horrid fake-melon-flavor-forward that is the traditional Midori Sour, it is served in a T-Rex-as-Santa mug and it is far more incredibly balanced than you would think.
And then there's the star, the newest drink of them all: The Oh Dasher. Creamy, foamy, marshmallow-y, this wondrous concoction is nothing short of a pain in the ass to create—black pepper, cardamon, and marshmallow fluff are turned into a creamy base before shaken with egg white, gin, vanilla liqueur, and lemon only to be topped with a toasted marshmallow—but well worth the efforts of your bartender. (So treat them kindly by recognizing their services.)
From a Midori Sour-inspired tequila cocktail served in a T-Rex-gone-Santa mug to an ode to "Die Hard" with the Yippie Ki Yay Motherfucker! cocktail, Miracle caters to the whimsical and outright awesome aspects of all things American Holiday Season.
And with a limited amount of Miracles occurring in California, it is likely that The Ordinarie is one of the few in the entire state, let alone the region, that are doing it.
Miracle Pop-Up has built a name for itself around the world by doing one thing: taking over local bars and turning them into excessively decorated, kitschy as all hell, outright overwhelming and wonderfully warming watering holes that are saturated in the spirit of the holidays.
Birthed in 2014 as a way to briefly activate a very inactive space—Greg Boehm's unfinished bar in the East Village—bartenders and the bar industry quickly took notice of what became a local cult hit. And they wanted to mimic what Boehm had done.
The intricacy and damn straight over-the-top-ness of Boehm's creation, however, proved hard to mimic and exhausting to recreate on one's own, leading to the creation of one of the most interesting and lucrative pop-up businesses of the decade. With more than 100 locations worldwide, Miracle takes the inspiration of "Miracle on 34th Street" and moves it into bars across the country.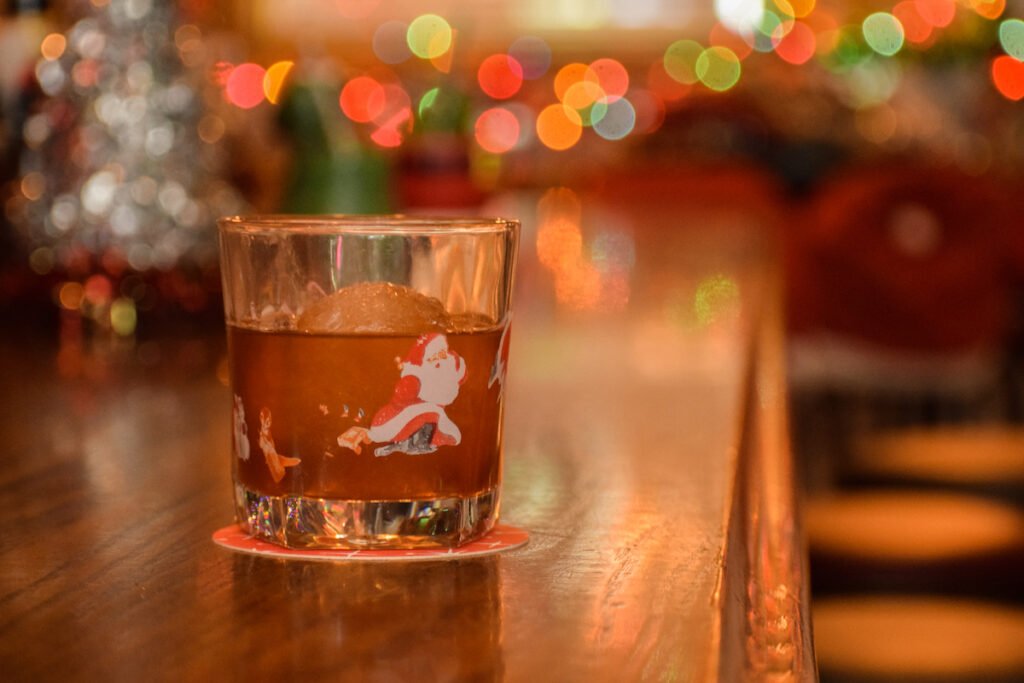 And while some guests may scoff at the time limit and limited capacity, it should be assured that Caldwell and his crew are trying to create an experience that deviates away from a crowded indoor bar to accommodate the reality of the world we're in.
It really is about creating an experience," Caldwell said. "We want people to enjoy the space and their time here rather than it just be a place packed with people. And given that we're still not out of this thing, we want to make sure everyone's safe and having a good time. Period."
The Ordinarie Kitchen is located at 210 The Promenade N.