Tucked under a nearby freeway—the 91 where it meets Artesia and Atlantic, its mass of moving cars and cargo whizzing by creating a strange white noise—is space that is home to elaborate, open-air dinners: Rows of tables sit on dirt, some under a pergola, some out in the sun. Grips of greens with dots of oranges, whites, and reds surround you, from the leaves of collard and mustard greens to the fruits of peach and tangerine trees.
"To break bread at a common table, with folks of all backgrounds, is the most meaningful and rewarding experience one could possibly have."
The juxtaposition is surreal but the warmth and welcoming nature of Chef Rod Dodd's Organic Harvest Gardens is anything but, particularly when it comes to his dinners: Whether it is the wildly (and rightfully) popular Long Beach Farm Dinner—an annual, autumn dinner on the farm co-hosted with Primal Alchemy Catering—or his Black History Month dinner, a personal favorite of both mine and friends, to experience the farm properly is to have a seat at one of Dodd's dinners.
And now, the chance to experience that exact situation—an array of tables, tastefully decorated and set, under the sky and quiet hum of the outside city, pass arounds and perhaps a boozy drink here and there before a full, outright delightful dinner spread is served—is about to become more common as Dodd expands his dinners at the farm into a monthly gathering.
"Long Beach is one of the most culturally diverse cities in America," Dodd said. "And we designed our urban farm to reflect this great diversity. To break bread at a common table, with folks of all backgrounds, is the most meaningful and rewarding experience one could possibly have. And since the demand has been so high lately, we're expanding our public dinners."
His latest dinner? A better-late-than-never ode to Mardi Gras, attracting one of his largest audiences yet, including the attendance of famed Chef Andre Rush, the veteran advocate and White House chef to four serving presidents who just moved from D.C. to L.A. (which, as a particularly notable tangent, highlights Dodd's influence in better connecting not just the Black community, but the entire community of Long Beach and Los Angeles).
The spread? A mighty ode to the food of the South: fried chicken, fried red snapper, braised short ribs, corn bread, mac'n'cheese, shrimp creole, braised greens, red beans and rice—probably the best version I've personally ever had… A seemingly endless array of foods shaped by his own heritage and ending with a bread pudding because why the hell not?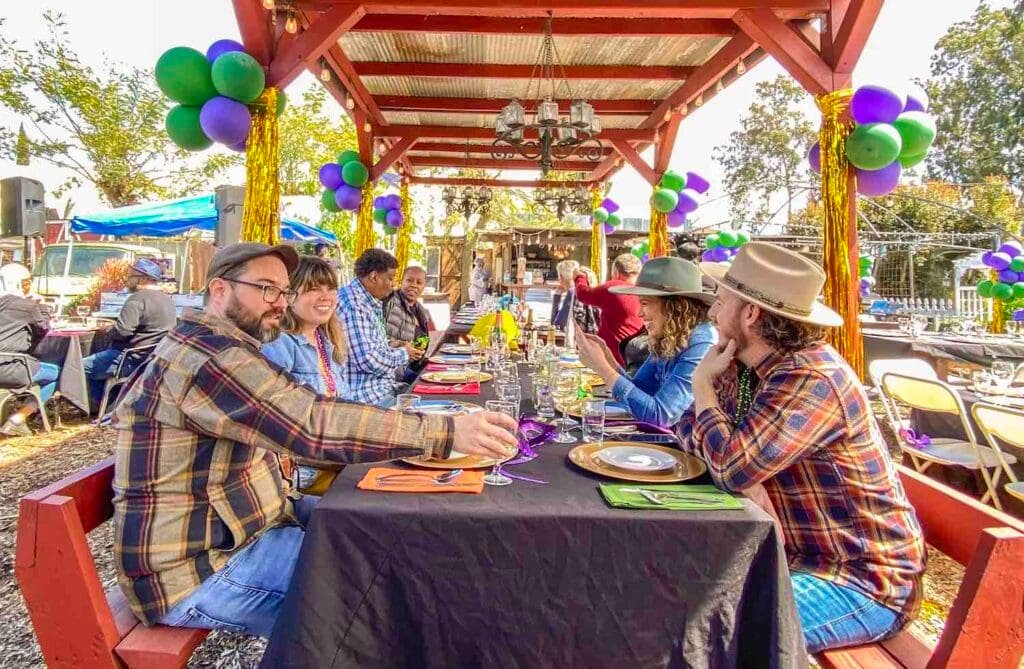 His upcoming dinner? A Tuscan spread to take place April 8, where he will partner with the crew at Long Beach Fresh as they host their annual footways summit with events across the city. Dodd will work side-by-side with vegan Chef Kyle Johnson.
But ultimately, I want to return to what I had written about Dodd over a year ago and what still remains true and particularly special about this hidden gem in North Long Beach.
It is impossible to separate the farm and its yields from Dodd himself. And it goes far beyond the obvious reason that the man, along with his trusted sister-in-farming Jackie Hunt—affectionately called "Miss Jackie" by those who know her presence well—made the harvest itself possible.
Dodd once told me that it is important for "all people, all skin colors to toil the earth"—and in a deep sense, he is very right: Gardening and farming have long been advocated as ways to de-stress and de-clutter the mind, as ways for seniors to find tasks that keep their brains active and for those experiencing trauma or depression to learn how to better connect with themselves and their environment.
Ultimately though, despite how one philosophizes about how to better connect with one's food, what it ultimately returns to, at least in this North Long Beach green wonder, is Dodd's love. It is Dodd's magically charming, unyielding care for others that makes his space particularly wondrous.
So go—and make sure you know of all of Dodd's latest ongoings by following Organic Harvest Gardens on Instagram.
The latest dinner to happen at the gardens, located at 6803 Atlantic Ave. behind the apartment complex facing Atlantic, will be on Saturday, April 8, in a partnership with Long Beach Fresh. For tickets, click here.