Missed out on previous Favorite Things? I got you covered—just click here.
Too many years back, I wrote a very self-indulgent listicle that was about so-called "essential" Long Beach dishes; dishes that I loved and could depend on as long as that place existed—and I wrote it because there's something so elemental and useful about a specific great dish at a specific place. It was less about some grander proclamation than it was about, "This is just great food."

And after a year of not doing such lists, I want to return to it. Not some grand list of "essential dishes"—that is too hard of a burden to put on a restaurant: You better have this and you better have it all the time. But for now, in this moment, I am happy to share some of my favorite things.

In other words: Why not just own the moment? Without further ado, here are the favorite things I'm eating right now…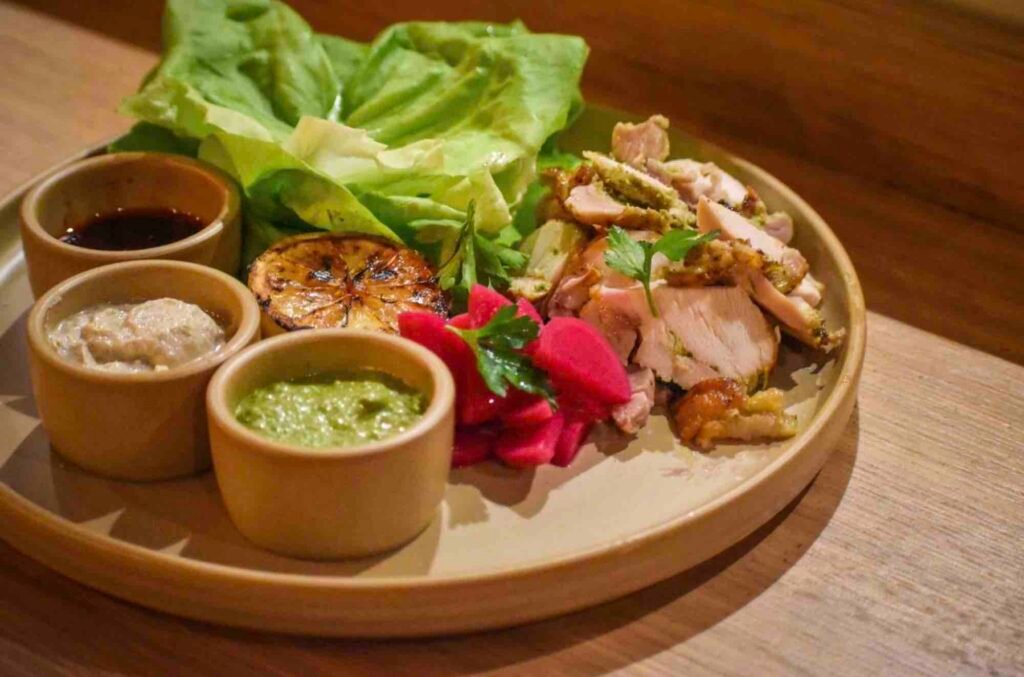 Jidori chicken lettuce wraps from Alder & Sage
366 Cherry Ave.

Alder & Sage—the concept from Kerstin Kansteiner, former owner of Portfolio Coffee and Berlin Bistro—has officially opened and has already garnered buzz for well-deserving reason: From whiskey lattes with a side of freshly burned wood to give your olfactory system a bit of smoke to highlight the drink to cold brews with fresh cranberries as a a garnish, it is clear that coffee side of the business is already worthy of praise.
But the largest part of the endeavor—the massive kitchen which can be viewed through glass panels in the space's apt dining area—is one that will have to slowly evolve: While Kansteiner and her crew eventually prepare to take off with night service, meaning they will open in the morning and serve daytime before taking a siesta in order to prep for nighttime service, the kitchen has to focus on the daytime menu.
And something as simple as lettuce wraps already has me hungering for what dinner might bring.
Succulent, juicy chunks of chicken and butter lettuce leaves can be topped with many things—a cardamon parsley pesto, an Aleppo chile oil, pickled turnips, lemon juice—but the real star of the plate? The restaurant's fermented mushroom tzatziki, a salty-umami bomb that I could happily eat on crackers alone.
Look for my coming profile on their dinner service for Eater LA in the coming weeks.
Chilaquiles Burrito from Sala Coffee & Wine
3853 Atlantic Ave.
Led by partners Brandee Raygoza and Derrick Montiel, Sala is an underrated gem of a space if there ever was one—so I was happy when Chef Melissa Ortiz dragged me to the Bixby Knolls coffee and wine shop for a breakfast pitstop.
The menu is wonderfully minimal: a breakfast sandwich, breakfast burrito, chilaquiles, and a chilaquiles burrito.
While the breakfast sandwich is something not to be skipped—a perfect model for The Breakfast Sandwich, with bacon and a full on McDonald's-style hashbrown accompanying a yolky egg, cheese, and brioche—it is the chilaquiles burrito that is something rather special.
Layers of tortilla chips slathered in salsa verde line with bacon and beans to create an ode to the mighty carb-on-carb masterpiece that is the torta de chilaquiles of Mexico City. The result? A savory, hint-of-heat, textures-abound burrito that is as delectable as it is surprising.
Look for my full feature on Sala in the coming days.
Beef Wellington from The Auld Dubliner
105 Pine Ave.

I've long sang the praises of The Auld Dubliner—including them on both my Underrated and Essential Restaurants list—and for good reason: The Irish pub has been serving up classic Irish nosh for nearly two decades, offering up some of the city's best versions of things like fish'n'chips and Guinness mussels.
And while many Irish pubs can be found not just in Long Beach but throughout the Southland, what makes "The Dub" particularly special are its owners, headed by Ireland native David Copley, who take a set of willing patrons on a trip to Ireland each year. This is not just to give locals a look into Copley's roots but to also explore the country's constantly growing culinary scene.
So with it, comes alterations to The Auld Dubliner's menu itself—including a great beef Wellington that is as warm as the surroundings you are eating it in. With a plate of oysters, those Guinness-braised mussels, and a few pints, it makes for a particularly special dinner at The Auld Dubliner.
For Brian Addison's full feature on The Auld Dubliner, click here.
Focaccia and pizza from Baby Gee Bar
1227 E. 4th St.

The thing I love most about Baby Gee—which I go into full detail on in my feature on them for Eater LA—is that owners Gianna Johns and Daniel Flores straddle the two best qualities someone opening a new space in a much-loved community can straddle: On one hand, an immense amount of humbleness and, on the other, a great grasp of knowledge.
While I disagree with the headline given by editors over at Eater—I wouldn't venture to call Baby Gee divey—there is one thing that makes Baby Gee already feel like it's been here forever and that is the sense of connection and hospitality Johns and Flores exude—and that includes in the details of their drinks and food.
Through a very tiny space and convection oven at the deep end of the bar, Flores churns out round warm marinated olives, an array of pickles, and more. But the focaccia and pizza is where it's at: Made by Pasquale Chiarappa of Della Corte Foods in Los Angeles, the same label used at Nancy Silverton's Mozza, and delivered parcooked and air-sealed for easy finishing at Baby Gee, the light loaves are topped with olives while the pizzas come with olives or pepperoni, a drizzle of honey, and some chile flakes to boot.
Drink up and snack down.

For Brian Addison's full feature on Baby Gee for Eater LA, click here.
Cold-smoked Albacore from Shady Grove Foods and Fonda Tobalá
2708 E. 4th St.
Is this one fair? Not entirely: This dish came from a special collaboration dinner between the boys at Shady Grove Foods and the husband-and-wife team of Fonda Tobalá that was held this past Sunday. But is it a nudge to start encouraging Long Beach to partake in these things because they're special? Absolutely.
Now hear me out: Father-and-son team David and Dennis Robicheau are considering putting the plate on their menu—and for good reason: They have the recipe, its been blessed by Chef Manuel and Fernanda Bañuelos of Fonda, and the barbecue space needs more fish items on their very land protein-rich menu.
The dish itself is simply delicious: thin layers of wood-smoked Albacore tuna sit under a drizzle of chili oil, aioli, pickled jalapeños and onions to create a pseudo-crudo-gone-Long Beach. Savory, spicy, umami-centric, it is a dish I could continually return to—and I genuinely hope the boys opt to add it to their menu.
For Brian Addison's full feature on Shady Grove Foods and their inaugural menu, click here.

For Brian Addison's latest profile on Fonda Tobalá, click here.