After launching in Bixby Knolls and then having stellar turnouts in various parts of Long Beach, the car-free event that shuts down roads for the people is back with a return to its most popular route, the Gayborhood-to-DTLB stretch that will see the entirety of Broadway shuttered.
Beach Streets is set to return this Saturday, May 20 from 11AM to 5PM, taking over a nearly 2.5-mile stretch of Broadway from Euclid Avenue to Pine Avenue, while also having northernly offshoots up Pine Avenue and Cherry Avenue, the latter connecting with the heart of Retro Row.
This is by no means a complete list—there are many other places along the way—but here are some solid highlights that rarely if ever fail me, my friends, and the community…
The Attic on Broadway (Broadway stretch)
3441 E. Broadway
Chef Cameron Slaugh's massive takeover and revamp of teh food at The Attic is unquestionably one of our city's most dramatic some of the best in the city, his style hovering between classic high-end offerings—like his wonderfully decadent bone marrow, topped with three billowy pillows of mustard-and-vinegar laden bits of filet tartare—and witty plays with a variety of proteins and veggies.
Not to mention his brick chicken is one of the best chicken dishes in the city: Sitting atop a bright, citrusy creamed farro that sits somewhere between a risotto and a perfectly firm pasta, this chicken's masterfully caramelized skin crackles at the touch of your knife and fork before giving way to outright succulent meat.
For Brian Addison's latest feature on The Attic, click here.

Suggested brunch items: cocktails; ricotta French toast; B.E.C.; chicken and waffle
La Parolaccia (Broadway stretch)
2945 Broadway
The many wonders of the carb master and gluten samurai that is pizzaiolo Michael Procaccini, accompanied by the history of his father, Stefano, owning and running the space, cannot be understated: practically perfect pizzas and pastas.
Most of the patrons at the long-loved (and rightfully so) Roman restaurant that is La Parolaccia often guide their eyes toward his takes pizza—one which beautifully straddles the line between a nearly carb-for-carb imitation of Roman pizza proper and something distinctly Long Beach—or their glorious pastas—like the zozonna, where tubes of rigatoni grip guanciale, sausage, Pecorino, and egg yolk in a red sauce.
And luckily for the goers of Beach Streets, they open early on Saturday, at 2PM.
For Brian Addison's full feature on La Parolaccia for Eater LA, click here.
Suggested items: any pizza or panino; bucatini cacio e pape; zozonna; gnocchi zafferano
Alder & Sage (Cherry Ave. stretch)
366 Cherry Ave.
Alder & Sage—the concept from Kerstin Kansteiner, former owner of Portfolio Coffee and Berlin Bistro—has officially opened and has already garnered buzz for well-deserving reason: From whiskey lattes with a side of freshly burned wood to give your olfactory system a bit of smoke to highlight the drink to cold brews with fresh cranberries as a a garnish, it is clear that coffee side of the business is already worthy of praise.
But the largest part of the endeavor—the massive kitchen which can be viewed through glass panels in the space's apt dining area—is one that has slowly evolved: Initially focusing on daytime eats—which will be essential for Beach Streets—the restaurant has finally expanded into full dinner service.
Suggested items: Jidori chicken lettuce wraps; avocado tartine; quiche
The 4th Horseman (Pine Ave. stretch)
121 W. 4th St. 
While the owners of that other pizzeria have largely peaced out of Long Beach, leaving the space to new investors as they "consult and advise," Long Beach's OG let's-fuck-around-with-flavors pizzeria that is The 4th Horseman continues to ride strong with local owners, Jeremy Cross and Jeremy Schott, who are genuinely invested.
And while they might have had some issues with consistency in the past, they have honestly never churned out more quality and consistent pizza than they have lately, largely due to bringing on Chef Mike Royal.
Humble, genuinely kind, soulful, Royal has a love of metal music and carbs that makes for a perfect pairing in the Downtown restaurant-meets-macabre art gallery—was one of the best decisions The Two Jeremys could have made: Creating yeasty wonders that act as odes to the dark side, Royal has genuinely refined the already-rad pies and taken them to a heightened level of greatness.
For Brian Addison's full feature on The 4th Horseman for Eater LA, click here.
Suggested items: calzone; garlic knots; any pizza special
The Queer Bars of Le Gayborhood (Broadway stretch)
I once wrote an ode to the queer bars of Long Beach's Gayborhood—largely the stretch of Broadway between Cherry and Alamitos—and, in all frankness, that is all there is to say.
This neighborhood has been the beating heart of our queer community—from acting as churches when formal churches would deny funerals during the AIDS crisis to harboring the careers of drag artists like Delta Work and Jewels to…
They are sacred, they are fabulous, and yes, you are welcome—just don't an asshat.
Suggested items: a shot of slay; a friendly dose of fabulousness; a full carafe of kindness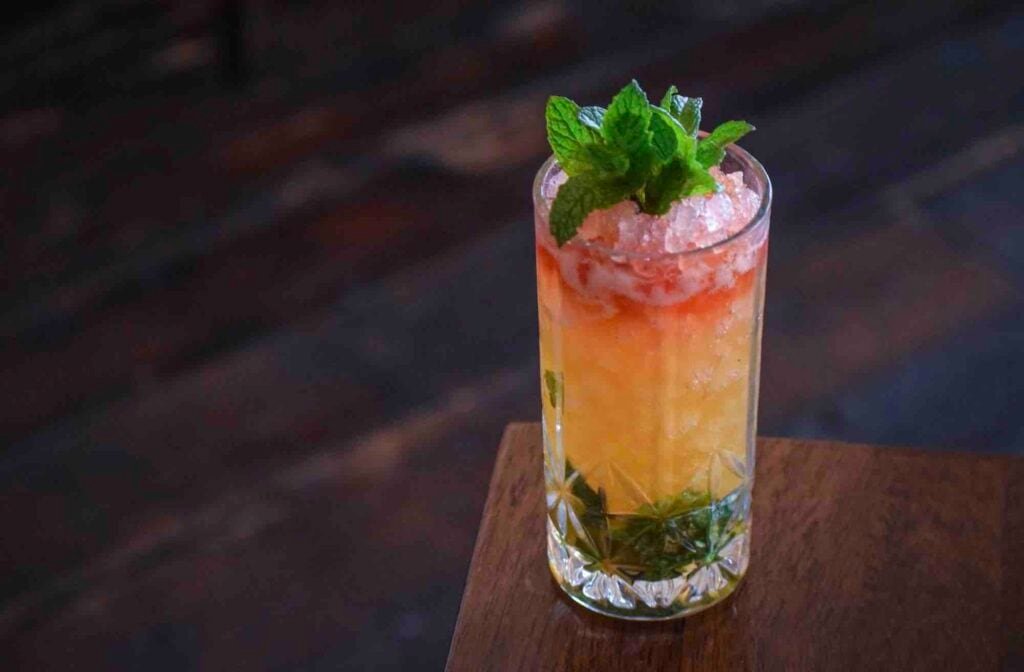 The Ordinarie (Broadway/Pine Ave. stretch)
121 W. 4th St. 
It was the first thing I ever formally wrote about The Ordinarie (pronounced "ordinary") and I repeat it today: There's a certain aura one feels when stepping in depending on what time you go.
There's always this warmth with very different vibes at different times of the day. And while trying not to be too heady about it all, this is key for owner Christy Caldwell, as his central concept revolves around a lifting of the value of American hospitality, a wide-ranging thought and idea that can mean varying things for people.
During lunch, with a handful of people coming out from their apartment-driven Zoom slumbers to either type away on laptops or escape the humdrum of that very typing, The Ordinarie is a different kind of quiet than the quietness of quarantine. There's the faint noise of those on The Promenade and with it, the brightness of the space itself, with owner Caldwell bouncing from patron to patron to talk about pretty much anything: Politics, sports, Ireland, gossip, whiskey…
Come sundown and dinner bell ringing, quiet turns to a boisterous ambiance, the golds of the lighting juxtaposed with countless conversations. For the first time since the space opened, guests are encouraged to interact unobstructed.
The Ordinarie's concept is, serendipitously or otherwise, connected with the deep desire to escape this god-awful pandemic—or, in the least of my romanticized daydreams, it reflects what Caldwell is trying to mimic: the American tavern, a hospitable place of the past that was—as required by law, no less—to be a space for people to gather, drink, eat and discuss the happenings of the day. 
For Brian Addison's last profile on The Ordinarie, click here.
Suggested items: any cocktail (especially bar manager Dave Castillo's choice); Just Your Ordinarie burger; chicken pot pie bites
The Social List (Cherry Ave. stretch)
2015 E. 4th St. 
Perhaps the most beautiful thing about The Social List—outside of the love it rightfully attracts from the community—is its blunt admission that it is not trying to reinvent the food wheel.
It proudly harnesses comfort food: Chinese chicken salads that put any CPK to shame. Hush puppies. Fries slathered in chunky clam chowder and bacon bits. Stellar deviled eggs. A spinach-artichoke dip so creamy and decadent that you forgot it was even a food trend from the 90s (albeit ten times better anything created in that era).
It is a beautiful, I-don't-care middle finger to food trends, prompting pretentious foodies to scoff but genuine lovers of food to adore.
For Brian Addison's latest feature on The Social List, click here.
Suggested items: any burger special; spinach artichoke dip; shrimp po' boy
Sushi Mafia (Broadway stretch)
649 E. Broadway
Here's the thing to realize about sushi in Long Beach: We severely lack in traditional Japanese-style sushi—and that is okay. If you're searching for more traditional, Japanese-style sushi, Koi in Seal Beach is going to unquestionably be your best bet. Instead, we had an influx of Thai and Cambodian families share with us their interpretation of sushi (and thankfully last year, the introduction of Peruvian sushi thanks to Sushi Nikkei)—and that is not just okay but awesome.
Sushi Mafia is a reflection of that cross-culture of Long Beach's Asian community: Prices are solid, rolls are decent, and the vibe is chill.
Suggested items: First Lady roll; Amazing roll; baked yellowtail collar
Flamin' Curry (Broadway stretch)
3344 Broadway
Great Indian food is difficult to find in Long Beach—and surely, places like the un-traditional Cali Chilli are adding some decency to the scene, we are not remotely near the neighboring Artesia.
Flamin' Curry, in the least, kills a craving.
Surely, some of the dishes can lean toward the salty but, that being said, this joint is unapologetically straightforward: A line of steam trays offering up a splendid array of Northern and Southern Indian staples that help my inner cravings for channa masala and biryani and, of course, various curries with the type of spiciness to transcend and heat up dining experiences.
One of my favorite dishes is one you will have to be a bit patient for, as it takes a whole ten minutes to serve rather than being served directly out of the trays: their goat biryani, arguably city's best and the dish that defines the Indian city of Hyderabad. It's centered on two things: rice and meat.
This plate can be ordered with other meats but the goat (as with their curry) is the par-none choice: Succulent, bone-barely-clinging chunks of marinated goat sit atop a bed of basmati rice, coriander and saffron lurk up from the pile of food when you open the lid of its black styrofoam vessel. It's nothing short of wondrous.
Suggested items: goat biryani; chicken seekh kabob; paneer pakora; chana masala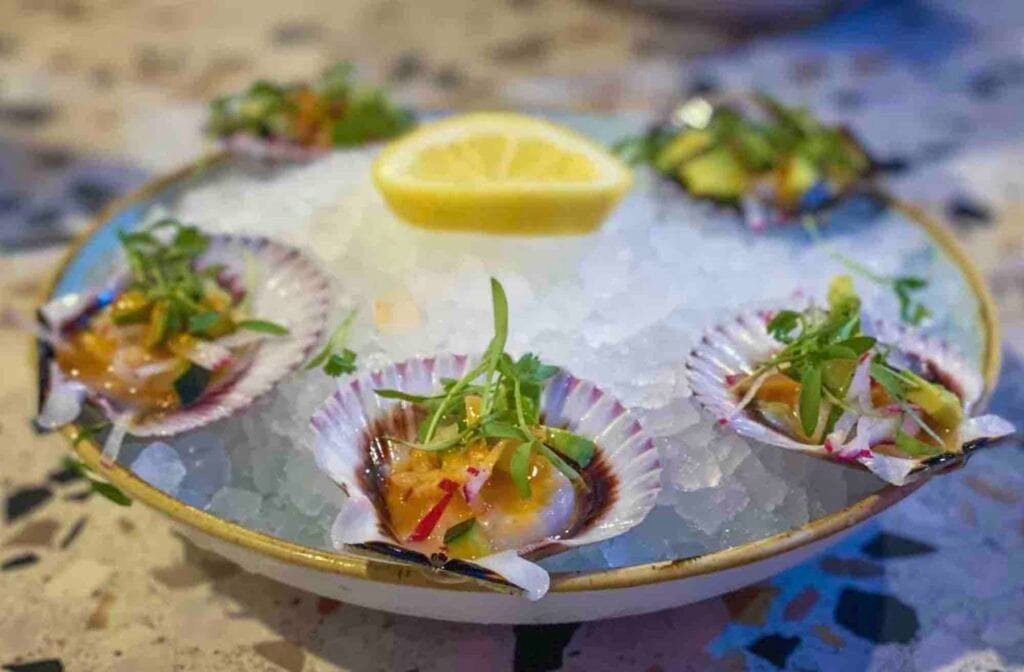 El Barrio (Cherry Ave. stretch)
1731 E. 4th St. 
In just over a year, El Barrio has proven to be a real community gem—no small feat since it took over a place like Ashley's, a much-loved dive that once sat in the heart of the 4th Street bar and restaurant crawl.
El Barrio isn't traditional Mexican, nor is it trying to be. And it isn't a taco joint. Nor is it a mariscos place. And, perhaps most of all, this doesn't mean it is confused with its identity.
That's what makes it refreshing.
It is the boldness of Chef Ulises Pineda-Alfaro's choices—mixing SoCal's expansive blend of cultures while keeping the book of Mexican gastronomy front and center—that make this kinda-new joint warmly welcomed as it just passes a year in operation. After all, post-pandemic, our city needs to be invested in and when it is food like this being so cleanly executed, they should be welcomed.
On their menu since day one and still unable to not order them upon arrival, their mini-potato tacos are as addicting as they are delectable to mow through: chunks of an avocado salsa, slathered in crema and queso fresco. Try to eat one before you've noticed it's been three.
For Brian Addison's full feature on El Barrio's inaugural menu from 2021, click here.
Suggested items: tacos de papas; Peruvian scallops; tlayuda; rib eye fajitas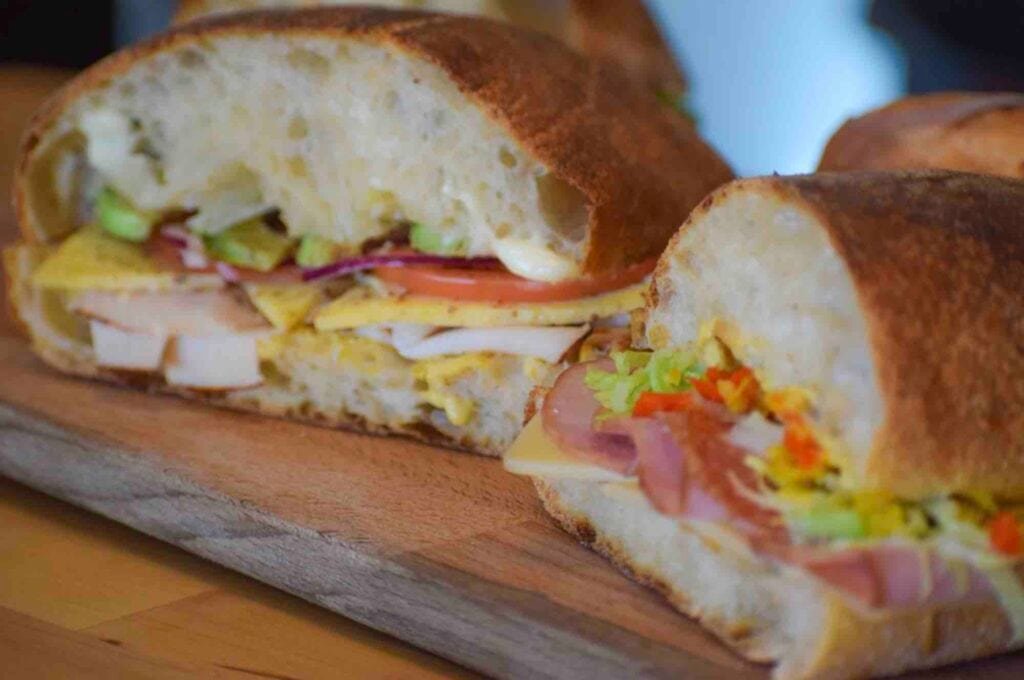 Oh La Vache (Cherry Ave. stretch)
2112 E. 4th St. 
Oh La Vache owners Erika Ponzo and Jessica Sarwine jumped into the lactescent world of cheese mid-pandemic—and in return, have created a cheese (and sandwich) shop that Long Beach definitively deserves.
What this humble, amicable, truly caring pair bring to the table are those very ideals applied to cheese: While a cheese shop, complete with wine pairings and an ever evolving array of sandwiches that change weekly could be viewed as pretentious or even luxurious, Ponzo and Sarwine leave pretense on the rind.
Their knowledgable spirits are happy to take those wishing to experience cheese but need to save extra pennies or those wishing to throw down on rare, expensive cheeses. And that balance will likely make those who tend to buy cheeses at Ralph's or Whole Foods realize how much they're actually getting ripped off at these mass grocers.
Oh, and if you are seeking out their sandwiches, you might want to head in early, especially on weekends: They tend to sell out because, yes, they are that good, using (the also underrated) Hey Brother Baker's bread.
For Brian Addison's full feature on Oh La Vache, click here.
Suggested items: all the cheese; any sandwich
Thai District (Broadway stretch)
149 E. Broadway
A partnership between former Frenchy's Chef Andre Angles and Thai chef/pastry chef Ty Theara, Thai District serves up some of the city's most refined Thai food.
They're pineapple fried rice? Delectable: Chunks of seared pineapple accompany golden raisins, cashews, curry powder, and green onion in rice that is fired in a wok to subtle crispness. After that, it is topped with lightly scrambled egg—always pseudo-scrambled; the white and yolk remain largely separate—some rousong—basically a meat cotton candy, with Thai District using the pork version—and more green onion.
Their drunken pork ragú noodles? Divine.
Their cabbage and crispy pork, made with a fish sauce aged for over a decade? Awesomeness.
Suggested items: crab fried rice or pineapple fried rice; honey-glazed duck; cabbage and crispy pork; osso bucco Thai District-style
Beachwood Brewery/Proudly Serving (Broadway/Pine Ave. stretch)
210 E. 3rd St. 
When Beachwood's DTLB location announced they would be permanently shuttering their kitchen in January of this year, there was both lament at a downtown lunch staple and a sense of sadness that such a great space would be relegated to a taproom.
So when Proudly Serving owner Matt McIvor—the popup's master smash burger creator—was approached by Beachwood to offer some food at their newly minted Bixby Knolls space (that took over the former Liberation Brewing Co. spot), he thought of something more ambitious: Why not just move into the kitchen Downtown and take advantage of a full kitchen and restaurant space?
"The moment he asked, I was like, 'Yes, absolutely, take it over—please!'" said Beachwood founder and co-owner Gabe Gordon. "And in all honesty, it works out because it alleviates our stress from having to manage a kitchen but allows us to offer our customers some great food that has never come out of the Beachwood kitchen before."
Even better? The food is, indeed, great.
For Brian Addison's full feature on Proudly Serving at Beachwood, click here.
Suggested items: chili cheese fries; any burger; fried pickles; any beer
Long Beach Creamery (Broadway stretch)
222 E. Broadway
On August 22, 2013, Long Beach Creamery owner Dina Amadril held her first tasting at her home, with 10 strangers sampling 12 flavors, from (the now-shuttered) Lord Windsor Coffee to Biscuits & Jam, Madagascar Vanilla to Goat Cheese Whiskey Fig.
The success of the tastings moved toward Farm Lot 59, where the owner had graciously permitted Amadril to host the decadent gatherings, with the ice cream eventually ending up receiving random Yelp! reviews and Facebook ratings.
That is the humble, Long Beach-style beginnings of what has become Amadril's life: The Long Beach Creamery, which opened its first own brick and mortar at 4141 Long Beach Blvd. in 2014 and its DTLB location in 2018.
Suggested items: ice cream, of course
Honduras Kitchen (Cherry stretch)
1909 E. 4th E. St.
Have you ever had great plantains? I mean the kind where the server asks you beforehand whether you want ripe or green before they're even served to you?
That's Honduras' Kitchen on Retro Row—or, if you happen to be Huntington Park, at their other location—which is the kinda place you might notice and when you do, unsure if they're perpetually celebrating the World Cup or just another bar along one of Long Beach's most revered bar crawl-able strips.
You'll be introduced to baleada, a massive flour tortilla stuffed with beans and deliciousness… Pollo frito, their version of fried chicken…
Arroz con pollo, a deceptively simple dish that has been lauded since the 1990s (and I really mean that: In 1995, the Los Angeles Times called it the best dish of the year)…
The Menu Hondureña, the Honduran version of steak and eggs with chimol—a Honduran/Salvodorean-style pico de gallo—beans, rice, cream and thick cut of queso fresco.
Or just go all out and get the Parrillada Hondurena, a family-style plate which comes with—no joke—chicken, pork chops, shrimp, chorizo, platano fritas, beans, rice, and baleadas.
Get your Honduran on, complete with a straw-roof mini hut inside (and now outside post-pandemic) and club lights (because you can always dance with good food).
Suggested items: baleada; pollo frito; arroz con pollo; menu Hondureña
Lola's Mexican Cuisine (Cherry Ave. stretch)
2030 E. 4th E. St.
Maria Delores Navarro—referred to by friends and family simply as "Lola"—came to Long Beach from Guadalajara in 1972 with nothing but fifty bucks, her recipes, and the dream of opening a restaurant.
"She would talk about how as a little girl she just wanted to escape, I think that's why she came to Long Beach," said son and now owner of Lola's following her death, Luis Navarro. "Many folks don't understand just how poor she was. She never learned how to swim or ride a bike. But she never let it her stop her from her dreams. She found healing and happiness in cooking. I believe she was finally at peace at Lola's."
For Lola, food was life: it connected communities, families, friends, lovers, and strangers. After having two children—Luis and Erica—food became even more important since it sustained her family while she cleaned homes after moving to the States.
"My mom cleaned homes, she served banquets at hotels, really anything to make ends meet, and stash a little money aside for her dream of her restaurant," Luis said. "She really sacrificed everything, but I believe now in my heart of hearts that it was all meant to be. She was supposed to showcase her food to Long Beach—and leave her heart on in that restaurant space on 4th."
By 2008, her children were grown but her dream still remained—and she decided to act upon it, opening up Lola's Mexican Cuisine on 4th Street in the heart of Retro Row.
To read Brian Addison's latest feature on Lola's, click here.
Suggested items: cochinita pibil; carnitas; birria