Taking place on Wednesday, Aug. 9, and Thursday, Aug. 10, from 5:30PM to 10PM at 590 E. Shoreline Dr. (between Shoreline Village and Pine Avenue Pier), the annual Taste of Downtown series of events has one simple goal: to highlight the culinary offerings of the Downtown via a stroll-through-and-meander space where restaurants are clustered together in the open air and affordable tickets are exchanged for food.
What to drink? Well, here are some options—including both drinks to be served directly at the Taste event and places one should visit before or after exploring Taste of Downtown.
The "Pimm's Veladora" from Navy Proof
It is likely that Navy Proof—the craft cocktail bar and restaurant wrapped in the Westin—is likely the city's most underrated watering hole. Bringing on master mixologist Dane Olson, who–he crafted the wonderful inaugural cocktail menu at Portuguese Bend, Olson's love of attention to detail meets his equal love of taking on classic drinks, from tiki drinks to Pimm's cup.
The Pimm's Veladora—an ode to that latter, classic cocktail—is a damn near perfect concoction of those loves: Pimm's enough to be taken seriously in that category, but witty enough to be considered in a league of its own with mezcal coming into reinvent what a Pimm's Cup can be.
Other worthy tries: Chief Lapu Lapu (for the pretty drink lovers); Dark Ritual (for the super boozy lovers); Lei Lani Volcano (for the tropical lovers).
The "Bang Bang" from The Ordinarie
Is it safe to say The Ordinarie is home to Long Beach's best bar program? It could be: The former much-loved bar manager, Dave Castillo, created a menu that spanned savory and sweet, to fruity and funk-forward. Castillo also piloted the space's best aspect of its cocktail program: A continual rotation of legacy cocktails with the bartender that created them and the year they were created.
But the new hiring of two Seven Grand in DTLA alumni—David Saenz and Kayla Bohner—and already-existing talent of bartender Colby Sue—The Ordinarie has a new bolt of energy that is exemplified in this fun, witty take on an Orange Bang: Dangerously sip-able, creamy and citrusy, this drink isn't even on the menu yet. But it premieres next week and I promise, you'll want to try it.
Other worthy tries: W.T.Fizz? (for the lovers of something entirely unique and delicious); Into It? (for the lovers of served-straight-up gone tropical).
The "Miami Heat" from Chez Bacchus (to be featured at Taste)
Evoking straight forward, intercontinental fine dining, Chez Bacchus owner John Hansen has finally succeeded in a space where others have failed.
While wine is where his largest strength lies—Hansen's ability to figure out what you love in a wine is almost par none in the city, getting up to the talent of Michael's on Naples General Manager Massimo Arrone—Hansen also knows that people love their cocktails—and the Miami Heat is no exception.
Spicy, beautifully bright in its magenta hue, this soju-based cocktail is a reflection of SoCal's love of heat (in both its food and season).
Other worthy tries: You'll have to visit Chez Bacchus itself for these other options, but the Blood Orange Sour (for the lovers of whiskey and citrus) and the Rose Regale (for those who want to skip the cocktails and venture toward a summer wine) are simply great.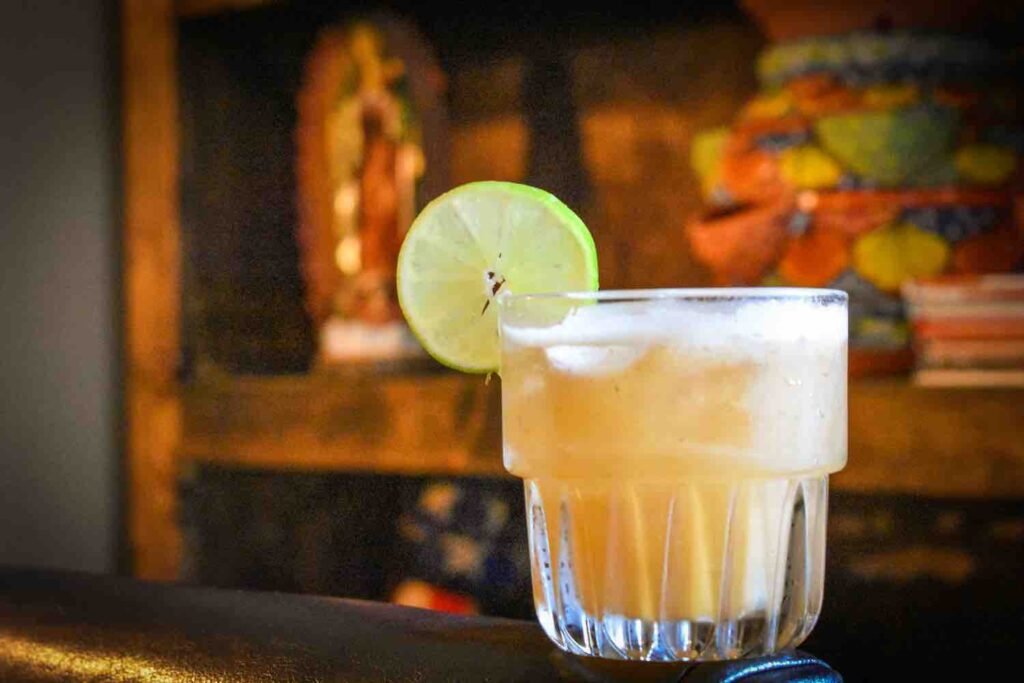 "Tommy's Elote Margarita" from Padre (to be featured at Taste)
Padre has been a DTLB staple for nearly a decade, not only showcasing some of our best chefs—from Chef Frank DeLoach to Chef Manuel Bañuelos, who eventually headed the much-missed Fonda Tobalá—and their cocktail program, particularly with the eventual addition of Mezcalero upstairs, has always been a solid reflection of Long Beach's ever-evolving craft drink scene.
A new take on their classic margarita ("Tommy's Margarita"), the earthy-sweet corn concoction is an ode to both Mexico's mighty grain and its most popular cocktail.
Other worthy tries: Pepino margarita (for those not too keen on the corn idea while perusing the Taste event); Smoke 'Em If You Got 'Em (for the lovers of burnt tortillas that visit Padre itself); Peonies in Jade (for the lovers of kinda tiki, kinda not; also at Padre).
The "Pomegranate Martini" from Ruth's Chris (to be featured at Taste)
While Long Beach tends to favor its small businesses over chains, the reality is that they are an essential cog for the downtowns of any major city: They have the capital to take over spaces smaller businesses can't and, even more, they have names that are recognizable for visitors, conventioneers, and residents alike.
Which is why the arrival of Ruth's Chris is of note—and their participation in Taste of Downtown showcases that as corporate as they may be, they still care about community. And this boozy, sweet, tangy martini reflects the beautiful season as well as the need to sometimes just, well, fruit martini it up.
Other worthy tries: Lemon drop (for those who thought this classic died—you'll have to visit the restaurant itself for this one); EOS moscato (for those at Taste who want to skip the liquor).
The "Irish Mule" from The Auld Dubliner (to be featured at Taste)
There is no other way to put it: The Auld Dubliner is a DTLB legend and community gem.
Forget the fact that the space was designed in Ireland proper and flown over in pieces to be assembled on site, attempting to mimic an Irish pub as traditionally as possible.
Forget the fact that Copley takes an annual crew of worthy and loyal patrons to the Motherland itself, showcasing not just where their experience comes from but to update the menu and vibe at The Dub in order to keep in pace with Ireland proper, it is a letter of love to Long Beach from Ireland—a point I hope no one easily dismisses.
And while yes, an Irish mule—where Tullamore is used to replace vodka in the classic cocktail—is rather basic, it doesn't discount the fact that it is mightily refreshing.
Other worthy tries: Irish coffee (for those that might want something warm at Auld Dubliner or during a breezy evening on the waterfront during Taste of Downtown) ; a pint of Guinness (because no one else serves a proper pint of it).
Beer from Beachwood Brewing (to be featured at Taste)
In case you're more in the mood for a delightful summer beer, Beachwood Brewing has you covered.
Beachwood has many accolades, most recently adding another medal from Great American Beer Fest to its growing collection. It's also seen its fair share of ups and down post-pandemic, including the closure of its kitchen in DTLB, only to host the spectacular, underrated popup that is Proudly Serving.
The fact remains that it is one of the nation's best and most respected breweries—and solely for that, always deserves to share the limelight, even in a list of cocktails.
Even better? At Taste of Downtown, they'll be serving their stellar Hayabusa, an extremely light, delightfully drinkable take on a rice lager. (Think Sapporo but better.) Not in the mood for something light and wanna go straight for the high ABV? They'll be serving their classic LBC IPA.